Carbon Black Market
Carbon Black Market Analysis By Grade (Standard Grade Carbon Black, Specialty Grade Carbon Black), By Production Method (Furnace Black, Thermal Black), By Application, By Region - Global Insights till 2031
FACT6986MR
Oct-2021

List of Tables : 72

List of Figures : 154

170 Pages
Carbon Black Market Outlook
Owing to rapid growth of carbon black as a useful chemical, the global market is projected to grow substantially at a CAGR of around 6% over the decade, and top a valuation of US$ 30 Bn.
The latest study done by Fact.MR, a market research and competitive intelligence provider, estimates the carbon black market to contribute significantly towards global chemical industry GVA. This is mainly attributed to the usage of the material in a wide range of applications such as printing inks, packaging, plastics, and paints and coatings.
Avail customized purchase options for your needs
Carbon Black Industry Report Scope
Attribute

Details

Market size value in 2020
US$ 22.0 Billion
Market forecast value in 2031
US$ 30.0 Billion
Global Growth Rate
CAGR 6.0%
North America Market Size in 2020
US$ 4.4 Billion
Latin America Market Size in 2020
US$ 0.66 Billion
Europe America Market Size in 2020
US$ 3.9 Billion
East Asia America Market Size in 2020
US$ 8.8 Billion
South Asia America Market Size in 2020
US$ 2.0 Billion
Oceania Market Size in 2020
USD 174.72 Billion
Middle East and Africa Market Size in 2020
US$ 1.32 Billion
Forecast Period

2021-2031

Historical Data Available for

2016-2020

Market Analysis

Value in US$ Mn, Volume in '000 Units in Kilo Tons

Key Regions Covered

North America
Latin America
Europe
East Asia
South Asia
Oceania
Middle East Africa

Key Countries Covered

U.S.
Canada
Mexico
Brazil
Mexico
Argentina
Germany
Italy
France
U.K
Nordic
Spain
Japan
China
India
Malaysia
Thailand
Australia
GCC Countries
South Africa
Turkey

Key Market Segments Covered

By Grade
By Production Method
By Application
By Region

Key Companies Profiled

CABOT
Mitsubishi Chemical Corporation
Orion Engineered Carbons S.A.
Phillips Carbon Black Limited
Tokai Carbon Co., Ltd.
Birla Carbon Public Co. Ltd.
Continental Carbon Company
Himadri Chemicals & Industries Ltd.
JSC
Asahi Carbon Co. Ltd.

Pricing

Available upon Request
Carbon black industry research performed by Fact.MR delves on key insights such as current and speculative production capacity, capacity utilization rates of each producer, current and speculative pricing, price optimization strategy across value chain, techno-economic analysis of carbon black production, and much more.
Consumption Analysis of Carbon Black from 2016 to 2020 Vs Market Outlook for 2021 to 2031
As per Fact.MR, the past half-decade has provided a strong base for the growth of carbon black chemical whilst growing with a CAGR of around 5.3%. Rise in demand for the product can be attributed to the mounting consumption in high growth regions such as North America and Asia Pacific.
Next ten years are vital for industry growth as market players are trying to leverage the rising need of high quality products such as paints, plastics, printing inks, and many more. Additionally, demand is also projected to be driven by the automotive sector owing to requirement of high-performance premium tires. Recent trends show there has been a surge in consumer demand for tire pressure monitoring systems, which is driving the tire replacement market, thus providing lucrative opportunity for carbon black companies.
Owing to these factors, the carbon black market is projected to expand its revenue 1.5X by 2031, while standing at around US$ 30 Bn during the same timeframe.
COVID-19 too had an impact on the revenue generation capacity of carbon black, which led to the downfall of market's Y-o-Y. However, the market is projected to stabilize by 2021-end while expanding at a CAGR of around 6% over next ten years.
An Adaptive Approach to Modern-day Research Needs
How Will Burgeoning Electric Vehicle Sales Spearhead the Demand for Carbon Black?
Automotive industry is projected to provide lucrative opportunity for carbon black industry owing to rising trend of tire replacement along with growing need of high quality and premium tires. Since tire industry captures around 3/4 of the total carbon black market, introduction of electric vehicle will spearhead the demand for tires made from carbon black over the assessment period.
Moreover, carbon black is a highly conductive additive and an essential material in lithium-ion batteries. This conductive carbon material covers the surface of the active material thus helping in flow of current.
Owing to above discussed advantages of material as conductive material along with rising need of electric vehicle to curb carbon emission, the sector is projected to provide high incremental opportunity of around US$ 90 Mn to carbon black market in next ten years.
Which Properties of Carbon Black Makes it Fit to be Used in Different Applications?
High tinting strength, thermal stability, electrical conductivity, and stable resistance are some of the properties shown by carbon black as a material that makes them fit for varied applications.
Widely used as printing inks, paints and newspaper inks, carbon black serves the purpose best owing to its high tinting strength. Additionally, thermal stability property helps in its usage for absorption of ultraviolet rays best suited to be used in automotive components. Moreover, graphite type crystalline structure ensures excellent conductivity thus being widely used for battery application.
Based on Fact.MR analysis, printing inks application is projected to provide high absolute $ growth opportunity worth US$ 50 Mn in next ten years.
Interested to Procure The Data
Which Obstructions are Poised to Lower Demand for Carbon Black?
Carbon black are materials made from hydrocarbons, hence, crude oil prices have a direct impact on its production cost. Additionally, over the past half-decade, there has been consistent fluctuation in crude oil prices, which is the main reason behind rising cost of carbon black. This has attributed significantly in lowering the popularity of the material, thus compelling tire manufacturers to shift to cheaper alternatives.
Further, carbon black production emits a lot of particulate matter such as carbon dioxide, nitrogen oxides, sulphur compound, and carbon monoxide, hence, governments around the world are posing strict regulations to regulate the industry.
For instance, in 2018, three major carbon black producers paid nearly US$ 2.5 Mn in order to settle air pollution violations. This shows what lies ahead for carbon black manufacturers as environment regulations are projected to get stricter over the next ten years.
Above-discussed factors are projected to be an area of major concern, thus acting as a major hindrance towards market growth.
Which Region is Set to Provide Lucrative Opportunity for the Sales of Carbon Black?
East Asia is anticipated to drive carbon black consumption over the next decade. Currently, the region holds around 40% of total demand and is projected to increase its market share by around 200 BPS over the forecast period.
Demand for carbon black in East Asia will mainly be driven by the automotive industry. Over the past decade, there has been a surge in demand for commercial and passenger vehicles, which, in turn, has boosted sales of tires, driving carbon black demand.
These factors have contributed towards robust sales of the material in the region and the trend is projected to continue over the forecast period. Thus, East Asia is poised to provide high absolute $ opportunity worth US$ 1.9 Bn over the next ten years.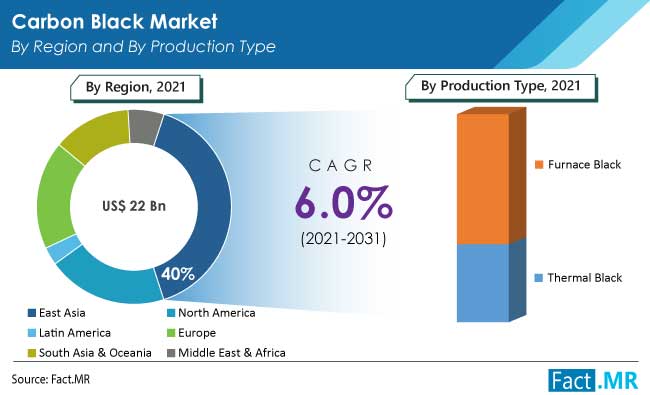 Country-wise Analysis
Why is China Seen as a major Participant in Bolstering Demand for Carbon Black?
More than 60% of East Asia demand is estimated to be driven by China. Also, China accounts for more than 40% of global carbon black production, which can mainly be attributed to the availability of low-cost feedstock along with low wage rates, and hence, lower production rates have been observed.
Additionally, rising consumption of paints & coatings coupled with mounting production of electric vehicles has provided the required push to the market in the country.
Moreover, major investments can be seen in the country in terms of production capacity expansion along with product development. Such surge in investments for carbon black material are projected to drive the market at a CAGR of around 7%, providing an incremental growth opportunity worth US$ 250 Mn over the decade.
How Had the Demand Scenario for Carbon Black in Established and Developed Countries?
India: India is estimated to be the most lucrative market for carbon black chemical in South Asia and Oceania, mainly attributed to surge in investments by prominent players in the country along with constant demand from the country's robust automotive sector.
Additionally, demand for carbon black in the country has also been driven owing to its use in newspapers. For instance, there are more than 450 Mn newspaper readers in India demanding high quality printing. Thus, India is projected to provide high incremental opportunity worth US$ 80 Mn over the projected forecast period.
Brazil: Brazil's automotive sector is robust with a global ranking of six. Additionally, the country is all set to see a surge in the penetration electric vehicles, which will bolster demand for the material.
Owing to these trends, the market in Brazil is estimated to expand at a high single-digit CAGR over the decade.
Germany: Major driving force for carbon black consumption in Germany will be the penetration of electric vehicles in the automotive sector. Additionally, a recent announcement by government on infrastructure and housing projects has provided a positive outlook to the paints & coatings industry, thus propelling the use of this chemical.
Hence, Germany is poised to be the torch bearer for the European carbon black industry.
U.S.: After China, the U.S. is projected to be the second-most lucrative market for carbon black consumption. Consumer demand for high quality and premium material in their vehicles will be a major factor behind mounting consumption.
Additionally, North America is well established due to the concentration of some big players in the region. Thus, high absolute $ opportunity worth US$ 100 Mn is projected to be generated by the country.
Category-wise Insights
Which Grade Carbon Black is projected to hold Majority of the Shares?
Standard grade carbon black is the most widely used material owing to its cost effectiveness along with widespread popularity in tire components. Additionally, standard grade provides strength, durability, and high performance, which are major factors behind its rising consumption.
For instance, around 90% of total demand in market is for standard grade, and hence, the segment is poised to provide high absolute $ opportunity over the forecast period.
Which Application is projected to propel the Sales of Carbon Black?
Carbon black has been historically driven by sales of tires accounting for around 70% of total demand. Production of new vehicles along with growing disposable income in developed economies is projected to open new avenues for chemicals in the market.
Further, it has been estimated that around 2/3 of total demand will be driven by tire replacement needs. Moreover, introduction of electric vehicles in the automotive sector will provide the required push needed in the market.
Thus, owing to the above factors, the tire application segment is projected to increase at a CAGR of around 5.8% over the next ten years.
How Has COVID-19 Impacted Revenue Generation from Carbon Blacks?
The COVID 19 pandemic has impacted sales of carbon black owing to its decreased usage in the automotive sector. Y-O-Y growth of revenue contracted 1.9% in 2020 when compared to 2019. This contraction can be attributed to decrease in demand from paints & coatings along with downfall in sales of automotive components.
However, the market is projected to stabilize owing to positive rise in sales of automotive components and specialty carbon black material.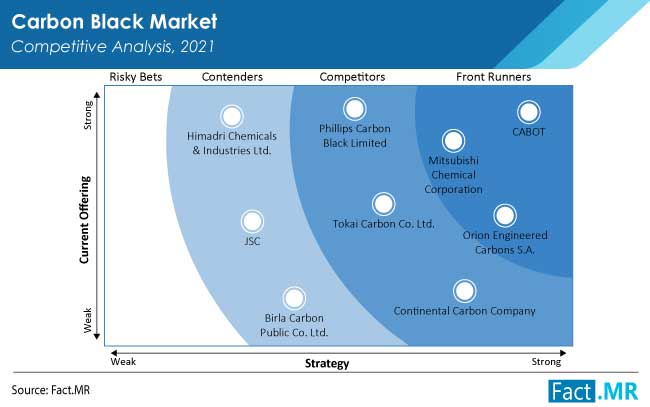 Competition landscape
In order to expand their market share, key players have opted for both, organic and in-organic growth strategies such as acquisitions, collaborations, and partnerships. These have been identified as positive strategies that have helped them garner market share over the past half-decade.
Fact.MR has provided detailed information about price points of carbon black from manufacturers positioned across regions, sales growth, production capacity, and speculative production expansion, in the recently published report.
Orion Engineered Carbons in July 2021 announced partnership with HiQ-CARB to provide lithium ion batteries, equipped with high performance carbon additives.
Cabot Corporation in April 2020 announced completion of acquisition for Shenzen Sanshun New Materials Co. Ltd. This would help company strengthen its market position in China.
Focusing on development of renewable carbon black Orion Engineered Carbons in July 2021 partnered with RISE, Sweden. This approach would help company focus on sustainable development of products thus placing it at the centre stage of innovation.
Similar recent developments related to companies offering carbon black business have been tracked by the team at Fact.MR, which are available in the full report.
Key Segments
By Grade

Standard Grade Carbon Black
Specialty Grade Carbon Black

By Production Method

Furnace Black
Thermal Black
Others

By Application

Carbon Black for Printing Inks
Carbon Black for Paints & Coatings
Carbon Black for Packaging
Carbon Black for Batteries
Carbon Black for Plastics
Carbon Black for Tires
Others