Will Adoption of Polycarbonate Resins in Pillar-less Front Windows Create a New Stream of Opportunities?
Polycarbonate resins market is anticipated to register a volume CAGR of over 4% during the forecast period, 2019-2029.
Materials with highly versatile properties have garnered considerable traction in recent years, as industries set their focus on leveraging the multifaceted options, while they aim to suffice the growing consumer demand for quality-driven offerings.
For instance, polycarbonate resin's unique properties have helped it become a material of choice for a wide range of applications that need impact resistance. Polycarbonate resins outperform transparent polymers, such as polymethylmethacrylate (PMMA), and have emerged as a viable option to be used in transparent materials where safety is a key prerequisite.
These fascinating attributes allow for polycarbonate application in a wide range of products that include electronic equipment, construction glazing, greenhouses, automotive parts, exterior lighting fixtures, medical devices, and sports safety equipment.
Over the years, the production of polycarbonate resins has picked pace in various regions, with worldwide production taking a leap from 4,913 KT recorded in 2009 to 5,603 KT in 2018. An increased number of companies have recognized the potential applications of polycarbonate resins in a sweeping range of industries.
Though worldwide production is growing at a steady pace, several developing countries continue to import polycarbonate resins instead of switching to large-scale production.
China, for instance, accounts for ~ 40% shares in the global polycarbonate resins market and currently relies on other regions for polycarbonate resins. In 2018, China's polycarbonate resins production capacity was recorded to be just about 943 KT, whereas the imports reached1398.00 KT, indicates research.
This import and production scenario of polycarbonate resins is likely to witness a considerable shift, as China looks forward to increasing production at large scale while reducing its dependence on imports.
The polycarbonate resins industry will continue to witness a turmoil of changes in countries like China, as the manufacturers recognize suitable technologies and raw materials to turn the pain point of pricing in favor.
Don't Need a Global Report?
Save 40% on Country & Region specific reports
Sales Remain Concentrated in Electrical & Electronics Industry
The global sales of polycarbonate resins managed to reach ~US$14.6 Bn in 2018. Since the commercialization of polycarbonate resins in the 1960s, a majority of the revenue generation in the market has remained concentrated in the electrical & electronics and building & construction industries.
These industries collectively held ~ 53% revenues in 2018, and are highly likely to remain a hotbed of application opportunities for polycarbonate resins manufacturers.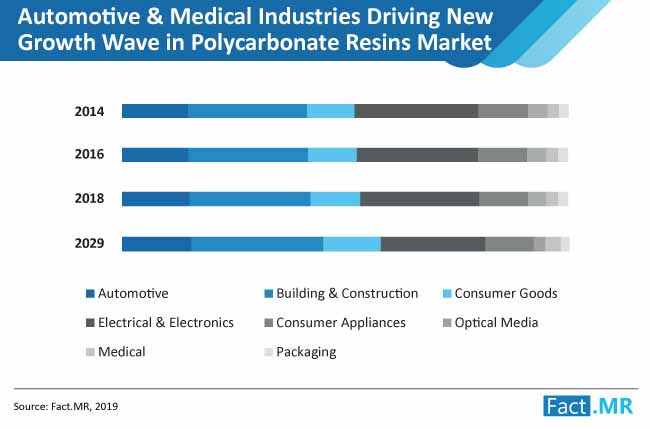 Broadening applications of polycarbonate resins are enabling manufacturers to penetrate a wide range of industries while witnessing notable demand from across the globe. A bulk of adoption has remained restricted to general-purpose grade applications; however, the optical grade value of polycarbonate resins is set to grow in the years to come, as industries continue to shift their focus from aesthetics to functionality.
The automotive industry, for instance, is witnessing rapid winds of change, with automakers leveraging every possible way to stay at par with the altering trends, such as the growing demand for lightweight models.
This emerging trend is underway and here to stay for the years to come, as every ~10% of vehicle weight reduction tends to improve the fuel economy by ~ 5%. Moreover, aggravating environmental concerns pertaining to fuel emissions has been compelling automakers to innovate with functional materials.
More Insights, Lesser Cost (-50% off)
Insights on import/export production,
pricing analysis, and more – Only @ Fact.MR
Automotive Industry, the Frontier of Growth
Automakers who once underestimated the value of plastics are now recognizing its role in the development of various components, as they focus on developing lighter vehicle components to meet regulatory requisites.
Polymers have aided vehicle enhancement for generations, and it is pertinent to note that they reduce the overall vehicle weight when they replace bulkier materials, such as glass and metal, ultimately saving energy. Several automakers are experimenting with key vehicle components to fit in well to the shifting customer-expectations while complying with the existing regulations in the automotive industry.
The automotive industry is on the brink of 'automation', with leading automakers investing significantly in electric vehicles. The shift to electromobility points to the rising demand for lightweight materials, thereby surge in the use of specialized plastics. What the auto industry is undergoing is unprecedented in terms of the scale and the nature of change ahead of it; however, these changes are influencing the business of supplying engineering plastics to the auto industry.
A large number of automakers and plastics manufacturers are joining hands for the development of highly functional, cost-effective, and customer-centric auto components, to secure long-term sales.
The breakthrough trend of pillar-less front windows, in electric vehicles, is identified to be a strong factor influencing sales of polycarbonate resins, which remains a highly sought-after material for windows. Polycarbonate resins, which were previously prohibited from the use in automobiles' front windows, predominantly in the Japanese market landscape, in line with certain safety standards effective within the country, are now gaining traction for the same applications.
While this scenario is being perceived as a strong impact factor for the global market, the market in Japan is particularly witnessing gains owing to massive R&D investments and efforts of automotive manufacturers.
The development of pillar-less front windows has been enabled by advanced technologies, which thicken the perimeter of polycarbonate resin windows and eliminate the need for vertical support or A-pillar that divides the windshield and front window.
This integrated pillar reduces the weight of the window by 36% than a conventional front window with A-pillar. Teijin, for instance, has developed the world's first polycarbonate resin pillar-less front window for Tommykaira ZZ, an electric vehicle manufactured by GLM Co., Ltd.
With widening applicability of polycarbonate resins, various automotive companies in Europe and North America are demanding polycarbonate resins to design pillar-less front windows and reduce the overall vehicular weight.
In addition to the expanding application scope in automotive space, polycarbonate resins have been witnessing gains from increasing consumption for medical applications. Consumption of polycarbonate resins in the medical industry accounted for the revenues worth US$ 388 Mn in 2018, which are likely to see 2.3X growth through 2029.
The future application will not just be limited to existing areas of use for polycarbonate resins, with lucrative 3D printing and wearable medical devices highly likely to create a stream of opportunities for stakeholders.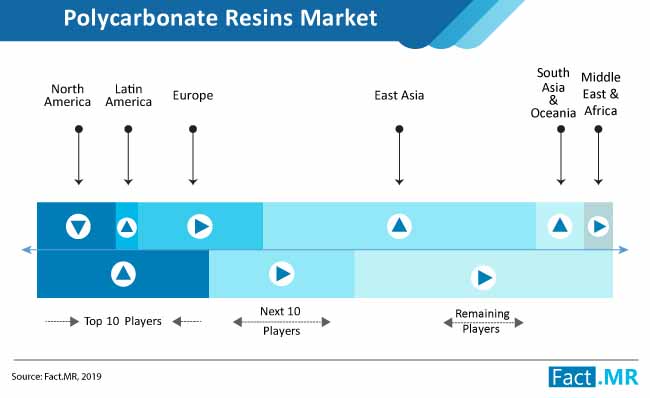 Bio-based Variants – A Drive to Better Positioning
The competition in the polycarbonate market has been intensifying over the years, with companies vying to turn the material restraints into gains and appeal to a wider base of end-users. While numerous substitutes continue to slow down the pace of the growth trajectory of polycarbonate resins market, leading players are investing in novel manufacturing practices to achieve a competitive price point for polycarbonate resins.
Additionally, responding to the recent rise in the adoption of bio-based plastics and the emergence of carbon fibers for similar applications as that of polycarbonate resins, novel variants are making their way into the market. This, together with the increasing thermoplastic industrial applications and awareness about the petrochemical disposal, has marked the emergence of bio-based polycarbonate resins. Increasing crude oil and petrochemical prices have compelled market players to invest heavily in R&D activities and develop sustainable bio-based polycarbonate resins that are based on plant-derived isosorbide. For instance, in 2018, Mitsubishi Chemical Corporation announced the launch of bio-based polycarbonate resin 'Durabio'.
In comparison to the conventional polycarbonate resin, these new grade variants boast high transparency and crack resistance. This grade has further broadened the applications of polycarbonate resins in optical films, cosmetic bottles, touch screens, and interior as well as exterior parts of automobiles.
Building & construction industry continues to register significant consumption of polycarbonate resins in East Asia and Europe, whereas in North America, the market is prominently upheld by the application in the automotive industry. The electrical & electronics industry in developing regions, such as South East Asia and Oceania, will continue to register significant consumption of polycarbonate resins in the years to come.
Know thy Competitors
Competitive landscape highlights only certain players
Complete list available upon request
Polycarbonate Resins Market - Segmentation
Fact.MR's study gauges the polycarbonate resins market based on type, application, and region. The report presents detailed market dynamics and rapidly altering trends associated with different segments, and how they are shaping the growth avenues of the polycarbonate resins market.
Grade
Application

Automotive
Consumer goods, Leisure & Safety
Electrical & Electronics
Consumer Appliances
Optical Media
Medical
Packaging
Building & Construction

Region

North America
Latin America
Europe
East Asia
South Asia & Oceania
Middle East & Africa

Product

Compound & Resins
Sheets
Films
Blend