Cloud Telephony Services Market
Cloud Telephony Services Market Analysis by Deployment (Hosted, Cloud), by Network (Public Switched Telephone Networks (PSTNs), Voice-over-Internet Protocol (VOIP) Service Network), by Enterprise Size, by Application, by Industry, by Region - Global Forecast 2022-2032
FACT7256MR
Apr-2022

List of Tables : 42

List of Figures : 66

170 Pages
Cloud Telephony Services Market Outlook (2022-2032)
The global cloud telephony services industry reached US$ 17.7 Billion in valuation as of FY 2021. The market is projected to document a Y-o-Y expansion of nearly 17% to be valued at US$ 20.7 Billion in 2022. Across the 2022-2032 forecast period, the market is scheduled to embark on a positive trajectory, registering a CAGR of 9.5% to reach US$ 51.5 Billion.
Report Attributes

Details

Anticipated Base Year Value (2021)

US$ 17.7 Billion

Expected Market Value (2022)

US$ US$ 20.7 Billion

Projected Forecast Value (2032)

US$ 51.5 Billion

Global Growth Rate (2022-2032)

9.5% CAGR

Expected Market Value of the U.S Market (2032)

US$ 12 Billion

Anticipated Growth Rate of Germany (2022-2032)

10.7% CAGR

Major Cloud Telephony Service Providers

8x8 Inc.
AVOXI
BroadSoft Inc.
Cisco Systems Inc.
Dialpad
Exotel Techcom Pvt. Ltd.
Knowlarity Communications Pvt. Ltd.
Go2Market India Pvt. Ltd
LeadNXT
MegaPath (Fusion Connect)
Microsoft Corporation
Mitel Networks Corporation
Natterbox Ltd.
NetFortris
Nextiva
NFON AG
NovaCloud (Pty) Ltd.
NTT Communications
PortaOne
Redcentric Plc.
RingCentral Inc.
Singapore Telecommunications Limited (SingTel)
Solutions Infini (Kaleyra)
Telviva
Tripudio Telecom Ltd.
VoIPStudio
Vonage Intermedia.net Inc.
Vox Telecom
Overall, the market for cloud telephony services is slated to yield absolute dollar growth worth US$ 30.8 Billion throughout the forthcoming decade. By deployment, cloud based telephony services remains dominant, documenting a value CAGR worth 11% from 2016 to 2021, while in terms of network, demand for voice-over-internet protocol cloud telephony services continues to reign supreme, with a historical CAGR of 15.6% (2016-2021).
2016-2021 Revenue Analysis of Cloud Telephony Services vs. Future Outlook 2022-2032
As industries look to migrate towards more efficient telephone operation services, prospects for cloud-based telephony are acquiring a concrete shape. The rapid transition from conventional phone lines to IP enabled telephony services is a key contributing factor to market growth. As per Fact.MR- a market research and competitive intelligence provider, the market for cloud telephony services flourished at an impressive 10.6% value CAGR from 2016 to 2021.
In this digital age, a culture prevails wherein everything is available on demand. Factoring in this trend, businesses globally are looking towards leveraging cost-effective communication solutions which simultaneously ensure enterprise mobility. Hence, reliance on voice-over-internet protocols (VoIP) has become underscored like never before. It has been reported that VoIP tech may help reduce phone bills and teleconferencing costs by up to 30%. Furthermore, with the onset of the COVID-19 pandemic, prevalence of remote working cultures has sustained cloud telephony services demand.
As the world gradually reverts to normal, more businesses are reliant on VoIP technology to widen profit margins and broaden revenue scope. This factor is expected to majorly fuel market demand for cloud telephony services in the forthcoming decade. In addition, adoption of 5G connectivity across multiple end use industries will further fuel market demand. From 2022-2032, the industry is poised to grow 2.5x.
Avail customized purchase options for your needs
Prominent Growth Drivers Influencing Cloud Telephony Services Deployment
Increasing Proliferation of MSMEs and Other Micro Level Business to Upscale Growth
As micro small and medium enterprises (MSMEs) acquire centerstage across multiple industries, business leaders are advocating technological advancements commensurate with growing operational requirements. The introduction of cloud telephony has rendered this possible, which is likely to be a key factor in fueling popularity of this technology in the global landscape. With cloud telephony, adding a user to a cloud phone system is only a click away.
Deploying on-premise phone system proves highly expensive, given that there is a requirement of a private branch exchange (PBX). While most of these networks are scalable, there are enterprises who have to incur additional expenditure to ensure their operational continuity. Hence, business might end up paying for 12 users, while in actual circumstances, they may require services for only 9 or 10 users.
The scalability advantage that cloud telephony offers is particularly useful for today's hybrid work models. Cloud systems have immediate built-in business continuity and aren't affected by localized problems, including power cuts or natural disasters. This also helps businesses switch agents to work from anywhere (WFA) when needed and even if something happens near one data center, there are redundancies and backup power generators, making the communication systems disaster-proof.
Macro-level Collaborations between Various Service Providers to Augment Popularity
The global cloud telephony services landscape is being increasingly characterized by the emergence of new market entrants, as well as a high number of macro and micro level collaborations with existing vendors. Given the highly dynamic nature of this industry, service providers are finding it highly beneficial, both economically and in terms of customer outreach, to partner with telephone service providers.
Recently, in February 2022, conversational engagement firm Gupshup announced a collaboration agreement with contact verification firm Truecaller to establish advanced business identity solutions for enterprises. The objective of this exercise is to enable a secure voice communication ecosystem for brands to better engage with consumers and improve overall calling experience across India.
On a similar note, prominent cloud communications provider Nextiva's partnership with Five9 gained further momentum in the same month, as it announced strong customer demand for its integrated contact center offering, enabling the prevalence of a unified communications and contact center solutions framework. This robust platform permits better engagement with customers through proper team conversations.
Factors likely to Impede Market Growth of Cloud Telephony Services
Security Concerns associated with VoIPs may prove to be a major Hindrance
Given the extensive reliance on the internet, cloud telephony is highly susceptible to malicious entities looking to hack databases for their vested interests. This security vulnerability is especially in the case of VoIPs. VoIP calls are extremely prone to being eavesdropped by undesired or undisclosed third parties. Hence, enterprises need to establish multiple security and firewall layers, as well as protect calls with passwords and encryptions.
Moreover, VoIP phones are not connected to static telephone networks, or any other physical infrastructure. This feature isolates it from the emergency services provided by the government or the community. Furthermore, since it doesn't have a physical address, emergency agencies cannot ascertain one's location. Moreover, the threat of constant power failures and technical glitches may further impede adoption of cloud telephony services.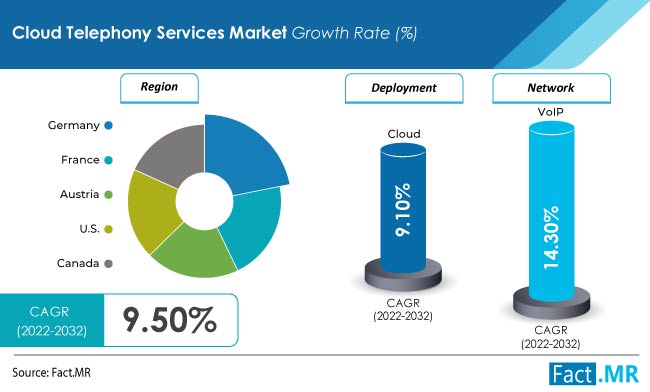 An Adaptive Approach to Modern-day Research Needs
Comparative View of Adjacent Cloud Telephony Services Markets
| | | | |
| --- | --- | --- | --- |
| Attributes | Cloud Telephony Services Market | Clientless Remote Support Software Market | Voice-over-Internet Protocol (VoIP) Market |
| CAGR (2022-2032) | 9.5% | 14.5% | 12.1% |
| Market Value (2032) | US$ 51.5 Billion | US$ 6.7 Billion | US$ 125 Billion |
| Growth Factor | Increased proliferation of MSMEs and other micro-level enterprises elevating the need for streamlined calling services. | Rising need for detecting malware and cyber-attack threats to heighten prospects for clientless remote support software across enterprises. | Increasing dependence on cloud-based unified communications and transition from legacy systems are promoting the acceptance of hosted VoIP services. |
| Opportunity | Prominent macro level collaborations between major service providers to significantly widen customer outreach in forthcoming years. | Service providers are expected to find lucrative expansion opportunities in China and India, attributed to a high degree of IoT adoption across key verticals. | VoIP services have gained market traction amid the ongoing COVID-19 pandemic as a majority of the industries have switched to remote working. The telecom sector especially VoIP has outdone the global economy with an upsurge in demand for cloud-based phone services worldwide. |
Country-wise Analysis
How will the Cloud Telephony Services Industry Grow in the U.S?
Extensive Presence of the IT & Telecom Industry to Heighten Adoption Prospects
As per Fact.MR's study, the cloud telephony services is expected to flourish at a CAGR of 8.9% from 2022-2032 throughout the U.S. The market is slated to reach US$ 12 Billion by end of the said period of assessment. Furthermore, an absolute dollar growth opportunity worth US$ 6.9 Billion is expected to prevail during the said period. Growth of the U.S market is majorly credited to the ever mushrooming scope of the domestic IT & telecom industry.
Extensive penetration of 5G technology, extensive reliance on cloud telephonic services and deployment of internet-enable calling services are all leading telecom operators to adopt cloud telephony services across the country. According to the GSM Association, mobile technologies and services generated 4.2% of GDP in North America in 2018, constituting US$ 937 Billion of economic value added. Also, nearly a quarter of internet connections would be 5G by 2022-end.
The IT & telecom industry is striving to retain its customer base by deploying advanced customer relationship management services. With the primary objective of catering to customer requirements, businesses are incorporating CRM platforms with in-built cloud telephony, which also offers the added benefit of reducing business costs.
How Will Germany Provide Growth Opportunities for Cloud Telephony Service Providers?
High Scope for Innovation across Key Industries to Widen Adoption
According to the World Economic Forum, Germany occupies the driver's seat when it comes to innovation, attributed to the rate at which it has incorporated technology in its multiple industries. As per the organization's Global Competitiveness Report 2018, Germany emerged as the world's most innovative economy, registering a score of 87.5 out of 100 in the innovation capability pillar.
These innovations are also being reflected in the country's telecommunications sector. The European Information Technology Observatory noted that in 2019, revenue from IT products and services, telecommunications revenues in Germany increased by 2% to EUR 597.7 Billion. Companies with their own infrastructure benefited the most from this market growth, along with resellers and regional providers.
This heightened revenue share has been contributed by extensive adoption of telemarketing business models, especially by B2B players. Companies such as Telefónica Deutschland are actively providing advanced VoIP based cloud telephony services, aimed at offering customers a fully IP-based telephony service. As per Fact.MR's estimates, a CAGR of 10.7% is projected for the cloud telephony service industry in Germany until 2032, reaching US$ 4.7 Billion.
Country-wise Forecast CAGRs for the Cloud Telephony Services Industry
| | |
| --- | --- |
| U.S | 8.9% |
| Canada | 7.8% |
| Austria | 9.8% |
| Germany | 10.7% |
| France | 9.9% |
Category-wise Insights
Why VoIP-based Cloud Telephony is highly preferred?
Reduced Costs, Increased Scalability and Multitasking are Key Benefits
According to Fact.MR's projections, voice-over-internet protocol (VoIP) based cloud telephony solutions are expected to be most widely deployed, expected to flourish at a value CAGR of 14.3% throughout the 2022-2032 forecast period. High demand for providing a seamless calling experience is likely to augment market growth.
VoIP significantly reduce business costs, with many enterprises reporting that their call rates dropped from as high as US$ 50 to around US$ 20 per line. A VoIP service also enables businesses to cut other ongoing expenses such as taxes, repair and maintenance fees. A VoIP solution does away with having to purchase expensive hardware or dedicated line as you grow. Along with traditional phone calls, VoIP allows for sending documents, images, and videos all while simultaneously engaging in a conversation.
By Deployment, Which Category of Cloud Telephony Services will Remain Dominant?
Cloud Telephony Services to be the Primary Mode of Deployment
By deployment, the cloud segment is expected to post maximum gains, expected to grow at a 9.1% value CAGR across the 2022-2032 period of assessment. From start-ups to established industry leaders, effective communication is the growth engine for any business venture. Without this, they would be devoid of any progress.
As a result, both large and small scale businesses are investing their resources in procuring cloud-based telephony service models. Transitioning to cloud based telephony ushers in a high degree of flexibility in operations, with companies not required to install static, designated landline desk phones. Moreover, this has also facilitated remote working across major industries.
Cloud Telephony Services Market- Competitive Landscape
Prominent cloud telephony service providers are continuously innovating their service offerings, often collaborating with leading telecommunications or cloud based software providers. Besides, introducing new software, as well as taking over small to medium-scale vendors are some other strategies relied upon by key players. Some notable developments are as under:
In March 2022, cloud communication platform provider Dialpad partnered with MIA Distribution, an Australian unified communications-as-a-service (UCaaS) provider. Through this initiative, Dialpad hopes to make its cloud telephony services, most notably its TrueCaaS solution, throughout Australia. Dialpad also partnered with Google to list its UC-CC solution on the Google Cloud Marketplace
Likewise, Singapore Telecommunications Limited (SingTel) introduced Paragon- a revolutionary platform enabling enterprises to tap into SingTel's 5G network to activate network slices on demand and deploy mission-critical applications on SingTel MEC in February 2022. Additionally, the solution provides access to robust ecosystems of partner applications, offering unparalleled control and choices
In June 2020, 8x8 Inc. introduced an enterprise-grade cloud telephony solution for Microsoft Teams environments, allowing organizations to scale and deliver work-from-anywhere communications. The solution delivers an enterprise-class and easy-to-administer global voice solutions for IT leaders, while retaining the Microsoft Teams experience for users
Key Segments Covered in the Cloud Telephony Services Industry Analysis
Cloud Telephony Services by Deployment

Hosted Cloud Telephony Services
Cloud Telephony Services

Cloud Telephony Services by Enterprise Size

Cloud Telephony Services for SMEs
Cloud Telephony Services for Large Enterprises

Cloud Telephony Services by Network

Cloud Public Switched Telephone Networks (PSTNs)
Cloud Telephony Voice-over-Internet Protocol (VOIP) Service Network

Cloud Telephony Services by Application

Cloud Telephony Services for Conferencing
Cloud Telephony Services for Multi-level IVR
Cloud Telephony Services for Sales & Marketing
Cloud Telephony Services for Customer Relationship Management (CRM)
Cloud Telephony Services for Other Applications

Cloud Telephony Services by Industry

Cloud Telephony Services in BFSI
Cloud Telephony Services in Education
Cloud Telephony Services in Government
Cloud Telephony Services in Healthcare
Cloud Telephony Services in Media & Entertainment
Cloud Telephony Services in Retail
Cloud Telephony Services in Telecom & IT
Cloud Telephony Services in Other Industries

Cloud Telephony Services by Region

North America Cloud Telephony Services Market
Europe Cloud Telephony Services Market
Resto of the World Cloud Telephony Services Market
Need an Exclusive Report for your Unique Requirement?
- Our Clients -

- Evaluate How Fact.MR's Report Can Help. -
Is the market research conducted by Fact.MR?
Yes, the report has been compiled by expert analysts of Fact.MR, through a combination of primary and secondary research. To know more about how the research was conducted, you can speak to a research analyst.
What research methodology is followed by Fact.MR?
Fact.MR follows a methodology that encompasses the demand-side assessment of the market, and triangulates the same through a supply-side analysis. This methodology is based on the use of standard market structure, methods, and definitions.
What are the sources of secondary research?
Fact.MR conducts extensive secondary research through proprietary databases, paid databases, and information available in the public domain. We refer to industry associations, company press releases, annual reports, investor presentations, and research papers. More information about desk research is available upon request.
Who are the respondents for primary research?
Fact.MR speaks to stakeholders across the spectrum, including C-level executives, distributors, product manufacturers, and industry experts. For a full list of primary respondents, please reach out to us.
Is a sample of this report available for evaluation?
Yes, you can request a sample, and it will be sent to you through an email.