Counterfeit Money Detection Market
Counterfeit Money Detection Market Analysis By Product Type (Coin Currency Counters, Currency Sorters, Currency Detectors, Pens), By Technology (Ultraviolet, Infrared, Magnetic, Watermark, Microprint), By Application (Kiosks, Self-checkout Machines, Gaming Machines, Vehicle Parking Machines, Automatic Fare Collection Machines, Vending Machines), By Industry Vertical (Retail & e-Commerce, Transportation, BFSI, Hospitality & Tourism) & By Region – Global Market Report 2023 to 2033
Analysis of Counterfeit Money Detection Market Covering 30+ Countries Including Analysis of US, Canada, UK, Germany, France, Nordics, GCC countries, Japan, Korea and many more
Counterfeit Money Detection Market Outlook (2023 to 2033)
The global counterfeit money detection market size has reached a value of US$ 3.2 billion in 2023 and is projected to climb to US$ 5.4 billion by 2033-end, expanding at a steady CAGR of 5.2% over the next ten years (2023 to 2033).
Banknotes incorporate security features aimed at reducing counterfeit currency. They ascertain the presence of essential security elements on banknotes. These devices are engineered to rapidly identify top-quality counterfeit bills. Commercial counterfeit detectors find applications across diverse industries including banking, retail, gaming, and hospitality. They identify soiled, damaged, or crumpled banknotes as fraudulent. When these detection systems encounter potentially suspicious banknotes, they prompt cashiers to conduct a detailed inspection.
A smart money counterfeit bill detector is a device designed for the identification of counterfeit notes with the help of banknote validation systems. Legitimate banknotes incorporate specific security elements to mitigate counterfeiting. These detectors are instrumental in verifying the presence of these essential security features on banknotes.
Counterfeit money detection systems come equipped with various integrated features like UV detection and watermark verification, which play a crucial role in confirming the authenticity of currency. Their primary purpose is to minimize losses attributable to counterfeit currency, thereby contributing to increased profits.
The level of interest in or need for various tools and pieces of equipment made to make handling, counting, sorting, and securing cash and coins easier is referred to as the demand for money-handling items. The need for money-handling products might shift depending on several variables, including prevailing economic conditions, technical developments, and alterations in the commercial environment.
The requirements of a company or organization, the number of cash transactions, and the need for security all go into the decision of which cash-handling detection machine to use. In addition to saving time, these devices help with cash handling accuracy and security by lowering the possibility of mistakes and the acceptance of counterfeit money.
Report Attributes
Details
Counterfeit Money Detection Market Size (2022A)
US$ 3 Billion
Estimated Market Value (2023E)
US$ 3.2 Billion
Forecasted Market Value (2033F)
US$ 5.4 Billion
Global Market Growth Rate (2023 to 2033)
5.2% CAGR
Currency Detectors Segment Share (2023)
30%
North America Market Share (2023)
34%
Asia Pacific Market Share (2023)
29%
China Market Growth Rate (2023 to 2033)
4.5% CAGR
Currency Detectors Segment Growth Rate (2023 to 2033)
6% CAGR
Coin & Currency Counters Segment Growth Rate (2023 to 2033)
3.3% CAGR
Key Companies Profiled

AccuBANKER USA
Cassida Corporation
Crane Payment Innovations
Cummins Allison Corp.
DRI Mark Products, Inc.
Semacon Business Machines, Inc.
Fraud Fighter
Royal Sovereign International Inc.
Japan Cash Machine Co.
Innovative Technology Ltd.
Don't Need a Global Report?
save 40%! on Country & Region specific reports
What are the Reasons Behind the Rising Use of Counterfeit Money Detection Devices?
"Utilization of AI and Machine Learning Techniques in Anti-money Laundering Systems"
Devices for detecting counterfeit money use a variety of technologies, such as magnetic, UV, and infrared systems. Due to its outstanding accuracy in spotting fake currency, ultraviolet technology is a popular choice for these devices. Demand for magnetic technology is growing since it has several benefits and is widely used in both developed and emerging economies, including the United States, Germany, China, Japan, and India.
AI-based anti-money laundering (AML) solutions are advanced systems that employ artificial intelligence and machine learning techniques to identify, analyze, and combat money laundering activities. The magnetic properties of currencies are specifically detected by magnetic technology in mobile devices. Additionally, infrared technology is anticipated to increase reasonably throughout the projected period.
"Increasing Fraudulent Operations and Spread of Counterfeit Notes"
In recent years, the retail, casino, and banking industries have seen an increase in fraudulent operations and the spread of counterfeit currency notes. Governments are actively taking action to stop the spread of counterfeit money through the implementation of new laws and disciplinary measures. Governments all across the world are working to reduce the use of counterfeit currency. The crime of counterfeiting is regarded as serious. To prevent money fraud, finders are used by banks and other financial institutions as well as public locations like department stores and shopping centers where cash transactions take place.
Point of sale (POS) terminals have become more popular in many retail outlets when it comes to safe financial transactions because they give protection against hackers and do away with the need for actual currency. This change has created a brand-new revenue stream in the industry.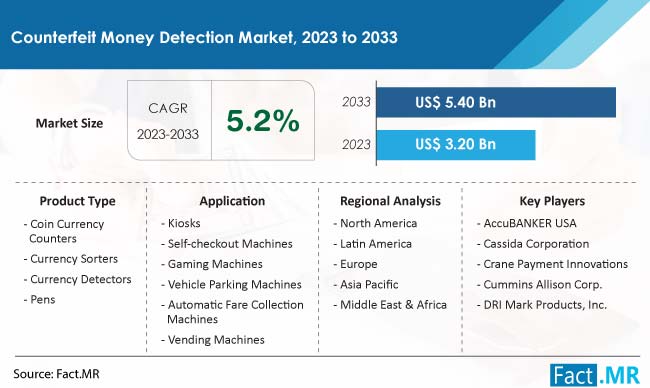 What Hurdles Do Innovators Face in the Realm of Counterfeit Money Detection?
"High Initial Costs and Continuously Evolving Counterfeit Techniques"
Counterfeiters are continuously developing more sophisticated methods to produce fake currency. This constant evolution presents a significant challenge for counterfeit money detection technology, which must keep pace with these advancements to remain effective.
Implementing counterfeit money detection systems can be expensive, especially for smaller businesses. The cost of purchasing and maintaining advanced detection equipment may deter some organizations from investing in robust counterfeit detection measures.
"Risk of Reduced Detection Efficiency and False Alarms Due to Neglected Maintenance"
Counterfeit money detection devices require regular maintenance and calibration to ensure accurate results. Neglecting this maintenance can lead to reduced detection efficiency and potentially false alarms or missed counterfeit notes.
While counterfeit money detectors are designed to identify fake currency, they can occasionally produce false positives, flagging genuine banknotes as counterfeit. This can lead to inconvenience and customer dissatisfaction.
More Insights, Lesser Cost (-50% off)
Insights on import/export production,
pricing analysis, and more – Only @ Fact.MR
Country-wise Insights
The section that follows provides a summary of market revenue broken down by important countries. Through 2033, the market in China is forecasted to expand at a CAGR of 4.5%. The United States and China stand out among those evaluated in the report, according to Fact.MR's analysis.
Why is Demand for Counterfeit Money Detection Increasing in the United States?
"Early Adoption of Innovative Technologies in Security and Financial Services"
North America is projected to lead the market, holding 34% of the global counterfeit money detection market share in 2023.
In several industries, including security and financial services, North America has a reputation for being an early adopter of innovative technology. Systems for detecting counterfeit currency also follow this progressive philosophy. The area is at the forefront of the market due to its openness to adopt cutting-edge technologies.
Major technology firms with a focus on creating and producing equipment and solutions for the detection of counterfeit money are abundant throughout the United States. These businesses have the knowledge and resources to develop cutting-edge detection systems, providing them with an advantage over rivals in the market.
What Prospects Await Providers of Counterfeit Money Detectors in China?
"Continuous Improvements and Growing Need for Cutting-Edge Security Measures"
In 2023, the Asia Pacific market is projected to account for 29% of the market. As a result of continuous improvements and a higher acceptance rate, the counterfeit money detection business is expanding significantly in Asia Pacific. A greater need for cutting-edge security measures is created by the region's economies as they develop and modernize. Adoption of counterfeit money detection devices is rising across several industries in the region.
The Chinese market is predicted to expand at 4.5% CAGR through 2033. In China, counterfeit money detectors are being used in a variety of different businesses. Banking, retail, hotel, gaming, and other sectors are among them. Need for trustworthy and effective counterfeit money detection systems has increased as these industries grow and become more digitally integrated.
Category-wise Insights
What's Driving Extensive Adoption of Currency Detectors?
"Currency Detectors Facilitating Swift and Precise Detection of Counterfeit Money"
With 30% of the global counterfeit money detection market share in 2023, currency detectors have gained significant traction. Demand for currency detectors is predicted to increase more rapidly than money sorters during the forecast period. As counterfeit detectors can distinguish between real and fake cash notes, they are increasingly being used in a variety of businesses. The benefit of classifying notes according to different denominations is the main reason why currency sorters are used in banks. This is projected to significantly boost the growth of both segments over the forecast period.
Currency detectors are tools used to confirm the legitimacy of coins and banknotes. These detectors are frequently used to swiftly and precisely detect counterfeit money across a range of businesses, including banking, retail, gambling, and hospitality. They make use of a variety of technologies, including ultraviolet (UV), magnetic ink, infrared (IR), and optical sensors for counterfeit detection to check the security features and properties of money and make sure that only real coins and notes are accepted in financial transactions.
Currency detectors are essential for stopping financial losses brought on by fake money and preserving the trustworthiness of cash-based transaction monitoring.
Why is Demand for UV Technology on the Rise?
"High Detection Accuracy of Magnetic Technologies"
Ultraviolet technology has been widely adopted in counterfeit money detection due to its high accuracy in identifying counterfeit currency. It can reveal security features like UV ink markings and UV-reactive threads that are present on genuine banknotes but absent in counterfeit ones.
Since counterfeit currency notes are more frequently discovered with ultraviolet technology, it is the most widely used. Magnetic technology-based counterfeit money detectors, however, are growing at the fastest rate despite their accuracy.
Magnetic technology-based counterfeit money detectors are experiencing substantial growth despite not being as popular as their UV counterfeit money detectors initially.
Know thy Competitors
Competitive landscape highlights only certain players
Complete list available upon request
Competitive Landscape
Several important businesses that provide a variety of solutions to solve the growing concerns associated with counterfeit cash define the competitive landscape of the market for counterfeit money detection. These firms compete in terms of product innovation, market reach, and customer service. Along with the evolving strategies of counterfeiters, customer demand for precise and effective counterfeit detection systems fuels continual innovation and rivalry among key players.
In October 2020, Crane Payment Innovations forged a strategic alliance with Christchurch Casino, choosing their CPI SC Advance currency detection system and the Easitrax Connect Management System for five years. This move is expected to bolster its market expansion prospects throughout the forecast period.
Key Segments of Counterfeit Money Detection Market Research
By Product Type :

Coin Currency Counters
Currency Sorters
Currency Detectors
Pens

By Technology :

Ultraviolet
Infrared
Magnetic
Watermark
Microprint

By Application :

Kiosks
Self-checkout Machines
Gaming Machines
Vehicle Parking Machines
Automatic Fare Collection Machines
Vending Machines

By Industry Vertical :

Retail & e-Commerce
Transportation
BFSI
Hospitality & Tourism

By Region :

North America
Latin America
Europe
Asia Pacific
Middle East & Africa
- FAQs -
The global counterfeit money detection market is valued at US$ 3.2 billion in 2023.
Worldwide sales of counterfeit money detection systems are set to increase at a CAGR of 5.2% from 2023 to 2033.
Global sales of counterfeit money detection are projected to reach US$ 5.4 billion by 2033.
Demand for currency detectors is forecasted to increase at a CAGR of 6% through 2033.
The market in China is set to expand at a CAGR of 4.5% through 2033.
Demand for coin currency counters is projected to rise at 3.3% CAGR through 2033.