Critical Infrastructure Protection Market Outlook (2022-2032)
The critical infrastructure protection market has garnered a market value of US$ 137.8 Billion in 2022, anticipated to register a positive CAGR of 4% in the forecast period 2022-2032 and reach a value of US$ 204.2 Billion. Increasing stringent government regulations aiming at increasing the adoption of critical infrastructure protection (CIP) solutions have helped propel the growth of the market in various regions.
| | |
| --- | --- |
| Report Attributes | Details |
| Market Size Value in 2022 | US$ 137.8 Billion |
| Projected Market Forecast Value by 2032 | US$ 204.2 Billion |
| Global Growth Rate (2022 to 2032) | 4% CAGR |
| Market Share of U.S | 3.8% CAGR |
The growing threat of cyber-attacks and security breaches to physical systems is leading to the growing requirement to protect OT networks across the globe in the coming years, which is boosting the growth of the critical infrastructure protection market across the globe.
Don't Need a Global Report?
Save 40% on Country & Region specific reports
Critical Infrastructure Protection Revenue Analysis from 2015-2021 Vs Outlook 2022-2032
According to Fact.MR, market research and competitive intelligence provider, from 2015 to 2021, the global market for critical infrastructure protection has grown at a CAGR of 3.3%. An increase in the availability of next-generation technologies in rural areas, and a mobile broadband network could provide lucrative opportunities for vendors of critical infrastructure protection services.
Cybersecurity and the protection of critical infrastructure have dramatically changed as a result of the pandemic for quick remote worker support and cloud adoption. Cloud-based systems have become more and more popular as companies adopt work-from-home policies. Venture capitalists are investing more in cyber-infrastructure security due to this growth, but cyber threats are also increasing.
Furthermore, because of retraction in the movement of security forces, the risk of external terror attacks is also increasing, which will lead to a higher demand for monitoring and protection of physical critical infrastructures by human-less technology. During these times most of the transport facilities and tourist spots are closed, so the use of critical infrastructure protection solutions is limited. The heavy crowding of the public during the lockdown at various places such as transit systems will also boost the critical infrastructure protection market on a global scale
Changing Government Regulations will Boost Demand for Critical Infrastructure Protection in the Market
Increasing adoption of cutting-edge technology by businesses and the need to create new milestones for the critical infrastructure security and cyber security sectors are driving market growth. A rise in the need for mitigation of incidents impacting critical infrastructure of regions and nations is also driving growth in the CIP market. In addition, the increasing need for sophisticated, reliable, and cost-effective infrastructure protection systems is expected to present lucrative remuneration opportunities for the market during the forecast period.
Industrial, production, IT, and transportation disruptions significantly impact a country's economic stability and security in the market. In recent years, a number of governments have implemented laws and policies to establish cybersecurity standards for protecting critical infrastructures as part of federal laws and policies in various regions.
Globally, rapid urbanization has taken an immense toll on transportation systems, energy systems, water systems, and other infrastructure, making them one of the most challenging aspects of urban development. Accordingly, the governments are focusing on improving infrastructures, such as train and energy networks, in order to provide better living conditions. In addition to being crucial to CIP, the field of information and communications is also of high importance. Additionally, because of the widespread use of connected devices, cyber-attacks are becoming more common, and the government is now including them as an integral part of the critical infrastructure in the market.
Due to the large customer base served by the BFSI sector, as well as a large networking infrastructure and sensitive data, the sector is faced with several data breaches and cyberattacks. The security of ATMs is under constant threat, such as robberies, criminal activity, and fraud. All these factors have stimulated market growth for the critical infrastructure protection market.
More Insights, Lesser Cost (-50% off)
Insights on import/export production,
pricing analysis, and more – Only @ Fact.MR
How is Market Demand for Critical Infrastructure Protection being driven by R&D Activities?
The development of modern applications and infrastructure depends heavily on the collection and analysis of real-time physiological data. The purchase of CIP solutions by several government initiatives and investments in R&D projects has propelled the market demand for critical infrastructure protection solutions in the market.
The researchers conduct various studies on the development of software that can be used to prevent cyberattacks on the market. Researchers are conducting various studies in an effort to determine whether there are any environmental threats to businesses and how they can protect information that is stored on connected devices when they are in use. In response to the growing concern about privacy, companies have started to develop data protection programs to enhance data security and prevent data breaches.
Moreover, the researchers also found out how data protection can be improved in different verticals of the industry by leveraging the availability of CIP for different industries. In recent years, government and non-government organizations have made a variety of R&D investments that are pushing the market for critical infrastructure protection of defense activities.
Country Wise Insights
How is the Market expected to Fare in the U.S?
The United States is projected to hold the largest market share in 2022 and will continue to hold this position throughout the forecast period. US revenues constitute 3.8% of the global revenue. Through Public-Private Partnerships (PPPs) and their integration into international organizations, the security, and resilience of critical infrastructure in the region are greatly enhanced.
It is evident that both the e-commerce industry and the electric power industry become increasingly reliant on CIP solutions for their needs, due to which there is a high demand for the CIP market in this region.
With the increasing number of IT businesses and cyber-attacks, the market demand for CIP has increased. Thus, the U.S. government has a preference for ensuring the safety of the critical infrastructure of various nations that are located in the region.
According to estimates, the CIP market will have a market value of 72 billion dollars in 2032. As the number of small-scale and large-scale vendors in this market continues to grow, there is a strong drive to boost the market demand for CIP in this region. The adoption of smart grid technology in this region to prevent power failures and promote self-repairs among connected devices has contributed to the growth of the CIP market.
What role do Cyberattacks Play in the Growth of CIP in the Asia Pacific region?
As the government, healthcare, retail, and large-scale industries in developing countries depend on digital platforms, the market is seeing a rise in demand for critical infrastructure protection. China is the fastest-growing market for critical infrastructure protection. With the increasing demand for critical infrastructure protection due to cyberattacks and easy access to technology, the market is experiencing a surge in demand.
Over the past few years, China has emerged as one of the most popular outsourcing destinations for hackers around the world. According to estimates, China is projected to have a CAGR of 3.7% during the forecast period. Globalization has resulted in significant growth in market demand for critical infrastructure protection services in this region.
Growing industries and technological advances in these developing regions are propelling the market demand for critical infrastructure protection. With the growing number of government initiatives promoting safe data communication and secure data storage over the internet, the market demand for critical infrastructure protection services has increased.
With a CAGR of 2.4%, Japan is projected to have the second-highest CAGR in the market. In addition, a CAGR of 1.7% in South Korea, is projected for the critical infrastructure protection market during the forecast period. Cloud implementation and ongoing modernization have caused an increase in demand for cyber and infrastructure security which play a key role in the growing demand for critical infrastructure protection in the market.
Which Verticals are Leveraging Growth in the UK market for Critical Infrastructure Protection?
The UK economy is expected to experience significant growth over the forecast period. It is estimated that the market will grow at a CAGR of 3.1% during the forecast period. Due to the growing number of power grids, transportation networks, and telecommunications systems in the region, there is a great deal of demand for protection for critical infrastructure.
The launch of the European Programme for Critical Infrastructure Protection programme to reduce the vulnerability of critical infrastructures in this region has stimulated market growth. Increasing number of R&D developments and tools for international cyber security in this region have increased the growth of the market for infrastructural protection in this region.
Increasing the resilience of critical infrastructures around the world has become a priority for authorities around the world. There has been an increase in the number of new threats as well as unconventional attacks against critical infrastructure that have uncovered the limitations of traditional risk assessments and risk mitigation efforts. In the aftermath of destructive events, the focus has shifted to resilience in order to ensure continuity of service in the aftermath, especially when these events cannot be predicted in advance. Thus there is a huge market demand for critical infrastructure protection market in this region.
The Global Positioning System (GPS) and Galileo will be the primary means of obtaining precise time and position data in the coming years, helping authorities operate critical infrastructure like electricity grids, telecom networks, and financial systems safely.
Know thy Competitors
Competitive landscape highlights only certain players
Complete list available upon request
Category-wise Insights
Critical Infrastructure Protection remains highly Sought After
Based on component type, the critical infrastructure protection market is divided into two categories: solution and services. The solution segment is expected to account for the largest share during the forecast period. Further, the solution is segmented into hardware and software components in the market. A rise in smart city investments will inevitably increase the demand for critical information systems protection solutions in the market.
The segment exhibits the highest growth rate of over 3.8% CAGR through 2032. As a result of gaining a competitive advantage and strong infrastructure security over their competitors, critical infrastructure protection solutions have grown rapidly. Further, these solutions will help customers secure their critical infrastructure and notify them of potential threats as soon as they occur, which will drive significant market growth.
How will Physical Safety and Security Solutions drive Critical Infrastructure Protection?
As technology advances, the threat posed to physical systems has become greater. In the current market environment, systems that are used for managing critical infrastructure activities independently are now being connected to the internet to share sensitive information around the globe. These changes in the market have resulted in new security risks. Thus, physical safety and security will drive the market for critical infrastructure protection in the future.
The purpose of physical safety and security is to safeguard a company's physical assets, such as software, hardware, office equipment, and personal information, from physical harm. To ensure physical protection, infrastructures should be surrounded by an array of physical barriers. It is expected that the market will reach a CAGR of 3.7% during the forecast period.
CIP continues to experience difficulties dealing with terrorism and natural disasters. Video surveillance equipment and video analytics software can be used to monitor crowds in public and private places. Face recognition technologies have recorded increased adoption in a variety of application domains, including those related to border control, security, government, and financial services.
As security threats become more prevalent in banking sectors, the demand for these solutions continues to grow. The current market is experiencing significant growth in the demand for businesses to be protected against external and environmental threats. The enterprise security personnel conduct a readiness assessment before installing new infrastructure or other devices to verify the tools and utilities that will support the new hardware. As secure communication over the internet becomes increasingly popular, CIP physical security for power and telecommunications cabling will be in high demand.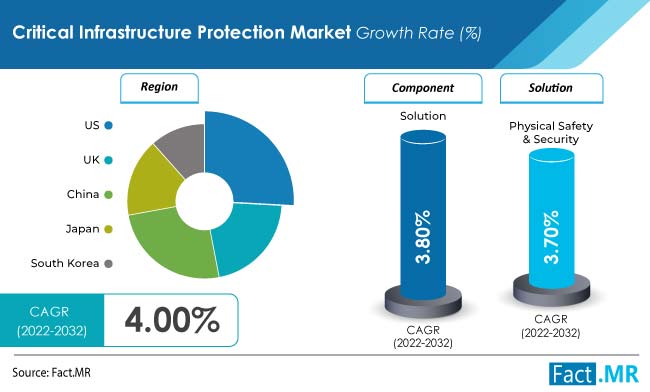 Acquisition of Disruptive Technologies to Heighten Competition
Collaborations with manufacturers make it possible for businesses to increase production and meet consumer demand, which increases revenue and market share. As a result of new technologies and innovations, end-users will be able to benefit from products and funding in the industries.
In October 2021, MITRE formed two new groups to better focus on critical infrastructure cybersecurity challenges and new approaches to public health issues. With these new groups, the firm will be able to move faster and be bolder in protecting infrastructure across the nation and leveraging clinical and genomic data for tackling infectious diseases and taking advantage of precision medicine.
In April 2022, Airbus Defence and Space announced the acquisition of DSI Datasicherheit GmbH. DSI and Airbus have maintained a partnership for many years before this transaction. Aerospace Data Security GmbH will become the new name for DSI DS after it is acquired fully by Airbus Defence and Space GmbH. This will further enhance Airbus' cryptography capabilities thus enabling the development of secure systems from end to end. Neither the terms nor the value of the agreement were disclosed.
Key Segments Covered in Critical Infrastructure Protection
By Component

Solution
Services

Professional Services
Managed Services

By Solution

Physical Safety and Security

Physical Identity and Access Control Systems
Perimeter Intrusion Detection Systems
Video Surveillance Systems
Screening and Scanning
Others

Cybersecurity
Encryption
Network Access Controls and Firewalls
Threat Intelligence
Other Cybersecurity Solutions

By Vertical

Financial Institutions

Fire Fighters
Law Enforcement
Other First Responders

Government, Defense
Transport and Logistics

Highways and Bridges
Railway Infrastructures
Sea Ports
Airports

Energy and Power

Power Generation
Power Grids

Commercial Sector
Telecom
Chemical and Manufacturing

Chemicals
Heavy Engineering Manufacturing

Oil and Gas

Upstream
Midstream
Other Verticals