Cystic Fibrosis Devices Market Outlook (2023 to 2033)
The global cystic fibrosis devices market is currently valued at US$ 825.09 million and is expected to increase at a massive CAGR of 10% from 2023 to 2033 and is projected to reach US$ 2.14 billion by 2033.
A hereditary condition brought on by gene mutations is known as cystic fibrosis (CF). The lungs, digestive system, and other body organs are severely damaged by the genetic illness 'cystic fibrosis'.
The cells that make sweat, digestive fluids, and mucus are impacted by cystic fibrosis. These secreted fluids are often slick and thin. However, a genetic defect in cystic fibrosis patients results in thick, sticky secretions. In the lungs and pancreas, in particular, the secretions clog up tubes, ducts, and passageways rather than lubricating them.
Individuals with CF disease who have an increase in upper and lower respiratory tract infections are driving up demand for cystic fibrosis treatment devices. The prevalence of blood in sputum, chronic cough, and collapsed lungs are further boosting sales of cystic fibrosis inhalation devices.
Furthermore, due to difficulties absorbing proteins, lipids, and vitamins, individuals with CF condition also struggle with gastrointestinal system diseases, which are also influencing the growth of the cystic fibrosis devices market. As a result, it is anticipated that the availability of various medications for the treatment of respiratory and gastrointestinal infections as well as the availability of over-the-counter medications for the treatment of the reproductive system will have a positive effect on the growth of the market for cystic fibrosis therapeutics during the forecast period.
According to this study by Fact.MR, a market research and competitive intelligence provider, the cystic fibrosis devices market is classified into medications and devices. Based on medication, the market is further segmented into cystic fibrosis transmembrane conductance regulator (CFTR) modulators, mucolytics, bronchodilators, and pancreatic enzyme supplements.
Several drugs, gadgets, and surgeries are used as cystic fibrosis treatments to slow the disease's progression. As a chloride channel in the body, the transmembrane conductance regulator (CFTR) protein aids in controlling the movement of sodium and chlorine into and out of the cell membranes of the lungs and other body organs. CFTR modulators improve cellular body function and patients' quality of life while reducing lung-related ailments and respiratory problems.
A significant market share currently belongs to CFTR drugs, which are expected to rise significantly in the coming years. Additionally, the cystic fibrosis industry growth will be fueled by additional cutting-edge treatments including triple combination medications with CFTR modulators.
Other types of medications, including antibiotics, anti-inflammatory medicines, pancreatic enzyme supplements, and mucolytics, are also used to address gastrointestinal problems or increase airway clearance in patients suffering from cystic fibrosis genetic disease.
Report Attributes

Details

Cystic Fibrosis Devices Market Size (2023E)

US$ 825.09 Million

Forecasted Market Value (2033F)

US$ 2.14 Billion

Global Market Growth Rate (2023 to 2033)

10% CAGR

China Market Growth Rate (2023 to 2033)

14.5% CAGR

Japan Market Growth Rate (2023 to 2033)

5% CAGR

Germany Market Growth Rate (2023 to 2033)

6% CAGR

Canada Market Growth Rate (2023 to 2033)

8.5% CAGR

Key Companies Profiled

AbbVie
Allergan Plc
AstraZeneca
Bayer AG
Chiesi Farmaceutici S.p.A.
F. Hoffmann-La Roche AG
Genentech, Inc.
Gilead Sciences
Mylan N.V.
Novartis AG
Pfizer Inc.
Pharmaxis Ltd.
PTC Therapeutics
Vertex Pharmaceuticals Incorporated
Don't Need a Global Report?
Save 40% on Country & Region specific reports
What is the Global Demand Outlook for Cystic Fibrosis Devices?
"COVID-19 Had Positive Impact on Sales of Cystic Fibrosis Devices"
Since cystic fibrosis patients are at a greater risk of contracting the coronavirus, the sudden global spread of the COVID-19 outbreak is boosting the cystic fibrosis therapeutics market growth. The rising prevalence of several CF-associated diseases such as lung infections, pancreatic inflammation, diabetes, and others are expected to significantly boost the sales of cystic fibrosis devices.
For instance, data on COVID-19-infected CF patients are being collected and analysed by the European Cystic Fibrosis Society (ECFS). Information is being gathered and reported by the ECFS Patient Registry in collaboration with national cystic fibrosis registries to determine the variables that predict the severity of COVID-19.
"Rising Prevalence of Cystic Fibrosis Disease & Related Disorders"
The primary factor anticipated to boost the growth of airway clearance devices for the cystic fibrosis market is the rising prevalence of cystic fibrosis, asthma, and chronic obstructive pulmonary disease (COPD) around the globe. The prevalence of lung-related ailments brought on by cigarette usage and increasing worries about respiratory illnesses including emphysema and asthma are the main factors fuelling sales of cystic fibrosis airway clearance devices.
Additionally, several growth opportunities in the cystic fibrosis (CF) therapeutics market are anticipated to develop throughout the forecast period due to elements including rising spending power on healthcare, increasing use of automation in the healthcare sector, and quick uptake of cutting-edge medication devices.
Several technological advancements are boosting the demand for improved home respiratory therapy devices. Due to their quick and efficient results, the majority of healthcare professionals and experts in lung disorders now favour medicine and device combinations, such as inhalers and nebulizers.
Favourable insurance coverage provided by the public and private sectors, particularly in developed nations, for the use of airway clearance devices for various respiratory disorders is anticipated to have a positive impact on the cystic fibrosis therapeutics market growth.
Companies such as Hill-Rom and Electromed, Inc. provide efficient medical care along with simple reimbursement. Over the projection period, it is anticipated that increasing awareness of the need to establish a unified platform for chronic obstructive pulmonary disease patients will propel global cystic fibrosis devices market growth.
For instance, November is observed globally as National COPD Month. To increase awareness, the COPD Foundation works with multiple respiratory healthcare groups to organize various in-person and online events for people with COPD.
For example, Vertex Pharmaceuticals Incorporated recently reported encouraging findings from their phase III clinical trial on inhaled mannitol used to treat mucociliary clearance.
In addition to this, the demand for cystic fibrosis devices is anticipated to grow due to the use of technologically sophisticated devices for a range of serious cases, such as mucus thinners, airway clearance procedures, and others. Thus, all such aspects are boosting the demand for cystic fibrosis medical devices.
"Rapid Developments in Cystic Fibrosis Treatment Procedures"
The size of the CF patient population is rising rapidly across the world. Pharmacotherapy for cystic fibrosis has made several improvements in the way this ailment is treated, which is boosting demand for cystic fibrosis devices.
In addition, industry trends in illness treatment are driving sales growth since more pipeline candidates from big businesses are geared toward therapeutic procedures. Manufacturers are being influenced by this to develop cutting-edge drugs that target anomalies in the CFTR protein.
The introduction of Ivacaftor/Lumacaftor, a potentiator that enhances the lives of those with CF disease, is also contributing to the growth of the market. Furthermore, prominent businesses' increased R&D efforts and technological advancements are fuelling the sales of cystic fibrosis equipment by offering advanced products.
For instance :
The National Research Council introduced a smart patch for the early identification of cystic fibrosis. This patch is wirelessly powered in the digital realm.
More Insights, Lesser Cost (-50% off)
Insights on import/export production,
pricing analysis, and more – Only @ Fact.MR
Which Factors May Hamper Sales of Cystic Fibrosis Medication Devices?
"Adverse Effects of Some Medications and High Cost of Treatments"
Some aspects are expected to negatively influence sales growth during the forecast period. Utilization of some cystic fibrosis medication products can result in severe side effects such as upper respiratory tract infections, liver issues, chest pain, and high blood pressure which further limit the market growth.
Furthermore, the exorbitant expense of care for CF patients requiring a liver transplant, a lung transplant, and other transplants is impeding demand for cystic fibrosis gene therapy solutions.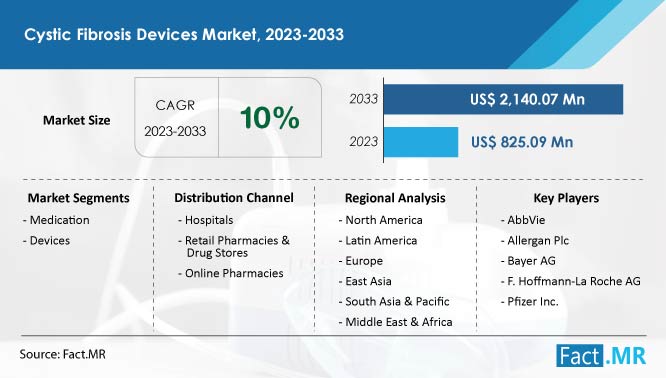 Know thy Competitors
Competitive landscape highlights only certain players
Complete list available upon request
Country-wise Analysis
How is Demand for Cystic Fibrosis Devices Evolving in the United States?
"Rapidly Increasing Cases of Lung Disorders"
The United States is currently holding a leading position in the North American cystic fibrosis market. The rising cases of chronic obstructive pulmonary disease and asthma are supporting the sales of cystic fibrosis devices in the nation.
Development of the United States cystic fibrosis devices market is also being aided by technologically advanced healthcare facilities and growing public awareness of early therapies for lung-related disorders. Additionally, the demand for cystic fibrosis drug therapies is being aided by the introduction of innovative treatment modalities such as targeted drug therapy and stereotactic drug delivery.
The American Lung Association ranks COPD as the third leading cause of death in the nation.
Why are Germany & the United Kingdom Rapidly Progressing in the Field of Cystic Fibrosis Treatment?
"Presence of Advanced Healthcare Facilities and Rapid Technological Advancements"
Rising demand for cystic fibrosis devices in Germany & the United Kingdom can be attributed to well-established healthcare infrastructure and advantageous medical insurance policies. The risk of cystic fibrosis is expected to increase in European countries due to the rising incidence of genetic abnormalities.
The market in Germany is expected to increase at a CAGR of 6% from 2023 to 2033. Furthermore, government attempts to raise awareness about the importance of routine lung examinations are driving demand for cystic fibrosis (CF) therapeutics.
Chronic lung illnesses and asthma are the most prevalent condition among children in the European region. The usage of artificial intelligence (AI) and the internet of things (IoT), among other technological developments, are boosting sales growth in the field of cystic fibrosis diagnosis.
What is Supporting the Sales of Cystic Fibrosis Devices in China?
"Rapidly Growing Rate of Senior Population"
The market for cystic fibrosis devices in the Asia Pacific region is projected to increase due to the rapidly rising rate of the ageing population who are more susceptible to lung-related ailments in developing nations such as Japan, South Korea, and China.
Demand for cystic fibrosis medication devices in China is predicted to progress at a CAGR of 14.5% during the next 10 years. The factors driving sales growth include the high adoption of cutting-edge technologies and the rapidly growing healthcare industry.
With strong clinical development capabilities and a significant commercial presence in China, Innovent is a top biopharmaceutical business.
Category-wise Analysis
Which Route of Administration is Highly Preferred for Cystic Fibrosis Treatment?
"Easy & Comfortable Consumption Aspects Driving Sales of Oral Drugs"
Based on route of administration, the cystic fibrosis cure procedure is segmented into oral and parenteral. Currently, oral drug holds a dominating share in the cystic fibrosis devices market. This growth can be related to elements such as the increasing use of oral medications worldwide and the introduction of novel drug formulations that can be readily swallowed without the risk of intrusive treatments to obtain effective therapy.
In addition, the parenteral drug demand is predicted to rise healthily over the forecast period due to rising interest in parenteral medication, which includes injections and inhalation. As a result, medical professionals often prescribe inhaled medications to patients who suffer from CF and high-risk respiratory illnesses.
Furthermore, key companies in the cystic fibrosis devices market are concentrating on the mass production of advanced formulation injections due to an increase in the usage of injections for the treatment of CF.
Competitive Landscape
Some of the key players in the cystic fibrosis devices market are AbbVie, Allergan Plc, AstraZeneca, Bayer AG, Chiesi Farmaceutici S.p.A., F. Hoffmann-La Roche AG, Genentech, Inc., Novartis AG, Pfizer Inc., and Vertex Pharmaceuticals Incorporated.
Vertex Pharmaceuticals Incorporated holds a dominating market position due to its wide range of products and significant global presence in the treatment of cystic fibrosis. Vertex Pharmaceuticals is a biotechnology company that focuses on scientific breakthroughs to create effective treatment products for critical diseases. For cystic fibrosis treatment, the firm has numerous authorized medications.
Several leading market participants are adopting local supply marketing strategies such as new developments in product standards based on regional or local needs, changing pricing trends, and improving supply chain management.
In October 2020, Roche announced a partnership with AbbVie and the procurement of the TMEM16A potentiators portfolio, both of which would be used to treat cystic fibrosis patients regardless of their CFTR genotype as well as those who suffer from other respiratory ailments. The partnership is influencing the company's ability to expand its product line.
Key Segments of Cystic Fibrosis Devices Industry Research
By Treatment Method :

By Route of Administration :

By Distribution Channel :

Hospitals
Retail Pharmacies & Drug Stores
Online Pharmacies

By Region :

North America
Latin America
Europe
East Asia
South Asia & Oceania
MEA