Oral Hygiene Market
Oral Hygiene Market Analysis By Product (Toothpaste, Toothbrushes, Mouthwash, Dental Floss, Dental Accessories), By Distribution Channel (Hypermarkets/Supermarkets, Convenience Stores, Pharmacies & Drug Stores, Online Retail Stores) & Region - Global Market Insights 2023 to 2033
Analysis of Oral Hygiene market covering 30+ Countries Including Analysis of US, Canada, UK, Germany, France, Nordics, GCC countries, Japan, Korea and many more
Oral Hygiene Market Outlook (2023-2033)
The global oral hygiene market is anticipated to evolve at a CAGR of 5% from 2023 to 2033. The market stands at US$ 52 billion in 2023 and is thereby predicted to reach US$ 85 billion by 2033-end.
Demand for toothbrushes is expected to rise the fastest at a CAGR of 5.3% through 2033 due to ever-growing awareness of oral health care and cleanliness among individuals across regions. Key companies are mostly focused on creating brushes in a range of shapes and sizes to accommodate different consumer needs when brushing their teeth.
Oral health has become one of the primary public health issues in practically every region of the world due to fast-changing lifestyles, unsuitable diets, and rising alcohol and tobacco use. For instance, dental disorders, which affect people throughout their lives and pose a significant problem for many countries, cause pain, discomfort, disfigurement, and even death, according to the World Health Organization.
By regularly brushing and cleaning in between the teeth, oral hygiene helps prevent additional issues such as tooth decay, gum disease, and bad breath. It also keeps the mouth healthy and free of infections. Dental diseases must be avoided by maintaining good oral hygiene regularly.
One of the key factors propelling market growth is the rise in the prevalence of dental problems worldwide. Increase in premiumization, consumer demand for more specialized solutions, and the rising number of dentists in active practice worldwide all contribute to market expansion.
Increasing spending on dental care due to high per capita income, increased awareness of the importance of oral health and fresh breath, and these factors all have an impact on the market. The market also benefited from medical and dental tourism in emerging nations, an increase in the elderly population, and a growth in health consciousness. Additionally, during the projection period, market participants will benefit from rising online shopping and e-Commerce trends as well as growing awareness of dental hygiene.
Oral hygiene products are essential for helping people live healthy lives. They lessen the frequency of mouth and facial discomfort. Oral hygiene solutions take care of the gums, assist in maintaining a clean tongue, and eliminate plaque. The prevalence of oral cancer, periodontal disorders, and tooth decay has increased worldwide, which has significantly increased the demand for oral care goods such as toothpaste, toothbrushes, and mouthwash.
Oral health issues, which affect 91% of people between the ages of 20 and 64, have fueled the demand for oral care products. These products have shown to be successful in delivering necessary oral care. Additionally, the availability of a wide range of items, including flavored oral care swabs and oral care kits, has enabled market expansion. The demand for oral care products, however, will be boosted by an increase in the number of healthcare facilities and a rise in consumer disposable income in developing countries.
When bacteria permanently stick to and then proliferate on the surface of teeth, bacterial biofilm formation takes place. Dental caries or periodontal infection, which is the primary cause of tooth decay, can result from biofilm aggregation on dental or gingival tissues over a certain length of time and in conjunction with other variables. Home-use dental care products are readily available to customers and come in a huge variety thanks to recent advancements in the oral care sector.
Availability of innovative and attractive oral care products, huge investments in marketing and promotional activities to reach higher customer bases, and product developments carried out by prominent players are key factors driving market growth.
Report Attributes

Details

Oral Hygiene Market Size in 2023

US$ 52 Billion

Projected Market Value (2033)

US$ 85 Billion

Global Market Growth Rate (2023-2033)

5% CAGR

Market Share of Toothbrushes

40%

Key Companies Profiled

Colgate-Palmolive
Ultradent Products, Inc.
Dentsply International Inc.
Lion Corporation
Dabur India Ltd.
Unilever
Safeway
Johnson & Johnson
Danaher Corporation
GC Corporation
Why are Oral Hygiene Products Gaining Huge Popularity Worldwide?
"Increasing Adoption of Cosmetic Spa Services and Innovative Dental Care Products"
Many dentists now concentrate on offering cosmetic spa services for many types of routine dental caries to meet the patients' additional needs for personal care. This can lessen the patient's dental-related anxiety triggers during the dental procedure, such as visual, auditory, and olfactory triggers, which in turn increases demand for associated dental aesthetic products. The dental spa clinics' use of diverse 4D-based video and image visualizations has prompted the development of a luxurious environment for patients.
Most consumers choose recently released oral care items such as powered toothbrushes and other innovative dental care products. The ease with which these goods are accessible is raising consumer demand for them. The general public's growing awareness of cosmetic dental services helps people keep their breath fresh. This is another important factor that has a favorable effect on the demand for oral care products. People are also using teeth whitening solutions on a large scale to improve their oral aesthetics.
How is Industry Growth Being Restrained to Some Extent?
"Negative Effects of Teeth Whitening Products and Product Recalls"
While oral hygiene products are an integral part of basic healthcare, there are still underdeveloped and rural areas where these products are no less than luxuries. Despite spreading awareness through campaigns and initiatives, many people are yet to take oral hygiene products as seriously as necessities. Negative effects of teeth whitening strips and product recalls are the factors hampering market expansion.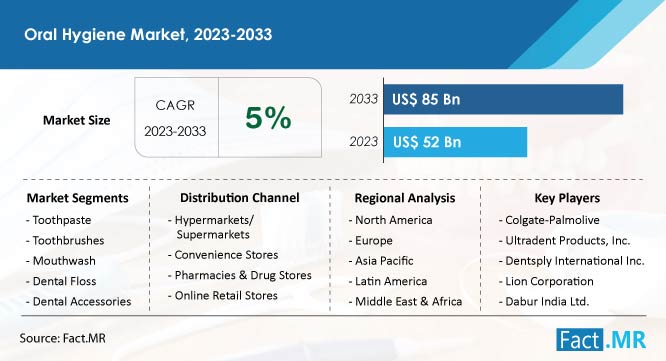 How Can New Entrants Increase their Revenue Share?
"New Companies Introducing Technology-enabled Dental Care Solutions"
Start-ups are developing affordable oral hygiene products to broaden their product offerings and increase accessibility. Aspiring market players are always focusing on creating technology-enabled dental care solutions to draw in a sizable consumer base. The introduction of electric brushes, charcoal-based teeth cleaners, and dental whitening products is likely to hasten market expansion.
The bristles on the electric toothbrush from Boka, a start-up based in the U.S., include an activated charcoal coating to reduce bacterial development and improve your brushing experience. This can be used in conjunction with its toothpaste, which restores enamel naturally by using nano-hydroxyapatite.
Which Region Holds a Leading Position in This Industry?
"Increase in Geriatric Population Associated with Edentulism Driving Market Growth in Asia Pacific"
Asia Pacific leads with more than 40% share of the global market. An increase in the number of oral hygiene product suppliers, a geriatric population associated with edentulism, growing prevalence of dental caries and other periodontal diseases in children and adults, increasing healthcare expenditure, and willingness to spend more on dental care are the aspects driving market growth in the region.
Country-wise Insights
What Makes the U.S. a Leading Market for Oral Hygiene Solutions?
"High Oral Care Item Sales Due to Customers' Strong Purchasing Power in the U.S."
High levels of oral hygiene awareness, the introduction of novel oral hygiene products, and increased accessibility of various oral hygiene products are boosting market expansion in the U.S.
Market growth in the U.S. is fueled by the widespread product acceptance and high sales of oral care items due to customers' strong purchasing power.
What is Boosting the Sales of Oral Hygiene Products in South Korea?
"Growing Customer Preference for Herbal Toothpaste Products"
The market in South Korea is being fueled by the increasing frequency of oral disorders and growing customer preference for herbal toothpaste products.
Consumers in the country are brand-conscious and choose to spend more to assure a product's efficacy and safety over searching for more affordable ways to maintain their oral hygiene.
Will Japan Be a Profitable Market for Oral Hygiene Product Suppliers?
"Rising Medical Tourism & Encouraging Government Initiatives"
The world's largest geriatric population resides in Japan, which raises the incidence of oral infections. Rising medical tourism and encouraging government initiatives are driving market growth. During the projection period, other factors such as the rise in dental professionals and the total number of dental visits will promote market expansion.
Which Country is the Most Attractive Market for Oral Hygiene in Europe?
"Rising Aesthetic Concerns among Populace in Germany"
Electric toothbrushes are regarded as effective oral care items in Germany. Rising aesthetic concerns among the populace, the presence of major oral hygiene product manufacturers, and the outstanding penetration of online outlets are the elements stimulating the market revenue in the country.
Category-wise Insights
Why is Demand for Toothbrushes the Highest among All Products?
"Toothbrushes More Preferred Owing to Their High Utility in Preserving Fundamental Oral Health"
By product, the market is segmented into toothpaste, toothbrushes, mouthwash, dental floss, and dental accessories. Toothbrushes hold 40% share of the global market. Because of their high utility in preserving fundamental oral or dental health and the development of cutting-edge devices such as electric and battery-powered toothbrushes, toothbrushes are currently the most sought-after oral hygiene products worldwide.
These devices offer further advantages, including entire mouth cleaning and have many usage modes such as deep cleaning, everyday cleaning, tongue cleaning, whitening, and massage. To meet various demands, there are several styles of toothbrushes for adults and kids available in the market.
Which Distribution Channel is Expected to Generate High Revenue for Market Players?
"Hypermarkets/Supermarkets Lead Due to Wide Availability of Dental Care Items"
The market is classified into hypermarkets/supermarkets, convenience stores, pharmacies & drug stores, and online retail stores based on the distribution channel.
Currently, the primary distribution channel for oral hygiene products is hypermarkets/supermarkets. These are particularly effective at selling a wide range of attractive and innovative oral hygiene products to a wide range of clients.
Hypermarkets and supermarkets are extremely important participants in the business because they are so easily accessible. Because these stores offer to buy one get one free deals and other promotions on a limited number of items, customers prefer to buy their normal groceries from these establishments.
Competitive Landscape
Leading companies are investing heavily in R&D to manufacture items of a higher caliber that will better satisfy consumer needs and expand their customer base. They are concentrating on diversifying their portfolios to make a mark in the industry.
Major oral hygiene product suppliers are developing new product lines that cater to a range of consumer demands, including tooth decay, sensitivity, and tooth whitening. Top companies' efforts to create items with eco-friendly packaging materials have significantly reduced the carbon footprint of their businesses.
For instance,
In 2020, Procter & Gamble's Oral-B brand announced the release of Oral-B iO, an electric toothbrush that offers a soft brushing and a feeling of professional cleaning.
In 2020, The Colgate-Palmolive Company introduced the hum by Colgate smart electric toothbrush. It has cutting-edge sensors that let users monitor the length, frequency, and coverage of their particular brushing method. It also gives them specific suggestions on which areas require more focus.
Key Segments Covered in Oral Hygiene Industry Research
By Product :

Toothpaste
Toothbrushes
Mouthwash
Dental Floss
Dental Accessories

By Distribution Channel :

Hypermarkets/Supermarkets
Convenience Stores
Pharmacies & Drug Stores
Online Retail Stores

By Region :

North America
Europe
Asia Pacific
Latin America
Middle East & Africa
- FAQs -
Sales of oral hygiene products are estimated to reach US$ 85 billion by 2033.
Asia Pacific accounts for around 40% share of the global market.
Worldwide demand for oral hygiene products is projected to rise at a CAGR of 5% through 2033.
Colgate-Palmolive, Ultradent Products, Inc., and Lion Corporation are top oral hygiene product providers.
Currently, toothbrushes hold for 40% share of the global market.