Diamond Coatings Market Outlook (2023 to 2033)
The global diamond coatings market is estimated to be valued at 2.1 billion in 2023 and is projected to reach US$ 4 billion by 2033, expanding at a CAGR of 6.7% from 2023 to 2033.
Diamond coating is a technique used to uniformly deposit a layer of diamond on various materials, such as ceramics, glass, metals, composites, and plastics. The deposition process is facilitated by introducing a carbon feed gas that guarantees an efficient coating process. Specifically, methane that is diluted with hydrogen is introduced into a chamber and subjected to laser radiation using various technologies.
Diamond particles bond to the surface of any substrate or material because of the extreme pressure and temperatures. Various substrates can be coated with diamonds to enhance their hardness, wear resistance, corrosion resistance, and other properties. Diamond coatings are gaining popularity due to their optical, electrical, and mechanical properties. Diamond coatings possess remarkable wear resistance, exceptional surface hardness, and high thermal conductivity, making them highly sought after. Their excellent performance makes them an ideal solution for a wide range of surface-related issues.
Demand for diamond coatings has been on the rise in recent years, driven by the increased need for metal-cutting tools, electronic and mechanical equipment and diamond-coated medical devices. Diamonds are highly sought after due to their remarkable strength, high hardness, and low friction coefficient stability. To obtain diamond coatings, advanced engineering techniques such as physical vapor deposition (PVD) and chemical vapor deposition (CVD) are utilized.
Diamond tools have immense potential in various machining applications, including the creation of complex-shaped cutting tools such as drill bits. The application of diamond coatings can significantly extend the lifespan of equipment and tools, making them more durable and lightweight, which is highly desirable to target consumers.
Treatment technologies employed in diamond coatings are capital-intensive, requiring a significant investment of resources. The process of diamond coating also demands special operating conditions such as controlled vacuums and high temperatures, which are crucial for the equipment used in the process. Increasing investments in component manufacturing and medical devices will present market opportunities for diamond coating suppliers.
The research report published by Fact.MR, a provider of market research and competitive intelligence, offers a comprehensive evaluation of the diamond coatings industry. The report analyzes different key segments, competitive landscapes, restraints, and factors playing a crucial role in the market.
Report Attributes

Details

Diamond Coatings Market Size 2023

US$ 2.1 Billion

Projected Market Value (2033)

US$ 4 Billion

Forecasted Market Growth Rate (2023 to 2033)

6.7% CAGR

Share of Chemical Vapor Deposition Segment (2022)

35.5%

Canada Market Growth Rate (2023 to 2033)

6% CAGR

Germany Market Growth Rate (2023 to 2033)

4.3% CAGR

Key Companies Profiled

Advanced Diamond Technologies, Inc.
SP3 Diamond Technologies
Oerlikon Balzers Coating AG
Neocoat SA
JCS Technologies Pte Ltd.
Element Six SA
Diamond Product Solutions
Crystallume
What is Driving High Demand for Diamond Coatings across the Globe?
"Rising Demand for Enhanced Cutting Equipment across Industries"
Industrialization has led to increased demand for different types of diamond coatings in various industries for multiple purposes. Diamond is a highly sought-after component due to its exceptional stability, low erosion coefficient, and remarkable hardness and strength. Tools coated with diamond coatings possess immense potential in various machining applications.
Diamond coatings are highly beneficial in the creation of cutting tools with complex calculations, such as drills. They can significantly improve the lifespan of equipment and devices. Therefore, diamond coatings are increasingly being utilized for creating high-quality and lightweight tools, which can boost their demand among end users.
"Increasing Utilization of Diamond Coatings in Production of Lightweight and High-strength Materials with Longer Lifespan"
Cutting tools with CVD (chemical vapor deposition) coatings are exhibiting high demand at present. The use of composites in industries such as automotive, aerospace, and others has led to novel innovations. Diamond-coated tools hold great promise in a variety of machining applications.
Diamond-coated tools are highly effective in creating cutting tools with intricate geometries, such as drills. The application of diamond coatings significantly increases the lifespan of equipment and tools, which has led to their increased utilization in producing lightweight and high-strength materials, generating interest among end users.
Don't Need a Global Report?
Save 40% on Country & Region specific reports
What are the Factors Restraining the Use of Diamond Coatings?
"High Investment Cost Involved in Creating Controlled Environment for Diamond Coatings"
Innovation in raw materials is a significant driver of the development of new products. However, most providers of diamond coatings do not invest in R&D projects and instead focus on developing relevant technologies rather than cutting-edge ones. Diamond coatings require a controlled vacuum and high temperature, which can be quite expensive.
"Coating Adhesion-Related Issues Limiting Widespread Adoption of Diamond Coatings"
One of the key problems encountered in the diamond coating process is coating delamination. To ensure the effectiveness of coatings, strong adhesion between the substrate and the coating is crucial. However, nucleation and characterization on foreign surfaces pose critical issues that can impact the demand for diamond coatings.
Various issues related to coating adhesion can potentially delay the widespread implementation of diamond-coated tools in industrial machining applications of various materials. However, to address these issues, companies specializing in diamond coatings are increasingly investing in research and development projects.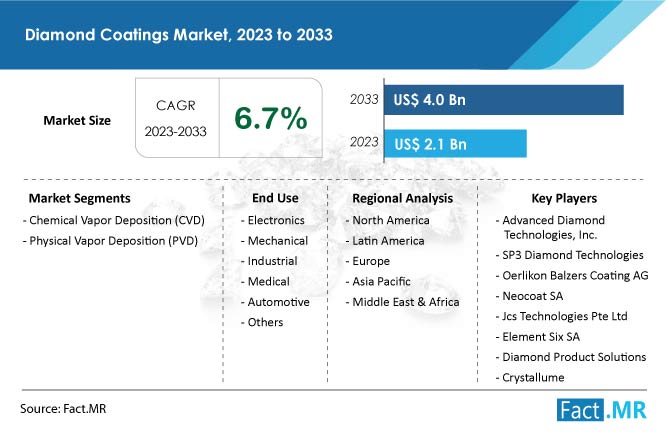 Which Regions Account for High Demand for Diamond Coatings?
"Growth in Medical and Automotive Industries in Asia Pacific Fueling Demand for Diamond Coatings"
Asia Pacific accounted for 42.5% share of the global diamond coatings market in 2022, followed by North America and Europe in the year 2022. Demand for diamond coatings in Asia Pacific is growing at a rapid pace. In Asia Pacific, China occupies a substantial market share, followed by India and Japan.
The Asia Pacific region is predicted to exhibit healthy growth in the industrial sector, driven by the growing middle-class and increasing population. This growth can potentially boost the medical and automotive industries, which can in turn further push the demand for diamond coatings in the region.
More Insights, Lesser Cost (-50% off)
Insights on import/export production,
pricing analysis, and more – Only @ Fact.MR
Country-wise Insights
What Makes Japan a Lucrative Market for Manufacturers of Diamond Coatings?
"Easy Accessibility to Raw Materials and Availability of Inexpensive Labor"
The demand for diamond coatings in Japan is projected to advance at a CAGR of 3.7% from 2023 to 2033. The abundance of raw materials and the availability of inexpensive labor are creating new opportunities for potential entrants in the Japanese market.
What is Contributing to High Sales of Diamond Coatings in the United States?
"Growing Demand for Diamond-coated Medical Devices in the United States"
Sales of diamond coatings in the United States were valued at US$ 455 million in 2022. The rising demand for diamond-coated medical devices, electronic equipment, and mechanical equipment is expected to drive the growth of the target market through 2033.
What are the Factors Contributing to High Sales of Diamond Coatings in Germany?
"Prominent Automotive Industry in Germany"
Sales of diamond coatings in Germany are forecasted to progress at a CAGR of 4.3% from 2023 to 2033. Significant expansion of various end-use industries, including automotive, is expected to propel the demand for diamond coatings in Germany through 2033.
Category-wise Insights
Which Technology is popular in the Diamond Coatings Space?
"Chemical Vapor Deposition Accounts for High Sales of Diamond Coatings"
Based on technology, the diamond coatings market is classified into chemical vapor deposition (CVD) and physical vapor deposition (CVD). The CVD procedure held a market share of 35.5% in 2022.
During the chemical vapor deposition process, a thin film deposit is created by exposing the substrate to volatile precursors that decompose and react with the surface of the substrate. This process occurs in a vacuum chamber and utilizes a hot filament.
Which Substrate-based Diamond Coatings are Widely Used across Regions?
"Metal-based Diamond Coatings Generating Substantial Sales"
The metal substrate segment held 33.1% of the global market in 2022. The growing demand for diamond coatings in ceramics, metals, composites, and plastics can open up lucrative opportunities.
The chemistry of the substrate plays a crucial role in the formation of diamond coatings. Molecular hydrogen and atomic carbon, particularly with ceramic substrates, initiate reactions that can influence intermediate layers, delay the nucleation of diamonds, and modify specific metallic substrates.
Diamond coatings applied to various metals, such as steel, are anticipated to create machine parts that can reduce friction. Additionally, diamond coatings on different metals can reduce friction coefficients, act as a protective film, and improve thermal conductivity. The trend of urbanization with larger networks is driving up demand for diamond coatings and material requirements.
What is the Demand Outlook for Diamond Coatings in the Medical Industry?
"Rapidly Growing Demand for Diamond-coated Medical Devices"
The medical industry is predicted to account for substantial sales of diamond coatings. The increasing demand for new types of products, materials, and instruments in the medical industry due to the integration of newly developed technology for treatment can create opportunities in the target market.
The fast-growing medical industry and the surging demand for diamond coatings, particularly in Asia Pacific, Europe, and North America, can create profitable opportunities in this market.
Know thy Competitors
Competitive landscape highlights only certain players
Complete list available upon request
Competitive Landscape
Diamond coating suppliers are investing in their supply chain management systems to deliver high-quality products and maintain product standards. To achieve market growth, they are adopting pivotal strategies such as agreements, new product development, and acquisitions.
For instance :
In April 2022, UES (United Engineering Services LLC), a multinational tech business in Oman, signed an MoU with AZD Technologies LLC, which is building its first manufacturing line of nano-diamond coatings in Muscat.
In January 2021, Oerlikon Balzers launched its new Baldia line of diamond coatings for drilling and machining highly abrasive materials.
In January 2020, Oerlikon acquired D-coat, a provider of diamond coating technology, to expand its product portfolio in surface treatment technologies, particularly in cutting tools for the automotive and aerospace industries.
Key suppliers of diamond coatings include Advanced Diamond Technologies, Inc., SP3 Diamond Technologies, Oerlikon Balzers Coating AG, Neocoat SA, JCS Technologies Pte Ltd., Element Six SA, Diamond Product Solutions, and Crystallume.
Diamond Coatings Industry Segmentation
By Technology :

Chemical Vapor Deposition (CVD)
Physical Vapor Deposition (PVD)

By Substrate :

Metal
Ceramics
Composites
Others

By End Use :

Electronics
Mechanical
Industrial
Medical
Automotive
Others

By Region :

North America
Europe
Asia Pacific
Latin America
Middle East & Africa