Graphite Coatings Market
Graphite Coatings Market By Application (Dry Lubrication, Anti-seize Agents, Release Agents), By End-use Industry (Energy, Automotive, Machinery, Electrical & Electronics, Textiles, Medical), & By Region - Global Market Insights 2023 to 2033
Analysis of Graphite Coatings Market Covering 30+ Countries Including Analysis of US, Canada, UK, Germany, France, Nordics, GCC countries, Japan, Korea and many more
Graphite Coatings Market Outlook (2023 to 2033)
Expanding at a CAGR of 6.1%, the global graphite coatings market is expected to increase from a value of US$ 743.1 million in 2023 and reach a market size of US$ 1.3 billion by the end of 2033.
Graphite is a naturally occurring polymer of carbon that exhibits qualities such as rigidity and strength and is one of the lightest reinforcing materials with exceptional natural lubricity. In circumstances where it's critical to lower an object's oxygen permeability and reactivity, which could result in oxidation, graphite-based coatings are necessary.
Improved electrical conductivity is provided by graphite coating, which also lowers the chance of electrostatic discharge (ESD). Graphite coatings are extensively used in commercial and industrial products such as batteries, polymer composites, paints, and coatings. Pure carbon is found in graphite's mineral form. Due to its high conductivity, it is mostly utilized to create conductive materials. Very efficient conductive filler is graphite powder.
Cell phones, tablets, and computers can all benefit from conductive graphite coatings, which also have excellent chemical, moisture, corrosion, UV, and fire-resistant qualities. Coatings made of graphite do not absorb moisture. Furthermore, thermal stress does not cause graphite coverings to deform, rupture, or shrink. As dry lubricants, graphite coatings are used on pistons, gears, and numerous other engine parts to lessen friction.
Dry lubrication, anti-seize agents, and release agents are some of the major applications of graphite coatings.
Dry lubrication-based graphite coating demand is expected to increase faster at a CAGR of 6.7% during the forecast period.
In the automobile sector, lubrication-based graphite coating is an effective way to lower friction, wear, and compressibility while improving the fluid motion of moving parts. The primary aspect boosting the global graphite coatings market growth is the highly widespread use of dry lubrication in industries including automobile, space & aviation, railroads, and others.
In Asia Pacific countries, the high need for graphite-based lubricants and greases is fulfilled by Condat Corporation, a dominant market leader in the graphite coating-based lubrication business.
Lubricant graphite coating is broadly used in the aerospace and aviation sectors, particularly in contemporary military aircraft. For instance, the demand for graphite coatings for lubrication is expected to benefit greatly from the development of aircraft such as the HAL-DRDO Advanced Medium Combat Aircraft (AMCA), the Omni Role Combat Aircraft (ORCA), and others.
According to estimates by Fact.MR, a market research and competitive intelligence provider, absolute dollar growth of the market for graphite coatings is expected to be valued at US$ 605 million from 2023 to 2033.
Report Attributes

Details

Graphite Coatings Market Size (2023E)

US$ 743.1 Million

Forecasted Market Value (2033F)

US$ 1.3 Billion

Global Market Growth Rate (2023 to 2033)

6.1% CAGR

China Market Growth Rate (2023 to 2033)

6.7% CAGR

Japan Market Growth Rate (2023 to 2033)

5.1% CAGR

United Kingdom Market Growth Rate (2023 to 2033)

4.6% CAGR

United States Market Growth Rate (2023 to 2033)

6% CAGR

Key Companies Profiled

Final Advanced Materials
CONDAT Corporation
Elcora Advanced Materials Corp.
Mersen
Van Sickle Paint Mfg. Company
Whitford
Imerys Graphite & Carbon
Asbury Carbons
BECHEM
Don't Need a Global Report?
save 40%! on Country & Region specific reports
How Will Producers of Graphite Coatings Benefit Going Forward?
"Graphite - Ideal Mechanical Component in Aerospace Sector"
There is no room for error in the aerospace business, which demands materials that can survive extremely high temperatures (up to 1,000 degrees), rapid speeds, and high altitudes. Aerospace engineers need high-performance materials that push the envelope in these harsh settings. Highly specialized graphite is the substance that satisfies these exacting standards for heat resistance and self-lubrication.
Graphite can operate at higher temperatures for a longer period than other bearing and seal materials because of its layered structure and material properties. Therefore, it's perfect for mechanical components that maintain airplanes operating at their best.
The aerospace and aircraft sectors are expanding significantly in both developed and developing countries including the United States, Australia, China, and India. The upgrading of jets and fighter aircraft has increased the need for high-temperature graphite coating materials due to their remarkably high thermal resistance and improved electrical conductivity capabilities. Additionally, a high-purity graphite coating is used as a paint protective layer on the metallic parts of aircraft.
Metcar is one of the leading market leaders in long-lasting industrial lubricants. Highly-specialized Metcar® graphite offers an extending lifespan for airplanes, enhances fuel efficiency, aids in running engines at higher temperatures, and reduces the load on airplanes.
"Introduction of Graphite Coatings with Enhanced Functional Characteristics Reducing Demand for Ceramic Coatings"
Before the invention of graphite coatings, ceramic coatings were used for various purposes, such as sealants, waxes, spray coatings, electrical conductors, coatings for metals, UV reflectors, and others. These are employed to both protect the exterior surfaces of metallic and non-metallic components and to give them the appearance of greater detail. However, due to the introduction of graphite coating the need for ceramic coating decreased globally. The carbon-based graphite covering places a lot of intermolecular stress between the surfaces.
Demand for graphite coatings is increasing significantly as a result of the enhanced functional characteristics of these coatings as compared to ceramic coatings and the rise in consumer complaints about water spots associated with ceramic coatings. A factor that is anticipated to have a major influence on the growth of graphite coating sales during the forecast period is the significantly decreased risk of water evaporation at the surface and water spots due to its chemical characteristics and the honeycomb structure.
"Graphite Coatings on Anodse Improve Li-ion Battery Performance"
Lithium ions are important electrochemical building blocks in the lithium-ion (Li-ion) battery, a cutting-edge battery technology. Numerous materials can be used as electrodes in lithium-ion batteries. Graphite and lithium cobalt oxide are a commonly used cathode and anode combination. The anode with the graphite coating improves overall operational effectiveness.
Recently, the California-based company Lyten announced that it has developed a graphite-based battery with an energy density three times that of traditional lithium-ion batteries.
Which Issues Should Manufacturers of Graphite Coating Products Look At?
"Tense Trade Relationships Increasing Cost of Raw Materials"
The trade relationship between the United States and China has become tenser recently, especially in light of how crucial their business links were during the pandemic. In addition, several other countries including Taiwan, Japan, and India, have increased their taxes on imports from China, the world's significant producer of graphite. Thus, all these factors are increasing the costs of graphite, further hampering the market growth to some extent.
More Insights, Lesser Cost (-50% off)
Insights on import/export production,
pricing analysis, and more – Only @ Fact.MR
Which Tactics May Help New Entrants Gain a Decent Market Position?
"Opportunities for Start-ups: Introduce Innovative Graphite Products with Unique Value Propositions"
The graphite coatings business can be beneficial for newcomers, but success in this industry will depend on various factors such as market demand, competition, innovation, and regulatory environment. One potential advantage of entering the graphite coatings industry as a newcomer is the increasing demand for lightweight and high-performance materials in various industries such as automotive, aerospace, and electronics.
Graphite coatings offer excellent thermal and electrical conductivity, which makes them a popular choice for applications where heat dissipation or electrical conduction is required. Additionally, graphite coatings can provide corrosion resistance and other protective properties, making them a versatile solution for various industries.
The graphite coatings market is characterized by innovation, with companies investing in research and development to create new and improved coatings that offer better performance and properties. This creates opportunities for start-up companies, who can introduce new and innovative products that meet the needs of end users and offer unique value propositions.
A materials engineering start-up established in Canada named Graphite Innovation and Technologies (GIT) is dedicated to developing game-changing applications for graphene technologies. GIT has created a patented method that employs graphene nanoparticles to provide a high-performance, environmentally friendly marine coating used on ship hulls. Since 2017, GIT has been working on developing its graphite-based products, and some of them are already being used in boats on a project-by-project basis.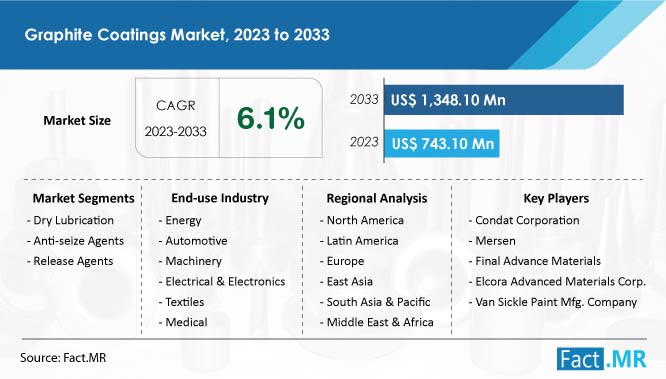 Country-wise Analysis
Why is China a Dominant Market for Graphite Coatings in Asia Pacific?
"From Steel to Electronics – High Demand for Graphite Coatings in Several Applications"
China is one of the major producers of graphite. Increasing at a CAGR of 6.7%, sales of graphite coatings are estimated to reach US$ 226.4 million by 2033.
Graphite coating sales in China are primarily driven by its growing use in the production of steel products, consumer electronics, and automobiles. This is because each sector has almost entirely relied on items with graphite coatings. The increasing use of graphite coatings in the manufacture of coated steel and the rise in steel recycling are the main factors driving the demand for graphite coatings in the country.
How is Demand for Graphite Coatings Progressing in Germany and the United Kingdom?
"Fuel Efficiency Driving Demand for Graphite Coatings in Electronic & Automobile Products"
Germany and the United Kingdom both hold the major market shares due to the huge concentration of companies manufacturing graphite coatings. Furthermore, the high use of fuel-efficient graphite in electronic products such as power tools and portable electronics is boosting product demand.
Graphite cells and graphite coatings are widely used in the production of automotive parts. High sales of automobiles in Germany and the United Kingdom are predicted to open up significant opportunities in both countries' graphite coatings markets.
Sales of graphite coatings are expected to reach US$ 124 million by 2033 in the United Kingdom during the forecast period.
In a single process, the United Kingdom-based company Levidian Nanosystems (formerly Cambridge Nanosystems) creates high-quality graphene that is used as the electrode material in batteries.
Which Aspects are Increasing the Sales of Graphite Coatings in the United States?
"Ensuring Purity & Consistency Crucial Role of Graphite Products in Aerospace Manufacturing"
Without graphite, it would be impossible to construct modern airplanes with aluminium skin and parts, titanium frames and structural elements, engine seals, bearings, and turbine blades. The use of graphite-based equipment is necessary for vacuum furnaces used for heat treatment, vacuum casting, electron beam welding, coating, annealing, and surface hardening to ensure the purity and consistency of parts.
Demand for graphite coatings is expected to progress at a CAGR of 6% in the United States from 2023 to 2033, due to the presence of significant aerospace and defense manufacturing facilities in the United States. The increasing usage of graphite in USVs, UAVs, satellites, rovers, and portable communication devices is benefitting the revenue growth of market players in the United States.
Know thy Competitors
Competitive landscape highlights only certain players
Complete list available upon request
Category-wise Analysis
Why are Graphite Coating Solutions Widely Used in the Automobile Sector?
"Cost-effective & Eco-friendly Graphite-coated Bipolar Plates Driving Automobile Innovation"
Demand for graphite coating products in the automobile industry is expected to increase at 6.2% CAGR during the next 10 years.
Major technological breakthroughs in the production of fuel cells have increased their efficiency and range. Bipolar plates, which are used in the fuel cells of electric vehicles, are coated with graphite to increase production efficiency. The German automaker Daimler, the Finnish steel producer Outokumpu Nirosta, and the Fraunhofer Institute for Material and Beam Technology IWS have created an affordable and scalable technique for the mass production of bipolar plates.
The usage of bipolar plates that have a thin layer of graphite on them lowers production costs significantly and aids in the creation of environmentally friendly automobiles. Components such as the piston and gear can be coated with graphite to assist reduce friction and guard against cylinder bore scratches. Thus, due to the significant features of graphite coatings, they are widely utilised in automobile manufacturing.
Competitive Landscape
To diversify their product offerings, key market players in the graphite coatings market are spending a lot of money on R&D activities. Leading businesses are engaging in several strategic activities to increase their worldwide presence in conjunction with key tactics such as contractual agreements, mergers and acquisitions, higher investments, and collaboration with other organizations.
According to ZEN Graphene Solutions, the company went under a corporate reorganization in December 2020. The move is aiding in enhancing their product portfolio.
In October 2020, Imerys revealed its intentions to boost synthetic graphite output at its Bodio factory in Switzerland to fulfil the increasing demand from the Europe, Asia, and North American lithium-ion battery markets.
Key Segments of Graphite Coatings Industry Research
By Application :

Dry Lubrication
Anti-seize Agents
Release Agents

By End-use Industry :

Energy
Automotive
Machinery
Electrical & Electronics
Textiles
Medical

By Region :

North America
Latin America
Europe
East Asia
South Asia & Oceania
MEA
- FAQs -
The global graphite coatings market is valued at US$ 743.1 million in 2023.
Demand for graphite coatings is expected to reach US$ 1.3 billion by 2033.
Sales of graphite coatings are predicted to increase at a CAGR of 6.1% from 2023 to 2033.
Growing use of graphite coatings in automobile and aerospace manufacturing facilities is boosting market growth.
Condat Corporation, Mersen, and Final Advance Materials are major producers of graphite coatings.