District Heating Market
District Heating Market Analysis By Plant Type (Boilers, Combined Heat & Power (CHP)), By Heat Source (Coal, Natural Gas, Renewables, Oil & Petroleum Products, Geothermal), By Application (Residential, Commercial, Industrial) & By Region - Global Market Insights 2023 to 2033
Analysis of District Heating Market Covering 30+ Countries Including Analysis of US, Canada, UK, Germany, France, Nordics, GCC countries, Japan, Korea and many more
District Heating Market Outlook (2023 to 2033)
The global district heating market has reached a valuation of US$ 179.19 billion in 2023. Expanding at a CAGR of 4%, worldwide demand for district heating solutions is forecasted to reach a market size of US$ 265.24 billion by 2033-end.
A district energy system is employed to monitor and regulate temperatures in industrial, residential, and commercial structures by supplying heat. The heat energy is generated at a central heat plant and subsequently conveyed through efficient district heat networks comprising insulated pipes. The production of heat is regulated through the use of combined heat and power systems, boilers, or heat pumps. By centralizing heat generation, these systems enable a reduction in greenhouse gas emissions while satisfying the increasing heat requirements of several consumers.
District heating systems are commonly used to provide heat and hot water to residential buildings such as apartments, housing complexes, and neighborhoods. It offers a convenient and efficient solution for meeting the heating needs of multiple dwellings.
Overall, district heating systems offer several advantages, including high energy efficiency, reduced greenhouse gas emissions, improved reliability, and lower maintenance costs compared to individual heating systems. They play a crucial role in sustainable urban development by optimizing energy resources and promoting the use of renewable or waste heat sources for heating purposes. Boiler and combined heat & power (CHP) are two types of district heating plants.
Cogeneration systems, also referred to as combined heat and power (CHP) systems, find widespread use in district heating applications. These systems are specifically designed to generate both heat and electricity simultaneously from a single energy source, resulting in enhanced energy efficiency when compared to the independent production of heat and power.
In the field of district heating, CHP systems play a crucial role in delivering dependable and sustainable heating solutions. A CHP system operates by utilizing a primary energy source such as natural gas, coal, biomass, or waste materials. This energy source is combusted to generate thermal energy. The heat produced from this combustion process is then employed to produce electricity through a turbine or an internal combustion engine.
The electricity generated can be fed into the power grid for general consumption. Additionally, as the primary fuel is burned, the CHP system captures the waste heat generated during the power generation process. This waste heat is effectively harnessed and utilized for district heating purposes.
Integration of power generation and heat recovery within a CHP system enables the overall energy efficiency to reach levels of 80% or even higher, compared to the separate generation of electricity and heat. This considerable improvement in efficiency leads to reduced fuel consumption and greenhouse gas emissions, establishing CHP systems as an environmentally friendly alternative for district heating.
Report Attributes
Details

District Heating Market Size (2023E)

US$ 179.19 Billion

Forecasted Market Value (2033F)

US$ 265.24 Billion

Global Market Growth Rate (2023 to 2033)

4% CAGR

Canada Market Growth Rate (2023 to 2033)

4.5% CAGR

Germany Market Growth Rate (2023 to 2033)

4% CAGR

Japan Market Growth Rate (2023 to 2033)

3.5% CAGR

China Market Growth Rate (2023 to 2033)

5.5% CAGR

Key Companies Profiled

Vattenfall AB
Danfoss Group
Andritz AG
Agripower, Inc.
Aris Renewable Energy LLC
Aalborg Energie Technik A/S
Adven
Akershus Energi
AGO GmbH Energie + Anlagen
3S Antriebe GmbH
Atoll Energy
AUGUST FICHTER GmbH
resundskraft AB
Basalt Global Limited
Altawest SAS
Banpu Public Company Limited
Don't Need a Global Report?
save 40%! on Country & Region specific reports
What's Driving Revenue Growth of District Heating System Providers?
"District Heating Solution Providers Embracing Green Future by Utilizing Renewable Energy Sources"
Several factors such as increasing focus on energy efficiency, renewable energy integration, urbanization, government support and regulations, aging energy infrastructure, technological advancements, and the need for resilience and energy security are boosting the demand for district heating solutions.
Increasing Focus on Energy Efficiency: There is a growing emphasis on improving energy efficiency and reducing greenhouse gas emissions. District heating systems are considered highly efficient as they enable the combined production of heat and power. This integrated approach reduces energy wastage and promotes sustainability, making district heating an attractive option for governments and organizations striving to meet their energy efficiency targets.
Renewable Energy Integration: The integration of renewable energy sources into district heating systems is another significant trend driving market growth. Renewable energy technologies such as solar thermal, geothermal, biomass, and waste-to-energy are increasingly being utilized as primary heat sources in district heating networks. This shift toward renewable energy integration aligns with global efforts to transition to a low-carbon economy and reduce dependence on fossil fuels.
Urbanization and Population Growth: Rapid urbanization and population growth in many regions are increasing the demand for heating and cooling solutions. District heating offers a scalable and efficient way to meet this demand, particularly in densely populated areas. It provides a centralized heating infrastructure that can serve multiple buildings and residential complexes, reducing the need for individual heating systems. As urbanization continues, the demand for district heating systems is expected to grow healthily.
Government Support and Regulations: Governments around the world are implementing supportive policies and regulations to promote the adoption of district heating systems. These measures include financial incentives, tax benefits, grants, and favorable tariffs. Additionally, stricter building codes and energy efficiency standards are driving the demand for district heating as a reliable and sustainable heating solution. Respective governments' support and regulations are creating favorable growth opportunities for district heating providers.
Aging Energy Infrastructure: Many countries across the globe are experiencing the presence of aging energy infrastructure that requires upgrades and modernization. This presents an opportunity for district heating system providers to replace outdated and inefficient heating systems. District heating can utilize existing infrastructure such as pipelines, which reduces the overall costs of implementation.
Technological Advancements: Technological advancements play a vital role in the development of district heating systems. Innovations in heat generation, distribution, and control systems enhance the efficiency and reliability of district heating networks. Advanced monitoring and control technologies enable optimized energy management and improved system performance. The integration of smart grid solutions, artificial intelligence (AI), digitalization, and automation further enhances the operational efficiency of district heating systems.
Resilience and Energy Security: District heating systems provide a higher level of energy resilience and security compared to individual heating systems. The centralized nature of district heating reduces the vulnerability to supply disruptions and price fluctuations. This aspect is particularly important in regions with extreme weather conditions or dependence on imported energy resources. The resilience and energy security offered by district heating systems drive their adoption and contribute to market growth.
How are Sales of District Heating Systems Being Restrained to Some Extent?
"High Initial Investment Requirement Restricting Market Growth"
Implementing district heating systems requires substantial upfront investments, including the construction or retrofitting of infrastructure such as pipelines, heat generation plants, and heat substations. These initial costs are considered a barrier to entry for some companies, particularly in areas with limited financial resources or where the existing infrastructure is not suitable for district heating.
High capital expenditure deters potential investors and is expected to slow down the growth of the market for district heating systems.
"Competition from Alternative Heating Solutions"
District heating systems face competition from alternative heating solutions such as individual heating systems or decentralized renewable energy systems such as heat pumps, heating cables, magnetic induction heating devices, and solar thermal systems. These alternatives have their advantages in specific situations or locations and their availability is anticipated to impact sales of district heating systems.
More Insights, Lesser Cost (-50% off)
Insights on import/export production,
pricing analysis, and more – Only @ Fact.MR
What's Expected to Generate High Profits for Start-ups in the District Heating Business?
"Supportive Government Policies and Growing Demand for Sustainable Solutions"
Several governments worldwide are actively promoting the adoption of district heating systems through supportive policies and regulations. New entrants can leverage these incentives such as financial incentives, grants, tax benefits, and favorable tariffs to reduce initial investment costs and enhance the economic viability of their projects.
Increasing focus on sustainability and the transition to low-carbon economies create a significant demand for district heating solutions. Newcomers capitalize on this demand by offering innovative and environmentally friendly district heating systems. By positioning themselves as providers of sustainable heating solutions, new entrants attract customers who prioritize energy efficiency and reduce environmental impact.
Collaborating with established players in the district heating market such as equipment manufacturers, energy service companies (ESCOs), or utility companies provide newcomers with valuable expertise, resources, and market access.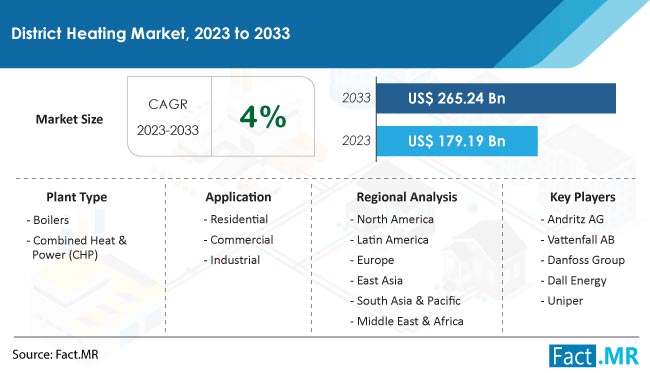 Country-wise Analysis
Why is the United States a Lucrative Market for Suppliers of District Heating Systems?
"High Demand for Sustainable Heating Solutions in the Country"
Demand for district heating systems in the United States is witnessing significant growth. The increasing focus on energy efficiency and sustainability is propelling the adoption of district heating systems in the country. Demand for district heating systems is primarily driven by the need for reducing greenhouse gas emissions and rising energy costs.
One of the notable trends in the United States market is the integration of renewable energy sources. The incorporation of renewable energy technologies such as biomass, geothermal, and solar thermal in district heating systems is gaining traction. This shift toward cleaner energy sources is aligned with the country's commitment to reducing carbon emissions and promoting a greener economy.
What's Propelling the Sales of District Heating Systems in Germany?
"Uniting Energies: Integrating District Heating Networks with Electricity & Transportation Systems"
As per this new report by Fact.MR, a market research and competitive intelligence provider, the German market for district heating is anticipated to rise at a CAGR of 4% over the projected period.
Germany has a well-established district heating infrastructure and its continuous expansion is driven by a strong commitment to energy transition and decarbonization.
A noteworthy trend in Germany is the integration of district heating networks with other energy sectors such as electricity and transportation. The concept of sector coupling aims to enhance the flexibility and utilization of renewable energy sources. It involves utilizing excess renewable energy for heating purposes and facilitating the electrification of heating systems, promoting a more integrated and sustainable energy system.
Why is Demand for District Heating Solutions Increasing in Japan?
"Surging Demand for District Heating Systems Amidst Nuclear Energy Transition"
Demand for district heating systems in Japan is expected to expand at a CAGR of 3.5% over the next 10 years.
The country's focus on reducing its dependence on nuclear energy and shifting toward renewable energy sources is boosting sales of district heating systems.
Japan is actively investing in district heating projects, particularly in urban areas, to improve energy efficiency and reduce carbon emissions. The integration of waste-to-energy technologies and biomass-based heat generation systems is gaining prominence. These initiatives aim to employ local resources and address the challenges of waste management while providing sustainable heating solutions.
Know thy Competitors
Competitive landscape highlights only certain players
Complete list available upon request
Category-wise Analysis
Why are District Heating Systems Widely Deployed in Residential Structures?
"Cost-effective & Energy-efficient Solution for Residential Buildings"
District heating systems are highly energy-efficient compared to individual heating systems. They utilize centralized heat generation, which allows for efficient utilization of energy resources and minimizes energy losses. This efficiency translates into lower energy consumption and reduced energy costs for residents.
Many countries with frigid climates, including the United States, Canada, Denmark, Germany, Iceland, and other EU nations have developed robust district heating systems. District heating systems often provide cost savings to residential consumers. Since district heating networks serve multiple buildings or households, economies of scale can be achieved in heat production and distribution. This is projected to result in lower heating costs for residents compared to individual heating systems.
Competitive Landscape
Key players are focusing on expanding their district heating networks to reach more customers and increase their market shares. This involves identifying potential areas for network expansion, collaborating with local authorities and developers, and investing in the necessary infrastructure to connect new customers.
Manufacturers are also actively engaging in collaborations and partnerships with other industry stakeholders, including technology providers, energy companies, and local authorities for knowledge sharing, access to innovative solutions, and the development of integrated energy systems.
In December 2021, Oxelö Energi AB and Vattenfall AB signed a landmark agreement to establish a long-term, sustainable district heating solution in Oxelösund. The agreement paved the way for connecting the district heating network in Oxelösund to Vattenfall's cutting-edge biomass-fired combined heat and power (CHP) plant, known as Idbäcksverket, located in Nyköping.
Key Segments of District Heating Industry Research
By Plant Type :

Boilers
Combined Heat & Power (CHP)

By Heat Source :

Coal
Natural Gas
Renewables
Oil & Petroleum Products
Geothermal

By Application :

Residential
Commercial
Industrial

By Region :

North America
Latin America
Europe
East Asia
South Asia & Oceania
MEA
- FAQs -
The global district heating market is valued at US$ 179.19 billion in 2023.
The market for district heating market is estimated to reach US$ 265.24 billion by 2033.
Worldwide demand for district heating solutions is forecasted to increase at a CAGR of 4% from 2023 to 2033.
Sales of district heating systems in Germany are projected to rise at a CAGR of 4% over the next 10 years.
Vattenfall AB, Danfoss Group, Andritz AG, and Agripower, Inc. are some of the key players in this market.