Europe High Temperature Coatings Market
Europe High Temperature Coatings Market Analysis, By Type (Silicone, Epoxy, Aluminium, Polyurethane, PPS, PTFE), By Technology (Water, Solvent, Solid-based), By Component, by Coating Surface, by Surface Temperature Range, by Curing Mechanism, by Use Case, by Application & Country 2022-2032
FACT7426MR
Jun-2022

List of Tables : 259

List of Figures : 228

170 Pages
Europe High Temperature Coatings Market Outlook (2022-2032)
Consumption of high temperature coatings across Europe is estimated to reach a value of US$ 2.15 billion by the end of 2032, up from US$ 1.46 billion at present, expanding at a CAGR of 3.9% during the forecast years of 2022-2032.
Report Attributes

Details

Europe High Temperature Coatings Market Size (2021A)

US$ 1.41 Billion

Estimated Market Value (2022E)

US$ 1.46 Billion

Forecasted Market Value (2032F)

US$ 2.15 Billion

Europe Market Growth Rate (2022-2032)

3.9% CAGR

Russia Market Share (2021)

~25.8%

Russia Market Growth Rate (2022-2032)

~3.7% CAGR

Market Share of Top 5 Companies

~44%

Key Companies Profiled

AkzoNobel N.V.
Beckers Group
Special Technologies, LLC
Hempel A/S
Chemo International Ltd.
Jotun A/S
Weilburger Coatings GmbH
TEKNOS
Elsevier GmbH
Wacker Chemie AG
Axalta Coating Systems GmbH
The Europe high temperature coatings market size is expected to grow steadily due to factors such as escalating demand for high temperature coatings in the petrochemical industry and for foundry & refractory applications. Additionally, investments in research & development to introduce innovative coatings coupled with application-centric offerings will support market growth over the assessment period.
Over the next ten years, the European market for high temperature coatings is poised to generate an absolute dollar opportunity worth US$ 691.1 million.
Interested to Procure The Data
Consumption Analysis of High Temperature Coatings in Europe (2017-2021) Vs. Market Growth Forecasts (2022-2032)
Gradual growth over the years has been witnessed in the high temperature coatings market in Europe. As these coatings are thermal-resistant layers, they find widespread application in several end-use sectors such as power generation, chemicals, aerospace, defence, water treatment, etc. These coatings help in improving the lifecycle of components and are effective in reducing their surface temperature, thus preventing corrosion and abrasion.
Exponential growth in industries such as defence, aerospace, petrochemicals, etc., is leading to high demand for high temperature coatings. The exclusive set of properties such as improving the horsepower of engines and providing insulation from high temperatures, along with continuous efforts by manufacturers to introduce a wide variety of products is catering to market growth.
In addition, rise in the number of manufacturing hubs and highly advanced supply chains are supporting high temperature coatings market growth across the European region.
Short Term (2022 Q2 to 2025): Advantages of high temperature coatings such as heat and corrosion protection, outstanding insulation, and advanced fire-retardant properties will fuel short-term market growth.
Medium Term (2025-2028): Escalated adoption of high temperature coatings in several application areas to support medium-term market growth.
Long Term (2028-2032): Long-term market growth to be supported by the incorporation of product innovation in coatings by prominent manufacturers.
The European high temperature coatings market witnessed a CAGR of 2.5% during the years 2017-2021. The market is slated to progress at 3.9% CAGR across the forecast years 2022-2032, as per detailed industry analysis by Fact.MR, a market research and competitive intelligence provider.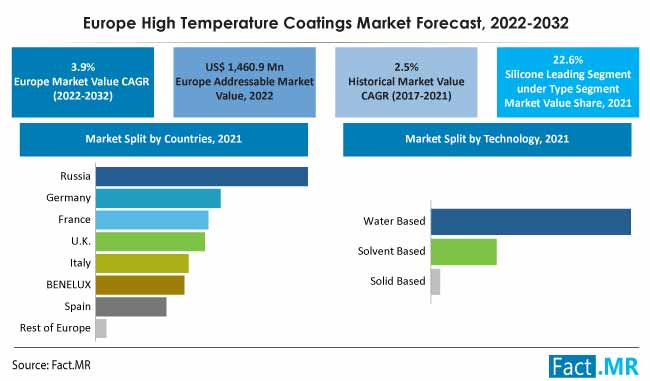 Market share analysis based on technology and country is provided in a nutshell in the above image. Under the technology segment, water-based high temperature coatings dominated the market with 72.8% share in 2021.
Why is There Steady Rise in Demand for High Temperature Coatings in Europe?
"Augmented Need for Heat-Resistant Coatings in Petrochemical Applications"
The application of high temperature coatings in the petrochemical industry has been rising steadily over the years. Applying coatings to high-pressure pumps and vessels is the key market enabler for greater adoption. As the pumps in the petrochemical industry are operated at very high temperatures, they demand protective coatings to reduce damage.
Since hot oils and gases are inherently involved in the industry's operations, strong protective coatings become a necessity for long-term durability. Thus, high-temperature coatings play a pivotal role in enhancing the lifecycle of high-pressure pumps and vessels in the petrochemical industry, thereby supporting demand growth.
"Escalating Demand for Coatings in Foundry & Refractory Applications"
There has been a strong emergence of demand for high temperature coatings in foundry and refractory applications. High-temperature foundry mold coatings are used for graphite molds to protect molten metals such as uranium that come directly in contact with graphite to reduce carbon pickup.
Majority of industrial components are still produced using die casting and extrusion molding, leading to sustained demand for high-temperature coatings to keep the molding and casting material protected from high temperatures.
Refractory-based temperature coatings are generally made with a dry mix of aluminium oxide, Tennessee ball clay, bentonite, and soluble silicate salt to keep the material suitable for a wide pool of foundry applications.
As such, demand for these coatings is expected to witness a rise during the assessment period on the back of rising foundry and refractory activities.
"Risk-Exposed Sourcing of Raw Materials to Create Roadblocks in Market Growth"
The market has not witnessed large-scale Greenfield investments, resulting in the clustered growth of production bases. Manufacturers of high temperature coatings are dependent on a handful of suppliers for their raw materials such as epoxy, silicone, etc.
This has exposed them to procurement risks, evident in 2020. Therefore, manufacturers need to diversify the sources of their raw materials and balance the risks to maintain the stable production of high temperature coatings at their facilities.
An Adaptive Approach to Modern-day Research Needs
Country-wise Insights
Which European Countries Account for High Demand for High Temperature Coatings?
"Russia & Germany to Lead Market Expansion in Europe"
Russia's high temperature coatings market and Germany's high temperature coatings market hold 25.8% and 15.2% market share, respectively, in Europe. These two markets are projected to grow at the rate of 3.7% and 4.4% during the forecast years.
Rising petrochemical and chemical industry along with the development of related industries in modern Russia is anticipated to lead to higher demand for high temperature coatings for wide usage in several end-use industries.
In addition, Russia is investing its resources to develop coatings to protect electronic equipment from rust and temperature changes, and resistant to chemical solvents.
Category-wise Insights
Which Type of High Temperature Coating Brings in High Revenue for Manufacturers?
"Market Players Thriving on Back of High Demand for Silicone High Temperature Coatings"
The European high temperature coatings market, under type segment, is segmented into silicone, epoxy, epoxy novolac, aluminium, polyurethane, perfluoroalkoxy alkane, PPS, PTFE, and others.
Amongst them, silicone high temperature coatings dominate the market by holding 22.6% share and are projected to rise at the rate of 4.4% over the decade.
Silicone-based coatings can endure elongated exposure to high temperatures. Their properties of being moisture- and humidity-resistant helps improves cyclic oxidation resistance. They also provide excellent performance in extreme temperatures, are stable over a wide temperature range, are transparent, carry light transmission capabilities, and are low toxic as well.
The segments that follow are epoxy and epoxy novolac, which hold 18.6% and 16.1% market share, respectively, and are projected to rise at 4.6% and 5.5% CAGRs during the forecast years of 2022-2032. Their chemical-resistant characteristics and high durability are promoting their use, along with epoxy-based products finding enhanced application in other corrosion-resistant applications, thereby fueling segment demand.
Why are Water-based Coatings Popular across Europe?
"Water-based High Temperature Coatings Account for Nearly Three-fourths Market Share"
The European market for high temperature coatings, under technology, is segmented into water-based high temperature coatings, solid-based high temperature coatings, and solvent-based high temperature coatings.
Water-based high temperature coatings hold 72.8% market share, and thus dominate the market. The segment is projected to rise at the rate of 4% during the assessment period.
Water-based coatings make use of water as a liquefying agent as opposed to chemical solvents that emit VOCs or volatile organic compounds having some harmful effects, such as irritating eyes, nose, throat, and sometimes even damaging the central nervous system. The less harmful nature of water-based coatings is driving segmental growth.
Solvent-based coatings hold 23.9% share in the overall market. The segment is projected to rise at the rate of 3.2% on the back of the advantage of solvent-based coatings over water-based coatings, as the former is less prone to environmental conditions, including temperature and humidity. This will propel the demand for solvent-based coatings over the coming years.
Avail customized purchase options for your needs
Competitive Landscape
Key players in the European high temperature coatings market are focusing on introducing innovative coatings to protect components and products against resistance and corrosion.
Companies are also investing their resources into developing new protective coatings for electronic equipment from extreme temperature changes and rust.
These strategies, along with acquisitions and product portfolio expansion, are set to provide market players with a larger market pie share over the years ahead.
For instance :
AkzoNobel N.V. completed the acquisition of Grupo Orbis in 2022. The acquisition of a paints and coatings company based in Colombia is likely to strengthen the position of AkzoNobel in Latin America.
Hempel A/S acquired Farrow & Ball in 2021. It is an iconic decorative paint and wallpaper company, and this acquisition is to support the growth ambition of the company within the decorative segment.
Fact.MR has provided detailed information about the price points of key manufacturers of high temperature coatings positioned across countries in Europe, sales growth, production capacity, and speculative technological expansion, in the recently published report.
Europe High Temperature Coatings Industry Research by Category
Europe High Temperature Coatings Market by Type :

Silicone High Temperature Coatings

Acrylic Silicone
Aluminum Pigmented Silicone

Epoxy High Temperature Coatings
Epoxy Novolac High Temperature Coatings
Aluminum High Temperature Coatings
Polyurethane High Temperature Coatings
Perfluoroalkoxy Alkane High Temperature Coatings
PPS High Temperature Coatings
PTFE High Temperature Coatings
Others

Europe High Temperature Coatings Market by Technology :

Water-based High Temperature Coatings
Solvent-based High Temperature Coatings
Solid-based High Temperature Coatings

Europe High Temperature Coatings Market by Component :

Single Component
Two Components
Multiple Components

Europe High Temperature Coatings Market by Coating Surface :

Europe High Temperature Coatings Market by Curing Mechanism :

Ambient-cured High Temperature Coatings
Heat-cured High Temperature Coatings
UV-cured High Temperature Coatings
Solvent-cured High Temperature Coatings

Europe High Temperature Coatings Market by Use Case :

New Construction
Repair-Rehabilitation

Europe High Temperature Coatings Market by Surface Temperature Range :

300°F-500°F
500°F-700°F
700°F-900°F
900°F-1100°F
1100°F-1300°F
1300°F-1500°F
1500°F-2000°F
2000°F-2500°F
2500°F-3000°F
3000°F-3200°F

Europe High Temperature Coatings Market by Application :

Oil & Gas Industry

Onshore

Pumps
Stacks
Flares
High Temperature Pipes
Heat Exchangers
Others

Offshore

Chimney Stacks
Flare Stacks
Steam Pipes
Single-Cavity Blowout Preventer
Heat Exchangers
Sub Sea Coolers
Others

Water & Wastewater Treatment

Boilers
Steam Pipes
Heat Exchangers

Plate Exchangers
Shell & Tube Heat Exchangers

Marine Industry

Marine Boilers
Engines
Reactor Compartments
Exhausts
Others

Mining Industry
Power Generation Industry
Petrochemical Industry

High Pressure Pumps & Vessels
Pumping Stations
Metering Pumps
High Temperature Liquid Transfer Pumps
Centrifugal Pumps
Flares
Stacks
Others

Chemical Industry

Boilers
Reactors & Other Processing Equipment
Tanks & Vessels
Steam Lines
High Temperature Solvent Transfer Lines
Threaded Connectors
Others

Aerospace Industry

Jet Pipes Interiors
Jet Engines
Nose Cowl Inlets
Turbines
Vents
Bushing
Rotary Joints
Cams
Others

Foundry & Refractories

Europe High Temperature Coatings Market by Country :

Germany
Italy
France
Spain
U.K.
NORDICS
BENELUX
Rest of Europe