Flow Conditioners Market
Flow Conditioners Market Analysis by Type (Folded Vane, Tube, Zanker, Fin, Disturbance Plate/Sprenkle, Vortab), By Fluid (Liquid, Gas), By Line Size (Up to 5 Inches, 5 to 10 Inches, 11 to 15 Inches, Above 15 Inches), By End-use Vertical (Aerospace & Defense, Chemical Processing, Industrial Use, Mining, Oil & Gas, Pharmaceuticals, Power & Energy) & By Region – Global Market Insights 2023 to 2033
Analysis of Flow Conditioners Market Covering 30+ Countries Including Analysis of US, Canada, UK, Germany, France, Nordics, GCC countries, Japan, Korea and many more
Flow Conditioners Market Outlook (2023 to 2033)
The global flow conditioners market is valued at US$ 840.90 million in 2023 and is forecasted to expand at a CAGR of 6.6% to reach US$ 1.59 billion by 2033-end.
Flow conditioners play a crucial role in ensuring accurate flow measurements, preventing pressure drops, and optimizing the overall performance of fluid systems. By smoothing out the flow profile, they help eliminate swirls, eddies, and irregularities that can lead to inaccuracies in measurements and reduced efficiency. Flow conditioners are often installed with differential pressure flow meters, control valves, and other process equipment to enhance their reliability and effectiveness.
Expanding food and beverage industry and processed food sector, which utilize flow conditioners to prevent lumps in food items and give easy flowability to the products, are the major drivers for the demand for demand positive displacement flow meters. Increasing usage of flow conditioners in non-food industries such as cosmetics and personal care, detergent and chemicals, and animal feed is driving up their demand even further.
Rapid population growth and economic development in countries such as China, India, and Japan are driving higher food demand, which is expected to fuel the need for flow conditioners. Also contributing to the rising demand for food-grade flow conditioners is the growing acceptance of Western dietary habits. Non-food businesses are also contributing significantly to the rising need for flow conditioners.
Rising awareness among manufacturers of the challenges associated with food packaging and their products is fuelling the expansion of the flow conditioners market. This is primarily due to rising urbanization and disposable income. Market players continuously expand their product offerings, ensuring a comprehensive range of flow conditioners suitable for applications across industries.
Yokogawa released The OpreX CA Series, a new magnetic flowmeter device, in September 2022. This most recent addition to its product range can measure the flow of conductivity fluids without making direct contact with the stream. By delivering accurate and reliable data on fluid flow operations, the new solution is intended to increase both operational efficiency and maintainability.
Report Attributes
Details

Flow Conditioners Market Size (2022)

US$ 750 Million

Estimated Market Value (2023)

US$ 840.90 Million

Forecasted Market Value (2033)

US$ 1.59 Billion

Global Market Growth Rate (2023 to 2033)

6.6% CAGR

Russia Market Value (2033)

US$ 164.11 Million

Russia Market Growth Rate (2023 to 2033)

7.7% CAGR

India Market Value (2033)

US$ 146.59 Million

India Market Growth Rate (2023 to 2033)

9.7% CAGR

Key Companies Profiled

AVCO
Canalta Controls
Deltafluid
Eastern Instruments
Emerson Electric
Fluid Component International
Fox Thermal Instruments
General Instruments
Honeywell International Inc.
Vortab
Technomatic
Why is Demand for Flow Conditioners Increasing Globally?
"Ability of Flow Conditioners to Improve Energy Efficiency"
Industries are increasingly focusing on energy efficiency and sustainability. Flow conditioners play a crucial role in minimizing pressure drops and optimizing fluid flow, leading to reduced energy consumption. The ability of flow conditioners to improve energy efficiency is driving their adoption in diverse applications.
They facilitate operational efficiency and enhanced process control. Flow calibration equipment help in achieving uniform flow profiles, reducing turbulence, and eliminating flow distortions. By enhancing the accuracy and reliability of flow measurements, they enable better process optimization, leading to improved productivity and quality.
"Increasing Use of Technologically Advanced Flow Conditioners in Water & Wastewater Management"
Development of advanced technologies, such as digital signals for flow meters, smart sensors with online warnings, and remote validation capabilities, has significantly enhanced the capabilities and functionality of flow conditioners. Technological advancements attract industry stakeholders to adopt more advanced flow conditioning solutions.
The water and wastewater management sector faces challenges such as flow irregularities, sedimentation, and fouling. Adoption of flow conditioners, especially those equipped with automated cleaning mechanisms, helps mitigate these challenges and improves the efficiency of water and wastewater treatment processes.
Don't Need a Global Report?
save 40%! on Country & Region specific reports
What are the Key Challenges Associated with the Adoption of Flow Conditioners?
"Low Awareness of Benefits of Flow Conditioning and High Initial Equipment Installation Cost"
Implementation of flow meters often requires an upfront investment in terms of equipment, maintenance, and flow conditioner installation costs. The initial cost can be a significant restraint, particularly for small- and medium-sized enterprises (SMEs) with limited budgets. The high cost of implementation may deter some organizations from adopting flow conditioners, especially if alternative solutions are available.
Many industries may not have a thorough understanding of the benefits and functionalities of flow conditioners. Lack of awareness about the importance of flow conditioning and its impact on accurate flow measurements can hinder market growth. Raising awareness through industry associations, educational programs, and effective marketing strategies can help address this restraint.
"Lack of Industry-wide Standardized Design and Performance Specifications for Flow Conditioners"
Flow conditioners need to be compatible with existing flow measurement systems and equipment. In some cases, retrofitting or modifying existing infrastructure to accommodate flow conditioners may pose technical challenges or require additional investments. Compatibility issues can slow down the adoption of flow conditioners, particularly in industries with established flow measurement systems.
The market lacks standardized designs and performance specifications for flow conditioners. This can create challenges for customers in selecting the appropriate flow conditioner for their specific applications. Absence of industry-wide standards can result in confusion, inconsistent performance, and difficulties in comparing different products from various flow conditioner manufacturers.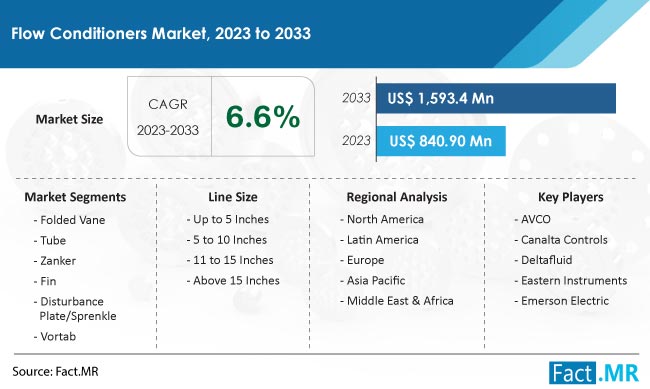 Country-wise Insights
What Makes China a Profitable Market for Producers of Flow Conditioners?
"Growth of Chemical Processing Sector and Rapid Infrastructure Development"
Demand for flow conditioners in China is anticipated to reach US$ 326.64 million by the end of the forecast period, rising at a robust CAGR of 7.8%.
The country's industrial sector is expanding rapidly, including industries such as oil and gas, chemicals, water treatment, and manufacturing. As industrial infrastructure grows, there is an increasing need for flow conditioners to ensure accurate flow measurements, enhance process control, and optimize operational efficiency.
China is one of the major consumers of oil and gas globally. The oil and gas industry requires flow conditioners to ensure accurate flow measurements in pipelines, refineries, and petrochemical plants. Flow conditioners play a crucial role in optimizing production processes, reducing losses, and enhancing operational efficiency.
Flow conditioners are extensively used in chemical processing plants to improve measurement accuracy, enhance process control, and optimize productivity. Demand for flow meters in this sector is driven by the need for precise flow measurements and efficient production processes.
How is Demand for Flow Conditioners Shaping Up in the United States?
"Increasing Focus on Energy Efficiency and Sustainable Industrial Practices"
Demand for flow conditioners in the United States is expected to increase at a healthy CAGR of 7.7% during the forecast period. The flow conditioners market in the United States is expected to reach US$ 401.53 million by the end of 2033.
Energy efficiency is a key focus in the United States, and flow conditioners contribute to reducing energy consumption. By minimizing pressure drops and optimizing fluid flow, flow conditioners help enhance energy efficiency in various industries. Adoption of flow conditioners aligns with the country's goals of sustainable industrial practices and energy conservation.
The country is known for its technological advancements in various sectors. Flow conditioners have benefited from advanced technologies such as digital signals, smart sensors, and remote monitoring capabilities. These advancements offer improved functionality, enhanced diagnostics, and remote validation, contributing to the adoption of flow conditioners in the market.
More Insights, Lesser Cost (-50% off)
Insights on import/export production,
pricing analysis, and more – Only @ Fact.MR
Category-wise Insights
What are the Sales Projections for Tube Flow Conditioners?
"Rising Need for Enhanced Flow Profile and Accurate Fluid Measurements Driving Sales of Tube Flow Conditioners"
Sales of tube flow conditioners are anticipated to increase steadily at a CAGR of 6.7% throughout the projected time frame.
Flow conditioning devices are used to improve the flow profile and accuracy of fluid measurements in pipelines or channels. There are various types of flow conditioners available, and one common categorization is based on the tube configuration.
Tube bundle flow conditioners consist of a bundle of tubes or rods placed perpendicular to the direction of flow. These tubes disrupt the flow patterns and create turbulent mixing, helping eliminate swirls, eddies, and velocity variations. Tube bundles are widely used in applications where compact size and minimal pressure drop are important considerations.
Tube inserts or vortex shedders are designed to induce controlled vortices in the fluid flow. These small devices are inserted into the pipe or tube and generate a series of alternating vortices downstream. The vortices break up any irregular flow patterns and promote a more uniform velocity profile. Tube inserts are commonly used in applications where low-pressure drop and ease of installation are important.
Why are Flow Conditioners Extensively Utilized in the Oil & Gas Industry?
"Widespread Utilization of Flow Conditioners for Accurate Multiphase Flow Measurement in Offshore Environments"
Usage of flow conditioners in the oil & gas industry is forecasted to increase at a CAGR of 6.8% during the projected timeframe.
Flow conditioners in the oil and gas industry contribute to more accurate flow measurement, improved process control, enhanced operational efficiency, and regulatory compliance. They help optimize production processes, minimize losses, and ensure reliable and traceable flow data for critical decision-making in the industry. A Coriolis mass flow meter is a type of meter that can measure liquids and gases. It measures mass and density directly, which can be used to compute actual volume flow in liquids.
In the oil and gas industry, multiphase flow (a mixture of oil, gas, and water) is often encountered. Flow conditioners help in achieving accurate measurement of multiphase flows by improving the flow profile and reducing phase separation or stratification. This ensures reliable and accurate measurement of individual phases within the mixture.
Offshore platforms and floating production storage and offloading (FPSO) vessels require accurate flow measurements for production monitoring and fiscal purposes. Flow conditioners installed in flowlines or risers help minimize flow disturbances caused by platform geometry, waves, or vessel movements, enabling accurate measurement of fluid production rates.
Competitive Landscape
The competitive landscape of the flow conditioners market is characterized by the presence of several key players, each striving to gain a significant market share. These companies focus on innovation, product development, strategic partnerships, and market expansion to maintain a competitive edge.
Competitors differentiate themselves by offering diverse product portfolios tailored to specific industry requirements. Flow conditioners come in various types, sizes, and materials to accommodate different flow rates, pipe sizes, and fluid characteristics.
SONOTEC upgraded its SONOFLOW CO.55 non-contact flow meter in May 2022 to increase efficiency in PAT-related both downstream and upstream biotechnology activities. The new SONOFLOW CO.55 V3.0 sensor provides superior measurement accuracy and clamp-to-clamp reproducibility.
Badger Meter announced the launch of Dynasonics TFX-5000, a multipurpose ultrasonic flow and energy meter, in September 2019. It is designed for non-invasive ultrasonic transit time monitoring in water and wastewater treatment; heating, ventilation, air conditioning (HVAC); and oil and gas applications.
Know thy Competitors
Competitive landscape highlights only certain players
Complete list available upon request
Key Segments of Flow Conditioners Industry Research
By Type :

Folded Vane
Tube
Zanker
Fin
Disturbance Plate/Sprenkle
Vortab

By Fluid :

By Line Size :

Up to 5 Inches
5 to 10 Inches
11 to 15 Inches
Gas
Above 15 Inches

By End-use Vertical :

Aerospace & Defense
Chemical Processing
Industrial Use
Mining
Oil & Gas
Pharmaceuticals
Power & Energy

By Region :

North America
Latin America
Europe
Asia Pacific
Middle East & Africa
- FAQs -
The global flow conditioners market stands at a value of US$ 840.90 million in 2023.
Worldwide demand for flow conditioners is set to increase at a CAGR of 6.6% from 2023 to 2033.
Sales of flow conditioners are set to reach US$ 1.59 billion by 2033.
The flow conditioners market in Russia is predicted to rise at a CAGR of 7.7% through 2033.
The market in India is forecasted to expand rapidly at 9.7% CAGR through 2033.