Flow Batteries Market
Flow Batteries Market Analysis By Material (Vanadium, Iron, Zinc-bromine, Zinc-iron, Hydrogen-bromine, Polysulfide-bromine, Organic), By Application (Utilities, Commercial & Industrial, Military, EV Charging Stations), By Type (Hybrid, Redox), By Storage (Compact, Large Scale) & By Region - Global Market Insights 2023 to 2033
Analysis of Flow Batteries Market Covering 30+ Countries Including Analysis of US, Canada, UK, Germany, France, Nordics, GCC countries, Japan, Korea and many more
Flow Batteries Market Outlook (2023 to 2033)
As per this Fact.MR industry analysis, the global flow batteries market is valued at US$ 376.68 million in 2023. Expanding at a robust CAGR of 27%, worldwide sales of flow batteries are forecasted to reach US$ 4.11 billion by 2033-end.
Flow batteries are a class of rechargeable batteries that store energy in chemical solutions. They differ from conventional batteries in their energy storage capacity. They are decoupled from their power output making them ideal for large-scale energy storage applications. Flow batteries are gaining traction because of their potential to completely transform the integration of renewable energy sources and grid stability. Lithium-ion batteries and fuel cells are frequently replaced by flow batteries.
At the core of a flow battery are two electrolyte solutions containing different chemical species. These solutions are stored in separate tanks and pumped into a central cell stack when electricity needs to be stored or discharged. The electrolytes flow through porous electrodes, which facilitate the electrochemical reactions.
One significant advantage of flow batteries is their scalability. Unlike traditional batteries, flow batteries can easily increase their energy storage capacity by simply increasing the size of the electrolyte storage tanks. This flexibility allows flow batteries to be used in various applications, ranging from small-scale systems for residential and commercial use to large-scale installations for utility and grid-scale storage.
Global sales of vanadium flow batteries are forecasted to surge at a CAGR of 26.5% over the next 10 years.
Flow batteries are formed from materials such as vanadium, iron, zinc-bromine, zinc-iron, hydrogen-bromine, polysulfide-bromine, etc. The majority of flow batteries utilize vanadium electrolyte, which offers reliable charging and discharging for numerous cycles without degradation. This is made possible by vanadium's electrochemical characteristics, which allow for easy extraction and reinsertion of electrons into the element.
In the vanadium redox flow battery (VRFB), a type of redox flow battery (RFB) designed for energy storage, vanadium redox couples (V2+/V3+ in the negative half-cells and V4+/V5+ in the positive half-cells) are employed. These batteries have separate power and energy ratings, allowing customization for specific applications.
The vanadium redox flow battery (VRFB) stands out as the leading and most advanced technology among redox flow batteries, finding wide applications across various industries. One notable application is in UPS (uninterruptible power supply) systems, where vanadium batteries play a significant role.
Vanadium technology, along with other types of redox flow batteries (RFB), utilizes the same electroactive species (vanadium) at different oxidation states in both electrolytes. This characteristic is shared with the All-Iron RFB, further demonstrating the versatility and potential of vanadium-based systems in the field of energy storage.
Report Attributes
Details

Flow Batteries Market Size (2023E)

US$ 376.68 Million

Forecasted Market Value (2033F)

US$ 4.11 Billion

Global Market Growth Rate (2023 to 2033)

27% CAGR

Canada Market Growth Rate (2023 to 2033)

25% CAGR

Germany Market Growth Rate (2023 to 2033)

25.5% CAGR

Japan Market Growth Rate (2023 to 2033)

24% CAGR

China Market Growth Rate (2023 to 2033)

32.5% CAGR

Key Companies Profiled

RedFlow Ltd
Primus Power Corporation
VRB Energy
Invinity Energy Systems Plc.
ESS Tech Inc.
Lockheed Martin Corporation
OCI Co., Ltd.
EnerVault
J. Schmalz GmbH
Aquion Energy, Inc.
Ashlawn Energy LLC
ESS, Inc.
Primus Power Corporation
H2, Inc.
Bushveld Energy
RFC Power
Australian Vanadium
Cellcube
Hydraredox
Don't Need a Global Report?
save 40%! on Country & Region specific reports
Which Market Dynamics are Propelling the Sales of Flow Batteries?
"Flow Batteries Facilitating Effective Energy Management Systems in End-use Industries"
Several trends are boosting the demand and adoption of flow batteries for various end-use applications. Some of the factors driving the growth of the market are:
Renewable Energy Integration: The increasing integration of renewable energy sources such as solar and wind power into the grid is creating a need for effective energy storage solutions. Flow batteries, with their ability to store and discharge large amounts of energy over an extended period, are well-suited for balancing intermittent renewable energy generation and improving grid stability.
Grid Modernization: The aging electrical infrastructure across several regions needs modernization to support the growing electricity demand. Flow batteries provide grid operators with the flexibility to manage peak loads, provide backup power during outages, and improve overall grid reliability and resiliency.
Energy Storage Incentives & Policies: Respective governments and regulatory bodies worldwide are implementing favourable policies and offering incentives to promote energy storage technologies. These initiatives aim to encourage the deployment of flow batteries and other energy storage systems, leading to market growth.
Growing Demand for Electric Vehicles (EVs): The rapid growth of the electric vehicle market is driving the need for efficient and fast-charging infrastructure. Flow batteries can be employed in EV charging stations to provide high-power charging and support peak demand, reducing strain on the electrical grid.
Industrial & Commercial Applications: Flow batteries are increasingly being adopted in industrial and commercial sectors for applications such as load shifting, peak shaving, and microgrid support. These applications benefit from flow batteries' ability to provide sustained power over long durations and their scalability to meet varying energy demands.
Environmental Considerations: Flow batteries have a lower environmental impact compared to conventional batteries, as they often utilize non-toxic and abundant materials. The ability to recycle and reuse the electrolyte further enhances its sustainability and attractiveness as an energy storage solution.
Research & Development Initiatives: Ongoing research and development efforts are focused on improving flow battery performance, enhancing energy density, reducing system costs, and developing new materials. These advancements are expected to further drive the flow batteries market growth by unlocking new applications and expanding the capabilities of flow batteries.
What's Restraining the Growth of the Flow Batteries Market to Some Extent?
"High Initial Investment Cost Limiting Market Expansion"
Flow batteries often involve significant upfront investments due to costs associated with electrode materials, membrane technology, and system components. These higher costs can make flow battery systems less financially feasible compared to other energy storage technologies, especially for smaller-scale applications or in regions with limited financial resources.
"Highly Popular & Established Energy Storage Technologies"
Flow batteries face competition from other established energy storage technologies such as lithium-ion batteries and pumped hydro storage. Lithium-ion batteries are widely popular and are highly used in the automotive sector. These technologies have seen significant advancements over the years, making them more attractive and readily available options for various applications. Such competition can limit the revenue growth of the manufacturers of flow batteries.
More Insights, Lesser Cost (-50% off)
Insights on import/export production,
pricing analysis, and more – Only @ Fact.MR
What are the Strategies Adopted by New Companies to Achieve Higher Profits?
Start-ups in the flow batteries industry are employing several factors and strategies to increase their earning potential. Following are some key strategies benefiting newcomers:
"Innovation & Technological Differentiation Opening Profitable Doors for Newcomers"
Developing innovative and differentiated flow battery technologies provide a competitive advantage for new entrants. Investments in research and development to improve energy density, efficiency, cycle life, and overall performance by start-ups help differentiate their products from existing offerings and attract customers looking for advanced solutions.
"Cost Competitiveness-Game Changer Strategy"
Enhancing cost competitiveness is crucial for newcomers to gain market traction. Implementing cost optimization strategies such as streamlining manufacturing processes, securing affordable raw materials, and exploring economies of scale reduce production costs and offer competitive pricing to customers.
"Carving a Niche-Identifying Market Gaps for Newcomer's Success"
Identifying and targeting specific market niches is a strategic approach for new entrants. Focusing on niche applications or specific customer segments that are underserved or have unique requirements allow newcomers to tailor their offerings and provide specialized solutions, gaining a foothold in the market.
"Partnerships & Collaborations Uniting Strengths for Profits"
Collaborating with established players in the energy industry, including utilities, system integrators, and renewable energy developers provide newcomers with access to market channels, distribution networks, and project opportunities. Partnerships accelerate market entry and provide valuable industry expertise and credibility.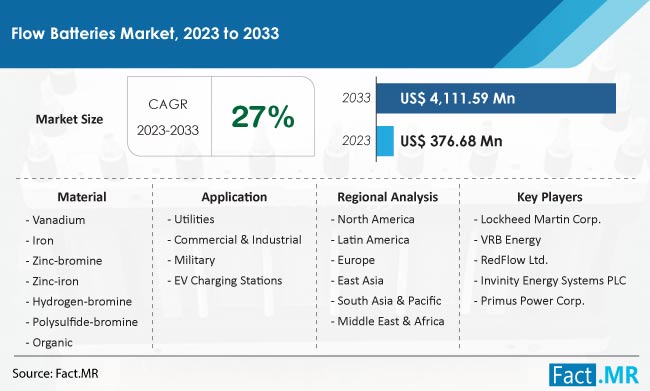 Country-wise Analysis
Why is Demand for Flow Batteries Increasing in the United States?
"Flow Batteries Powering Sustainable Future in the United States"
Sustainable Energy Integration: The growing combination of renewable energy sources such as wind and solar power in the United States grid is generating a need for advanced energy storage solutions. Flow batteries are being deployed to balance intermittent renewable generation, enhance grid stability, and support the expansion of renewable energy capacity.
State-level Initiatives: Several states, including California, New York, and Massachusetts, are implementing ambitious renewable energy and energy storage targets, which is driving the demand for flow batteries. State-level policies and regulations incentivize energy storage deployment, offering several growth opportunities for market players.
Why is Germany Considered a Profitable Market for Suppliers of Flow Batteries?
"Flow Batteries Driving Germany's Renewable Transition & Grid Flexibility"
Demand for flow batteries in Germany is expected to evolve at a CAGR of 25.5% from 2023 to 2033.
Energiewende and Grid Flexibility: Germany's energy transition, known as Energiewende, emphasizes the integration of renewable energy and the decarbonization of the power sector. Flow batteries play a vital role in supporting grid flexibility, managing fluctuations in renewable energy generation, and ensuring a stable electricity supply.
Industrial and Commercial Applications: Flow batteries are gaining traction in Germany's industrial and commercial sectors. Manufacturing industries and data centers are using flow batteries for peak shaving, load management, and backup power, reducing energy costs and enhancing grid reliability.
Why are China and Japan Emerging as Productive Markets for Flow Battery Producers?
"Engineering Excellence Making China & Japan Flow Battery Titans"
As per this report by Fact.MR, a market research and competitive intelligence provider, sales of flow batteries in China and Japan are estimated to rise at CAGRs of 32.5% and 24% respectively over the forecast period.
Major Producers of Flow Batteries: In Asia Pacific, China and Japan are major producers of flow batteries. These countries are the world's largest market for renewable energy, with significant investments in solar and wind power. The integration of these intermittent energy sources requires energy storage solutions, leading to the adoption of flow batteries for grid stabilization and renewable energy integration.
Large-scale Manufacturing and Infrastructure: China and Japan have a robust manufacturing infrastructure, allowing for large-scale production of flow batteries at competitive prices. This is contributing to the cost reduction and affordability of flow battery systems, driving their adoption for various applications in both countries.
Rongke Power, in August 2022, announced the employment of a redox flow battery storage system for a power project in Dalian. This innovative battery system can store up to 400 megawatt-hours of energy generated from various sources, including wind turbines.
In April 2022, Sumitomo Electric announced the completion of a noteworthy flow battery project on the island of Hokkaido in northern Japan. This project involves a 51 MWh flow battery system, demonstrating the company's commitment to advancing energy storage technology in the area.
Know thy Competitors
Competitive landscape highlights only certain players
Complete list available upon request
Category-wise Analysis
Which Sector Finds Wide Application of Flow Batteries?
"Flow Batteries Optimizing Renewable Energy Integration for Utilities"
Flow batteries are gaining recognition as a suitable energy storage solution for utilities as well as commercial and industrial clients seeking extended-duration storage capabilities. Their large-scale and robust properties are making them well-suited for such applications. Specifically, flow batteries find significant use in utility settings as they act as a buffer between the energy supply from the electric grid and the electricity demand.
By efficiently storing and discharging power, flow batteries enable utility owners to minimize excess electricity generation. This feature is particularly beneficial as it helps utilities manage the growing penetration of renewable energy sources on the grid. Utility operators require batteries that can withstand the demand of integrating high levels of renewable energy, while also being durable, reliable, and long-lasting.
The focus on enhancing electric grid systems has intensified due to the increasing power demand in both rural and urban areas. This emphasis on grid improvement is driving the adoption of flow batteries in utility applications as they offer the necessary attributes to address the evolving energy landscape and ensure a stable and reliable power supply.
Competitive Landscape
Leading flow battery companies are actively targeting new markets and geographical regions to increase their customer base. They are establishing partnerships, collaborations, and distribution networks to reach a wider audience and capture market opportunities in emerging economies or regions with significant renewable energy potential. They are also investing in R&D activities to improve their flow battery technologies.
A 20MWh vanadium redox flow battery (VRFB) energy storage project was initiated by H2, Inc. in December 2021, situated in the northern region of California.
Key Segments of Flow Batteries Industry Research
By Material :

Vanadium
Iron
Zinc-bromine
Zinc-iron
Hydrogen-bromine
Polysulfide-bromine
Organic

By Application :

Utilities
Commercial & Industrial
Military
EV Charging Stations

By Type :

By Storage :

By Region :

North America
Latin America
Europe
East Asia
South Asia & Oceania
MEA
- FAQs -
The global flow batteries market has reached a size of US$ 376.68 million in 2023.
The market for flow batteries is projected to reach US$ 4.11 billion by 2033.
Worldwide demand for flow batteries is predicted to boom at a CAGR of 27% over the coming decade.
Sales of flow batteries in Japan are foreseen to increase at a CAGR of 24% over the forecast period.
Sales of vanadium flow batteries are projected to skyrocket at a CAGR of 26.5% over the next 10 years.