Laser Processing Market Growth Outlook (2022-2032)
The global laser processing market is estimated to expand briskly at a CAGR of 7.5%, rising from its current value of US$ 16 billion to reach US$ 33 billion by the end of 2032.
Laser processing has become an essential component of many industrial applications. LASER (Light Amplification by Stimulated Emission of Radiation) is a light technology that varies from ordinary light as it contains monochromatic and coherent photons of energy. Moreover, unlike ordinary light, laser light has the capacity to focus on a small spot due to the laser beams' exceptionally low divergence.
Laser processing technology is extensively employed in the aerospace and defense, automotive, architecture, medical, telecommunications, and packaging industries for cutting, punching, welding, scribing, and heat treatments. These industries use a variety of laser processes, including laser cutting, hybrid laser welding, laser cleaning, laser welding, laser marking, laser cladding, laser drilling, and laser brazing.
The increasing usage of solid and gas lasers in drilling, cutting, engraving, and marking applications, as well as escalating demand from various end-use industries, are projected to drive the sales of laser processing.
Due to the necessity for high accuracy to manufacture exceedingly complex components for patient care equipment, the medical industry, in particular, offers excellent growth potential for the laser processing market.
Balloons, flexible tubing and filtering devices, and angioplasty are examples of medical items that use laser processing. Moreover, the increased usage of laser drilling to make precise holes in gas and liquid flow delivery devices is also boosting the demand for laser processing in the medical industry.
Aside from the medical industry, laser processing is witnessing an increasing demand from the semiconductor, automotive, packaging, electronics, and aerospace industries.
Laser processing is commonly used in the production of electronic parts and components. The increasing usage of laser technology in the industrial sector for a variety of material processing applications such as cutting, welding, engraving, and drilling is anticipated to drive the market for laser processing.
Furthermore, laser processing is extensively used in the automotive industry. This is due to the increasing need for high-power carbon dioxide lasers for wielding automotive components. Moreover, the growing proclivity of automobile manufacturers to employ laser-wielding sheet assemblies as a substitute for resistance spot welding is expected to be a major driving factor for laser processing.
Additionally, the rising demand for laser processing in the packaging industry as a result of the global expansion in e-commerce operations is predicted to increase the sales growth of laser processing.
Furthermore, growing demand for wireless-enabled gadgets, telecom equipment, and mobile devices, as well as increased commercialization of laser-based photovoltaic (PV) modules with better throughput, lower processing costs, and enhanced module efficiencies, are projected to propel the growth of the global laser processing industry.
Report Attributes

Details

Laser Processing Market Size in 2022

US$ 16 Billion

Projected Market Value (2032)

US$ 33 Billion

Global Market Growth Rate (2022-2032)

7.5% CAGR

Asia Pacific Market Share (2021)

40.0%

Solid Segment Share (2021)

55%

Key Companies Profiled

Amada Co, Ltd
Spectra Physics, Inc
Epilog Laser
LaserStar Technologies Corporation
Lumentum Operations LLC
Han's Laser Technology Industry Group Co., Ltd
Wuhan HGLaser Engineering Co., Ltd
IPG Photonics Corporation
Jenoptik AG
Coherent, Inc
Trumpf Group
Wuhan Raycus Fiber Laser Technologies Co., Ltd
Which Factors are Fueling the Demand for Laser Processing?
"Numerous Benefits of Laser Processing over Traditional Material Processing Methods"
Material processing includes a broad range of metal and nonmetal procedures such as cutting, engraving, marking, and drilling. Laser technology has numerous benefits over traditional methods such as flame, plasma, and water jet.
Flame and plasma technologies are used for cutting rather than drilling, marking, or engraving, whereas waterjet is used for ablation and structuring. Waterjet generates a lot of noise while operating, making it inconvenient for material processing.
Laser technology can effectively accomplish all the aforementioned tasks while generating no noise pollution. Such factors are projected to increase the adoption of laser technology for material processing.
"Increasing Use of Laser Technology in Medical Devices & Surgeries "
The most frequently utilized technologies in medical applications are Nd: YAG and carbon dioxide lasers. Nevertheless, laser technology is gaining popularity in a variety of applications ranging from diagnosis to treatment. It is commonly used to treat hair, skin, eyes, and cancer.
With the use of laser technology, several treatments, such as artery cleaning, surgery for a detached retina, and other cosmetic procedures, have become possible. Laser technology can be used to perform cosmetic procedures such as the elimination of birthmarks/permanent on the skin, skin blotches, port-wine stains, and other skin treatments.
Moreover, lasers are utilized in the material processing of medical devices, such as implantable devices and surgical tools used in hospitals. Furthermore, laser technology is being employed in a variety of medical procedures such as dermatology, lithotripsy, mammography, angioplasty, microscopy, ophthalmology, cancer diagnosis, and medical imaging.
What Can Negatively Impact Laser Processing Demand?
High Initial Cost of Installing Laser Technology
The installation of laser technology for the needed application is both complex and costly. To establish its architecture and infrastructure, large upfront investments and massive venture capital funds are necessary. Moreover, the operating and setup process is far more complicated, costly, and time-consuming.
Furthermore, conventional plasma cutting has a fairly low yearly maintenance cost of US$ 5,000, whereas laser technology has a yearly maintenance cost of up to US$ 10,000.
Although increased usage of laser technology is lowering prices, it is still a costly technology to implement. As a result, these factors are projected to impact the demand for laser processing negatively.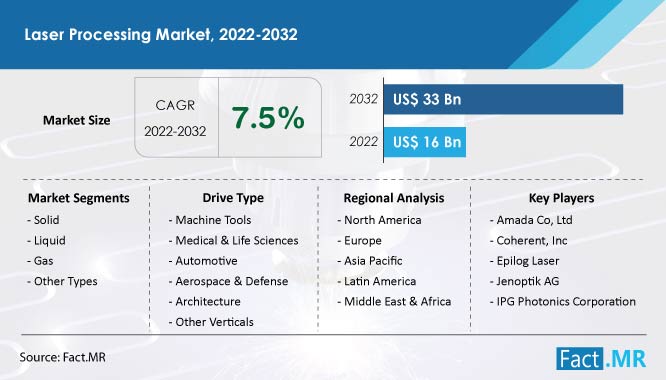 Country-wise Insights
Which Countries are Driving Market Growth in Asia Pacific?
Asia Pacific captured 40% of the global demand for laser processing in 2021. Asia Pacific represents a significant market for laser processing due to the continuously increasing use of laser systems in a variety of applications. The growing adoption of various laser technologies, particularly in machine tools and microelectronics, is propelling regional market growth.
Moreover, countries such as South Korea and Japan are encouraging market growth in Asia Pacific. South Korea and Japan have made significant investments in laser technology as part of their ongoing attempts to modernize current infrastructure and increase automation.
Why Does the United States Dominate the North American Market for Laser Processing?
Demand for laser processing in the United States is projected to rise during the forecast period. A surge in cosmetic operations and a high adoption rate of sophisticated technology are projected to drive market growth in the United States.
Furthermore, several key market players are headquartered in the United States, including Corning Incorporated, IPG Photonics Corporation, and Coherent, Inc. These businesses are launching novel laser-based technologies to broaden their product offerings.
For instance, Coherent produced a multi-kilowatt industrial diode laser in April 2021. Coherent's new HighLight DL HPSi is a high-power diode laser in a tiny, self-contained module. It is ideal for technology vendors and end users who perform thermal treatment, metal cladding, welding, and soldering.
Such factors are helping the United States maintain dominance in North America.
Which Aspects are Bolstering Market Growth in Germany and the U.K?
The market for laser processing in Europe is likely to develop at a rapid pace due to the availability of a high number of sophisticated laser solution manufacturers in the region.
Moreover, European countries such as Germany and the United Kingdom are focusing on R&D investments and the deployment of laser-based technology to accelerate advancement across all industries. Such aspects are expected to bolster market growth in these countries.
Category-wise Insights
Why is Solid Laser Processing Most Widely Used?
Solid accounted for 55% of the global market. Solid lasers are classified as small diode-pumped Nd: YAG or Nd: YVO4 lasers, Q-switched Nd: YAG lasers, and bigger lasers in side-pumped or end-pumped configurations.
Solid lasers have several applications, including drilling holes in metals, endoscopy in medicine, and targeting in the military. The demand for solid lasers is projected to grow due to their strong usage in a variety of industries, including aerospace, automotive, medical, packaging, and machine tools.
Moreover, the growing demand for pulsed lasers for a variety of healthcare applications is driving segment expansion. Nd: YAG-based solid-state pulsed lasers are used in a variety of cosmetic operations, including skin resurfacing, scar removal, and melasma treatment.
Emergence of Start-ups to Intensify Market Competition
The global laser processing market is highly competitive, with a few large and medium-sized firms accounting for the lion's share of market revenue. However, the competition is expected to intensify with the advent of startups like 4JET and Temicon.
To maintain their market position, key players in the laser processing market are using a variety of strategies, including strategic partnerships and contracts, mergers and acquisitions, and the development, testing, and introduction of more efficient laser technology solutions.
TRUMPF unveiled the TruMicro 2000 and TruMicro 6000, the next generation and new ranges of their TruMicro ultrashort pulse lasers, in April 2022. The new product range introduces new technology platforms for precise power and enhances versatility. Furthermore, the two most recent generations of TruMicro lasers would broaden the microprocessing product range and give solutions to meet the market's demanding expectations.
IPG Photonics introduced LightWELD XR, the third product offering in its handheld laser welding and cleaning product line, in March 2022. By producing a tiny spot size with six times larger energy thickness, the laser offers a wide range of cleaning capabilities and portable laser welding to handle more materials and width than prior LightWELD products.
TRUMPF acquired Active Fiber Systems, a Germany-based firm specializing in fiber lasers, in February 2022. The companies intended to work on developing and advancing their real ultrashort-pulse laser product.
Key Segments in Industry Research
By Type:

Solid
Liquid
Gas
Other Types

By Vertical:

Machine Tools
Medical & Life Sciences
Automotive
Aerospace & Defense
Architecture
Other Verticals

By Region:

North America
Latin America
Europe
APAC
MEA