Ultrafast Laser Market Overview
The ultrafast laser market is poised to expand 3.7X in terms of value, and is foreseen to progress at an impressive CAGR of over 14% during the forecast period of 2020 to 2030. Ultrafast lasers are ultra-short pulses of light with an electromagnetic pulse whose time duration is of the order of a picosecond or less. Growing demand for material processing and semiconducting industries is driving the expansion of the ultrafast laser market size. Increasing application across many end-use industries such as automotive, communication and technology, consumer electronics, and medical care is an important reason for the growth of the ultrafast laser market.
Ultrafast Laser Market Insights by Type
The most prominent segment in the market is ultrafast fiber lasers with the highest market share. The fiber laser segment is expected to hold a share of 42% in the ultrafast laser market. Ultrafast fiber lasers have made rapid progress due to their intrinsic value, such as the potential all full fiber formats, excellent beam efficiency, higher power scalability, and high single-pass gains, which have opened up widespread applications in high-field research, laser machining, accuracy metrology, optical communication, microscopy, and spectroscopy.
Titanium-sapphire is the second-most attractive segment and is anticipated to experience a healthy growth rate of 14% during the forecast period. Titanium-sapphire lasers are used in research, as these are tunable and capable of ultra-short pulses from a few picoseconds (ps) to tens of attoseconds (as), in duration. Due to their tunability and capacity to produce ultra-short pulses, these lasers are primarily used in scientific research. However, they require pump light from some green laser, which makes them more complex and expensive.
Ultrafast Laser Market Insights by Application
The micromachinings segment in the ultrafast laser market is foreseen as the most remunerative segment, projected to expand at a significant CAGR of 14% over the forecast period. Industries have moved from laser cut technology to ultrafast laser technology for machining accuracy. Improvements in process precision reduce the overall time and operating cost for a production line, which is the primary reason for adoption in material processing applications.
In 2019, the bio-Imaging segment dominated the overall ultrafast laser market in terms of value. The segment reached around 30% of the overall market share by witnessing a historical CAGR of 13%. The medical segment is expected to expand at a value CAGR of 14% during the forecast period. The segment is expected to reach a market valuation of over US$ 400 Mn by the end of the forecast period of 2020-2030. This indicates that growth in the medical laser application segment is highly anticipated during the forecast period, augmented by increasing research and development. Furthermore, laser marking mandates for medical devices across regions is another cause of the rising demand for high-speed lasers.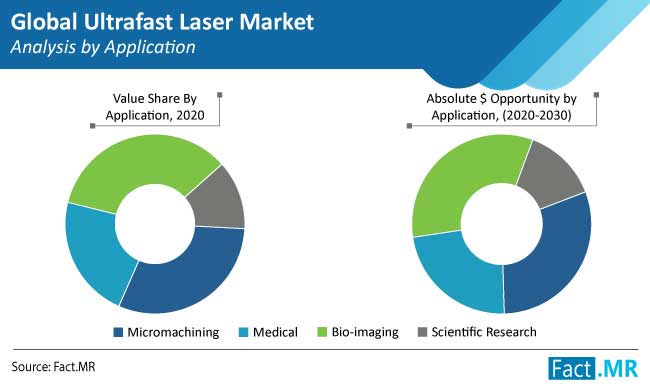 Regional Outlook of Ultrafast Laser Market
East Asia is estimated to account for 30% of the total ultrafast laser market share in 2020. East Asian countries are markets with high populations and rising number of medical applications such as dentistry, dermatology, and others are factors boosting growth of the market in the region. Further, increasing manufacturing activities and rapid urbanization provide an immense growth opportunity in the region. The consumer electronics market enables high consumption in precision micromachining applications that include flat panel display manufacturing, thin film micromachining, and others. Each of these technologies use laser applications for improved yield in the manufacturing phase.
In North America, the strong presence of prominent players is aiding the growth of the ultrafast laser market, which accounts for around 21% of the total market share. Also, the region is expected to see growth as a result of increased advancements in materials and laser configurations that promise to open up a variety of new applications. In Fact.MR's report, North America is anticipated to create an absolute dollar opportunity of US$ 1.1 Bn over the forecast period. Growing automotive industry in the region is another major driving force for growth in the region. Automobile manufacturers are turning towards technological innovations in lasers as one of the solutions, and thus, increasing demand in the ultrafast market in the region.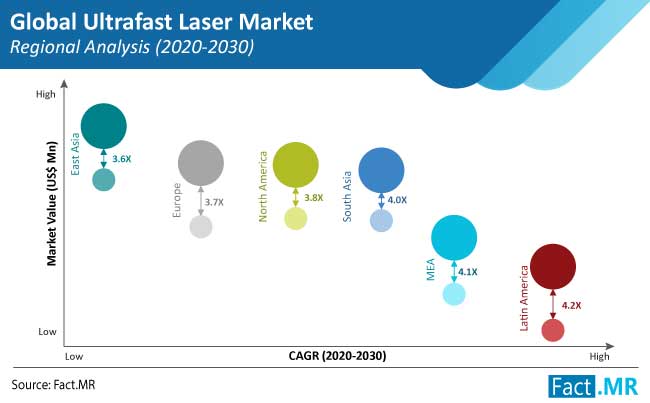 Ultrafast Laser Market: Competitive Landscape
The global ultrafast laser market is fragmented with the presence of numerous local and regional players. Some of the players are MKS Instruments Inc.,NKT Photonics A/S, Viavi Solutions, Jenoptik AG, Laser Quantum Ltd. (Novanta Inc.), and IPG Photonics Corporation, among others. Market players are focused on new product rollouts with large R&D and collaboration investments that substantially improve their growth. In addition to technological investments, market players are focusing on expanding through partnerships and acquisitions in order to gain a competitive advantage. In February 2019, EKSPLA, a manufacturer of solid-state lasers, laser systems, and optoelectronics for basic research and industrial applications, released its product FemtoLux green, which is a lightweight femtosecond fiber laser.
COVID-19 Impact on Ultrafast Laser Market
Many industries have been impacted due to the COVID-19 pandemic. Government across countries imposed lockdowns during this period. The outbreak of COVID-19 has presented multiple challenges for manufacturers in the ultrafast laser market too. Due to restrictions imposed on production activities, the impact on manufacturing will be deep and lasting. Further, suspension of many businesses has impacted the demand for lasers, thus hampering growth in the market.
Post COVID-19 crisis, manufacturers will focus on increasing their presence in developing economies through product development and acquisitions, which will lead to positive growth potential for the ultrafast laser market.
The Analyst's Viewpoint
"Increasing advancements in the ultrafast laser market are projected to open new roads of applications outside core applications. Also, growing adoption of lasers in the automotive industry in another major driving force for the market."
Global Ultrafast Laser Market: Scope of the Report
A recent global ultrafast laser market report by Fact.MR offers a 10-year forecast from 2020 to 2030. The report elaborates on the key drivers, restraints, opportunities, and threats to the expansion of the global ultrafast laser market. A detailed segmental analysis based on type, pulse duration, end use, application, and region has been provided in the report.
Regional analysis in terms of supply chain analysis, business execution, and market value analysis provides an in-depth perspective about the future scope of the global ultrafast laser market. In addition, a separate section on the market structure has also been provided. The section provides detailed analysis of key market players and the strategies for expansion in the ultrafast laser market.
Ultrafast Laser Market - Scope of the Report
Fact.MR recently published a market study on the global market for ultrafast lasers. The study provides detailed assessment on key market dynamics, including the drivers, trends, opportunities, restraints, and detailed information about the ultrafast laser market structure. The market study presents exclusive information about how the ultrafast laser market will grow during the forecast period of 2020-2030.
Key indicators of market growth, which include Year-on-Year (Y-o-Y) growth of the market, value chain, supply chain analysis, and Compounded Annual Growth Rate (CAGR) are explained in Fact.MR's study in a comprehensive manner. This information can help readers understand the quantitative growth prospects of the ultrafast laser market during the forecast period.
The study is relevant for stakeholders in the ultrafast laser market, including manufacturers, suppliers, distributors, and investors, and can help them in developing appropriate strategies to grow in the market. Stakeholders in the ultrafast laser market, investors, industry experts, researchers, and journalists, as well as business researchers can leverage the information and data presented in the Fact.MR study.
The study also includes statistics as well as facts related to the macro- as well as micro-economic factors that are impacting developments in the ultrafast laser market. It also offers actionable insights based on the future trends in the ultrafast laser market. Furthermore, small businesses and new entrants in the ultrafast laser market too can make use of the information presented in this study, based on which, they can make appropriate business decisions in order to gain momentum in the market.
Key Segments of Ultrafast Laser Market
Fact.MR's study on the ultrafast laser market offers information divided into five key segments — type, pulse duration end use, application, and region. This report offers comprehensive data and information about important market dynamics and growth parameters associated with these categories.
Type

Titanium-Sapphire Lasers
Mode-Locked Diode-Pumped Bulk Lasers
Fiber Lasers
Mode-Locked Dye Lasers
Mode-Locked Diode Lasers
Others

Pulse Duration
End Use

Consumer Electronics
Healthcare & Life Science
Automotive
Aerospace and Defense
Industrial
Research & Academics

Application

Micromachining

Flat Panel Display Manufacturing
Thin Film Micromachining
Two-photon Polymerization
Precision Micromachining
Others

Medical

Medical Device Fabrication
Cardiovascular Stent Manufacturing
Laser Eye Surgery
Others

Bio-Imaging

Multiphoton Microscopy
Multimodal Imaging
Others

Scientific Research

Multi-dimensional Spectroscopy
THz Spectroscopy
Coherent Control
High Harmonic Generation, EUV
Others

Region

North America
Latin America
Europe
East Asia
South Asia & Oceania
MEA
Key Questions Answered in Fact.MR's Ultrafast Laser Market Report
Which regions will continue to remain the most profitable regional markets for ultrafast laser market players?
Which factors will induce a change in the demand for ultrafast lasers during the assessment period?
How will changing trends impact the ultrafast laser market?
How can market players capture the low-hanging opportunities in the ultrafast laser market in developed regions?
Which companies are leading the ultrafast laser market?
What are the winning strategies of stakeholders in the ultrafast laser market to upscale their position in this landscape?
Ultrafast Laser Market: Research Methodology
In Fact.MR's study, a unique research methodology is utilized to conduct extensive research on the growth of the ultrafast laser market, and reach conclusions on the future growth parameters of the market. This research methodology is a combination of primary and secondary research, which helps analysts ensure the accuracy and reliability of the conclusions.
Secondary resources referred to by analysts during the preparation of the ultrafast laser market study include statistics from governmental organizations, trade journals, white papers, and internal and external proprietary databases. Analysts have interviewed senior managers, product portfolio managers, CEOs, VPs, marketing/product managers, and market intelligence managers, who have contributed to the development of this report as a primary resource.
Fact.MR offers custom research services that help clients to get specific research solutions
We are committed towards customer satisfaction and quality service.
---
Our Clients

Ultrafast Laser Market Forecast, Trend, Analysis & Competition Tracking - Global Market Insights 2020 to 2030