Lawn Aerator Rental Market
Lawn Aerator Rental Market Analysis, By Type (Spike, Core, and Drum / Rolling), By Power Source (Manual, Tow-behind, and Gas Powered) and By Region - Global Market Insights 2023 to 2033
Analysis of Lawn Aerator Rental Market Covering 30+ Countries Including Analysis of US, Canada, UK, Germany, France, Nordics, GCC countries, Japan, Korea and many more
Lawn Aerator Rental Market Growth Outlook (2023 to 2033)
Lawn aerator rental services demand is expanding and is poised to grow at a rate of 3.1% during the forecast period and reach a valuation of US$ 182.3 million in 2033 from US$ 134.4 million in 2023.
Lawn aerator's primary function is to alleviate soil compaction, which commonly occurs in heavily used lawns or areas with clay or compacted soil. Soil compaction restricts the movement of air, water, and nutrients, leading to poor grass growth, increased susceptibility to diseases, and weak root development. By aerating the lawn, the compacted soil is loosened, allowing for improved circulation and absorption of essential elements, ultimately leading to a healthier and more robust lawn.
The growing demand for lawn aerators in the market has a direct impact on the lawn aerator rental market. As more homeowners and landscaping professionals recognize the benefits of aerating their lawns, there is an increased demand for aerators. However, purchasing a lawn aerator is expensive for occasional or small-scale use, leading many individuals to opt for renting aerators instead.
Report Attributes
Details

Lawn aerator rental Market Size (2022A)

US$ 130.3 Million

Estimated Market Value (2023E)

US$ 134.4 Million

Forecast Market Value (2033F)

US$ 182.3 Million

Global Market Growth Rate (2023-2033)

3.1% CAGR

US Market Growth Rate (2023-2033)

3.3% CAGR

China Projected Market Value (2033F)

US$ 43.6 Million

Key Companies Profiled

Herc Rentals
Home Depot Rental
Rental One
Rental HQ
Sunbelt Rentals
The Home Team
United Rentals
Don't Need a Global Report?
save 40%! on Country & Region specific reports
Historic and Future Pathway Analysis for the Lawn aerator rental Market
A lawn aerator is a gardening tool or machine used to create small holes or channels in the soil of a lawn. These holes allow for better air, water, and nutrient penetration into the grassroots, promoting healthier growth and overall lawn vitality. Lawn aerators come in various forms, including manual aerators with spikes or tines, as well as motorized or tow-behind aerators that are more suitable for larger lawns.
Short Term (2023-2026): The increasing prevalence of landscaping activities fuels the growth of the lawn aerator rental market. As more homeowners and professionals engage in landscaping projects, there is a higher demand for lawn aerators to maintain healthy and vibrant lawns. Renting aerators becomes an attractive option, providing cost-effective access to equipment without the need for long-term investment, driving the growth of the rental market.
Medium Term (2026-2029): The expanding need for sports field maintenance contributes to the growth of the lawn aerator rental market. Sports fields, such as football or soccer fields, require regular maintenance to ensure optimal playing conditions. Lawn aerators play a vital role in maintaining healthy turf by alleviating soil compaction. As the demand for sports field maintenance increases, the rental market for lawn aerators expands to meet the needs of sports facility managers and maintenance crews.
Long Term (2029-2033): The efforts undertaken by market players to maintain competitiveness in the lawn aerator rental market contribute to its long-term growth. Players strive to enhance their rental offerings, such as expanding equipment inventory, improving customer service, and optimizing rental processes. These efforts attract more customers, increase market share, and foster customer loyalty, driving sustained growth in the rental market for lawn aerators over time.
On the back of the aforementioned facts, the Lawn aerator rental market is expected to grow at a CAGR of 3.1% during the forecast period from 2023-2033, According to the Fact.MR, a market research and competitive intelligence provider.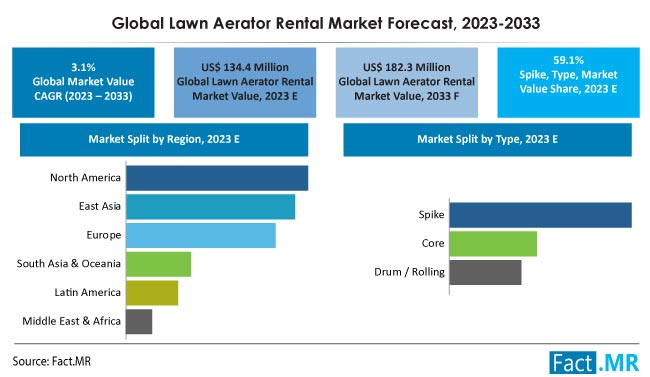 Market share analysis of Lawn aerator rental based on the type and region is provided in a nutshell in the above image. Under the type segment, the spike sub-segment is expected to dominate with a 59.1% market share in 2023.
Market Dynamics Outlook
"Growing Demand for Lawn Aerators From Municipalities to Drive Rental Services Market"
Municipalities typically have large areas of public green spaces, parks, sports fields, and other landscaped areas that require regular maintenance, including lawn aeration. The high volume of aeration needs from municipalities leads to an increased number of rental transactions, as they often prefer renting equipment instead of purchasing and maintaining it themselves.
Renting lawn aerators offers cost efficiency for municipalities' budgetary considerations. Purchasing and maintaining a fleet of lawn aerators is expensive, especially for municipalities with limited resources. Renting allows them to access the equipment on an as-needed basis, reducing upfront costs and eliminating long-term maintenance expenses. This creates immense growth opportunities for the law aerator rental market growth.
"Factors Restraining Lawn Aerator Rental Market Growth"
Rental providers need to invest in purchasing and maintaining a fleet of lawn aerators to offer them for rent. The initial capital required to acquire the equipment is significant, particularly for high-quality and durable aerators. This financial barrier limits the number of rental providers entering the market and thus restricts its growth potential.
Lawn aerators, like any other machinery, require regular maintenance and occasional repairs to ensure optimal performance. Rental providers bear the responsibility of maintaining and repairing the equipment. These costs, along with the associated downtime, impact profitability and limit the expansion of rental services, especially for smaller rental businesses with limited resources.
More Insights, Lesser Cost (-50% off)
Insights on import/export production,
pricing analysis, and more – Only @ Fact.MR
Country-wise Insights
What are the Factors Driving US Lawn Aerator Rental Market Growth?
The landscaping and lawn care industry is a significant driver of the lawn aerator rental market in the US. As more homeowners and businesses seek professional lawn care services, the demand for specialized equipment like lawn aerators increases. Lawn care professionals often rely on rental services to access the necessary equipment for their operations.
With the growing demand for lawn care services and lawn aerators, the lawn aerator rental market is also experiencing growth. As renting lawn aerators offers convenience and accessibility to individuals who do not have sufficient storage space or need frequent use. Renting provides a hassle-free solution where customers can obtain the equipment when needed and return it afterward. The ease of accessing and returning rental equipment contributes to the market's growth.
Why Chinese Lawn Aerator Rental Market is Flourishing?
China has experienced rapid urbanization in recent years, leading to the proliferation of residential complexes, commercial spaces, and public parks. As urban areas expand, the demand for well-maintained lawns and green spaces grows. Lawn aerators are essential equipment for maintaining healthy lawns, making them crucial for urban landscaping and property maintenance.
Further, the landscaping industry in China has witnessed significant growth due to the rising demand for aesthetically pleasing outdoor spaces. Lawn aerators are widely used by landscaping professionals to ensure proper soil aeration, which promotes healthier and more vibrant lawns. The increasing number of landscaping projects and the need for efficient equipment drive the demand for lawn aerator rentals.
Renting lawn aerators instead of purchasing them outright offers cost advantages, particularly for small-scale landscaping businesses or individual homeowners. Renting allows users to access high-quality equipment without the upfront investment and long-term maintenance costs associated with ownership. The cost-effectiveness of renting lawn aerators makes it an attractive option for many customers.
Category-wise Insights
Why Spike Type of Lawn Aerator Gaining Traction?
Spike-type aerators are relatively simple in design and operation. They consist of solid tines or spikes that penetrate the soil, creating holes for air, water, and nutrients to reach the grassroots. Their straightforward design makes them easy to handle, which appeals to homeowners and individuals who may not have extensive experience with lawn care equipment.
Spike-type aerators are generally more affordable compared to other types of aerators, such as plug or core aerators. As a result, renting a spike aerator is a cost-effective option for individuals who want to aerate their lawns without making a substantial investment in equipment.
Why Demand for Tow-behind Lawn Aerators is Growing?
Tow-behind power sources, such as tractor-mounted or tow-behind aerators, provide a significant boost in efficiency and productivity compared to manual or handheld aerators. These power sources are typically equipped with powerful engines or motors that drive the aerator's operation, allowing for faster and more extensive aeration of larger areas. This increased efficiency is particularly attractive to professional landscapers and individuals with larger lawns or commercial properties.
By utilizing a tow-behind power source, users can cover larger areas with less effort and in less time compared to manual aeration methods. This time-saving aspect is beneficial for both homeowners and professionals who want to complete lawn aeration quickly and efficiently.
Know thy Competitors
Competitive landscape highlights only certain players
Complete list available upon request
Eminent Player's Key Stratagems
Prominent players operating in the global lawn aerator rental market are Herc Rentals, Home Depot Rental, Rental One, RentalHQ, Sunbelt Rentals, The HomeTeam, and United Rentals.
Rental companies also collaborate with landscaping service providers or home improvement stores to offer bundled services or discounts. Such partnerships enable companies to leverage each other's customer base, expertise, and resources for mutual growth.
Further, rental companies invest in building a strong online presence and integrating technology into their operations. They develop user-friendly websites or mobile applications that allow customers to easily browse available equipment, make reservations, and track orders. Embracing technology streamlines rental processes enhances customer experience, and expands the company's reach.
Fact.MR has provided detailed information about the key rental service providers of lawn aerators, their total fleet, service portfolio, and revenue growth, in the recently published report.
Segmentation of Lawn aerator rental Industry Research
By Type :

Spike
Core
Drum / Rolling

By Operation :

Manual
Tow-behind
Gas Powered

By Material :

Landscaping
Lawn Care
Residential Property Management
Commercial Property Management
Golf Course Maintenance
Sports Field Maintenance
Universities and Schools
Municipalities
Others

By Region :

North America
Latin America
Europe
East Asia
South Asia & Oceania
Middle East & Africa
- FAQs -
The lawn aerator rental market is expected to grow from US$ 134.4 million in 2023 to US$ 182.3 million in 2033 at a rate of 3.1%.
By type, the spike is estimated to hold a prominent share of the lawn aerator rental market accounting for 59.1% in 2023.
Tow-behind is expected to hold a significant position in the lawn aerator rental market accounting for 43.2% market share in 2023.
The Chinese lawn aerator rental market is expected to grow at a CAGR of 3.4% during the forecast period and reach a valuation of US$ 43.6 million in 2033.
The UK lawn aerator rental market is likely to grow at a CAGR of 3.5% during the forecast period to reach a valuation of US$ 15.0 million in 2033 from a valuation of US$ 10.6 million in 2023.