Barges Rental Market
Barges Rental Market Analysis By Barge Type (Covered Barge and Open Barge), By Propulsion (Self-Propelled Barge and Towed Barge) and By Region - Global Market Insights 2023 to 2033
Analysis of Barges Rental Market Covering 30+ Countries Including Analysis of US, Canada, UK, Germany, France, Nordics, GCC countries, Japan, Korea and many more
Barges Rental Market Growth Outlook (2023 to 2033)
Barges rental services demand is expanding and is poised to grow at a rate of 4.0% during the forecast period and reach a valuation of US$ 122.7 billion in 2033 from US$ 82.9 billion in 2023.
Barges, as flat-surfaced vessels that utilize waterways for cargo transportation, offer numerous benefits over land-based transportation methods such as trucks and rail. Barge transportation is a cost-effective choice for moving large volumes of cargo.
Barges have a high carrying capacity, allowing them to transport substantial quantities of goods in a single trip. This reduces the need for multiple trucks or railcars and leads to cost savings in terms of fuel, labor, and maintenance.
Barges are particularly suitable for bulk commodities such as chemicals, agricultural products, and petroleum, as they can efficiently handle large quantities.
Report Attributes
Details

Barges Rental Market Size (2022A)

US$ 79.7 Billion

Estimated Market Value (2023E)

US$ 82.9 Billion

Forecast Market Value (2033F)

US$ 122.7 Billion

Global Market Growth Rate (2023-2033)

4.0% CAGR

US Market Growth Rate (2023-2033)

6.0% CAGR

Germany Projected Market Value (2033F)

US$ 13.5 Billion

Key Companies Profiled

Barge Connection
Barge Master
Barge USA
BargeWorld
Bhoir Dredging Company
Coastal Marine Services
Global Barge Rental
Don't Need a Global Report?
save 40%! on Country & Region specific reports
Historic and Future Pathway Analysis for the Barges Rental Market
The barge rental market has a rich history, with the use of barges for cargo transportation dating back centuries. Barges have long been utilized for inland waterway transportation, particularly in regions with well-developed waterway networks.
The growth of the barge rental market was closely tied to the development of waterway infrastructure. Governments and private entities invested in building and maintaining canals, rivers, and ports to facilitate barge transportation. Dredging projects, construction of locks and dams, and the establishment of terminal facilities enhanced the navigability and accessibility of waterways, fostering the growth of the barge rental market.
Short Term (2023-2026): The integration of technology, such as automation, the Internet of Things (IoT), and data analytics, is likely to transform the barge rental market. These advancements improve operational efficiency, enhance safety measures, optimize routes and logistics, and enable real-time tracking and monitoring of cargo. Digital platforms and online marketplaces may also facilitate easier access to barge rental services, connecting suppliers and customers more efficiently.
Medium Term (2026-2029): Environmental sustainability is a growing concern in the transportation industry, and the barge rental market is no exception. There will be an increased focus on adopting eco-friendly practices, such as utilizing low-emission engines, exploring alternative fuels, and implementing measures to reduce the carbon footprint. Barge operators and rental companies are likely to align with sustainability goals and regulations, positioning themselves as environmentally responsible transportation providers.
Long Term (2029-2033): The barge rental market is expected to witness expansion in both geographical reach and application areas. Developing regions with untapped waterway potential, such as Southeast Asia, Africa, and South America, may experience increased barge rental activities as their waterway infrastructure improves. Additionally, new industry sectors, such as renewable energy and offshore wind farms, may create additional demand for barge transportation services.
On the back of the aforementioned facts, the barges rental market is expected to grow at a CAGR of 4.0% during the forecast period from 2023-2033, According to the Fact.MR, a market research and competitive intelligence provider.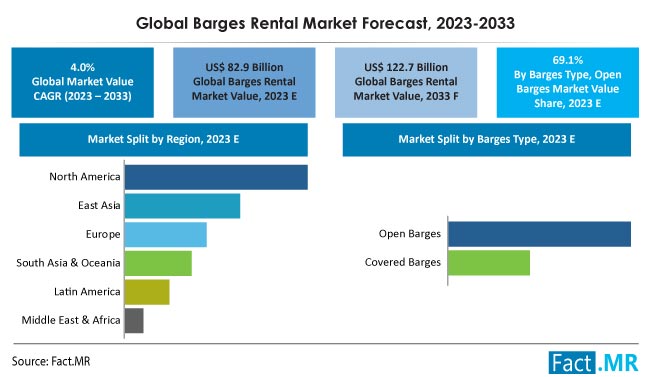 Market share analysis of Barges Rental based on the barge type and region is provided in a nutshell in the above image. Under the barge type segment, the open barge sub-segment is expected to dominate with a 69.1% market share in 2023.
Market Dynamics Outlook
"Growing Offshore Oil & Gas Production to Support Barges Rental Market Growth"
With the growing demand, the barges rental market is expected to experience significant growth. Rental service providers cater to the needs of industries by offering a fleet of barges that are customized based on cargo requirements.
The growing industrialization across the globe, coupled with the rising offshore production of oil and gas, is expected to significantly support the growth of the barges rental market. Industries that are expanding rapidly require efficient and reliable transportation solutions to move their raw materials, equipment, and finished goods. Barges, with their ability to carry substantial cargo loads, offer a cost-effective solution for transportation.
Industrialization drives the demand for various resources, including minerals, construction materials, and heavy machinery. Barges provide a convenient means of transporting these bulky and heavy materials, especially when waterways are available.
Additionally, industrial sectors such as manufacturing, automotive, and construction often require the transportation of large components or equipment that may not be suitable for road or rail transportation due to their size or weight. Barges can accommodate these oversized items, ensuring a smooth and uninterrupted supply chain.
"Factors Affecting the Growth of the Barges Rental Market"
Barge rental companies need to make significant investments in acquiring a fleet of barges, which involves substantial capital expenditure. Purchasing or building barges, maintaining them, and outfitting them with necessary equipment requires substantial financial resources. This initial investment is a significant barrier for new entrants or small-scale rental providers looking to establish themselves in the market.
Also, Barges require regular maintenance and periodic repairs to ensure their proper functioning and compliance with safety standards. Maintenance activities include hull inspections, propulsion system maintenance, equipment servicing, and repainting, among others. These maintenance and repair costs add to the overall expenses borne by barge rental companies, further increasing the capital requirements for sustaining their operations.
More Insights, Lesser Cost (-50% off)
Insights on import/export production,
pricing analysis, and more – Only @ Fact.MR
Country-wise Insights
What are the Factors Driving Barges Rental Demand Across the US?
The market in the United States is projected to reach US$ 50.2 billion by 2033, expanding at a steady CAGR of 6.0%. The United States will create an absolute dollar opportunity of US$ 22.2 billion. During the forecast period, the market in the United States is anticipated to account for a leading position in the barge rental Market. This expansion can be linked to the increase in crude oil shipping and transportation as well as the country's increased shale oil output. Increasing government spending for the marine transportation industry is also anticipated to fuel market expansion.
Growing usage of inland waterways for the delivery of agricultural products is predicted to contribute to the industry's expansion. Demand for barge rental transportation is projected to increase due to technological improvements.
The expansion of the United States barge transportation market is influenced by changes in the prices of crude oil and petrochemicals. The United States generated more than 13.9 billion gallons of ethanol in 2020, to become the world's leading producer of ethanol, according to the United States Department of Energy. The country's barge transportation sector operators stand to benefit significantly from the growth of the ethanol industry.
How Growing Sea Trade in Malaysia Drives Barges Rental Market?
Malaysia, located strategically in Southeast Asia, has a robust maritime industry and is known for its extensive port infrastructure. The country's ports serve as crucial gateways for international trade, connecting major shipping routes between the Indian Ocean and the Pacific Ocean. As global trade expands, Malaysia's sea trade has the potential to grow, which impact various sectors, including the barges rental market.
Barges are flat-bottomed boats used for transporting goods and materials, primarily in inland and coastal waters. They are commonly employed for shipping bulk cargo, construction materials, oil and gas products, and other heavy or oversized items. The demand for barges is closely tied to the level of economic activity, industrial development, and trade volumes in a particular region.
As Malaysia's sea trade grows, both exports and imports are likely to increase. Barges are instrumental in transporting bulk commodities such as coal, palm oil, timber, and other goods from ports to manufacturing plants or storage facilities, contributing to the overall demand for barge rental services.
Category-wise Insights
Why Open Barge of Barge Type Gaining Traction?
Open barge is estimated to account for a market share of 69.1% in 2023 and grow at a CAGR of 4.3 % during the forecast period. Globally, open barge will create absolute dollar opportunity of US$ 29.7 billion.
Open barges, also known as flat barges or deck barges, offer a versatile and flexible transportation solution. These barges have an open deck without any superstructure, allowing for easy loading and unloading of cargo. The absence of walls or roof provides flexibility in accommodating various types of cargo, including oversized or irregularly shaped items. This versatility makes open barges suitable for transporting a wide range of goods, such as construction materials, machinery, equipment, and bulk commodities.
Also, open barge transportation is often considered a cost-effective option compared to other modes of transportation, such as trucking or rail. Barges have a larger carrying capacity than trucks and can transport a significant volume of cargo in a single trip. This reduces the number of trips required and, subsequently, the associated costs, including fuel expenses, labor costs, and maintenance costs. Additionally, open barges benefit from economies of scale, allowing for efficient and cost-effective transportation of large quantities of goods.
Why Demand for Towed Barge is Growing?
Towed barges type is estimated to account for a market share of 33.2% in 2023 and grow at a CAGR of 4.7% during the forecast period. Towed barges offer a cost-effective transportation solution compared to other modes of transportation, such as trucking or rail. Barges have a larger carrying capacity, allowing for the transportation of large volumes of cargo in a single trip.
This reduces the number of trips required and, consequently, the associated costs, including fuel expenses, labor costs, and maintenance costs. The economies of scale associated with towed barges contribute to their cost-effectiveness, making them an appealing choice for businesses looking to optimize transportation expenses.
Know thy Competitors
Competitive landscape highlights only certain players
Complete list available upon request
Eminent Player's Key Stratagems
Prominent players operating in the global Barges Rental market are Barge Connection, Barge Master, Barge USA, BargeWorld, Bhoir Dredging Company, Coastal Marine Services, Global Barge Rental, Interlake Barge Company, McDonough Marine Service, McNally Smith Marine, Mubarak Marine, and Sterling Equipment.
To attract customers, rental service providers offer a wide range of barge rental services to cater to various project requirements. Market players ensure that their fleet includes different types and sizes of barge for both small and large-scale operations. Also, rental service providers strive to offer competitive pricing to attract customers. Offering flexible rental plans, discounts, and package deals give service providers a competitive edge. Additionally, rental business expansion is also turned out to be an effective way adopted by market players to remain competitive. For instance:
In October 2022, Barge Master receives 7.5 million for a more efficient installation of offshore wind farms.
In April 2021, McDonough Marine Service announces the opening of its newest barge fleet location on Staten Island, New York City, N.Y. The location is highly strategic - Staten Island is situated close to the largest port facilities in the New York area.
Fact.MR has provided detailed information about the key rental service providers of barges, their total fleet, service portfolio, and revenue growth, in the recently published report.
Segmentation of Barges Rental Industry Research
By Barge Type :

Covered Barge

Sectional Barge
Tank Barge

Open Barge

Deck Barge
Crane Barge
Power Barge
Others

By Propulsion :

Self-Propelled Barge
Towed Barge

By Region :

North America
Latin America
Europe
East Asia
South Asia & Oceania
Middle East & Africa
- FAQs -
The barges rental market is expected to grow from US$ 82.9 billion in 2023 to US$ 122.7 billion in 2033 at a rate of 4.0%.
By barge type, the open barge is estimated to hold a prominent share of the barges rental market accounting for 69.1% in 2023.
The towed barge is expected to hold a significant position in the barges rental market accounting for 33.2% market share in 2023.
The United States barges rental market is expected to grow at a CAGR of 6.0% during the forecast period and reach a valuation of US$ 50.02 billion in 2033.
The German barges rental market is likely to grow at a CAGR of 5.8% during the forecast period to reach a valuation of US$ 13.5 billion in 2033 from a valuation of US$ 7.7 billion in 2023.