Nickel Hydroxide Market Outlook
According to a recent report on the nickel hydroxide market by Fact.MR, a market research and competitive intelligence company, demand for the product is set to increase at 6.2% CAGR over the tenure of 2021 to 2031, following huge demand from battery manufacturers targeting applications requiring high-current standards.
As per the study, the nickel hydroxide market is set to expand 1.8X and be valued at US$ 5.5 Bn by the end of 2031.
Don't Need a Global Report?
Save 40% on Country & Region specific reports
Nickel Hydroxide Industry Report Scope
Attribute
Details
Nickel Hydroxide Market Size in 2021
USD 3 Billion
Nickel Hydroxide Market Forecast Value for 2031
USD 5.5 Billion
Global Growth Rate
CAGR 6.2%
North America Market Size in 2021
USD 0.7 Billion
Latin America Market Size in 2021
USD 0.1 Billion
Europe Market Size in 2021
USD 0.8 Billion
East Asia Market Size in 2021
USD 0.9 Billion
South Asia & Oceania Market Size in 2021
USD 0.4 Billion
Middle East and Africa Market Size in 2021
USD 0.1 Billion
Forecast Period
2021-2031
Historical Data Available for
2016-2020
Market Analysis
Value in US$ Mn, Volume in Tons
Key Regions Covered

North America
Latin America
Europe
East Asia
South Asia & Oceania
Middle East Africa

Key Countries Covered

U.S.
Canada
Mexico
Brazil
Mexico
Argentina
Germany
Italy
France
U.K.
Nordic
Spain
Japan
China
India
Malaysia
Thailand
Australia
GCC Countries
South Africa
Turkey

Key Segments Covered

By Purity
By Appearance
By End-use
By End-use Industry
By Region

Key Companies Profiled

American Elements
Bochemie
GFS Chemicals
Jiangmen Chancsun Umicore Industry, Co. Ltd.
Jilin Jien Nickel Industry
Kansai Catalyst Co, Ltd.
Kelong New Energy Co, Ltd
Norn Nickel
Sumitomo Metal Mining
Supraveni Chemicals
Tanaka Chemicals
Tinchem Enterprise
Umicore
Yantai Cash
More Insights, Lesser Cost (-50% off)
Insights on import/export production,
pricing analysis, and more – Only @ Fact.MR
Consumption Analysis of Nickel Hydroxide from 2016 to 2020 Vs Market Outlook for 2021 to 2031
Over the past half-decade, the market for nickel hydroxide witnessed a huge boost from the automotive and electrical industry. The compound annual growth rate of the market from 2016 to 2020 was calculated to be around 4.6%.
The push was all around from East Asia's growing industrialization push towards solar infrastructure development. Additionally, during the past half-decade, use of nickel hydroxide in electrocatalysis has been on the rise.
In 2020, the market contracted by 1.2% owing to the shutdown of non-essential manufacturing industries. Demand for nickel electroplating along with its usage as a battery cathode material is poised to boost demand of the product during the forecast period of 2021-31.
Customized summary of over forecast period entails the following:
Demand for nickel hydroxide based batteries to hold hegemony at a solid CAGR of 6.6%.
Adoption of unique end uses in the automotive industry to conquer 34% share by 2031.
Demand for nickel hydroxide catalysts is on the rise, especially from the chemical industry.
Know thy Competitors
Competitive landscape highlights only certain players
Complete list available upon request
How are Manufacturers Responding to Escalating Demand for Ni(OH)2?
Players in the industry want to increase their income and profit streams, and are investing in improving their conventional nickel hydroxide production technology. As a result, they are expanding globally in order to increase returns.
For instance, Nornickel, Umicore, Sumitomo Metal Mining, and Jilin Jein Nickel Industry have all boosted their R&D spending and production as a. In 2020, Umicore in Poland secured a loan of around US$ 146 million from the European bank, demonstrating the market's potential growth for the decade.
Furthermore, Umicore invested US$ 372 million to increase cathodic battery material manufacturing. Also, Sumitomo Metal Mining, a Japanese conglomerate, plans to invest US$ 424 million by the end of 2021 to increase cathode material manufacturing for rechargeable batteries.
The future scope of this industry is impacted by governmental laws and removal of gas-emitting engines, which is why, well-established firms are looking forward to develop and invest in it. Moreover, demand for nickel batteries has been increasing as a result of this.
What are Some of the Applications of Nickel(II) Hydroxide?
As catalyst application of nickel hydroxide is on the rise, manufacturers have been trying to enhance overall efficiency for use of nickel hydroxide in the chemical industry. Additionally, application of nickel hydroxide in batteries has remained one of the primary demand generators over the years, owing to the use of nickel hydroxide in the automotive industry.
Besides, use of nickel hydroxide as electrodes in electrochemical batteries, especially in the chemical industry, has been responsible for robust growth during the past half-decade.
In addition to the application of nickel hydroxide in electrochemical processes, nickel hydroxide-based batteries have remained the primary choice of battery for PHEV manufacturers in the past few years. This has increased demand for battery grade nickel hydroxide. These battery chemistries include nickel–cobalt hydroxide, zinc-nickel hydroxide and nickel cadmium hydroxide.
Additionally, application of nickel hydroxide in the photocatalysis reaction has turned out to be fruitful for manufacturers in the past.
How are Manufacturers Advancing their Technology to Supply Spherical Coated Ni(OH)2?
For technical breakthroughs in the synthesis of nickel hydroxide and its end-use applications, the market is now undergoing an unprecedented period of mergers, joint ventures, expansions, and signed agreements. All key companies in this industry have stressed on the significance of producing a more durable and efficient grade of nickel hydroxide, and one of these grades is spherical-coated nickel hydroxide.
These companies' R&D centers came to the idea that combining chemicals at the atomic or subatomic level produces high-performance materials that may be employed in a variety of applications. As a result of its amorphous nature, spherical coated nickel hydroxide grade possesses a characteristic known as excellent fallibility.
Kansai Catalyst Co. Ltd, for example, has invested in surface treatment methods that enable cobalt to be coated on Ni(OH)2. This product is in great demand due to its capacity to provide increased surface area, which improves surface characteristics. As a result of this capacity, characteristics of the base and coated material are enhanced synergistically.
In light of the aforementioned reasons, manufacturers are continuously improving the product to stay competitive and meet current and future market demand.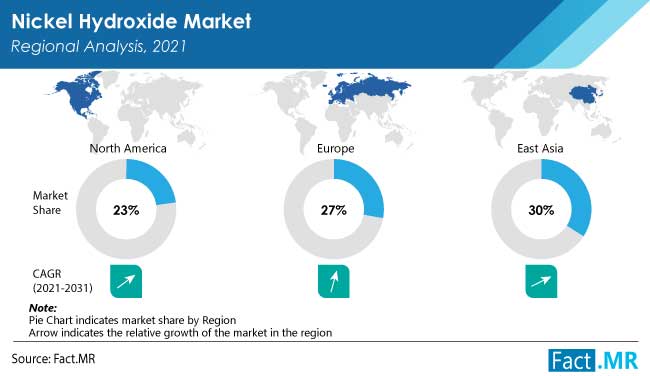 Country wise Analysis
Why is the U.S. a Primary Target for Ni(OH)2 Manufacturers?
The U.S. is one of the few countries with established battery charging networks laid out across the country. The U.S. has been an early adopter of electric vehicles in an attempt to decarbonize the economy, which would, in turn, be responsible for an alarming increase in the number of electric vehicles being seen on the roads.
Additionally, recently, President Biden released a blueprint to meet around 45% of electricity demand from the sun by 2050, up from a mere 4% as of 2020. To achieve this target, the country would need to increase its installed solar energy generation capacity by double every year for the next four years, and again double the capacity by 2030.
These plants use photovoltaic cells for storing energy, which use nickel hydroxide as one of the cathode materials, in turn, expected to boost demand over the long-run forecast period.
How is China Faring in the Market for Nickel Hydroxide?
China has remained the largest manufacturer of automobiles in the past half-decade. However, multiple regulatory changes were made by the Chinese government for increasing the adoption of electric vehicles by 2040. This has, in turn, mandated manufacturers to strictly move towards achieving the goal of 40% of total sales being made from BEVs and PHEVs by 2040. This would largely result in nickel hydroxide batteries being the preferred choice for PHEV manufacturers.
Besides, China is committed to achieving its goal of installing and increasing its solar and wind power generation capacity to 1,200 GW by 2030 from its current 500 GW capacity. This would again require nickel-cadmium batteries that are mostly used for energy storage in solar power plants.
Additionally, as China remains the largest manufacturer of solar photovoltaic power systems in the world, it is anticipated to continue exerting its dominance in the market over the forecast period of 2021-31.
Category wise Analysis
What Makes Battery End Use Attractive for Manufacturers to Target?
Nickel hydroxide has remained the primary choice of battery material for hybrid electric vehicles during the past half-decade. This is due to the application of nickel hydroxide in batteries of electric hybrid vehicles. This has increased the sales of pure nickel hydroxide being used in these batteries.
Nickel-based batteries are resistant to electrical usage because they can be left in a discharged phase for long periods without lasting damage and work well in high-ambient temperatures.
Nickel-based batteries are utilised in a variety of applications, including standby, electric vehicles (EVs), hybrid electric vehicles (HEVs), and aviation starters. They come in steel or plastic containers with pocket-plate or sintered electrodes.
Nickel-based batteries are especially well-suited to electrically or mechanically demanding applications, and they serve a wide range of applications. This has led to an increase in the consumption of nickel hydroxide batteries by the automobile sector.
PHEV registrations tripled in the past year as countries implemented strict laws and regulations to support the growth of electric vehicles and shift from IC engine-driven automobiles to EVs completely, thereby boosting demand for nickel hydroxide.
This also had a domino effect resulting in an increase in demand for nickel hydroxide, and an overall increase in the consumption of nickel hydroxide in battery manufacturing.
Which End-use Industry is anticipated to Dominate the Nickel Hydroxide Industry through 2031?
The automobile industry is poised to remain one of the primary reasons for the growth of nickel hydroxide sales, with a substantial number of vehicle manufacturers shifting to hybrid electric vehicle version of their existing IC engine vehicles. Besides, there has been a rise in the overall number of electric vehicle registrations in 2020, which is indicative of the fact that consumers are willing to accept electric vehicles and shift to a greener alternative.
Besides, more and more countries have been investing in developing their solar infrastructure as they try to reduce their dependence on non-renewable sources of energy for meeting their electrical needs. This, in turn, boosts the requirement of nickel-cadmium batteries, which are known to provide constant electric current and are preferred for starting generators and providing uninterrupted power supply, as they provide constant supply during the whole cycle.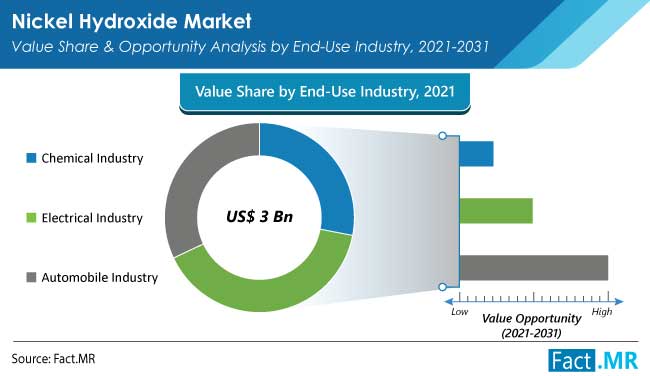 Owing to this reason, the electrical industry has been utilising Ni-Cd batteries that contain cadmium nickel hydroxide, and offer this very property, along with the added advantage that these batteries can be left discharged for a longer duration of time,.
These nickel cadmium batteries also contain cobalt nickel hydroxide. Alongside, some of them use batteries that contain zinc nickel hydroxide as per client requirements and applications. This has escalated demand for pure nickel hydroxide being used to manufacture these batteries.
The aforementioned factors are poised to keep demand for nickel hydroxide steady through 2031.
Competitive Landscape
The nickel hydroxide industry has remained moderately fragmented in nature, with vital players continuing to expand their share in the market. They have adopted a blend of organic and inorganic growth strategies to expand their geographical presence, and, in turn, improve their access to untapped markets.
Japan's Sumitomo Metal Mining is investing US$ 424 million in increasing its cathodic material manufacturing capacity. It has a vision for a new nickel-based cathodic material facility to be built in western Japan.
Norilsk Nickel, commonly known as Norn Nickel, a global leader in the nickel industry, has decided to increase its manufacturing capacity of battery raw materials.
Key Segments of Nickel Hydroxide Industry Survey
By Purity

2N Nickel Hydroxide
2N5 Nickel Hydroxide
3N Nickel Hydroxide
3N5 Nickel Hydroxide
4N Nickel Hydroxide
5N Nickel Hydroxide

By Appearance

Powder Nickel Hydroxide
Nano-Particle Nickel Hydroxide
Spherical Nickel Hydroxide

By End Use

Battery
Electroplating
Catalysts

Photo-catalysis
Electro-catalysis

By End-use Industry

Chemicals
Electricals
Automobiles