Solid State Battery Market
Solid State Battery Market Share & Trends Analysis, By Battery Type (Thin Film Solid State Batteries, Portable Solid State Batteries), By Capacity (Below 20mAh, 20mAh-500mAh, Above 500mAh), By Sales Channel & By Region - Global Insights to 2031
FACT6434MR
Dec-2021

List of Tables : 96

List of Figures : 218

170 Pages
Solid State Battery Market Outlook to 2031
In 2020, the global Solid State Battery Market were valued at US$ 56.9 million. At around 30% CAGR, projected market growth during 2021 - 2031 is expected to be significantly higher than previous years. By 2031, the market for portable solid state batteries is expected to account for an absolute dollar opportunity of nearly US$ 911 Mn.
Key Points Covered in Solid State Battery Industry Survey:
Market Estimates and Forecasts (2016-2031)
Key Drivers and Restraints Shaping Market Growth
Segment-wise, Country-wise, and Region-wise Analysis
Competition Mapping and Benchmarking
Market Share Analysis
COVID-19 Impact on Solid State Battery Sales and How to Navigate
Recommendation on Key Winning Strategies
Revenue Analysis of Solid State Batteries from 2016 to 2020 Compared to Demand Outlook for 2021 to 2031
As per the solid state battery industry research by Fact.MR - a market research and competitive intelligence provider, historically, from 2016 to 2020, market value of the solid state battery industry increased at around 22.1% CAGR, wherein, countries such as Japan, the U.S., South Korea, China, and Germany held significant share in the global market.
With fast-pace vehicle electrification and miniaturization of consumer electronics, sales of solid state batteries are projected to surge at a CAGR of close to 30% over the coming 10 years.
As per consumption analysis, the solid state battery market reached a valuation of US$ 56.9 Mn in 2020.
Worldwide revenue was down -2.4% year-over-year owing to negatively impacted end-user industries amid COVID-19.
Fact.MR estimates that solid state battery revenue will grow 13X from 2021 to 2031, reaching nearly US$ 985 Mn by 2031.
Demand for thin film solid state batteries will accelerate at a higher pace, owing to increasing demand for wearable devices, including fitness bands and smart clothing.
Solid state batteries with capacity of above 500mAh are expected to remain the dominant revenue stream throughout the analysis period.
Electric vehicles will remain pivotal for solid state battery revenue generation, as the application is expected to cash in over US$ 215 Mn absolute dollar opportunity during 2021 - 2031.
As per ratings on the basis of market share, market reach, clientele, etc., top 5 providers of solid state batteries held 67% market share in 2020.
Interested to Procure The Data
How is Physiochemical Limits of Traditional Li-ion Batteries Paving the Way for Solid State Battery Suppliers?
Li-ion batteries have not only revolutionized the portable electronics ecosystem but also built a foundation for electric vehicle revolution. However, growing application area of end-use products has exposed the physiological limits of li-ion batteries. While ionic conductivity of solid electrolytes is still an interest of research, ceramic solids deliver sufficient ionic conductivity.
Besides, a new research project on solid-lithium metal anode batteries (SOLOBAT) initiated by Faraday Institution, the U.K.'s independent institute for electrochemical energy storage research, is further expected to clear the technological roadblocks for solid state batteries. This can further make the transition from li-ion to solid state batteries pronounced, thus elevating demand in favour of the latter.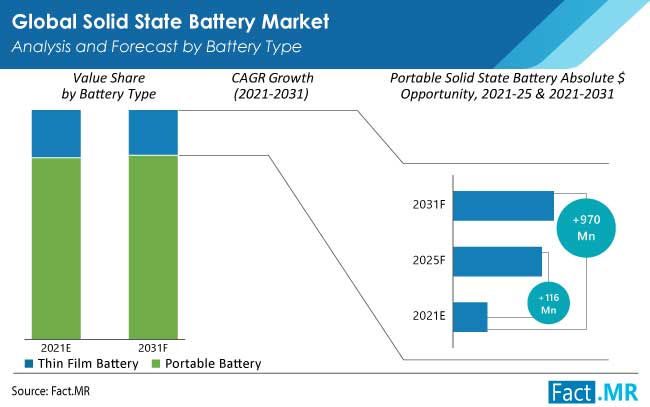 Electric Vehicle Penetration Reaching New Heights – What Does it Mean for Solid State Batteries?
While it is no more a wise-man's talk today that electric vehicles are good for users as well as the environment in every aspect, technology providers have been working to make their offerings more suited to new energy vehicles, while at the same time minimizing costs associated with them.
The global electric cars market has been growing at around 40% year-on-year, as most prominent passenger car manufacturers around the world are routing their investments towards alternative fuel vehicles. In 2019, electric car sales clocked 2.1 Mn units globally, which also carried on its back the demand for materials used in them, including solid state batteries.
While electric vehicles become more mainstream, an absolute dollar opportunity of around US$ 911 Mn can be envisioned for sales of solid state batteries during 2021 – 2031.
An Adaptive Approach to Modern-day Research Needs
Which Region Offers the Largest Opportunity for Sales of Solid State Batteries?
East Asia is expected to account for over 35% share of global solid state battery demand by 2031. China, on its vehicle electrification spree, holds significant opportunities for related raw materials and components.
In 2019, China was populated with around 2.6 Mn battery electric vehicles and 0.8 Mn plug-in hybrid electric vehicles. Although, with a cut in electric car purchase subsidies, adoption rate of electric cars has dropped. Now, the government is set to boost adoption with policies to support vehicular ownership.
Japan, on the other hand, is also increasing its electric vehicle numbers in its overall fleet. Besides, East Asia, being the hub of battery manufacturing, connects all the dots in demand and supply of electric vehicles as well as solid state batteries.
Battle of Patents
While solid-state battery demand soars, companies in some countries have started to increase their focus on filing patents. With more than 231 patents, Japan leads the race. Followers after Japan include the U.S., South Korea, China, Germany, France, U.K., Finland, Spain and Switzerland with around 159, 148, 112, 56, 24, 23, 23, 23, and 23 patents, respectively.
Avail customized purchase options for your needs
Country-wise Analysis
What are the Prospects for Solid State Battery Demand in Emerging Regions?
Regions such as South Asia and Latin America have been progressing at a rapid pace in terms of next-generation technology adoption. Latin America registered 0.26 thousand electric buses, whereas, India, being the frontrunner in South Asia, led demand with 0.45 thousand electric buses in 2019, according to the International Energy Agency.
Alongside, with surge in urban population, the consumer electronics industry in these regions has also been flourishing, altogether making them lucrative avenues for solid state battery demand.
While solid state battery sales in Latin America are projected to expand at a CAGR of around 21%, the market in South Asia is set to register growth of over 36% over the next ten years.
Category-wise Insights
Why are Sales of Thin Film Solid State Batteries Gaining Most Traction?
Thin film solid state batteries are used across several wearable devices and gadgets that depend on IOT. Surge in the adoption of these devices has been escalating demand for solid state batteries. Thin film solid state battery demand is expected to rise at a CAGR of nearly 30% over the coming 10 years.
What Makes Solid State Batteries Below 20mAh Capacity the fastest Growing Category in the Market?
Solid state batteries of capacity below 20mAh are used in small devices, including wireless sensors and medical patches. Surge in demand for wireless sensors in various gadgets has led to raised demand for solid state batteries in this application.
Besides, growing healthcare industry and rising consumer expenditure on niche medical equipment and therapies have led to a surge in the demand for solid state batteries.
How Has COVID-19 Impacted Revenue Generation from Solid State Battery Sales?
The impact of COVID-19 on demand for solid state batteries was largely observed through the performance of application areas such as consumer and portable electronics, electric vehicles, energy harvesting, and wearable and medical devices.
While the supply side in these application areas was largely impacted during 2020, it led to moderate impact on solid state battery demand. Overall, solid state battery sales reduced by 2.4% in 2020 as compared to 2019 demand.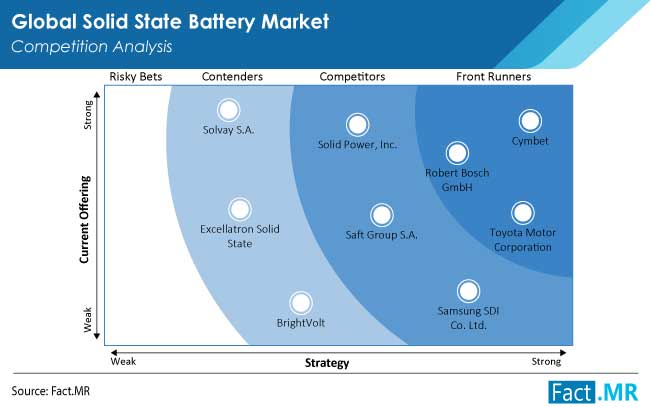 Competitive Analysis
The recent few years have observed a tussle between some global automotive heavyweights who are eyeing to maximize the opportunity offered by electric vehicles. Since leadership in electric vehicles cannot be completed with a half-hearted focus on engaging solid state batteries in the plan, Toyota, Volkswagen, Hyundai Motor Co., and Ford Motor have been investing in solid state battery start-ups.
In May 2021, Volkswagen announced to increase its investment in QuantumScape, a U.S. based start-up to produce solid state battery. Volkswagen mentioned that in this joint venture, it aims to start a production line of solid state batteries by 2024.
U.S. automaker Ford Motor showed interest in investment in a solid-state battery start up Solid Power. This venture will also be joined by BMW, wherein Solid Power will be a focal point for both automakers in providing large format cells for vehicle testing.
In July 2021, Hyundai Motor Co. has announced an investment of US$ 100 Mn in SolidEnergy System, a U.S. based solid state battery start up.
Japan's Toyota Motor has been frontrunner in producing commercially viable solid-state battery. The company has filed several patents for solid state batteries since 2014. In May 2021, the company has announced that it is set to sell 8 Mn electrified vehicles in 2030.
In June 2019, Cymbet announced the introduction of next generation power management with RTC (PMRTC) products as a part of its initiative to leverage the attributes of EnerChip solid state rechargeable micro-batteries.
Similarly, recent developments related to companies offering solid state batteries have been tracked by the team at Fact.MR, which are available in the full report.
Market Segments Covered in Solid State Battery Industry Analysis
By Battery Type

Thin Film Solid State Batteries
Portable Solid State Batteries

By Capacity

Below 20mAh Solid State Batteries
20mAh-500mAh Solid State Batteries
Above 500mAh Solid State Batteries

By Sales Channel

Solid State Batteries for Consumer & Portable Electronics
Solid State Batteries for Electric Vehicles
Solid State Batteries for Energy Harvesting
Solid State Batteries for Wearable & Medical Devices
Others