Oxidative Stress Assays Market Outlook (2023 to 2033)
Progressing at a CAGR of 9%, the global oxidative stress assays market is valued at US$ 1.05 billion in 2023 and is this expected to reach US$ 2.49 billion by the end of 2033. This can be primarily attributed to the rapidly rising demand for oxidative stress assays from pharma and biotech companies.
Reactive oxygen species (ROS) generation rises under conditions of oxidative stress, and when antioxidant defences within cells become less effective. High metabolism or a stress response cause cells to produce ROS. Antioxidant glutathione (GSH) is utilized to lessen ROS-caused harm. The presence of oxidative stress markers & reagents in cells is detected and screened using oxidative stress assays.
Glutathione can be measured in both its reduced and oxidised levels using a GSH/GSSG-Glo assay. The test is created by converting a Glutathione S-transferase enzyme's Luciferin-NT GSH probe into Luciferin. The firefly luciferase reaction that results from the production of luciferin in this way generates a luminous signal that is proportional to the level of GSH present in the cells.
As different ROS in the cells are transformed into hydrogen peroxide (H2O2), the ROS with the longest half-life, a measurement of H2O2 levels can also serve as a proxy for ROS levels. Using a substrate that directly reacts with H2O2, the ROS-Glo assay generates a luminous signal that is proportional to the levels of H2O2 present.
Oxidative stress assay tests are segmented into antioxidant capacity assays, ascorbic acid assays, glutathione assays, cell-based exogenous antioxidant assays, indirect assays, lipid-based assays, nucleic acid-based assays, protein-based assays, enzyme-based assays, and reactive oxygen species-based assays. Indirect signs of oxidative stress include DNA/RNA damage, protein oxidation/nitration, and lipid peroxidation.
The most widely utilized DNA damage indicator is probably 8-hydroxydeoxyguanosine. Malondialdehyde (MDA), a lipid marker for oxidative stress which is also most commonly employed, is produced when polyunsaturated fatty acids are peroxidized and measured using the thiobarbituric acid reactive substance (TBARS) assay. Protein oxidative damage leads to protein nitration (3-nitrotyrosines). Advanced oxidation protein products (AOPP), which may be detected, using conventional assays, can also be produced as a result of ROS.
Based on offerings, oxidative stress assays are classified into consumables, instruments, and services. Global demand for consumables is expected to increase at a CAGR of 9.5% from 2023 to 2033. Clinical advancements, growing usage in the biotechnological and contract research organizations (CRO) sectors, and the recurring needs for consumables relative to instruments are some of the factors driving overall market growth.
Report Attributes

Details

Oxidative Stress Assays Market Size (2023E)

US$ 1.05 Billion

Forecasted Market Value (2033F)

US$ 2.49 Billion

Global Market Growth Rate (2023 to 2033)

9% CAGR

China Market Growth Rate (2023 to 2033)

8% CAGR

Japan Market Growth Rate (2023 to 2033)

8% CAGR

Germany Market Growth Rate (2023 to 2033)

6.5% CAGR

Canada Market Growth Rate (2023 to 2033)

7% CAGR

Key Companies Profiled

Abcam PLC
AMS Biotechnology (Europe) Ltd. (AMSBIO)
Biovision Inc.
Cell Biolabs, Inc.
Enzo Biochem, Inc.
Merck KgaA
MilliporeSigma
Oxford Biomedical Research, Inc.
Promega Corporation
Qiagen NV
Thermo Fisher Scientific, Inc.
What is Positively Influencing the Demand for Oxidative Stress Assays?
"Increasing Global Risk of Infectious Diseases"
Growing research and development activities in the medical sector across the world are boosting the demand for oxidative stress assays. The oxidative stress assays are expected to be beneficial for the detection of infectious diseases.
According to a study conducted in May 2021 and published in the journal 'Metabolic Implications of Oxidative Stress and Inflammatory Process in SARS-CoV-2 Pathogenesis: Therapeutic Potential of Natural Antioxidants', oxidative stress and inflammation are linked processes that influence both the course of the illness and how well it responds to treatment by interfering with a variety of signalling pathways.
Given the particular conditions necessary for the conformational modifications that guarantee the binding and introduction of a virus into the host cell, the redox status of a host cell is a significant determinant in viral entry.
Such studies show the value of oxidative stress tests in monitoring COVID-19 progression, which subsequently is boosting the sales of oxidative stress assays.
"Rising Prevalence of Chronic Disorders"
One of the main factors anticipated to propel the growth of the market for oxidative stress assays is the quick development of the biopharmaceutical and biotechnology sectors. Another key factor is the increasing number of cases related to chronic diseases. Due to the enhanced efficacy and precision of the results and the fact that chronic diseases lead to an imbalance in oxidant and antioxidant levels, the growing incidences of chronic disorders are boosting the need for oxidative stress tests.
6 out of 10 adults in the United States are living with chronic illness, and 4 out of 10 adults are experiencing two or more disorders, according to the Centers for Disease Control and Prevention's (CDC) May 2022 report.
The September 2021 publication of the paper 'Targeting Reactive Oxygen Species Capacity of Tumor Cells with Repurposed Drug as an Anticancer Therapy' revealed that when concentrations rose, reactive oxygen species (ROS) paradoxically influence cancer progression, whether inducing carcinogenesis or promoting the growth of cancer cells at medium levels of ROS or killing cancer cells at high levels of ROS.
As a result, ROS can be seen as a desirable target for the treatment of cancer. It also stated that one of the potential approaches to address existing cancer treatment difficulties may be the utilization of medications that have been repurposed based on ROS.
Don't Need a Global Report?
Save 40% on Country & Region specific reports
Which Obstacles Need to Be Overcome by Oxidative Stress Assay Producers?
"High Cost of Advanced Instruments"
For oxidative stress tests, label-free detection and high-content screening (HCS technologies have numerous advantages over traditional ones. These technologies cost more because they come with more sophisticated features and functionality.
A confocal microscope can cost up to US$ 250,000 when used in HCS. Pharma & biotech companies with limited R&D resources therefore cannot afford advanced devices due to their high cost. Thus, the capital expense of pharmaceutical businesses rises dramatically due to the high demand for devices with advanced technologies.
Academic research labs also find it challenging to invest in such systems because of their tighter budgets. Therefore, the high expenses linked to improved technologies could impede the growth of the oxidative stress assays market.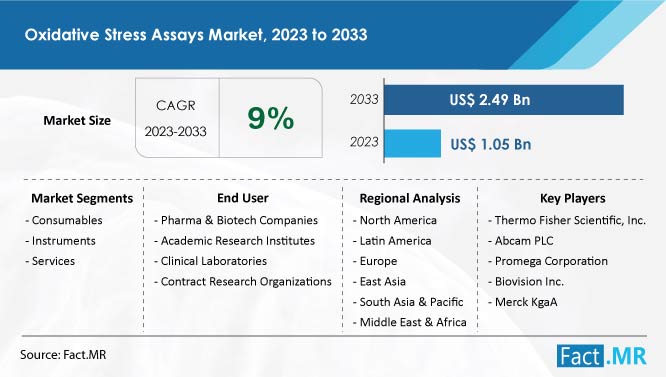 Country-wise Analysis
What is Driving the Sales of Oxidative Stress Assays in the United States?
"Presence of Major Pharma & Biotech Companies"
The United States currently holds a dominating position in the North American market. This can be due to the rapidly rising demand for oxidative stress assays from biopharma and biotech companies.
Furthermore, it is anticipated that the rising use of technologically sophisticated devices and the availability of skilled experts will boost the growth of the oxidative stress assays market in the United States. The oxidative stress tests are essential to the production of biopharmaceuticals, thus, the rising rate of new product launches by biopharmaceuticals is boosting sales growth.
Which Factors are Expected to Push Demand for Oxidative Stress Assays in Germany?
"Rising Prevalence of Cardiovascular Disorders in the Country"
Increasing cases of cardiovascular disorders and the rising preference for minimally-invasive procedures in Germany are expected to boost the demand for oxidative stress assays. Several market players are also focusing on producing advanced assay solutions. According to Fact.MR, a market research and competitive intelligence provider, sales of oxidative stress assays in Germany are predicted to rise at a CAGR of 6.5% during the next 10 years.
According to estimates by the German Heart Surgery Report 2021, 161,261 cardiac-related treatments were carried out in Germany in 2021.
How are Sales of Oxidative Stress Assays Progressing in Japan?
"Rising Cases of Diabetes in Japan"
The market for oxidative stress assays in Japan is evolving at a high CAGR of 8% from 2023 to 2033. The increasing prevalence of diabetes is generating potential growth opportunities in the oxidative stress assays market in Japan.
Type 2 diabetes is caused due to an unhealthy lifestyle, which causes the development of innate resistance to insulin, whereas Type 1 diabetes is brought on by an immune system failure. As a result, Type 1 diabetes is known as insulin-required diabetes, and Type 2 diabetes is known as insulin-dependent diabetes.
A significant rate of the elderly population in the world is found in Japan, which increases the chances of developing type 2 diabetes. Thus, the rapidly rising rate of the senior population is increasing the cases of diabetes, which further increases the demand for oxidative stress assays for monitoring and diagnosis of diabetes.
More Insights, Lesser Cost (-50% off)
Insights on import/export production,
pricing analysis, and more – Only @ Fact.MR
Category-wise Analysis
Why are Pharma & Biotech Companies Big Users of Oxidative Stress Assays?
"Increasing Use of Oxidative Stress Assays in Monitoring & Management of New Medicines"
Pharma & Biotech companies hold a dominating share of the global oxidative stress assays market. The oxidative stress assays are crucial for the development of pharma and biotech products, the COVID-19 pandemic has significantly increased the demand for oxidative stress assay products.
Since oxidative stress tests are commonly utilized in the product development process, the surge in research and development spending in pharmaceutical and biotech companies is anticipated to enhance sales growth.
According to information from the Organization for Economic Development and Co-operation (OECD) published in 2021, China's research and development investment intensity in the pharma and biotech sector was 2.1% to 2.2% higher than the previous year, while in the United States, it had crossed the 3% mark. The report also noted that spending on research and development increased more slowly in Europe, by 2.1 percent.
The launch of novel medicines and the regulatory bodies' clearance of existing products are also some of the factors aiding sales growth.
For those researchers looking into the mechanism of oxidative stress, AMSBIO, in June 2022, enhanced their selection of biomarkers, antibodies, and assay kits connected to antioxidants, free radicals (ROS and RNS), and non-radical reactive derivatives (or oxidants).
Because they significantly use oxidative stress assay products for the research and development of newer illness diagnoses, the pharmaceutical and biotechnology industry sector is anticipated to hold the majority of the market share in light of these reasons.
Competitive Landscape
Key players in the oxidative stress assays market are focusing on the advancement of assay products. To maintain their market position and earn more, some of the leading companies are concentrating on regional expansion, local supply, changes in pricing trends, product standards, and more.
In July 2021, Immuchrom GmbH and Ilex Life Sciences inked a collaboration agreement for the commercialization of gastrointestinal biomarker assays in North America. Immuchrom is a German researcher and manufacturer of photometric assays, immunoassays, and HPLC applications with a focus on oxidative stress, gastrointestinal disease, cardiovascular disease, and calcium and bone metabolism.
The Photo-oxidation Resistant DCFH-DA ROS Assay Kit was introduced in June 2022 by Dojindo, in Japan.
FusionPlex Dx and LiquidPlex Dx were launched by Invitae in February 2022 in Europe. FusionPlex Dx is designed to be utilized as a CDx to help identify patients with NSCLC who have ROS proto-oncogene 1 (ROS1) fusions and other conditions that might improve from targeted therapy.
Know thy Competitors
Competitive landscape highlights only certain players
Complete list available upon request
Key Segments of Oxidative Stress Assays Industry Research
By Offering :

Consumables
Instruments
Services

By Test Type :

Antioxidant Capacity Assays
Ascorbic Acid Assays
Glutathione Assays
Cell-based Exogenous Antioxidant Assays
Indirect Assays
Lipid-based Assays
Nucleic Acid-based Assays
Protein-based Assays
Enzyme-based Assays
Reactive Oxygen Species-based Assays

By Technology :

ELISA
Chromatography
Flow Cytometry
Microscopy,
High-content Screening
Label-free Detection

By Disease :

Cardiovascular Diseases
Diabetes
Respiratory Diseases
Cancer
Asthma

By End User :

Pharma & Biotech Companies
Academic Research Institutes
Clinical Laboratories
Contract Research Organizations

By Region :

North America
Latin America
Europe
East Asia
South Asia & Oceania
MEA