Cardiopulmonary Stress Testing Systems Market
Cardiopulmonary Stress Testing Systems Market By Product Type (Stress ECG, Pulse Oximeters, Single-Photon Emission Computed Tomography), By End-user (Hospitals, Specialty Clinics/Cardiology Clinics, Ambulatory Surgical Centers)- Global Market Insights 2020 to 2025
FACT4693MR
Mar-2022

List of Tables : 22

List of Figures : 97

170 Pages
Increasing Awareness about Accurate CVD Assessment amid COVID-19 Pandemic to Heighten Growth Prospects
Global cardiopulmonary stress testing devices market is poised to expand positively at a CAGR of 4.8% during the forecast period (2020-2025). Cardiovascular Disease (CVD) remains one of the leading causes of death across the world. The condition is responsible for 17.1 million deaths globally in 2015. Out of these, around three-quarters of the deaths occurred in low to middle-income countries.
Limited access to monitoring and diagnosis of CVDs is attributed as a major reason for the increasing death rate. This problem is further being compounded by the COVID-19 pandemic which has gripped the globe
Fortunately, various national and regional governments, in collaboration with international non-profit organizations, have initiated numerous awareness campaigns to enlighten people about the accurate assessment of CVDs amidst this global crisis.
In addition, increased budgetary allocation and provision of affordable treatment to patients are burgeoning. This has encouraged market players to establish their businesses in prospective markets and introduce technologically enhanced testing systems.
The recent COVID-19 pandemic has generated potential threats to cardiac patients. The virus is capable of severely damaging cardiac tissues by inflaming them. Realizing this, hospitals and clinics have ramped up their efforts in providing top-quality medical care and reduce complications among existing patients.
A growing geriatric population pool with CVDs and critically ill COVID-19 patients is also anticipated to boost the global cardiopulmonary testing services market.
Avail customized purchase options for your needs
Cardiopulmonary Exercise Testing Systems (CPET) to Dominate, Stress ECG to Catch Up
The cardiopulmonary exercise testing systems (CPET) segment is anticipated to capture the lion's share of the global cardiopulmonary stress testing systems market. This is attributed to the growing demand for novel testing systems among critically ill COVID-19 patients.
Moreover, the CPET provides a distinct and complimentary assessment by facilitating a more precise and reliable measurement of a patient's functional capacity. It provides better validation for evaluating the prognosis of heart failure patients and measuring responses to heart failure therapy.
The CPET segment is poised to capture more than half of the global cardiopulmonary stress testing services market, expanding 1.3x during the forecast period.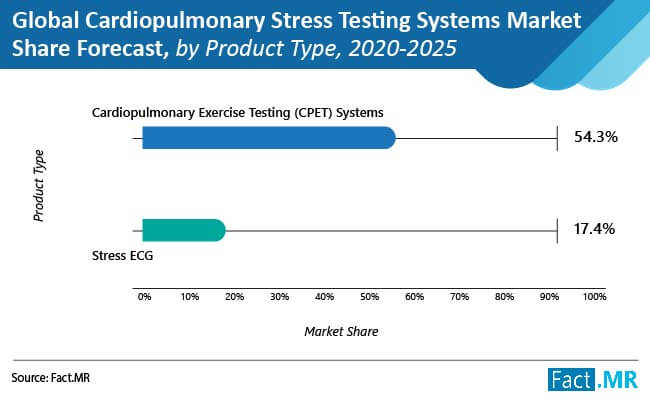 The stress EGC segment is anticipated to be the second-most lucrative market. A burgeoning pool of cardiovascular patients in developing countries, low-cost product offerings in high patient population countries and strong market penetration of local manufacturers are anticipated to leverage growth prospects for the ECG devices during the forecast period.
For instance, companies such as Koninklijke Philips N.V., GE Healthcare, and Schiller AG have consolidated their market footprints through the manufacturing of ECG devices such as the DXL 16-Lead ECG Algorithm, the CASE Exercise Testing System and the CARDIOVIT AT-180 High-performance 16-channel ECG system. The stress ECG segment is poised to expand at a CAGR of 5.0% during the forecast period.
North America Captures the Lion's Share, Asia-Pacific to Grow at a Rapid Pace
North America is poised to capture one-third of the global cardiopulmonary stress testing market. Increasing hospitalization rates of COVID-19 patients and rising efficiency in accurate diagnostics of cardiovascular diseases are anticipated to leverage the market growth. The North American cardiopulmonary stress testing services market is projected to expand at a CAGR of 4.9% during the forecast period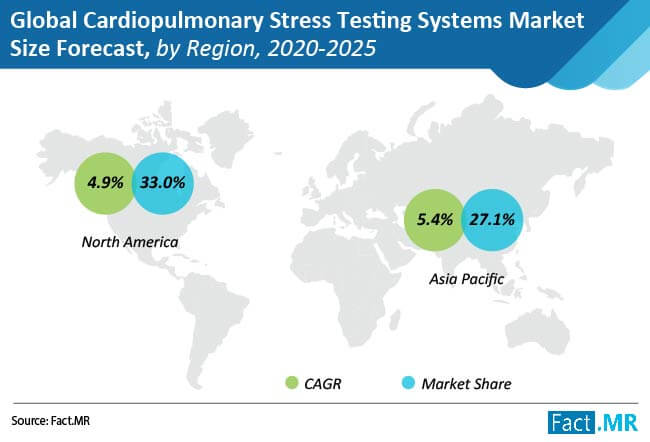 Asia-Pacific is anticipated to be the most lucrative market for cardiopulmonary stress testing services. A strong presence of key manufacturers in the region and increased awareness about stress testing are major factors likely to contribute to the growth of the Asia-Pacific market.
The Asia-Pacific region is poised to expand at a CAGR of 5.4%, capturing over one-fourth of the global cardiopulmonary stress testing services market during the forecast period.
Stakeholders to Innovate and Incorporate Advanced Technologies
Schiller AG is a pioneer in the global cardiopulmonary stress testing services market. The company has been continuously improving its product pipeline and technologies for patient assessment via stress tests.
The company manufactures the CARDIOVIT AT-200 EXCELLENCE ERGOSPIRO which can perform both pulmonary function tests (PFTs) and metabolic tests with diagnostic quality-12 or 16-leade exercise ECG conveniently and accurately in a single device.
Likewise, VYAIRE MEDICAL INC., produces the Vmax and Vyntus CPX CPET devices. The latter device is equipped with a digital volume transducer (DVT) flow sensory technology which provides an accurate and reliable flow and volume measurement of cardiac functioning.
An Adaptive Approach to Modern-day Research Needs
COVID-19 Market Insights:
While people of all ages are vulnerable to infection, the COVID-19 virus poses significant risks for those aged above 60 years with underlying medical conditions. These include cardiovascular disease and hypertension. A person with a pre-existing heart disease who gets infected with COVID-19 may experience a heart attack or develop congestive heart failure.
In some cases, the infection can also trigger myocarditis, or inflammation of the heart muscle. While simple precautionary measures such as washing of hands regularly, cleaning and disinfecting frequently touched surfaces and social distancing may help prevent the spread of the infection, companies are investing significantly in finding a cure for the diseases through vaccinations or oral medications.
A recent significant development has occurred in the United States with respect to the COVID-19 pandemic. The FDA has relaxed regulations on the Extracorporeal Membrane Oxygenation (ECMO) devices and cardiopulmonary bypass devices to help hospitals fight the novel coronavirus disease. They have been granted clearance to use cardiopulmonary bypass devices outside their authorized indications.
This development is anticipated to spur key cardiopulmonary device manufacturers to increase their production volume and provide more devices to key end-users. Companies like Medtronic and Getinge are poised to experience an uptick in their production operations. Till the time the COVID-19 persists, hospitals shall be permitted to use cardiopulmonary bypass devices in ECMO circuits beyond the six-hour time limit.
Interested to Procure The Data
Global Cardiopulmonary Stress Testing Systems Market Segmentation
Fact.MR has studied the global cardiopulmonary stress testing systems market with detailed segmentation on the basis of product, end-user and region.
By Product :

Cardiopulmonary Exercise Testing (CPET) Systems
Stress ECG
Pulse Oximeters
Stress Blood Pressure Monitors
Single-photon Emission Computed Tomography (SPECT)

By End-user :

Hospitals
Specialty Clinics/Cardiology Clinics
Ambulatory Surgical Centers
Diagnostic Centers

By Region :

North America
Europe
Asia Pacific
Latin America
Middle East & Africa (MEA)
"This taxonomy prepared is confidential and intended exclusively for the individual or entity with whom it is being shared. Reading, disseminating, distributing, or copying this to any party other than addressee(s) is unauthorized and prohibited."