Immunofluorescence Assays Market
Immunofluorescence Assays Market Analysis, By Product (Reagents, Instruments, Kits, Antibodies, Consumables & Accessories), By Type (Indirect, Direct), By End User (Pharma & Biotech Companies, Academic & Research Institutes, Others) & By Region - Global Market Insights 2023-2033
Analysis of Immunofluorescence Assays Market Covering 30+ Countries Including Analysis of US, Canada, UK, Germany, France, Nordics, GCC countries, Japan, Korea and many more
Immunofluorescence Assays Market Outlook (2023-2033)
Global demand for immunofluorescence assays is valued at US$ 3.13 billion and is expected to increase at a CAGR of 5% to reach a market valuation of US$ 5.10 billion by the end of 2033.
Based on product, immunofluorescence assays are segmented into reagents, instruments, kits, antibodies, consumables & accessories. Global sales of reagents and instruments are predicted to rise at a similar CAGR of 5% during the next 10 years.
The term 'instruments' refers to any apparatus or devices, whether employed singly or in combination, that are used for in vitro testing of specimens produced from the human body only to provide information for diagnostic or compatibility reasons. The increasing prevalence of infectious and chronic disorders among the population is boosting the demand for instruments.
Instruments for immunofluorescence assays are used to diagnose health and diseases. Chemistry analyzers, immunoassay analyzers, microscopes,hematology analyzers,slide processing systems,imaging analysis systems, centrifuges, and other analytical devices are the most often used clinical diagnostic tools. The widespread use of point-of-care and multi-test platforms is also boosting sales growth.
Also, as the need for better methods has grown, multiplex immunofluorescence assays-technologies that enable the simultaneous detection of numerous markers on a single tissue section-have been developed and are now being used in both clinical and research settings.
A common virological method for detecting antibodies is the immunofluorescence assay (IFA), which relies on the antibodies' unique capacity to bind to viral antigens produced in infected cells. The fluorescent dye that is used to tag or label the antibodies in the assay enables them to bind with the corresponding antigen.
In a fluorescent microscope, automated imaging device, flow cytometer, or array scanner, the antigen-antibody complex is further observed. The method is employed for researching particular proteins in cell cultures, body fluid samples from patients, and others.
The most popular serological method for determining the presence of Bartonella spp. IgM or IgG antibodies in patient samples are the immunofluorescence antibody assay. Direct immunofluorescence assays and indirect immunofluorescence assays are the two different types of immunofluorescence assays, they are also known as primary (direct) immunofluorescence assays and secondary (indirect) immunofluorescence assays respectively.
Automated immunofluorescence assays and cell-based indirect immunofluorescence assays are used to detect antinuclear and antigen antibodies respectively. Due to the rising popularity of immunofluorescence assays for diagnostic procedures, the need for immunofluorescence analyzers has significantly increased over the past few years.
Due to the use of antibodies and purified antigens in the form of reagents, immunofluorescence analysis has emerged as an ideal tool for medical research and illness detection. The technique is incredibly effective in the diagnosis of diseases including cancer, hepatitis, illicit drugs, etc.
During the projection period, factors such as rising chronic and infectious illness cases, increasing demand for better diagnostic tools, and rising demand for cutting-edge medications will continue to drive the growth of the immunofluorescence assays market.
Report Attributes

Details

Market Size (2023E)

US$ 3.13 Billion

Forecasted Market Value (2033F)

US$ 5.10 Billion

Global Market Growth Rate (2023-2033)

5% CAGR

China Market Growth Rate (2023-2033)

5% CAGR

Japan Market Growth Rate (2023-2033)

5% CAGR

Germany Market Growth Rate (2023-2033)

4% CAGR

Key Companies Profiled

Abcam PLC
Bio-Rad Laboratories, Inc.
Cell Signaling Technology, Inc.
Danaher Corporation
INOVA Diagnostics, Inc.
Medipan GmbH
MilliporeSigma
PerkinElmer, Inc.
Sino Biological Inc.
Thermo Fisher Scientific, Inc.
Vector Laboratories, Inc.
Know thy Competitors
Competitive landscape highlights only certain players
Complete list available upon request
Which Factors are Spurring the Demand for Immunofluorescence Assays?
"Rising Prevalence of Infectious & Chronic Diseases"
Increasing investment in research and development activities, rising immunofluorescence popularity, the rising prevalence of infectious and chronic diseases, and continuous product developments are a few of the key drivers propelling the immunoassay market.
Due to their increased sensitivity, assay designs, and simplified reagents, immunofluorescence analyzers are now commonplace tools used for the detection of disease, medical research, and a variety of other uses. These tools are being utilized more frequently to measure desired analytes quantitatively in human plasma or blood.
Chronic and contagious diseases have suddenly become more prevalent as a result of changing lifestyles and quickly expanding populations, necessitating the adoption of techniques such as immunofluorescence assays for early detection and treatment. This is significantly boosting the global immunofluorescence assays market growth.
What Do Providers of Immunofluorescence Assays Need to Watch Out For?
"Lack of Awareness & High Cost Of Immunofluorescence Analysis Techniques"
Despite its upbeat outlook, the immunofluorescence assays market is dealing with several issues that are anticipated to slow its growth over the coming years. Numerous emerging and poor regions lack awareness about the immunofluorescence analysis techniques, the high cost of advanced high-tech immunofluorescence products, instrument approval is subject to stringent rules, and the lack of qualified experts are some of the reasons that may affect the sales graph.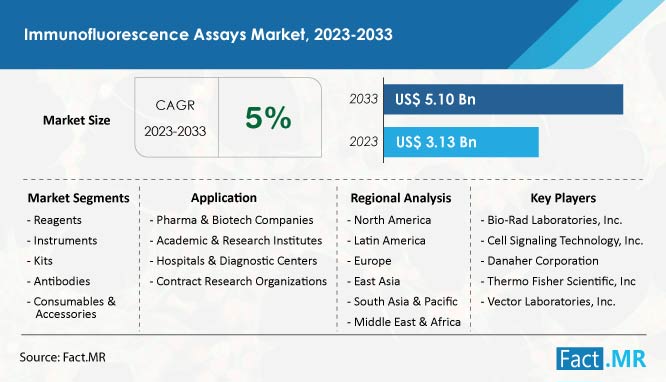 Country-wise Analysis
Why is Demand for Immunofluorescence Assays Growing Rapidly in the U.S.?
"Presence of Leading Companies & High Investments in R&D of Immunofluorescence Assays by Top End Users"
The United States currently holds the top spot in the North America immunofluorescence assays market, due to growing medical research activities, the presence of top-end users and market players, the availability of a variety of product models, and the increasing prevalence of cancer and other chronic diseases,
An anticipated 1.9 million new instances of cancer are diagnosed in 2022, according to the American Cancer Society's publication Cancer Facts & Figures.
High demand for immunofluorescence assays in the United States is also supported by high investments by pharmaceutical companies and federal agencies in R&D for the advancements of immunofluorescence assay techniques.
Furthermore, a significant factor driving the sales of immunofluorescence assay products in the U.S. is the growing recognition of immunofluorescence analyzers as efficient diagnostic instruments for testing and diagnosing a variety of disorders.
Why is Immunofluorescence Assay Technique Widely Adopted in Asian Countries?
"Rising Prevalence of Several Contagious Diseases"
The demand for immunofluorescence assays is increasing in Asian countries such as Japan, China, India and South Korea due to the rising prevalence of contagious diseases.
Currently, the indirect immunofluorescence (IF) technique is used to identify Japanese encephalitis virus (JEV) infections on acetone-fixed smears employing virus-specific antibodies. On a few rare circumstances, it was claimed that the acetone treatment had harmed specific glycoprotein epitopes on the JE virus.
A well-defined intracellular immunofluorescence staining against unstained, uninfected, antibody-treated cells could be used to identify JEV-positive cells. This assay's benefit is that stained cell suspensions can be kept for up to 4 weeks, allowing for convenient examination.
What is Supporting Sales of Immunofluorescence Assay Products in European Countries?
"Rising Risk of Chronic Disorders Such as Cancer in U.K. & Germany"
Europe currently holds a significant position in the global immunofluorescence assays market and is anticipated to expand quickly over the coming years. Due to their quickness and dependability, immunofluorescence analyzers are becoming more widely used in nations such as the United Kingdom and Germany for the early diagnosis of chronic diseases such as cancer.
During the projected period, the rise in chronic and contagious diseases together with the expanding demand for early disease identification for effective treatment will continue to drive immunofluorescence assay product sales.
Furthermore, the demand is aided by an increase in hospitals, diagnostic facilities, research organisations, and pharmaceutical businesses, as well as increasing investments in research activities.
According to a study titled "Re-emergence of Invasive Pneumococcal Disease (IPD) in Germany during the Spring and Summer of 2021" which was published in Clinical Infectious Diseases in February 2022, IPD levels in children ages 0 to 4 started to return to baseline levels in April 2021. Children 5 to 14 years old, adults 15 to 34, and seniors 80 years and older experienced an increase in IPD cases above baseline values starting in July 2021, with rises also starting in the spring of that same year.
Thus, the increase in infectious diseases is fuelling the demand for immunofluorescence assays.
More Insights, Lesser Cost (-50% off)
Insights on import/export production,
pricing analysis, and more – Only @ Fact.MR
Category-wise Analysis
Why are Immunofluorescence Assays Highly Utilized By Pharmaceutical & Biotechnological Companies?
"High Need to Examine Various Diseases and Development of New Drugs"
Demand for immunofluorescence assays will continue to increase as more pharmaceutical and biotechnology companies enter the industry. Immunofluorescence assays are being used by these end users more commonly to examine various diseases and the development of new drugs.
The SARS-CoV-2 outbreak became apparent as a potential window of opportunities in the immunofluorescence assays market. The immunofluorescence assay is being examined by numerous academic institutions and biopharmaceutical businesses to make it a useful diagnostic tool.
The article "A Novel Immunofluorescence Assay for the Rapid Serological Detection of SARS-CoV-2 Infection" from April 2021 discusses the development of a cell-based fluorescent serology assay to identify SARS-CoV-2 infection. The method is based on capturing IgG antibodies in the serum of COVID-19-positive patients through exogenous production of SARS-COV-2 spike in cells, followed by their fluorescence detection.
It is estimated that the use of such sophisticated immunofluorescent assays to detect COVID-19 infections will in?uence the market's growth.
Thus, the effectiveness of these assays for detecting COVID-19 infection and their uses in pharmaceutical and biotechnology companies for R&D of various contagious diseases is boosting sales growth.
Don't Need a Global Report?
save 40%! on Country & Region specific reports
Competitive Landscape
Some of the key players in the immunofluorescence assays market are Cell Signaling Technology, Inc., Danaher Corporation, INOVA Diagnostics, Inc., Sino Biological Inc., Thermo Fisher Scientific, Inc., and Vector Laboratories, Inc.
The ongoing release of novel devices by the leading companies in the immunofluorescence assays market, that are more portable, compact, and have real-time monitoring functions is offering significant sales growth. The accessibility of these cutting-edge tools has significantly changed how diseases are diagnosed and medical research is conducted.
In September 2022, Vizgen unveiled the MERSCOPE Protein Co-detection Kit to make subcellular spatial multi-omics measurement possible and at the same time diagnosis of RNA and proteins during a conventional MERFISH experiment. The MERSCOPE Protein Stain Reagent Kit provides superior protein staining that is equal to protein immunofluorescence staining and improves the identification of primary antibodies that are targeted at proteins through the use of oligo-conjugated antibodies.
A portable immunofluorescence microscope called the EUROPattern Microscope Live (EPML) and the fourth iteration of the firm's renowned EUROLabOfficeTM 4.0 (ELO 4.0) laboratory management software was introduced by EUROIMMUN, a PerkinElmer Inc. company, in March 2021.
OracleBio, a pioneer in quantitative digital pathology and a provider of image analysis services, and Ultivue Inc., a prominent biotechnological firm with expertise in diagnostics, tissue imaging, and multiplexing, announced cooperation in July 2020. Accelerating tailored tumour characterization for medication research and development in translational and clinical oncology is the goal of this alliance. Multiplex immunofluorescence assays and imaging can be done using it.
Segments of Immunofluorescence Assays Industry Research
By Product:

Reagents
Instruments
Kits
Antibodies
Consumables & Accessories

By Type:

By End User:

Pharma & Biotech Companies
Academic & Research Institutes
Hospitals & Diagnostic Centers
Contract Research Organizations

By Region:

North America
Latin America
Europe
East Asia
South Asia & Oceania
MEA
- FAQs -
Global demand for immunofluorescence assays is valued at US$ 3.13 billion for 2023.
The global immunofluorescence assays market is expected to expand at a CAGR of 5% from 2023 to 2033.
Demand for immunofluorescence assays is predicted to reach US$ 5.10 billion by 2033.
Applications of immunofluorescence assays are mostly found in clinical diagnostics, clinical research, and research & development.
Rising prevalence of chronic and infectious diseases is primarily driving market growth.