Pentylene Glycol Market
Pentylene Glycol Market Analysis By Function (Moisturizing Agent, Preservative, and Solvent), By End-Use Industry and Region - Global Market Insights 2023 to 2033
Analysis of Pentylene Glycol Market Covering 30+ Countries Including Analysis of US, Canada, UK, Germany, France, Nordics, GCC countries, Japan, Korea and many more
Pentylene Glycol Market Growth Outlook (2023 to 2033)
Based on Fact.MR analysis, the global pentylene glycol market is estimated to be valued at US$ 1,650.5 million in 2023 and it is expected to grow at a CAGR of 4.2% to reach US$ 2,490.6 million by the end of 2033.
Pentylene glycol's extraordinary solubility, moisturizing prowess, and antimicrobial allure position it as a coveted ingredient across various industries Its application in skincare and haircare, as a moisturizer highlights its hydrating abilities and capacity to enhance product stability. Moreover, the pharmaceutical sector values its solubility and preservative attributes, while other industries such as paints, coatings, and textiles harness its potential as an industrial solvent and component.
Report Attributes
Details

Pentylene glycol Market Size (2022A)

US$ 1,584.0 Million

Estimated Market Value (2023E)

US$ 1,650.5 Million

Forecasted Market Value (2033F)

US$ 2,490.6 Million

Global Market Growth Rate (2023-2033)

4.2% CAGR

North America Market Share (2023)

25.7%

China Market Growth Rate (2023-2033)

5.3% CAGR

Key Companies Profiled

Ashland Global Holdings Inc.
BASF SE
Dow Chemical Company
Evonik Industries AG
INEOS Capital Limited
INOLEX Inc.
Don't Need a Global Report?
save 40%! on Country & Region specific reports
Historic and Future Pathway Analysis for the Pentylene Glycol Market
Pentylene glycol falls into the category of 1,2 glycol, a synthetic compound that is transparent, odorless, and colorless. This versatile liquid, derived from sugar cane, is soluble in both water and oil. It is widely used in a range of cosmetics. Pentylene glycol acts as an effective emulsion stabilizer, broad-spectrum antimicrobial, humectant, and solvent that enhances product texture. Owing to its non-reactive nature and ability to dissolve diverse compounds, it boasts all the standard features of a high-quality solvent.
Short Term (2023-2026): With an escalating emphasis on skincare and grooming, the demand for top-notch formulations is on the rise. Pentylene glycol, renowned for its moisturizing and antimicrobial attributes, has emerged as a coveted ingredient in the cosmetic industry. This is expected to drive the short-term growth of the global pentylene glycol market.
Medium Term (2026-2029): The medium-term growth trajectory of the global pentylene market is being propelled by the flourishing cosmetics, personal care, and pharmaceutical industries, especially across emerging economies. These industries, which hold paramount importance in promoting consumer well-being, are witnessing steady expansion, owing to which the demand for pentylene glycol is expected to rise in the coming years.
Long Term (2029-2033): With an increasing awareness of the potential health and environmental risks associated with synthetic ingredients, consumers are actively searching for safer and more sustainable options. Pentylene glycol, derived from renewable sources and possessing inherent qualities, is a suitable fit for this growing trend. As consumers persistently prioritize natural and organic options, the demand for pentylene glycol is anticipated to grow.
On the back of aforementioned facts, the pentylene glycol market is anticipated to grow at a CAGR of 4.2% during the forecast period from 2023-2033, According to the Fact.MR, a market research and competitive intelligence provider.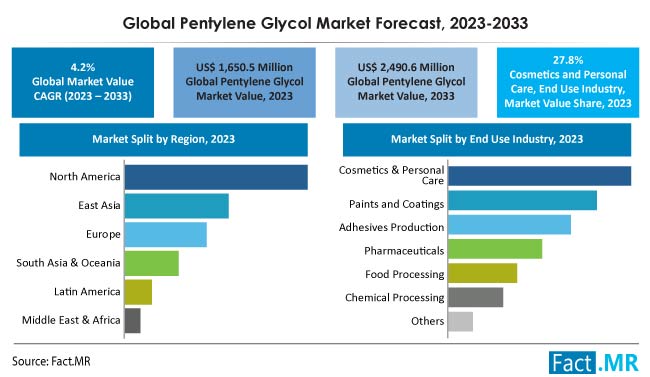 Market share analysis of pentylene glycol based on end-use industry and region is provided in a nutshell in the above image. Under the end use industry segment, the cosmetics and personal care sub-segment dominates with a 27.8% market share in 2023.
Market Dynamics Outlook
"Soaring Personal Care Demand Phenomenal Rise of Pentylene Glycol"
In the realm of skincare, haircare, and cosmetics, consumer's insatiable desire has created a vibrant ecosystem where pentylene glycol plays an indispensable role. The personal care industry is currently witnessing an unprecedented upsurge in demand, fueling the necessity for state-of-the-art formulations and groundbreaking solutions. Pentylene glycol, with its diverse range of properties, has become an essential ingredient found in a wide array of personal care products.
This versatile compound possesses exceptional moisturizing properties, making it highly desirable for skincare and haircare formulations. When used in products, pentylene glycol acts as a humectant, attracting and retaining moisture, thereby effectively hydrating the skin and hair. This moisturizing effect helps to improve the overall appearance and texture of the skin, making it look smooth, supple, and rejuvenated. In addition to its moisturizing prowess, pentylene glycol also boasts potent antimicrobial properties.
As the demand for personal care products continues to skyrocket, it serves as a pivotal driver propelling the remarkable growth of the pentylene glycol market.
"Cost Dynamics Impacting the Pentylene Glycol Market's Growth"
Manufacturers face significant hurdles when it comes to the cost considerations associated with using pentylene glycol in beauty and hair care formulations. Pentylene glycol, especially those derived from natural sources or produced through intricate processes, often incurs higher production costs compared to alternative ingredients available in the market.
The limited availability of natural sources for certain pentylene glycol contributes to their higher cost. Obtaining pentylene glycol from natural sources requires specific extraction or purification processes that can be labor-intensive and demand specialized equipment or expertise. Moreover, the production of pentylene glycol through complex processes, such as chemical synthesis or enzymatic reactions, involves multiple steps, stringent quality control measures, and specialized equipment. These factors collectively contribute to increased production costs compared to simpler ingredients.
The impact of higher production costs directly affects the final pricing of beauty and hair care products that incorporate pentylene glycol. Manufacturers must take these costs into account when determining the retail price of their products. The pricing strategy should consider various factors, including the target market, competition, consumer preferences, and the perceived value of the product.
More Insights, Lesser Cost (-50% off)
Insights on import/export production,
pricing analysis, and more – Only @ Fact.MR
Country-wise Insights
What are the Factors Driving Pentylene Glycol Demand Across China?
The rapid growth of the cosmetics and personal care industry in China is driving the pentylene glycol market growth. With an increasing focus on beauty and grooming, there is a rising demand for high-quality skincare, haircare, and beauty products. Pentylene glycol, with its moisturizing and antimicrobial properties, is highly sought after as a valuable ingredient in these formulations.
Increasing emphasis on sustainability and environmental consciousness in China has sparked a heightened demand for eco-friendly materials. Pentylene glycol, sourced from renewable origins or produced through environmentally friendly methods, perfectly aligns with this sustainability drive, making it extremely attractive to manufacturers and consumers who prioritize ecological considerations.
The Chinese government's unwavering support, characterized by initiatives promoting innovation and technological advancements, has played a pivotal role in propelling the demand for pentylene glycol. By prioritizing the development of advanced materials and fostering high-tech industries, the government has created a conducive environment that fuels the growth and expansion of the pentylene glycol market.
Why United States' Pentylene Glycol Market is flourishing?
The thriving personal care and cosmetics industry in the United States acts as a prominent catalyst for the pentylene glycol market. With a robust consumer base that highly values skincare and beauty products, the demand for ingredients such as pentylene glycol has soared. Its exceptional moisturizing and antimicrobial properties make it a sought-after option for formulators and manufacturers operating within the industry.
Renowned for its cutting-edge and technologically advanced industries, the United States serves as a fertile ground for pentylene glycol manufacturers to harness these capabilities. Leveraging their innovative prowess, they spearhead the development of novel formulations and applications, effectively addressing the evolving demands across various sectors. By placing a strong emphasis on continuous research and development, these manufacturers drive product innovation, ultimately captivating customers and propelling the growth of the market.
Category-wise Insights
Why Cosmetics and Personal Care Industry Drives Pentylene Glycol Market Growth?
The cosmetics and personal care industry has witnessed remarkable growth owing to the increasing consumer emphasis on personal grooming, beauty enhancement, and self-care. Consequently, there has been a surge in demand for premium-grade ingredients, such as pentylene glycol.
Pentylene glycol possesses exceptional properties that make it highly sought-after in cosmetic and personal care formulations. Its moisturizing prowess effectively hydrates the skin and hair, enhancing their overall texture and appearance. Additionally, its antimicrobial attributes contribute to the preservation of cosmetic products, inhibiting the growth of harmful microorganisms.
The versatility of pentylene glycol enables its extensive utilization across a wide array of cosmetic and personal care products, including skincare creams, lotions, serums, shampoos, and conditioners. This diverse range of applications expands its market potential and firmly establishes it as a preferred ingredient in the industry.
What Factors Contribute to the High Demand for Solvent Pentylene Glycol?
The soaring demand for solvent pentylene glycol stems from its remarkable solubility properties, rendering it a preferred choice across diverse industries. Its ability to effectively dissolve a wide array of substances enhances its versatility and value in formulations requiring efficient solubilization.
Solvent pentylene glycol demonstrates exceptional stability, playing a pivotal role in upholding product integrity and quality. By mitigating ingredient separation, it ensures desired consistency and appearance, elevating the appeal of formulations.
Also, the surging focus on sustainability and eco-conscious practices has fueled the escalated demand for solvent pentylene glycol. It's renewable sourcing or environmentally friendly manufacturing processes make it an enticing option for industries and conscientious consumers seeking greener alternatives.
The inherent versatility of solvent pentylene glycol amplifies its allure, as it finds applications in an extensive range of sectors, including cosmetics, pharmaceuticals, paints, coatings, and textiles. It's effectiveness and multifaceted value across diverse industries fuel its high demand, establishing it as a sought-after ingredient.
Know thy Competitors
Competitive landscape highlights only certain players
Complete list available upon request
Eminent Player's Key Stratagems
Eminent pentylene glycol manufacturers are BASF SE, Evonik Industries AG, Symrise AG, Dow Chemical Company, INEOS Capital Limited, Ashland Global Holdings Inc., INOLEX Inc., Nikkol Group, and Oleon NV.
Market giants in the pentylene glycol market are investing in research and development, pushing the boundaries of innovation, and exploring novel applications to cater to evolving market needs. For instance, Symrise developed and launched Hydrolite 5 green multifunctional cosmetic ingredients from Renewab. Similarly, Evonik and Dow developed an industrial-scale direct synthesis of propylene glycol from propylene and hydrogen peroxide.
Fact.MR has provided detailed information about the price points of key manufacturers of pentylene glycol positioned across regions, sales growth, production capacity, and speculative technological expansion, in the recently published report.
Segmentation of Pentylene Glycol Industry Research
By Function :

Moisturizing Agent
Preservative
Solvent

By End-Use Industry :

Cosmetics and Personal Care
Pharmaceuticals
Food Processing
Paints and Coatings
Adhesives Production
Chemical Processing
Others

By Region :

North America
Latin America
Europe
East Asia
South Asia & Oceania
Middle East & Africa
- FAQs -
The global pentylene glycol market was valued at US$ 1,584.0 million in 2022.
The regions included in the pentylene glycol market study include North America, Latin America, Middle East & Africa, South Asia & Oceania, East Asia, and Europe.
Prominent players in the market are BASF SE, Evonik Industries AG, Symrise AG, Dow Chemical Company, INEOS Capital Limited, Ashland Global Holdings Inc., INOLEX Inc., Nikkol Group, and Oleon NV among others.
The market is expected to reach a valuation of US$ 2,490.6 million in 2033.
The historic growth rate of the pentylene glycol market was 3.8% from 2018-2022.