Glycolic Acid Market
Glycolic Acid Market Analysis by Application (Personal Care & Cosmetics, Plant Growth Stimulation, Food Flavoring & Presentation, Polyglycolic Acid (PGA) Manufacturing, Cleaning Agent, Oil & Gas, Electronics, Leather Dyeing & Tanning), by Grade and by Region- Global Forecast 2022 to 2032
Analysis of Glycolic Acid market covering 30 + countries including analysis of US, Canada, UK, Germany, France, Nordics, GCC countries, Japan, Korea and many more
Market Outlook of Glycolic Acid
Sales of glycolic acid were valued at US$ 475 Million in 2021, and are expected to register a Y-o-Y growth rate of 5.2% in 2022 to reach a valuation of US$ 500 Million. From 2022 to 2032, the industry is forecast to register a value CAGR of 7%, closing at a market value of US$ 988.3 Million.
According to market research and competitive intelligence provider Fact.MR, the global glycolic acid market experienced a growth rate of 5% from 2015 to 2021. In the past half-a-decade, per capita spending on personal care and cosmetic products that ameliorate the skin texture has doubled. Furthermore, brands offering skin treatment based OTC product have also penetrated beyond metro cities across high potential countries.
Report Attributes

Details

Anticipated Base Year Value (2021)

USD 475 Million

Expected Market Value (2022)

USD 500 Million

Projected Forecast Value (2032)

USD 983.3 Million

Global Growth Rate (2022-2032)

7%

Key Companies Profiled

Avid Organics
CABB Group GmbH
China Petroleum & Chemical Corporation (SINOPEC)
CrossChem LP
Hebei Chengxin Co., Ltd.
Hefei TNJ Chemical Industry Co.Ltd.
Phibro Animal Health Corporation
Saanvi Corp.Shandong Xinhua Pharmaceutical Co.Ltd.
The Chemours Company
Water Chemical Co., Ltd
Zhonglan Industry Co., Ltd.
Know thy Competitors
Competitive landscape highlights only certain players
Complete list available upon request
2015-2021 Revenue Analysis of Glycolic Acid vs. Future Outlook 2022-2032
Resultantly, a surge in consumer demand for such products reported worldwide. Since, glycolic acid is a key ingredient used in skin benefitting formulations, the usurped demand of skin befitting agent translated in the heightened demand for glycolic acid. Besides, the chemical is also used in a variety of applications, including dyeing and tanning agents in the textile industry, flavoring agents and as preservatives in the food and beverage industry.
Producers, wholesalers and importers resonated to the increased demand for glycolic acid and ensured regular supply to the market. In order to maintain a regular supply, companies also enhanced their production capacity or optimized existing production. Based on these aforementioned trends, it can be concluded that the global glycolic acid industry is poised to experience 2x growth from 2022 to 2032.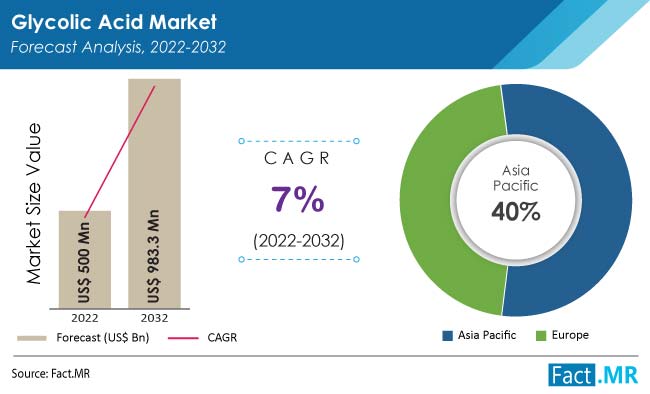 Prominent Growth Drivers Influencing Glycolic Acid Deployment
The market for glycolic acids will be driven by rising demand for natural cosmetic and personal care products
The growing popularity of natural personal and cosmetic products is one of the key drivers of the glycolic acid market. Because of its numerous skincare benefits, glycolic acid has established a significant position in the global cosmetic industry. Glycolic acid has anti-aging properties and has been shown to be an effective skin treatment ingredient. The acid is gentle on sensitive skin and effectively treats acne and other skin issues.
Furthermore, glycolic acid is biodegradable, metoxyacetic acid-free, and non-flammable, making it an ideal component in the dyeing industry. It is exempt from the volatile organic compound (VOC) category, which encourages its use in the chemical industry. Furthermore, the decline in the market for chemical products as a result of the negative effects of chemicals on skin and health has aided the growth of the market for natural products, increasing demand for glycolic acids.
Significant Alpha-hydroxyl-acid Demand in the Cosmetic Industry Will Aid Market Growth
According to L'Oréal, the global cosmetics market increased by about 5.5% in 2019. In 2019, skincare accounted for roughly 40% of the global glycolic acid market share. With the introduction of the e-commerce business, online companies, the expansion of social networks, the rise in per capita disposable income, and consumer interest in new, premium, and unique products have emerged as key factors for the overall growth of the cosmetics market.
Because of the growing popularity of online shopping for cosmetic products, most manufacturers or producers have been able to establish a large sales network, which may hasten the growth of the hydroacetic acid market. Continuous advancements in the cosmetics industry will result in a market surge. Glycolic acid is primarily used in the production of skin care products such as creams, face masks, and peels, which will drive demand. Growing consumer awareness, as well as an increase in per capita disposable income and an improved standard of living, is the primary contributing factor to rising product demand, particularly in India, Malaysia, and China.
Face and anti-aging cream, lipsticks, shampoo, hair care treatment sprays, moisturizers, cleansers, scrubs, fragrances, body wash, and other cosmetic products are examples. Approximately 96 percent of these products use hydroxyacetic acid as a raw material because it has skin benefits. Demand for this product is increasing in other industrial applications such as food preservatives, textiles, household goods, electronics, oil and gas, and pharmaceuticals. This will accelerate the growth of the hydroxyacetic acid market.
Factors likely to Impede Market Growth of Glycolic Acid
The production of formaldehyde substance stifles market growth
Glycolic acid is primarily produced through two methods: carbonylation of formaldehyde or glycolonitrile as a starting material. Both of these procedures result in the formation of formaldehyde as a byproduct. When exposed internally, formaldehyde is a harmful sensitive substance that can harm the immune system. Moreover, formaldehyde has been linked to the development of cancer in humans.
Furthermore, repeated application of this substance may irritate the eyes and skin. While formaldehyde is a residual product, an unintentional mixture with glycolic acid has the potential to cause severe harm to users. As a result, the extraction of glycolic acid necessitates extreme caution and cutting-edge technology, limiting market prospects.
Country-wise Analysis
How will Glycolic Acid Industry Grow in the Asia Pacific?
The Asia Pacific market, on the other hand, is expected to grow at the fastest rate. The Asia Pacific market is estimated to be worth US$ 183 Million in 2022, accumulating 40% revenue. In-market prospects will be fueled by rising disposable income and rising demand for natural products.
The thriving textile industry will also contribute significantly to the region's growth. Rising awareness and a higher standard of living are also important factors. Prime markets in the region include India, China, Japan, South Korea, Singapore, and Thailand.
Furthermore, China is a major producer of specialty chemicals, as well as a significant number of glycolic acid producers. Shandong Xinhua Pharmaceuticals Co. Ltd., Zhonglan Industry Co. Ltd., Water Chemicals Co. Ltd., Hebel Chengxin Co. Ltd., and Hefei TNJ Chemical Industry Co. Ltd. are some of the country's major manufacturers.
How Will Europe Provide Growth Opportunities for Glycolic Acid Providers?
With a 34% revenue share, Europe is expected to account for significant demand for glycolic during the forecast period. The glycolic acid market has demonstrated exceptional penetration in Europe's developed economies. Acne removal and anti-aging cream are becoming more popular, which will aid in market growth.
Because medical facilities have been rapidly expanding in countries such as Germany, France, the United Kingdom, and the Netherlands, the European market is expected to develop at a rapid pace by the end of the forecast period, so the medical industry would be a key factor driving demand for glycolic acid in Europe.
It is used as an intermediate in the formulation of a variety of medications. When glycolic acid creams or medicines are applied to the skin, they break the bonds between the outer layer of skin cells and the next layer of cells, causing the peeling effect and making the skin look smoother.
Category-wise Insights
Will Demand for Glycolic Acid-based Skin Care Products Rise Due to Digital Pollution?
People today have become more aware of digital emissions. The blue light produced by LED screens on smartphones, televisions and computer-based has been found to infiltrate the skin's dermis, causing oxidative stress and premature ageing in people.
As a result, glycolic acid manufacturers are raising awareness and expanding the availability of glycolic acid-based skincare products. By 2032, the personal care and cosmetics application segment's skincare sub-segment is expected to consume over 25 KT of glycolic acid. As a result, manufacturers are constantly concentrating on developing new skincare products. A CAGR worth 6.3% is expected for the skin care segment.
Demand for >99% Glycolic Acid to Flourish Significantly
Because of the increased use of this grade of hydroacoustic acid in cosmetic products, the >99% accounts for the largest market share, expected to garner a revenue worth 55% across the 2022 to 2032 period of assessment. At the same time, other grades are also expected to make significant headway during the said period.
In the pharmaceutical industry, polymer with a purity of 70% is used to make medical sutures and creams. Polymers with timed-release properties are used in the production of staples, sutures, implants, and meshes. Glycolic acid 30% is also used in skin chemical peels to improve dry skin, age spots, facial lines, and wrinkles, and rejuvenate the skin's surface.
Know thy Competitors
Competitive landscape highlights only certain players
Complete list available upon request
Glycolic Acid Market- Competitive Landscape
The aforementioned players rely on a combination of organic and inorganic strategies to expand their presence in lucrative markets. Product launches, collaborations with key players, partnerships, acquisitions, and the strengthening of regional and global distribution networks are examples of these strategies.
Sunday Riley launched of the second version of the popular exfoliating treatment with glycolic acid for skincare savvy clients in the United States in May 2020. The product has several beneficial skin-related properties such as for acne-prone skin, sensitive and oily skin, and other skin types.
In January 2019, Skinceuticals introduced Glycolic 10 Renew Overnight, a new glycolic acid cream that improves skin glow by 36% while remaining tolerable. The cream effectively treats dullness, fine lines, and uneven skin texture. It promotes cell regeneration, resulting in improved tone, texture, and a brighter complexion.
In July 19, 2021, the CABB site in Pratteln (CH) was awarded an EcoVadis gold medal for the third time in a row. The German sites were awarded a silver medal.
The Chemours Company, a global chemistry company, announced the Chemours Future of Engineering, Science, Trades, and Technology school partnership program, which will run through November 2021.
Key Segments Covered in the Glycolic Acid Industry Report
by Grade :

Glycolic Acid ≤68%
Glycolic Acid 70%
Glycolic Acid ≥99%

by Application :

Personal Care & Cosmetics

Skin Care
Hair Care
Others (including Nail Care and Dental Care)

Plant Growth Stimulation
Food Flavoring & Preservation
Polyglycolic Acid (PGA) Manufacturing
Cleaning Agent

Household
Industrial
Institutional

Oil & Gas
Electronics
Leather Dyeing & Tanning
Other Applications (including Biomedical & Drug Delivery and Gas Barrier Packaging)

by Region :

North America
Latin America
Europe
Asia Pacific
Middle East & Africa
- FAQs -
The global market size is expected to be valued around US$ 500 Million in 2022 and is projected to reach US$ 988.3 Million by 2032.
In 2021, the glycolic acid market was valued at US$ 475 Million, according to Fact.MR.
From 2022 to 2032, the market for glycolic acid is scheduled to document a 7% CAGR.
According to Fact.MR, glycolic acid demand expanded at a 5% value CAGR from 2015-2021.
The >99% grade glycolic acid is expected to accrue maximum gains, accumulating a 55% revenue share.
Fact.MR expects glycolic acid to be extensively used in the personal skincare domain, growing at a 6.3% value CAGR.
Asia Pacific is forecast to be the most opportunistic glycolic acid market, accumulating 40% revenue.
Europe is slated to account for 34% of the global glycolic acid market revenue.
Some of the leading manufacturers of glycolic acid are Avid Organics, CABB Group GmbH, CrossChem LP, Hebei Chengxin Co., Ltd. and The Chemours Company.