Monoethylene Glycol Market Outlook
The global monoethylene glycol market is predicted to rise at a CAGR of 5.4% during 2022-2032.
The monoethylene glycol market share is estimated to reach US$ 65 Billionby 2032 from US$ 38.4 Billion in 2022.
The growing use of PETs in a variety of industries is expected to propel the global demand for monoethylene glycol forward. The market's expansion is being stifled by the volatility of crude oil prices and the implementation of environmental restrictions.
Various technological advances in monoethylene glycol production are projected to generate monoethylene glycol (MEG) market growth possibilities.
Market Insights

Data Points

Market Size in 2021

US$ 36.2 Billion

Market Revenue in 2022

US$ 38.2 Billion

Projected Market Value (2032)

US$ 65 Billion

Global Market Growth Rate (2022-2032)

5.4%

Key Market Players

Nouryon
BASF SE
Dow
India Glycols Limited
LACC
Mitsubishi Chemical Corporation
Nan Ya Plastics Corporation
Reliance Industries Limited
Royal Dutch Shell PLC
SABIC
Solventis
Know thy Competitors
Competitive landscape highlights only certain players
Complete list available upon request
Historical Analysis (2015-2021) Vs. Forecast Outlook (2022-2032)
As per the recent report published by Fact.MR, the monoethylene glycol systems market recorded a CAGR of 6.4% during the historical period. However, the market has showed an acute slump during the forecast period, and is anticipated to reduce to a CAGR value of 5.4% between 2022 to 2032.
The pandemic has had an impact on the global demand for monoethylene glycol. But the current market outlook is changing. The increased demand for antifreeze, PET resin and polyester fibre is a major factor propelling the global monoethylene glycol market forward.
Monoethylene glycol is also a biodegradable substance, which means that aquatic organisms are less affected. This element has also contributed to the monoethylene glycol industry's growth. MEG is extremely toxic to humans; consumption has been shown to have a negative influence on the kidneys, heart, and central nervous system, limiting the market's growth.
Increased demand for non-ionic surfactants and growing textile and fibre industries are expected to generate numerous chances for the sector to expand. Monoethylene glycol's use as a raw ingredient for polyester fibre and polyethylene terephthalate (PET) is expected to grow, boosting the monoethylene glycol market size.
Customers' modern fashion tendency for newly created attires is expected to promote polyester fibre demand, directly increasing the product industry size in the forecast time. The product is also used in a variety of industrial applications, including antifreeze, hydrate inhibitor in gas pipelines, and heat transfer agent, and is expected to generate a large number of prospects from various end-use industries.
Which are the Key Drivers of the Monoethylene Glycol Market?
"Growing need for polyester fibre to drive the demand for monoethylene glycol."
Increasing socioeconomic conditions, emerging economies, increased infrastructure, and an expanding fleet of cars, among other factors, have fueled auto demand, boosting the monoethylene glycol industry. In addition to helping with heat transmission in cold weather, antifreeze and coolants are in high demand in heat exchangers and HVAC systems.
Antifreeze and coolants are also useful in industrial and electrical applications. Potable water systems, sewage systems, non-running engines, and air conditioners are among the most common industrial uses of antifreeze and coolants. As a result, rising application potential in the automotive and electronic industries are likely to boost the sales of monoethylene glycol.
More Insights, Lesser Cost (-50% off)
Insights on import/export production,
pricing analysis, and more – Only @ Fact.MR
What are the Emerging Trends in the Monoethylene Glycol Market?
Monoethylene glycol (MEG) use is said to be strongly dependent on the economics of the country. While Asia's economies are cyclical, demand for monoethylene glycol (MEG) for applications such as polyester fibres and PET is expected to stay strong.
Furthermore, the packaging industry's growth is propelling the monoethylene glycol (MEG) market over the past few years. This, in combination with urbanisation, changing consumer lifestyles, and increased disposable money, has a substantial impact on the monoethylene glycol (MEG) market.
As per the monoethylene glycol market study, the fluctuation in raw material costs and the availability of crude oil and other feedstock is one of the notable barriers to the expansion of the monoethylene glycol (MEG) market. Concerns about the sustainability of monoethylene glycol (MEG) are driving some end users to seek out alternative alternatives that have better material performance than MEG.
Over the forecast period, however, increased acceptance of bio-based monoethylene glycol (MEG) is expected to generate opportunities in the monoethylene glycol market.
Despite being a big producer of MEG, China has the highest demand for it and imports it. It has recently made investments in coal-fired power stations. One of the technologies utilised in MEG manufacturing is the coal-based method, which is predicted to give growth potential in the country.
Owing to the rise in Chinese manufacturing, ethane-based monoethylene glycol exports from the Middle East are anticipated to suffer. Furthermore, the price of MEG is projected to be affected by the increase of large-scale production plants in China. Because the MEG produced by this method is not utilised in the polyester markets like that produced by other technologies, the operating rates for these plants are projected to remain unstable and low.
However, the low-cost production of monoethylene glycol have an impact on polyester manufacturing in the long run, making the polyester market more competitive. However, combining the production method with biomass platforms are projected to present a market opportunity for MEG.
This is expected to expand the Middle East and Africa's investment potential. As a result, coal-based production technology would lower monoethylene glycol prices in China.
How are Some Challenges Stifling Monoethylene Glycol Market Growth?
The constant fluctuation of raw material prices is a major challenge in the worldwide monoethylene glycol industry. Crude oil prices have an indirect impact on ethylene pricing. Raw material price fluctuation is a problem for the worldwide Monoethylene glycol market's growth, as it affects demand and delays end-user spending.
However, producers must continue to deal with high and volatile raw material costs, which they are expected to pass on to end-users. Cost pressures, combined with high raw material costs, are projected to lower market players' product margins. This situation has driven market participants to improve the efficiency and productivity of their operations in order to maintain market growth.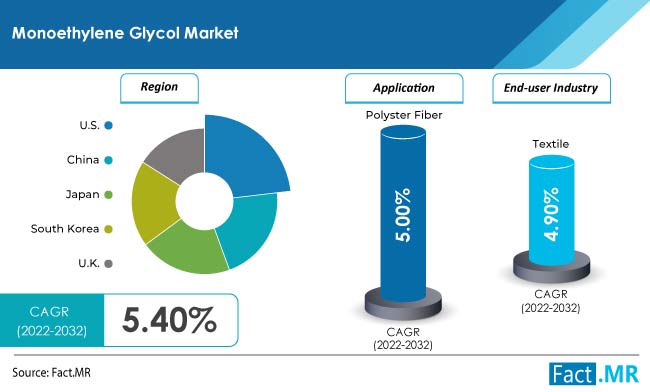 Region-wise Outlook
What is the Regional Demand Analysis in the Asia Pacific Monoethylene Glycol Market?
From a regional standpoint, East Asia is known for having a large proportion of the global monoethylene glycol (MEG) market. While China dominates the regional monoethylene glycol (MEG) market, it is also a rapidly expanding market for PET films and polyester fibres.
South Asia, with its expanding economy, is one of the most lucrative markets for monoethylene glycol (MEG) producers worldwide. Monoethylene glycol (MEG) is a downstream petrochemical product produced mostly in the Middle East and Africa, with Saudi Arabia topping the list in terms of annual net exports.
Due to influencing factors such as energy, labour prices, freight, and raw material costs, APAC is predicted to have higher demand in the monoethylene glycol market than other regions. APAC, as a key producer of textiles, clothes, and apparel, is likely to drive the monoethylene glycol market forward throughout the forecast period.
What is the Regional Demand Analysis in the U.S. Monoethylene Glycol Market?
"Multiple end-use industries in the U.S. garnering significant growth to the market."
Monoethylene glycol being utilised as a raw material in the production of fabric and polyester fibres alongside as a coolant, anti-freeze, dewatering agent, chemical intermediate, humecant, and anti-corrosion agent, is highly popular in the U.S.
Furthermore, monoethylene glycol has a wide range of uses, including tobacco production, food and beverage manufacturing, pharmaceuticals, cosmetics, which has been attracting the demand for monoethylene glycol market in the U.S. The U.S. monoethylene glycol market is anticipated to grow at a CAGR of 5.2% during the forecast period.
Category-wise Insights
What is the Segmentation Outlook for the Monoethylene Glycol Market?
Owing to being largely utilised in the production of strong and lightweight plastics, the polyethylene terephthalate (PET) sector accounted for a considerable portion of the market and is expected to increase at a significant rate in the future years.
PET is a type of polyester that is used to make containers for drinks, food, and a variety of cosmetics. Because of its versatility, it is utilised to make polyester clothes.
Due to increasing demand for bottles to hold beverages, the consumer goods category held a considerable proportion of the market and is expected to grow at a significant rate by 2026. PET resins, which are derived from monoethylene glycol, are used to make these bottles. Furthermore, the textile sector makes substantial use of polyester and PET fibres. This is projected to keep the category growing at a sustainable rate.
Which Segment is Likely to Lead the Monoethylene Glycol Market By Application?
Due to enhanced strength and impact resistance, rising demand for PET containers from various commercial and industrial end-use markets, including packaging, is likely to boost the monoethylene glycol market in the coming years. Polyester fabrics are widely used in apparels, home furnishings, yarns and ropes, and other industrial applications such as conveyor belts and insulating tapes, all of which are expected to drive demand for monoethylene glycol over the projected period.
Polyester resin and PET were the most popular application segments, accounting for more than half of global consumption. Because of the booming textile industries in China and India, polyester resin is predicted to be the fastest growing monoethylene glycol market over the forecast period.
Competitive Landscape
Nouryon, BASF SE, Dow, India Glycols Limited, LACC, Mitsubishi Chemical Corporation, Nan Ya Plastics Corporation, Reliance Industries Limited, Royal Dutch Shell PLC, SABIC, and Solventis are the key players in the market.
In the foreseeable period, rising consumption across end-use industries, combined with technological advances, is expected to drive the demand for monoethylene glycol. Anti-corrosion agents, anti-freeze, coolant materials, dewatering agents, and a variety of other chemical intermediates can all be made with this product.
The monoethylene glycol can also be used to make various hygroscopic materials that are employed in a variety of industries, including textiles, packaging, and automobiles. Furthermore, capacity expansion in China and the Middle East is expected to drive product and monoethylene glycol market expansion.
Together, Mitsubishi Chemicals and Reliance Industries control more than 40% of the global monoethylene glycol market.
Recent Developments in the Monoethylene Glycol Market :
ExxonMobil and SABIC announced in January 2022 that Gulf Coast Growth Ventures' world-class manufacturing facility in San Patricio County, Texas, had successfully launched. A mono-ethylene glycol unit with an annual capacity of 1.1 million metric tonnes is part of the new facility's activities.
SABIC announced the start-up of the Ethylene Glycol Plant – 3 at its manufacturing subsidiary, Jubail United Petrochemical Company (United), in November 2021, with an annual mono-ethylene glycol production capacity of 700,000 metric tonnes.
Don't Need a Global Report?
Save 40% on Country & Region specific reports
Key Segments
By Application :

Polyester Fiber
PET Bottle
PET Film
Antifreeze
Industrial

By End User :

Textile
Packaging
Plastic
Automotive and Transportation
Other End User Industries

By Region :

North America
Latin America
Europe
Asia Pacific
Middle East and Africa