Phytoceramides Market
Demand for Cosmetic Grade Phytoceramides to Soar in the Global Phytoceramides Market during 2021-2031
FACT5734MR
Aug-2021

List of Tables : 70

List of Figures : 184

170 Pages
Market Snapshot
Fact.MR - a market research and competitive intelligence supplier, presents a market analysis of phytoceramides. This report provides insights concerning phytoceramide market trends, techno-economic aspects of the business, and product pricing scenarios. According to the study, demand for phytoceramides is anticipated to increase at a CAGR of 5.3% and be valued at US$ 394 Mn by 2031, due to continuous ongoing research into the various use-cases of phytoceramides and dynamic trends in the beauty and cosmetic products space.
Ceramide is a naturally occurring lipid found in the skin. Phytoceramides are ceramides that are derived from plants. Skin smoothening, skin renewal, skin therapy, and dry skin treatment are just a few of the use cases of phytoceramides.
Consumer demand for phytoceramide supplements is anticipated to increase throughout the projection period (2021 to 2031) due to the wide variety of practical uses and benefits offered by the product. This, in turn, is leading manufacturers of dietary supplements and cosmetic products to include phytoceramide as a constituent, leading to an increase in its demand.
Key Points Covered in Phytoceramides Industry Survey:
Market Estimates and Forecasts (2016-2031)
Production Capacity Analysis of Prominent Manufacturers
Phytoceramides Pricing Analysis
Product Pricing Optimization Strategy
Demand for Liquid Phytoceramides
Emulsion Phytoceramides Sales
Phytoceramides Procurement Rate by Pharmaceutical Industry
Key Drivers and Restraints Shaping Market Growth
Assessment by Product Grade / Purity / Formulation Standards
Assessment of Import Price, Bulk Price, Contractual Price, Producer / Distributor Price
Certifications and Compliance Requirements
Segment-wise, Country-wise, and Region-wise Analysis
Competition Mapping and Benchmarking
Market Share Analysis
COVID-19 Impact on Phytoceramide Sales and How to Navigate
Recommendation on Key Winning Strategies
Consumption Analysis of Phytoceramides from 2016 to 2020 Vs Market Outlook for 2021 to 2031
Unpredictability of the COVID-19 pandemic has resulted in significant economic losses and commercial instability over Q2 and Q3 of 2020. It has also influenced phytoceramide sales as a result of the imposition of lockdowns and a decline in demand from the beauty industry, particularly from personal care and cosmetic product manufacturers who are the primary consumers phytoceramides.
This was because mainstream organizations moved toward the work from home culture, and thereby, the beauty industry took a hit as people reduced their expenditure on cosmetic products during lockdowns.
As a result of these bans, the phytoceramide supply chain was severely affected. Production of end products was hampered by the delayed supply of phytoceramides and other cosmetic ingredients. This, in turn, led to production and delivery delays.
Fact.MR estimates that phytoceramide sales are set to swell 1.7X in market value from 2021 to 2031.
The phytoceramides business is currently valued at US$ 234 Mn, and is anticipated to rise at 5.3% CAGR over the forecast period.
Even though offline sales channels were restricted, e-Commerce and other direct sales channels opened up newer avenues of revenue generation for manufacturers.
What are the Main Factors Driving Demand for Phytoceramides?
As nutraceutical and pharmaceutical industries continue to grow in size, demand for phytoceramides being used in supplements is bound to increase. Growth of the global phytoceramides business is driven by increasing usage as a supplement in nutraceutical and food & beverage industries.
Moreover, the desire for natural and organic nutraceutical supplements is projected to drive phytoceramides demand.
Additionally, increasing need for skin moisturisers and anti-ageing solutions has led to a rise in demand for phytoceramide-based creams by the geriatric population around the world. Besides, the recent trend of producing custom cosmetics incorporating newer constituents has led to an increase in the sales of phytoceramides in the cosmetics industry.
The growing healthcare industry is also predicted to have a beneficial impact on the worldwide phytoceramides market, according to the report published by Fact.MR. Due to increasing need for phytoceramides in the nutraceuticals industry, including skin rejuvenation supplements, it is projected that demand for phytoceramide supplements would increase at a steady pace over the coming years.
Avail customized purchase options for your needs
How is Consumer Preference for Natural Plant-derived Cosmetic Products Driving Market Growth?
Increase in demand for natural and plant-based cosmetics and personal care products has been seen in recent times with consumers worrying about the compatibility of constituents on their skin. As a result, consumers choose cosmetics and personal care products made with natural constituents over those made with synthetic materials.
Additionally, cosmetics and personal care products with newer and sophisticated science-based ingredients are becoming increasingly popular. Besides, rising public awareness about the benefits of ceramides and their mechanisms in skincare is likely to be aided by research on well-understood mechanisms, characterised compounds, and scientifically validated substances.
Therefore, natural beauty products that incorporate phytoceramides have outperformed conventional cosmetic products and are likely to obtain a large revenue share over the coming years. As a result, application of phytoceramides in skin care and hair care products has seen an incline in recent years.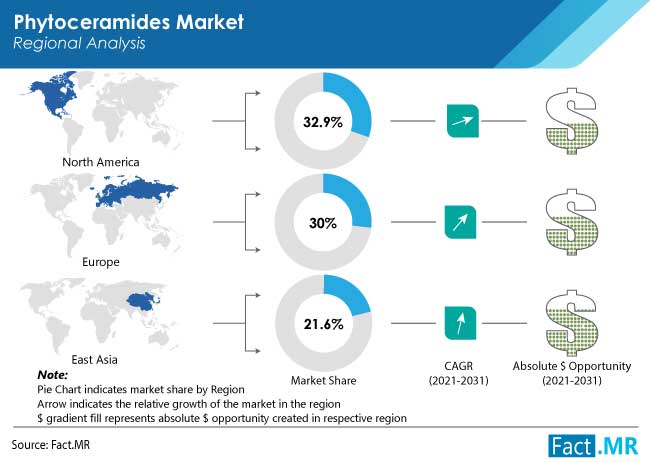 Country-wise Analysis
Why is the U.S. a Prominent Market for Phytoceramides?
The U.S. has remained one of the prominent consumers of cosmetic products and dietary supplements. Multiple manufacturers in the country are constantly investing in the research & development of newer cosmetics & dietary products that incorporate newer constituents from time to time. This has, in turn, aided in raising the demand for phytoceramides, and the market is anticipated to progress at a CAGR of 4.3% during 2021-31.
The U.S. holds around 20% share of the US$ 532 Bn global beauty industry, as of 2020. This is because U.S. women spend an average of US$ 1,000 to US$ 3,000 per year on cosmetic products, especially on those offering anti-ageing benefits.
Moreover, high number of cosmetic manufacturing and pharmaceutical companies located in the United States has resulted in rapid growth in recent years. In addition, the United States has been a key donor to research spending, and various pharmaceutical corporations who are on the lookout for new constituents and chemicals.
Owing to this, the U.S. is poised to remain a key contributor to the demand for phytoceramides during the forecast period, and create an absolute dollar opportunity of around US$ 34.5 Mn by 2031.
How Has Demand for Phytoceramides been Shaping across Established & Evolving Markets?
Germany: Germany's prestige beauty industry generated over US$ 3.1 Bn in sales in 2020 amidst the lockdown, and experienced the least decline among all European countries. This was driven by a shorter lockdown period and the industry's online sales channel maturity, which has boosted the country's online sales of phytoceramides.
Besides, Germany liquid phytoceramides demand has been escalating owing to usage in dietary supplements, which is poised to rise at a CAGR of 5.1% during 2021-31.
France: France dominates the beauty industry among the European countries and holds 23% of the global market. Quality products, continual innovation, and a compelling framework founded on French culture and heritage are the foundations of this superiority.
As a result of new consumer trends and rapidly increasing competitors, France phytoceramide-based cream manufacturers are poised to keep sales rising at a CAGR of 4.8% during 2021-31.
Japan: As of 2020, Japan has the highest number of old aged people, with over 28% of its entire population being over 65. This geriatric population is the primary customer base of anti-aging cosmetic manufacturers in East Asia.
This makes Japan one of the key regions for phytoceramide manufacturers, which has been found beneficial in offering anti-aging benefits and useful in certain skin-related therapy being performed by dermatologists. Owing to this, the Japan phytoceramides market is anticipated to expand at a CAGR of 7% during the forecast period.
Argentina: As of 2020, over 15% of the people residing in the country are over 60. This presents a budding opportunity for cosmetic manufacturers to tap into the ageing population with newer anti-aging emulsions and formulations. This has led to an increase in overall Argentina phytoceramides emulsion sales, which caters to the growing need for skincare cosmetic products in the country.
Brazil: Brazil is anticipated to remain the prime contributors to the growth of Latin American nutraceuticals demand. Additionally, the beauty industry, which is one of the prime consumers of phytoceramides, contributes around 2% to the country's GDP.
Moreover, Brazil has remained one of the highest consumers of sun protection and anti-aging creams in the world. This, in turn, is anticipated to keep the Brazil plant-derived ceramides market rising at a CAGR of 5.4% during 2021-31.
An Adaptive Approach to Modern-day Research Needs
Category-wise Analysis
Which Grade of Phytoceramide is Estimated to Have Highest Growth Potential?
By 2030, the global old age population is anticipated to cross the children (0-9 years) population, as per a report published by the United Nations. Owing to this, demand for cosmetic products providing anti-aging benefits is poised to increase at an alarming rate.
Anti-aging product sales have soared in recent years as a result of increasing awareness of skin ageing. This has led to an increase in applications of phytoceramides in cosmetics, as they are commonly employed in the manufacture of anti-aging treatments due to their capacity to rebuild the skin barrier system and preserve skin moisture content.
In addition to this, manufacturers have been incorporating phytoceramides for hair care products as they have found them to have a beneficial effect on the thickness and strength of hair and making it less prone to breakage.
Besides, there has been a growing demand of phytoceramides for skin therapy application, and various researches are going on to capitalise on the benefits offered by phytoceramides in recent years.
Additionally, the trend of manufacturing custom hair care and skincare products that incorporate phytoceramides for better skin & hair, and are suited to specific consumer requirements, has led to an increase in the overall growth of the plant-based ceramide market in recent years. Such products often integrate newer ingredients such as phytoceramides, and this has resulted in improving the overall sales of phytoceramides in the cosmetic industry.
Owing to the aforementioned factors, along with the adoption of modern trade channels for selling cosmetics products, demand for cosmetic grade phytoceramides is poised to reach US$ 398.3 Mn by 2031, rising at a CAGR of 5.3%.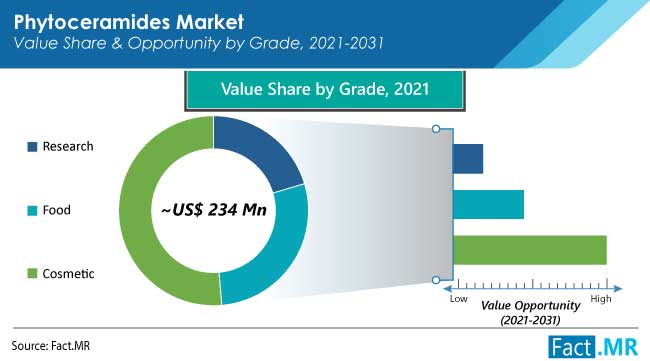 How Have Powder & Liquid Ceramides Performed Over the Years?
Powder or solid phytoceramides has remained the preferred choice among cosmetic manufacturers, owing to the widespread availability and relatively easier manufacturing and extraction process.
However, increasing demand of phytoceramides emulsion and formulations from the geriatric population, suited to custom requirements, has led manufacturers to include constituents such as phytoceramide emulsion that offer additional benefits. This has, in turn, led to a rise in the demand for phytoceramides in the cosmetics industry.
Additionally, demand for liquid phytoceramides is on the rise, as they find usage in soft gels, which are increasingly being adopted by people who prefer the oral route of taking phytoceramides in the form of dietary supplements.
Besides, these plant-based ceramides are relatively new and manufacturers are yet to capitalise on the entire growth potential of these liquid and powder phytoceramides in the cosmetics as well as nutraceutical industry.
Owing to this, the global phytoceramides market is anticipated to expand at a CAGR of 5.3% and create an absolute dollar opportunity of US$ 159.8 Mn during 2021-31.
How Has COVID-19 impacted Phytoceramide Demand?
The COVID-19 pandemic's rapid spread affected the demand for phytoceramides from skincare and hair care product manufacturers. As a result of lockdowns and travel restrictions, cosmetics and personal care goods were sold less in the traditional offline marketplace. This made manufacturers keep themselves away from manufacturing custom cosmetics products, such as those which incorporate phytoceramides for skin care benefits.
As consumers were only venturing out for essentials, with social interactions being limited, phytoceramide supplements and skin care product demand plummeted. This led to a substantial fall in the demand for phytoceramides from manufacturers of cosmetic products & dietary supplements.
Prominent developed countries are striving towards fully vaccinating their citizens, and are planning to gradually lift-off mask requirements in multiple localities. Besides, there have been reports of new hope for the revival of cosmetics sales by the end of Q2 2022, and in turn, will aid increasing the demand for phytoceramide in the long run.
Competitive landscape
To gain a foothold in the phytoceramides market, these firms are either working with research institutes or are investing in their research centers to develop and fine-tune their technologies and procedures for phytoceramide manufacturing.
Moreover, they actively participate in the development of novel applications of phytoceramides in skin care and cosmetic products through research and collaboration initiatives.
SEPPIC had acquired E.P.I France in 2021 and added its phytoceramides product offerings to its existing portfolio and in turn, improved its overall geographical reach.
Matreya LLC was acquired by Cayman Chemical in 2019 and it aided the company in keeping its operation open even during the pandemic situation.
Interested to Procure The Data
Phytoceramides Market Report Scope
Report Attribute

Details

Market size value in 2021

USD 234 Million

Market forecast value in 2031

USD 394 Million

Growth Rate

CAGR of 5.3% from 2021 to 2031

Forecast Period

2021-2031

Historical Data Available for

2016-2020

Market Analysis

Value in US$ Mn Volume in Tons

Key Regions Covered

North America
Latin America
Europe
East Asia
South Asia & Oceania
Middle East Africa

Key Countries Covered

U.S.
Canada
Mexico
Brazil
Mexico
Argentina
Germany
Italy
France
U.K.
Nordic
Spain
Japan
China
India
Malaysia
Thailand
Australia
GCC Countries
South Africa
Turkey

Key Market Segments Covered

Source
Form
Grade
Application
Region

Key Companies Profiled

SEPPIC
E.P.I France
Matreya LLC
PLT Health Solution
Nuojia Biotechnology Co. Ltd.
Vidya Herbs
Dongguan Xin Herbs Phytochem Co., Ltd
Hunan Nutramax Inc.

Pricing

Available upon Request
Categorization of Phytoceramides Industry Research
Source

Rice
Wheat
Spinach
Sweet potatoes
Potatoes
Millet
Kiwi Seed
Soybeans
Corn
Konjac
Oats
Others (Bovine etc.)

Form

Powder Phytoceramides
Liquid Phytoceramides

Grade

Research Grade Phytoceramides
Food Grade Phytoceramides
Cosmetic Grade Phytoceramides

Application

Phytoceramides for Nutritional Supplements

Tablets
Capsules
Softgels
Drinks
Others

Phytoceramides for Cosmetics
Need an Exclusive Report for your Unique Requirement?
- Our Clients -

- Evaluate How Fact.MR's Report Can Help. -
Is the market research conducted by Fact.MR?
Yes, the report has been compiled by expert analysts of Fact.MR, through a combination of primary and secondary research. To know more about how the research was conducted, you can speak to a research analyst.
What research methodology is followed by Fact.MR?
Fact.MR follows a methodology that encompasses the demand-side assessment of the market, and triangulates the same through a supply-side analysis. This methodology is based on the use of standard market structure, methods, and definitions.
What are the sources of secondary research?
Fact.MR conducts extensive secondary research through proprietary databases, paid databases, and information available in the public domain. We refer to industry associations, company press releases, annual reports, investor presentations, and research papers. More information about desk research is available upon request.
Who are the respondents for primary research?
Fact.MR speaks to stakeholders across the spectrum, including C-level executives, distributors, product manufacturers, and industry experts. For a full list of primary respondents, please reach out to us.
Is a sample of this report available for evaluation?
Yes, you can request a sample, and it will be sent to you through an email.