Plant-based Fish Market
Plant-based Fish Market, Forecast, Trend, Analysis & Competition Tracking - Global Market Insights 2021 to 2031
FACT5728MR
Apr-2021

List of Tables : 80

List of Figures : 227

170 Pages
About the Report
The global plant-based fish market is projected to surge at an impressive CAGR of around 28% from 2031 to 2031, to top a valuation of US$ 1.3 Bn by 2031. At present, sales are mainly dominated by plant-based burger patties and fillets, with each holding a market share of over one-third, respectively.
Heightening environmental concerns, rapid depletion of global fish stocks, and compounding health problems associated with excessive meat consumption have proved to be key growth accelerators for the sales of plant-based fish products. Intense R&D initiatives undertaken by key food & beverage giants are bringing plant-based fish into the broader culinary limelight. In addition to the presence of established players, a host of vegan start-ups pepper the global landscape.
Besides introducing a slew of new product lines, these players are aggressively undertaking marketing and sales promotion campaigns, enabling them to reach a wider target audience. Forays are expected to increase across emerging economies, as animal sensitization trends dictate consumer food preferences.
In its new study, consulting firm Fact.MR offers insights about key factors driving demand for plant-based fish. The report tracks the global sales of plant-based fish in 20+ high-growth markets, along with analyzing the impact COVID-19 has had on the food & beverage market in general, and plant-based fish demand in particular.
Why are Future Projections Heavily Outweighing Historical Sales?
With the veganism trend on the rise, plant-based fish products have been steadily acquiring substantial gains over the past few years. From 2016 to 2020, the market was already experiencing a staggering double digit growth, and is further anticipated to aggrandize over the coming years. Growing sensitization towards the environment combined with healthy eating trends are driving growth substantially.
A moderate blip was experienced in the initial months of 2020, with the COVID-19 pandemic paralyzing global food supply chains. Imposition of strict lockdowns to contain the spread of the virus resulted in significant demand-supply gap amidst a dip in demand from commercial food sectors. However, as the months passed and restrictions eased, growth prospects were gradually restored, and in fact, registered more gains in the latter half of the years. Over the long-term forecast period (2021 to 2031), the global plant-based fish market is set to race ahead at a CAGR of approx. 28%.
Know More Details About the Report
How is Growing Veganism Trend Fueling Plant-based Fish Product Sales?
As health concerns regarding excessive meat consumption increase, consumers are relying on numerous meat alternatives. This foray is largely benefitting plant-based fish product sales. According to a report published by Waitrose & Partners, since FY 2018-19, over a third of the global population has been cutting down on meat consumption, with 3% of the U.K. population identifying as vegan (2 million people).
As per the report, there has been a 114% increase in mentions of vegan food and cooking worldwide since the past several years, with 60% of vegans and 40% of vegetarians adopting this lifestyle since the past seven years. Attributed to such promising trends, the future of plant-based foods is expected to remain extremely bright, with a highly positive impact expected on plant-based fish demand as well.
Furthermore, as per the Vegan Society, if the world went vegan, it could save up to 8 million human lives by 2050, reduce greenhouse gas emissions from agriculture by two-third, promote enhanced healthcare savings, and avoid climate damage of US$ 1.5 trillion. Attributed to these troubling statistics, consumers are voluntarily transitioning towards a completely vegetarian diet, acting as a catalyst for plant-based fish consumption increase.
How is the Problem of Depleting Fish Stocks Shaping Market Growth?
As the global population base continues expanding, existing fish stocks are highly constrained with respect to fulfilling food requirements of such an increase. According to the Food and Agriculture Organization, aquaculture growth is only anticipated to keep pace with increased demand for 17 countries, while around 170 countries will be left with substantially unmet demand.
Moreover, as per an exhaustive study published in the previous decade, 90% of large predatory fish such as martin, large cod, large sharks, tuna, and swordfish have disappeared from the world's oceans. Furthermore, 70% of the world's marine fish stocks are fully fished, overfished, depleted, or recovering. A UN report concluded that, 28% of the world's fisheries are overfished or depleted. 15 out of 17 of the world's largest fish are either at maximum exploitation levels or depleting.
Attributed to the aforementioned trends, government and non-governmental organizations across the world are urging a paradigm shift in consumer eating habits. Hence, popularity of lab-cultured and plant-derived meat products have been acquiring center stage since the past several years. Numerous startups such as Gardein, Sophie's Kitchen, New Wave Foods, Good Catch, and Ocean Hunger Foods Inc. have emerged, which offer high-quality, regulatory-adhering plant-based seafood products.
Avail customized purchase options for your needs
What are the Key Challenges Associated with Plant-Based Fish Production?
Plant-based fish production is oftentimes a complicated process, requiring intensive investments in advanced manufacturing equipment to ensure a smooth production cycle. This is often an expensive procedure, leading small-scale producers and manufacturers to limit their operations, contributing to limited output. Moreover, less awareness regarding the benefits of plant-based meat consumption in certain regions is limiting uptake.
Furthermore, plant-based fish products are mostly available at premium prices, rendering them unaffordable to consumers with low to moderate incomes. Extensive regulatory compliance by virtue of acquiring multiple certifications often delays product launches, leading to limited availability for consumers across regions.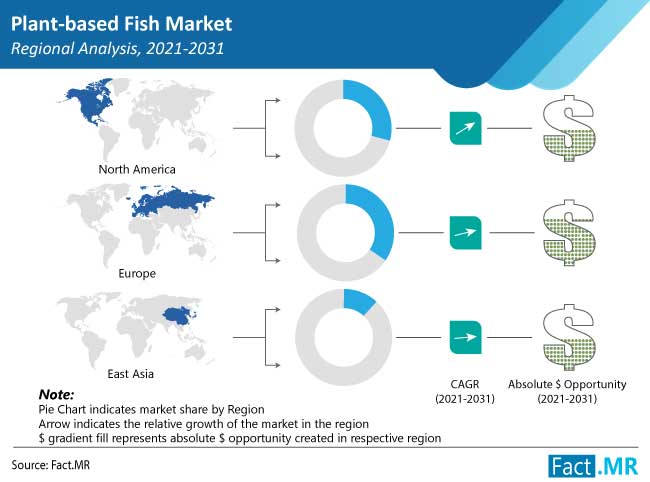 Country-wise Analysis
Why are Plant-based Fish Product Manufacturers Eyeing the U.S. Market?
The U.S. market for plant-based fish products is expected to witness credible gains over the coming years. A series of exhaustive studies have established that, as of 2020, around 6% of U.S. consumers identify themselves as vegan as compared to just 1% in 2014. Retail sales of plant-based foods increased by over a tenth from 2018 to 2019.
An interesting aspect of the U.S. market is that nearly 2/5 of the people are not vegan, but have tried incorporating plant-based foods into their diets. This has provided key manufacturers with a golden opportunity to increase their foray into the market in recent years. Players such as Impossible Foods, Archer Daniels, and Kellogg's have acquired a highly prominent position across the U.S. market.
Impossible Foods, for instance, reported that it was experiencing an unprecedented upsurge in its Impossible Sausage demand since January 2020. Today, its products are available across 20,000 restaurants, proving the immensely surging popularity of vegan foods. Also, in 2019, Tyson Foods undertook a significant investment in New Wave Foods, a plant-based shrimp company.
Why is the U.K. the World's Leading Plant-based Fish Market?
The United Kingdom is expected to emerge as the world's largest vegan food market, with nearly half of all Britons reducing consumption of animal products in tandem with rising animal humanization trends. Nearly a quarter of all U.K. citizens attributed concern for the environment as the primary reason behind transitioning towards a plant-based diet.
Prominent plant-based meat manufacturers in the U.K. include THIS, VBites, Vivera, The Vegetarian Butcher, Tofurky, Fry Family Food, Oumph!, Linda McCartney Foods, and Quorn Foods, among others. These players have successfully gained mass consumer attention by providing a broad range of products, including plant-based fish alternatives.
According to the Vegan Society, as of 2018, a survey comprising a sample size of 2,000 people aged 15 and above across England, Scotland, and Wales discovered that, the proportion of vegans in Britain has doubled since 2014 from 0.25% to 0.46% in 2016, and further to 1.16% in 2018.
An Adaptive Approach to Modern-day Research Needs
Category-wise Insights
Why are Burger Patties Likely to be the Most Preferred Plant-based Fish Product?
By product, plant-based fish burger patties are expected to enjoy an astronomically high growth trajectory, amid increasing preference for vegan burgers amongst the global population. Furthermore, increasing consumption of burgers as a preferred fast food option is also providing major tailwinds to plant-based fish burger patty sales.
At the same time, fillets are acquiring surging popularity, likely to account for a third of the global revenue share. Prominent food manufacturer Gardein offers its own range of vegan fish fillets, comprising 9 grams of protein, including Omega 3s, with no added cholesterol, thereby offering an extremely healthy alternative to conventional fish fillets.
How is Increasing Wheat-based Protein Intake Driving Market Growth?
Based on source, popularity of wheat-based protein is anticipated to register a substantial incline. As per Fact.MR's analysis, at least one out of three plant-based fish products are expected to contain wheat proteins through 2021 and beyond. This is largely in part due to wheat's reputation of providing a more neutral taste as compared to other renowned plant-based proteins.
However, rising prevalence of gluten intolerance is prompting consumers to switch to more gut-friendly alternatives such as soy-based proteins. Fact.MR expects soy-based proteins to contribute to at least three out of ten sales of plant-based fish product over the coming years. Furthermore, soy-based protein also helps aid muscle growth, thereby rendering it as a highly preferred choice among consumers.
Why is HoReCa Likely to Emerge as the Primary Distribution Channel for Plant-based Fish Products?
By distribution channel, HoReCa (Food Service Sector) exhibits tremendous promise when it comes to enhancing the scope of plant-based fish product sales. With an increasing proportion of the global population relying on outdoor dining attributed to their busy lifestyles, demand for plant-based foods across settings as cafeterias, restaurants, and fast food joints is expected to increase.
However, since 2020, demand across this segment has taken a substantial hit, with the COVID-19 pandemic compelling people to observe strict social distancing measures, leading to a decline in outdoor dining. Hence, consumers have been relying on online retail channels, including e-Commerce websites, to avail their supply of plant-based fish food products.
Competitive Landscape
According to Fact.MR's analysis, the global plant-based fish market is interspersed with the presence of a plethora of manufacturers, rendering the landscape highly competitive in nature. Key manufacturers are actively leveraging a host of expansion strategies, including new product launches, acquisitions, partnerships, and other capacity expansion measures. Some key players profiled include*:
This list is only indicative- full details about plant-based fish manufacturers is available upon request
In January 2021, Beyond Meat Inc. announced a strategic global agreement for a period of three years with McDonald's Corporation. As per this agreement, Beyond Meat will be the fast food chain's preferred supplier of patties in the McPlant® plant-based burger being tested in select McDonald chains globally. Additionally, the company will also explore co-developing other plant-based menu items, including pork, chicken, and eggs, besides fish.
In April 2021, Impossible Foods initiated its first national mainstream, mass-market advertising campaign titled "We are Meat", with the objective of building its Impossible Burger awareness, after experiencing a year of triumphant product launches and sales. Currently, Impossible Burger is available at nearly 20,000 grocery stores across the U.S. This campaign will definitely bolster sales prospects for the company, including for plant-based fish.
In 2018, Roquette-Freres acquired an extrusion unit from Dutch food processing company Texpall. With this acquisition, the group intended to expand its range of premium textured plant-based ingredients for the global meat alternative market.
Have a report related query? Speak to us directly
Report Scope
Attribute

Details

Forecast Period

2021-2031

Historical Data Available for

2016-2020

Market Analysis

US$ Mn for Value & '000 Units for Volume

Key Regions Covered

North America
Latin America
Western Europe
Eastern Europe
APEJ
Japan
Middle East & Africa

Key Countries Covered

US
Canada
Mexico
UK
France
Germany
Italy
China
South Korea
Japan
India
ASEAN
Australia
New Zealand
GCC
South Africa

Key Segments Covered

Fish
Product
Source
Distribution Channel
Region

Key Companies Profiled

Beyond Meat
Impossible Foods
Ojah
Memphis Meats
ChickP
Vestkron A/S
Aspire Food Group
Aleph Farms
Ingredion Inc.
Archer Daniels Midland Company
Gushen Biotechnology Ltd.
Roquette Freres
Glanbia Plc.
CHS Inc.
AGRANA Beteiligungs AG
Nestle SA
Tyson Foods
Key Questions Answered in Report
How will the global market expand through 2021 and beyond?

According to Fact.MR's analysis, the market for plant-based fish products is expected to gain significantly from growing inclination towards vegan and vegetarian diets in lieu of mitigating adverse environmental impacts due to meat consumption. Furthermore, depletion of existing fish stocks is causing a shortage of fish meat, compelling manufacturers to develop alternative products.

Why is the U.K. anticipated to emerge as the largest market for plant-based fish?

The U.K. is expected to emerge the largest market as nearly 50% of all English consumers are shifting towards vegetarian diets. Growing prevalence of animal sensitization is majorly underpinning market growth across the country.

Which plant-based fish type is expected to hold a dominant market share?

As per Fact.MR's report, demand for plant-based shrimp is expected to incline substantially across the 2021-2031 forecast period.

Which are the prominent companies providing plant-based fish products?

Prominent companies manufacturing plant-based fish products include Beyond Meat, Impossible Foods, Ojah, Memphis Meats, ChickP, Vestkron A/S, Aspire Food Group, Aleph Farms, Ingredion Inc., Archer Daniels Midland Company, Gushen Biotechnology Ltd., Roquette Freres, Glanbia Plc., CHS Inc., and AGRANA Beteiligungs AG.
Key Market Segments Covered
Fish

Plant-based Tuna Products
Plant-based Crab Products
Plant-based Shrimp Products

Product

Plant-based Fish Burger Patties
Plant-based Fish Fillets
Plant-based Fish Crumbles & Grounds
Plant-based Fish Chunks & Tips
Plant-based Fish Cutlets
Plant-based Fish Shreds
Plant-based Fish Tenders & Fingers
Plant-based Fish Strips
Plant-based Fish Meatballs

Source

Soy-based Fish Products
Wheat-based Fish Products
Canola-based Fish Products
Pea-based Fish Products
Fava Bean-based Fish Products
Rice-based Fish Products
Lentil-based Fish Products
Potato-based Fish Products
Chia-based Fish Products
Flax-based Fish Products
Corn-based Fish Products

Distribution Channel

Hypermarkets
Specialty Stores
Online Retail
HoReCa (Food Service Sector)
Convenience Stores

Region

North America
Latin America
Western Europe
Eastern Europe
Asia-Pacific excluding Japan
Japan
Middle East & Africa
Plant-based Fish Market- Scope Of Report
A recent study by Fact.MR on the plant-based fish market offers a 10-year forecast for 2021 to 2031. The study analyzes crucial trends that are currently determining the growth of the market. This report explicates on vital dynamics, such as the drivers, restraints, and opportunities for key market players along with key stakeholders as well as emerging players associated with the production of plant-based fish.
The study also provides the dynamics that are responsible for influencing the future status of the market over the forecast period. A detailed assessment of value chain analysis, business execution, and supply chain analysis across regional markets has been covered in the report.
A list of prominent companies operating in the plant-based fish market, along with their product portfolios, enhances the reliability of this comprehensive research study.
Report Summary
The study offers comprehensive analysis on diverse features, including production capacities, demand, product developments, revenue generation, and sales of plant-based fish products across the globe.
A comprehensive estimate on the market has been provided through an optimistic as well as a conservative scenario, taking into account the sales of plant-based fish during the forecast period. Price point comparison by region with global average price is also considered in the study.
Key Questions Answered in Report
Which are the most lucrative markets for plant-based fish?
Which factors will impact the growth of the plant-based fish market?
How will changing trends impact the strategies of market players?
How can market players capture the low-hanging opportunities across regions?
Which companies are leading the plant-based fish industry?
What are the winning strategies of stakeholders in the market?
Analysis on Market Size Evaluation
The market has been analyzed for each market segment in terms of volume ('000 Units) and value (US$ Mn).
Market estimates at global and regional levels for plant-based fish are available in terms of "US$ Mn" for value and in "'000 Units" for volume. A Y-o-Y growth contrast on prominent market segments, along with market attractiveness evaluation, has been incorporated in the report. Furthermore, absolute dollar opportunity analysis of all the segments adds prominence to the report. Absolute dollar opportunity plays a crucial role in assessing the level of opportunity that a manufacturer/distributor can look to achieve, along with identifying the potential resources, considering the sales and distribution perspective of plant-based fish.
Inspected Assessment on Regional Segments
Key sections have been elaborated in the report, which have helped deliver projections on regional markets. These chapters include regional macros (political, economic, and business environment outlook), which are expected to have a momentous influence on the growth of the plant-based fish market during the forecast period.
Country-specific valuation on demand for plant-based fish has been offered for each regional market, along with market scope estimates and forecasts, price index, and impact analysis of the dynamics of prominence in regions and countries. For all regional markets, Y-o-Y growth estimates have also been incorporated in the report.
Detailed breakup in terms of value and volume for emerging countries has also been included in the report.
In-depth Analysis on Competitive Landscape
The report sheds light on leading manufacturers of plant-based fish, along with their detailed profiles. Essential and up-to-date data related to market performers who are principally engaged in the production of plant-based fish has been brought with the help of a detailed dashboard view. Market share analysis and comparison of prominent players provided in the report permits report readers to take preemptive steps in advancing their businesses.
Research Methodology
In Fact.MR's study, a unique research methodology is utilized to conduct extensive research on the growth of the plant-based fish market, and reach conclusions on the future growth parameters of the market. This research methodology is a combination of primary and secondary research, which helps analysts ensure the accuracy and reliability of the drawn conclusions.
Secondary resources referred to by analysts during the preparation of the market study include statistics from governmental organizations, trade journals, white papers, and internal and external proprietary databases. Analysts have interviewed senior managers, product portfolio managers, CEOs, VPs, marketing/product managers, and market intelligence managers, all of whom have contributed to the development of the research report as a primary resource.
Need an Exclusive Report for your Unique Requirement?
Talk Show:
The Rise of Intelligent Packaging
Personalized, Connected and Sustainable
November 18, 2021
11:00-11:45 AM PST (USA & Canada)
This is a LIVE session


- Our Clients -

- Evaluate How Fact.MR's Report Can Help. -
Is the market research conducted by Fact.MR?
Yes, the report has been compiled by expert analysts of Fact.MR, through a combination of primary and secondary research. To know more about how the research was conducted, you can speak to a research analyst.
What research methodology is followed by Fact.MR?
Fact.MR follows a methodology that encompasses the demand-side assessment of the market, and triangulates the same through a supply-side analysis. This methodology is based on the use of standard market structure, methods, and definitions.
What are the sources of secondary research?
Fact.MR conducts extensive secondary research through proprietary databases, paid databases, and information available in the public domain. We refer to industry associations, company press releases, annual reports, investor presentations, and research papers. More information about desk research is available upon request.
Who are the respondents for primary research?
Fact.MR speaks to stakeholders across the spectrum, including C-level executives, distributors, product manufacturers, and industry experts. For a full list of primary respondents, please reach out to us.
Is a sample of this report available for evaluation?
Yes, you can request a sample, and it will be sent to you through an email.