Fish Meal Market
Fish Meal Market By Nature (Organic Fish Meal, Conventional Fish Meal), By Application (Fish Meal for Animal Feed, Aqua Feed, Poultry, Pharmaceuticals, Fertilizers), By Product Type (Crustaceans, Cyprinids), By Region - Global Insights to 2031
FACT6938MR
Oct-2021

List of Tables : 83

List of Figures : 83

170 Pages
Fish Meal Market outlook
Latest released industry analysis on the global fish meal market by Fact.MR estimates that the industry accounts for US$ 4.73 Bn at present, and is expected to witness significant growth at a CAGR of 6.3% to reach a valuation of US$ 8.7 Bn by 2031. Over the coming years, demand for organic fish meal is set to increase faster as compared to the conventional form.
Fish meal business research performed by Fact.MR includes key findings such as the latest and speculative production capacity, capacity utilisation rates of each manufacturer, recent and speculative pricing, and price optimization strategy across the value chain, as well as economic evaluation of fish meal production.
Interested to Procure The Data
Key Points Covered in Fish Meal Industry Survey:
Fish Meal Market Estimates and Forecasts (2016-2031)
Production Capacity Analysis of Prominent Manufacturers
Fish Meal Pricing Analysis
Product Pricing Optimization Strategy
Associated Industry Analysis (Food and Beverage Market Overview)
Key Drivers and Restraints Shaping Market Growth
Segment-wise, Country-wise, and Region-wise Analysis
Competition Mapping and Benchmarking
Market Share Analysis
COVID-19 Impact on Fish Meal Demand and How to Navigate
Exclusive sales assessment of Fish Meal
Recommendation on Key Winning Strategies
Demand Analysis of Fish Meal from 2016 to 2020 Vs Market Outlook for 2021 to 2031   
As per Fact.MR, a market research and competitive intelligence provider, over the past half-decade, global market value increased at a CAGR of around 4.7% owing to high demand for fish meal from various regions such as North America and Europe.
Fish is increasingly being demanded for use as feed in addition to being consumed. Almost one-third of the world's wild-caught fish is processed to fish oil and fish meal, as processed fish meal and fish oil are subsequently used in livestock feed for pigs and poultry, as well as in farmed carnivorous fish diets.
Since aquaculture is expected to expand rapidly over the next 20 years, several experts are concerned that rising demand for fish meal and fish oil may increase fishing pressure on already depleted feedstocks.
Use of fish meal as an animal feed additive has been driving the growth of the global market for centuries, but it has only been in the last 50 years that fish meal production has become a global operation. Fish meal is usually made from species of fish that aren't eaten directly by humans or from by-products of seafood processing.
Increased use vitamin-rich fish meal products in fish feed has mostly come at the expense of their use in poultry feed. Fish meal is a popular protein source in fry feed for a variety of fish species as well as carnivorous fish meals. Fish meal's amino acid composition pairs well with plant protein concentrate to create blended products that promote quick and cost-effective fish development.
Vitamin-rich fish meal product demand from aqua feed is driving its growth in the global market owing to its amino acid composition that promotes quick and cost-effective fish development.
Sales of fish meal are projected to further rise at a steady CAGR of around 6.3% over the next ten years. The global fish meal industry is being driven by rising demand for fish meal-based animal feed products.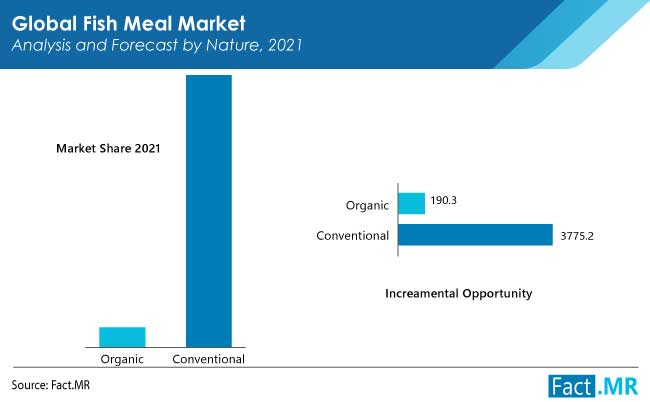 Will Increased Use of Fish Meal in Animal Feed and Pet Food Aid Market Growth?
Majority of commercial fish meal is made from marine by-products that are unfit for human consumption. Application of fish meal in animal feed improves feed efficiency and livestock growth by improving digestion and absorption.
The balanced amino acid profile of fish meal complements other animal and vegetable proteins in animal feed to promote rapid growth and reduce feeding costs. It also aids in disease resistance by building and maintaining a healthy, functional immune system. High-quality fish meal in aquaculture feed helps reduce contamination from wastewater effluents by increasing nutrient digestion.
Application of fish meal in animal feed and pet food is propelling the growth of global market, owing to quality amino acids content in the matrix of protein, nutritionally accessible minerals, and a considerable amount of omega-3 fatty acids in the remaining fat.
Omega-3 fatty acids are critical for the growth and development of dogs in their early years. Omega-3 fatty acids EPA and DHA, which are vital for brain and eye development, are naturally abundant in fish, fish meal, and fish oil. Application of fish meal in pet food is gaining traction owing to its nutritional properties.
An Adaptive Approach to Modern-day Research Needs
Why is Demand for Fish Meal-based Fertilizers Gaining Traction across Regions?
Agriculture is acknowledged to be a major contributor to the economies of both, emerging and developed countries. Concerns about the detrimental impacts of chemical-based fertilizers in crop and vegetable cultivation are prompting farmers to choose more sustainable methods.
Synthetic fertilizers deliver nutrients swiftly and help crops and plants right away. All-natural fish meal-based fertilizers, on the other hand, are treated differently and include more minerals, protein, and nutrients.
All-natural fish meal-based fertilizer demand has increased owing to various factors such as fish fertilizers boost soil fertility and health by giving burn-free nitrogen as well as basic nutrients such as potassium and phosphorous to crops. Plants with these nutrients grow faster and are more resistant to disease and pests.
Which Regional Market is Slated to Be Prominent for the Sale of Fish Meal?
In 2021, total sales of fish meal in North America is expected to reach US$ 1.48 Bn, accounting for roughly 31.3% of global sales.
Rising growth of the fish meal industry as well as renewed push to ensure the sustainability of oceanic fisheries that provide these products to global poultry, swine, fish-farming, and pet food industries are pushing demand for crustacean fish meal, tilapia fish meal, sardine fish meal, and anchovy fish meal in North America.
Intensive research & development is expected to accelerate the commercialization of fish meal made from various seafood trimmings as a market alternative. Also, increasing use of fish meal in pet food and animal feed, particularly feline food, will continue to drive demand for fish meal-based animal feed in the U.S.
Avail customized purchase options for your needs
Country-wise Analysis
Which Factors are Driving the Sales of Fish Meal in the U.S.?
The US fish meal market accounts for more than 87% of the North American market, according to the most recent analysis.
The U.S. offers a diverse range of shellfish and fish products. It is estimated that hundreds of different types of shellfish and fish are marketed each year.
However, eight different species of fish and shellfish items account for more than 80% of all seafood consumed in the United States. In 2017, shrimp, canned tuna, and salmon accounted for around 55% of all seafood ingested.
Increased consumption of seafood in the U.S. is one of the important factors propelling demand growth of various sources of fish meal such as blue whiting fish meal, capelin fish meal, Norway pout fish meal, and sprat fish meal.
What Makes China Dominate the Fish Meal Landscape in East Asia?
The China fish meal market size in 2021 is estimated to reach a value of US$ 275.7 Mn, but manufacturers of organic fish meal in Japan are expected to boost market expansion at a decent growth rate of 6.7% through 2031.
Farmers want to secure high-protein fish meal in their aquatic systems; therefore developments in the shrimp farming industry are driving demand for high-quality fish meal. Besides, limited supply and strict fishing restrictions are allowing regional companies to develop safer and more productive methods of collecting and selling fish meal, promoting overall market growth.
With rising demand for marine by-products and seafood in the country, producers of fish meal in the China are focusing on improving quality, productivity, and sustainability.
Why are Fish Meal Suppliers Eyeing Germany and the U.K.?
Germany holds a market share of 23.8% in Europe while demand for fish meal from whole fish in the U.K. is expected to witness decent growth over the forecast period.
Widespread presence of a large food sector and genuine restaurant chains will continue to enhance demand for salmon fish meal and salmon fish meal sales in the German market.
Rising consumer demand for tuna, salmon, and cod is driving regional and worldwide fisheries to maintain seafood quality and nutrient content, boosting demand for fish meal via by-product from wild capture.
Also, increasing per capita seafood spending and growing awareness of the health advantages of seafood will continue to boost fish meal sales in the United Kingdom through 2031.
What is Driving Demand for Fish Meal in Thailand and Vietnam?
According to Fact.MR, Thailand is estimated to account for 36.2% of the South Asia fish meal market share in 2021, but demand for tilapia fish meal in Vietnam is fuelling market growth. Thailand is one of the major fish meal producing countries in the world.
China, Thailand, and Vietnam are Asia's three largest fish meal producers, producing 1.03 Mn tonnes in 2019, a majority of which was consumed in Asian markets.
Thailand's fishing industry has grown to become one of the world's top fishery exporters, accounting for around 20% of Thailand's total food product exports. Canned tuna and sardines as well as processed shrimp, prawns, and squid account for more than 70% of total fishery product exports.
Sales of salmon fish meal in Thailand are expected to increase at a high growth rate due to rising demand from various end-use industries such poultry, aqua feed, and others.
Category-wise Insights
Why is Organic Fish Meal Highly Sought-after?
According to Fact.MR, conventional fish meal accounts for more than 94% market share, and overall sales of fish meal are expected to witness a significant CAGR 6.7% over the next ten years.
Rising organic aquaculture industry, which is based on optimizing nutritional content, food quality, and resource productivity, is primarily driving market expansion. Furthermore, increasing consumer shift away from high-calorie foods and towards protein-rich diets is also driving demand for organic fish meal.
Demand for conventional fish meal is expected to decrease over the coming years owing to rising awareness and preference for organic fish meal.
Which is the Most Profitable Application of Fish Meal?
The aqua feed segment accounts for approximately 37.7% of the global market, but the use of fish meal in pharmaceuticals is expected to rise at a CAGR of 9.9% during the forecast period.
Due to its health benefits, fish meal is increasingly being used in the pharmaceutical business. Furthermore, rising consumer concerns about chronic diseases is leading to increase in use of fish meal in dietary supplements.
Fish meal for aquatic animals is also gaining traction owing to increased demand for high-quality protein. Fish meal, as an ingredient in aqua feed, provides essential fatty acids and amino acids.
Demand for fish meal for poultry is also increasing due to its high protein content. Fish meal is used in poultry diets as a highly digested, 'high quality' animal protein source.
Which Source of Fish Meal Holds High Significance?
Based on source, sales of crustacean fish meal are estimated to value US$ 966.8 Mn in 2021, but catfish are expected to witness a lucrative growth rate of 10.9% over the forecast period.
Tilapia fish meal demand is also expected to witness significant growth over the forecast period, due to awareness about nutritional properties leading to high demand from various end-use industries such as aqua feed, pharmaceuticals, and others.
Salmon- and trout-sourced fish meal account for a prominent share in the global market owing to rising demand from the dietary supplements industry. Salmon- and trout-sourced fish meal together account for a market share of nearly 25%.
Competition Landscape
Use of creative marketing methods is enabling fish meal suppliers to grow at a rapid pace. Top producers of tilapia fish meal have sought to raise knowledge about the health advantages of products made from marine by-products such as fish meal by investing appropriately at each step of product development.
Top producers of salmon fish meal are also focusing on research & development activities for new product development. Continuous developments from producers of salmon fish meal are boosting market progress.
Biomega AS, a global fish oil and fish meal producer, will extend its operations by investing in a biorefinery in Denmark. This facility expansion is intended to drive salmon-derived product development, assisting the company in establishing a strong presence in the fish meal industry.
Similarly, recent developments related to companies offering fish meal have been tracked by the team at Fact.MR, which are available in the full report.
Fact.MR has provided detailed information about the price points of fish meal of manufacturers positioned across regions, sales growth, production capacity, and speculative production expansion, in the recently published report.
Fish Meal Industry Report Scope
Attribute

Details

Market size value in 2021

USD 4.7 Billion

Market forecast value in 2031

USD 8.7 Billion

Growth Rate

CAGR of 6.3% from 2021 to 2031

Forecast Period

2021-2031

Historical Data Available for

2016-2020

Market Analysis

MT for Volume and US$ Million for Value

Key Regions Covered

North America
Latin America
Europe
East Asia
South Asia
Oceania
MEA

Key Countries Covered

United States
Canada
Brazil
Mexico
Rest of LATAM
Germany
U.K.
France
Spain
Italy
BENELUX
Russia
Rest of Europe
China
Japan
South Korea
India
Indonesia
Malaysia
Singapore
Rest of South Asia
Australia
New Zealand
South Africa
GCC Countries
Rest of South Africa

Key Market Segments Covered

Grade
Process
End-Use
Product Type
Distribution Channel
Region

Key Companies Profiled

Omega Protein Corporation
Orizon SA
FF Skagen A/S
Pesquera Diamente S.A.
BiOmega AS
Animal Feeds International Corporation
Pesquera Hayduk SA
Oceana Group Limited S.A.
Empresas Copec S.A.
Sardina D.O.O
Omega Protein Corporation
TripleNine Group A/S
Others

Pricing

Available upon Request
Market Segments Covered in Fish Meal Industry Research
By Nature

Organic Fish Meal
Conventional Fish Meal

By Application

Fish Meal for Animal Feed
Fish Meal for Aqua Feed
Fish Meal for Poultry
Fish Meal for Pharmaceuticals
Fish Meal for Dietary Supplements
Fish Meal for Fertilizers

By Product Type

Crustaceans

Crabs
Lobsters
Crayfish
Shrimps
Prawns
Krill
Woodlice
Barnacles

Cyprinids

Tuna
Tilapia
Swordfish
Salmons
Milkfish
Catfish
Trout
Marine Fish
Eels
Mollusos