Plastic Decking Market
Plastic Decking Market Analysis By Type (High-density polyethylene, Low-density polyethylene, Polyvinyl chloride, Polypropylene), By Composite (Capped Composite Decking, Uncapped Composite Decking), By Construction Type (Repairs & Remodeling, New Decks [Existing Construction, New Construction]), By Application (Residential, Non-Residential) and By Region – Global Market Insights 2023 to 2033
Analysis of Plastic Decking Market Covering 30+ Countries Including Analysis of US, Canada, UK, Germany, France, Nordics, GCC countries, Japan, Korea and many more
Plastic Decking Market Outlook (2023 to 2033)
The global plastic decking market stands at US$ 4.6 billion in 2023 and is projected to reach US$ 14 billion by 2033-end, expanding at a noteworthy CAGR of 11% over the next ten years, according to this last market study by Fact.MR.
The plastic decking market is a segment of the broader decking industry that focuses on decking materials made primarily from plastics, typically composite or PVC (polyvinyl chloride). Plastic decking has gained popularity for its durability, low maintenance requirements, and sustainability. Plastic decking is primarily manufactured from recycled plastics, including high-density polyethylene (HDPE), polypropylene, or PVC. Some products may also incorporate modified wood fibers or other materials to enhance strength and appearance.
Wolf Home Products and Fiberon, a pioneer in capped composite and PVC decking, strengthened their collaboration on November 20, 2020. Products from the latter are offered in Ohio, Western Pennsylvania, and upstate New York. Promenade, Fiberon's PVC decking brand, is sold by Wolf.
Increased environmental consciousness has driven the demand for sustainable building materials. Plastic decking, made from recycled plastics, fits this trend. Homeowners and builders value plastic decking due to its resistance against rot, insects, and moisture, which helps minimize maintenance requirements. Plastic decking materials are known for their longevity, with warranties often exceeding those of traditional wood decking. Manufacturers offer a wide range of colors and finishes, allowing customers to customize their outdoor spaces.
The composite decking market is expected to continue growing as consumers and builders increasingly prioritize low-maintenance, sustainable, and durable outdoor building materials. Innovations in materials and designs are expected to shape the industry's future, along with a continued focus on eco-friendly practices.
Integration of smart technologies into decking can enhance the overall outdoor living experience, providing convenience, energy efficiency, and entertainment options. When individuals consider smart technologies for their deck, they should ensure that the chosen options are weather-resistant and compatible with their home automation systems to establish a harmonious and efficient outdoor environment.
Uncapped composite decking is a type of composite decking material that lacks an outer protective layer or cap. Unlike capped composite decking, which has a polymer shell on all sides for added durability and resistance, uncapped composite decking typically consists of a composite core without this protective covering.
Demand for uncapped composite decking is projected to rise at a CAGR of 10.2% throughout the forecast period (2023 to 2033).
Report Attributes
Details
Plastic Decking Market Size (2022A)
US$ 4.1 Billion
Estimated Market Value (2023E)
US$ 4.6 Billion
Forecasted Market Value (2033F)
US$ 14 Billion
Global Market Growth Rate (2023 to 2033)
11% CAGR
China Market Growth Rate (2023 to 2033)
14% CAGR
Germany Market Growth Rate (2023 to 2033)
10% CAGR
Demand Growth for Capped Composite Decking (2023 to 2033)
11.2% CAGR
Sales Growth for Uncapped Composite Decking (2023 to 2033)
10.2% CAGR
Leading Regional Market
North America
Key Companies Profiled

Green Bay Decking
Universal Forests Products, Inc.
Duralife Decking and Railing systems
Fiberon LLC
Tamco Building Products Inc.
Advanced Environmental Recycling Technologies, Inc.
Azek Building Products, Inc.
Don't Need a Global Report?
save 40%! on Country & Region specific reports
Why is Interest in Plastic Decking Rising at a Fast Pace Worldwide?
"Increasing Demand for Plastic Decking from Construction Industry Due to its Durability"
Rising urbanization and industrialization, growing demand for modern architecture, and a move away from the usage of traditional decking materials are some of the major factors affecting the growth of the market in terms of revenue. Plastic decking is an elevated surface structure that is used on recycled plastic building facades. It enhances a deck's visual value and quality while requiring little upkeep and being incredibly resilient.
Plastic materials are resistant to moisture and humidity, which is boosting their demand in the construction industry. Plastic deck boards are waterproof and weatherproof because they are comprised of synthetic materials rather than natural ones like wood. Plastic deck planks can withstand extreme weather like rain, snow, and scorching heat.
The most typical materials used to produce flooring are HDPE, LDPE, PVC, and polypropylene. Increased use of HDPE and LDPE materials is a major factor boosting market revenue growth because of their remarkable durability in residential applications. Recycled plastic is ideal for decking and outdoor garden furniture because of its great flexibility and elasticity.
Low-maintenance decking refers to decking materials and systems that require minimal upkeep and care over time, making them an attractive choice for homeowners and builders who want to reduce the time and effort spent on deck maintenance. These decking options are designed to withstand environmental stressors, resist wear and tear, and maintain their appearance with little maintenance.
"Preference for Sustainable and Eco-friendly Construction Materials"
Consumers' preference for low-maintenance, eco-friendly, and durable decking materials is a key market driver. As more homeowners and builders seek decking options that require less upkeep and have a longer lifespan, plastic decking, with its resistance to rot, insects, and moisture, becomes an attractive choice.
Increasing awareness of environmental concerns and the desire for sustainable building materials are driving the demand for plastic decking made from recycled or eco-friendly materials. Sustainability is a significant driver in today's decking market.
Technological advancements have led to innovations in the decking industry, such as smart features, improved material durability, and enhanced aesthetics, which are driving consumer interest. Economic conditions, including factors like disposable income and housing market trends, influence consumer spending on home improvement projects, including deck installations.
Eco-friendly decking refers to decking materials and systems that are designed and manufactured with a focus on environmental sustainability and minimizing their impact on the ecosystem. These decking options aim to reduce reliance on virgin materials, promote recycling, and minimize the use of harmful chemicals, contributing to a more environmentally responsible approach to outdoor construction and home improvement.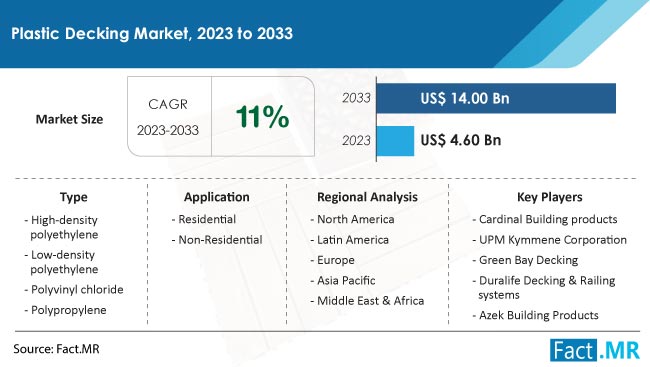 What Challenges are Faced by Plastic Decking Manufacturers?
"Installation Complexity and Price Sensitivity Associated with Plastic Decking"
Plastic decking materials, particularly high-quality composite and PVC options, can be more expensive upfront than traditional wood decking. Price sensitivity among consumers can limit adoption, especially in cost-conscious markets. While plastic decking is often promoted as an eco-friendly choice due to its use of recycled materials, some consumers may still have concerns about its environmental impact, such as the long-term recyclability and potential for microplastic pollution.
Not all plastic decking products are created equal, and there can be significant variations in quality among different brands and manufacturers. Inferior products that do not meet durability expectations can deter customers. Some plastic decking systems may require specialized installation methods, which can lead to higher installation costs. Additionally, the complexity of installation can deter DIY (do-it-yourself) enthusiasts.
"Heat Retention Tendency and Incompatibility with Older Decks"
While plastic decking materials are generally resistant to color fading, prolonged exposure to intense sunlight can cause some fading over time. This limitation may deter consumers seeking long-term color vibrancy.
In very hot climates, some composite decking materials can retain heat, making them uncomfortable to walk barefoot. This can be a deterrent in regions with scorching summers. Manufacturers' warranties for plastic decking materials often come with specific conditions and limitations. Consumers may be dissuaded if they feel the warranty terms are too restrictive.
Retrofitting an existing deck with plastic decking can be challenging and costly, as the new material may not align with the structural aspects of older decks.
More Insights, Lesser Cost (-50% off)
Insights on import/export production,
pricing analysis, and more – Only @ Fact.MR
Country-wise Insights
The following section provides an insight into market revenue segmented by prominent countries. China and the United States have notably emerged as frontrunners, with the Chinese market projected to advance at 14% CAGR through 2033. As per the analysis conducted by Fact.MR, these countries distinctly signify substantial opportunities among those evaluated in the report.
What is Fueling the Popularity of Plastic Decking in the United States?
"High Demand for Low-maintenance Outdoor Living Spaces"
North America currently holds a dominant position in the global plastic decking market as a result of its robust construction sector and demand for outdoor living areas.
Plastic decking is used in residential and commercial construction projects due to the demand for outdoor flooring solutions that are enduring and require little upkeep. The country's dominance is also attributed to the existence of well-established market participants, strong distribution networks, and customer awareness of the advantages of plastic decking.
The market in the United States has exhibited steady growth over the years, driven by factors such as increased consumer awareness of sustainability, desire for low-maintenance outdoor spaces, and availability of innovative products. It is commonly used in residential settings, especially in suburban and urban areas where low-maintenance outdoor living spaces are in demand. Consumer trends in the United States continue to shape the plastic decking market. These trends include the desire for larger outdoor living spaces, outdoor kitchens, and customized deck designs.
What Prospects are in Store for Plastic Decking Manufacturers in China?
"Rising Construction Activity and Shift towards Sustainable and Low-maintenance Materials"
The plastic decking market in Asia Pacific is expanding at a significant rate because of increasing urbanization, infrastructural expansion, and rising demand for outdoor leisure areas.
China's market is projected to advance at 14% CAGR from 2023 to 2033. Countries like China anticipate a rise in construction activity throughout the forecast period, which is expected to result in a rise in demand for plastic decking materials. Plastic decking is becoming more popular in the country thanks to a growing middle class, evolving lifestyles, and rising disposable budgets. The transition to sustainable and low-maintenance building materials also contributes to the market expansion in the area.
The Chinese plastic decking market has been expanding as more manufacturers and suppliers enter the market to meet the rising demand. Both domestic and international companies have a strong presence in this market. Government policies promoting green and sustainable building practices have encouraged the use of eco-friendly materials like plastic decking. In addition to imports, there is a growing trend of local manufacturing of plastic decking materials to meet domestic demand and reduce production costs.
Category-wise Insights
Sales of capped composite decking are expected to rise at a CAGR of 11.2% through 2033. As evaluated by Fact.MR, this segment is poised to provide favorable opportunities for manufacturers of plastic decking.
Why Does Capped Composite Decking Account for Higher Demand?
"Popularity of Capped Composite Decking Due to its Durability and Stain Resistance"
Demand for capped composite decking is poised to increase at a CAGR of 11.2% from 2023 to 2033. Capped composite decking is a type of decking material that combines wood fibers or wood flour with plastic and is protected by a durable polymer cap on all sides. This cap provides added resistance to moisture, stains, fading, and other environmental factors, making capped composite decking a popular choice for outdoor spaces.
The polymer cap on capped composite decking provides a protective layer that shields the core material from moisture, insects, UV radiation, and other forms of wear and tear. This results in a highly durable and long-lasting decking option. Capped composite decking requires minimal maintenance compared to traditional wood decking. It does not need to be stained, sealed, or sanded, making it an attractive choice for homeowners seeking a low-maintenance outdoor living space.
Capped composite decking is highly resistant to staining, making it suitable for areas prone to spills and outdoor entertaining. The polymer cap helps retain the deck's color over time, reducing the risk of fading due to prolonged exposure to sunlight. Capped composite decking is less susceptible to moisture damage, making it an excellent choice for regions with high humidity or frequent rain. The cap's protective layer helps deter insects and pests, reducing the risk of infestations.
Why is Plastic Decking Extensively Used in Residential Construction?
"Stain Resistance and Long-lasting Color Retention of Plastic Decking"
Plastic decking is used extensively in homes and residential projects. These materials, which include various types of plastic and composite decking, have become increasingly popular for residential decks and outdoor spaces due to their durability, low maintenance requirements, and aesthetic options.
A combination of wood fibers and plastic, PVC, and other plastic-based materials are used because of their durability and resistance to environmental factors such as moisture, rot, insects, and UV radiation. This durability ensures that residential decks remain in good condition over time.
One of the primary reasons for the adoption of plastic decking in residential settings is its low maintenance requirements. These materials do not need staining, sealing, or frequent cleaning like traditional wood decks. Many plastic decking options are highly resistant to staining, making them suitable for outdoor areas where spills are common. They are also designed to resist fading, maintaining their color and appearance over the years.
Know thy Competitors
Competitive landscape highlights only certain players
Complete list available upon request
Competitive Landscape
Companies that prioritize sustainability and environmentally responsible practices have gained prominence in the market. Customers increasingly value products made from recycled materials and environmentally friendly manufacturing processes. Ongoing innovation in decking materials and designs, including new finishes, colors, and textures, keeps the market competitive. Innovations that enhance the performance or aesthetic appeal of recycled plastic decking are highly valued.
Following the successful launch of Trex Transcend® Lineage in mid-2022, the industry leader in composite decking expanded its luxury range for 2023 by two more colors in January 2023. These new hues expand the company's selection of decking, which is among the best in the market. They include superior aesthetics, heat-mitigating technology, and improved performance, all of which are backed by a durable 50-year warranty.
Key Segments of Plastic Decking Industry Research
By Type :

High-density polyethylene
Low-density polyethylene
Polyvinyl chloride
Polypropylene

By Composite :

Capped Composite Decking
Uncapped Composite Decking

By Construction Type :

Repairs & Remodeling
New Decks

Existing Construction
New Construction

By Application :

Residential
Non-Residential

By Region :

North America
Latin America
Europe
Asia Pacific
Middle East & Africa
- FAQs -
The global plastic decking market is valued at US$ 4.6 billion in 2023.
Demand for plastic decking in the residential sector is projected to increase substantially over the forecast period.
Worldwide demand for plastic decking is set to increase at a CAGR of 11% from 2023 to 2033.
Global sales of plastic decking are projected to reach US$ 14 billion by 2033.
Sales of capped composite decking are forecasted to increase at a CAGR of 11.2% from 2023 to 2033.