Robotic Drilling Market
Robotic Drilling Market Analysis By Application (Onshore, Offshore), By Installation (Retrofit, New Builds), By Component (Hardware, Software), By End Use (Oil & Gas, Construction, Mining) By Region – Global Market Report 2023 to 2033
Analysis of Robotic Drilling Market Covering 30+ Countries Including Analysis of US, Canada, UK, Germany, France, Nordics, GCC countries, Japan, Korea and many more
Robotic Drilling Market Outlook (2023 to 2033)
The global robotic drilling market is valued at US$ 485 billion in 2023 and is projected to increase at a CAGR of 8% to reach US$ 985 billion by 2033-end, according to this latest market study by skilled analysts at Fact.MR.
Robotic drilling machines are automated systems that drill holes using cutting-edge technology and find applications in many industries, with an emphasis on the oil and gas industry. In comparison to conventional drilling techniques, these machines offer advantages in terms of precision, efficiency, and safety.
Robotic drilling is mainly divided into two categories: onshore, which refers to robots that operate on land, and offshore, which refers to robotic drilling that takes place on ocean floors or seabed. To collect oil and gas from the ground and water, these automated drilling machines build new rigs. During routine maintenance or the replacement of outdated system components, they are employed to retrofit older rigs.
Faster drilling speeds, multi-sensor measurement, safer operations, and mass manufacturing are just a few of the advantages that robotic drilling provides over traditional drilling. Robotic drilling companies create both the mechanical parts of factory robots as well as the software needed to operate and program them for usage on oil and gas rigs.
Use of robotic drilling machines in the oil & gas sector is projected to rise at 8.5% CAGR from 2023 to 2033.
Drilling with robotic assistance refers to the use of automation and robotic systems to improve and optimize the drilling process in a variety of sectors. By lowering the need for manual labor and raising the amount of automation in drilling processes, this technology seeks to increase drilling efficiency, accuracy, and safety.
Report Attributes
Details
Robotic Drilling Market Size (2022A)
US$ 450 Billion
Estimated Market Value (2023E)
US$ 485 Billion
Forecasted Market Value (2033F)
US$ 985 Billion
Global Market Growth Rate (2023 to 2033)
8% CAGR
Oil & Gas Segment Growth Rate (2023 to 2033)
8.5% CAGR
New Builds Segment Growth Rate (2023 to 2033)
9% CAGR
North America Market Growth Rate (2023 to 2033)
8% CAGR
Leading Regional Market
North America
Key Companies Profiled

Drillmec Inc.
Automated Rig Technologies Ltd.
Epiroc AB
KCA Deutag Alpha Limited
National Oilwell Varco Inc.
Huisman Equipment BV
Sekal As
Rigarm Inc.
Don't Need a Global Report?
save 40%! on Country & Region specific reports
What is Fueling the Demand for Robotic Drilling Equipment?
"Focus on Reducing Human Involvement in Hazardous Activities"
As organizations look for effective ways to reduce human exposure to risky and difficult drilling situations, safety and risk mitigation play a critical role in driving the robotic drilling market. Traditional drilling operations typically need human workers to participate in physically taxing and risky activities, especially in industries like oil & gas exploration, mining, and construction. Drilling operations are now substantially safer and more secure thanks to robotic drilling technology, which has also changed the commercial climate.
Robotic drilling reduces human involvement in hazardous drilling activities. These operations typically take place in difficult or isolated locations, such as mines in hazardous terrain, offshore oil rigs, or deep-sea drilling platforms. Human employees are at risk in these conditions from a range of factors, such as the possibility of accidents, exposure to hazardous materials, and severe weather. Robotic drilling equipment can be used by businesses to lessen these risks, improving employee welfare and safety.
"Adoption of Automation Leading to Improved Data Collection and Operational Efficiency"
Usage of automation in the oil and gas sector has grown significantly as a result of developments in data collecting, improved operational precision and accuracy, and improved worker safety. Additionally, automation is ideal for oil and gas production in deep oceans, which are places with changing climatic conditions. Oil and gas rig operating companies are progressively incorporating automation on their rigs.
There is little to no human interference in the drilling process, which reduces the likelihood of error. Adoption of automation has boosted production, which improves data collecting. As robotic drilling machines make fewer errors, they work more effectively and create higher-quality work, which increases both their productivity and the effectiveness of both land- and water-based activities.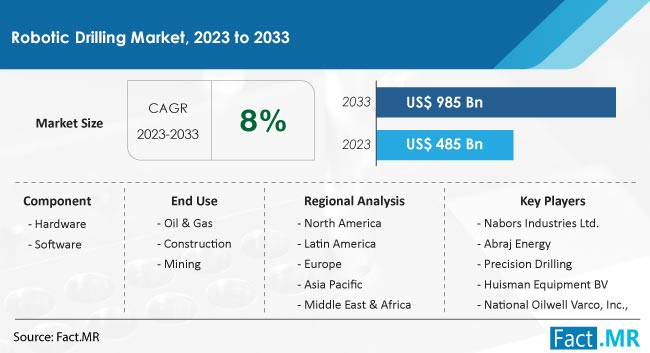 What Hurdles are Affecting the Sales Growth of Robotic Drilling?
"Data Privacy and Cybersecurity Concerns Arising from Interoperability"
Computers running automation systems on oil and gas rigs, akin to software, possess multiple network access points, enabling their utilization across various systems. This puts data confidentiality at risk, along with other cybersecurity issues. Without consent, the information can be used in improper and illegal ways.
The system's functionality may change, which may have a negative impact on drilling rigs and operations. Businesses have either abandoned their plans to automate the drills or stopped the upgrading work as a result of these unfavorable effects, which has limited the demand for robotic drilling equipment.
"High Initial Cost and Regulation Compliance Issues"
For smaller businesses or operators with tighter budgets, robotic drilling equipment can be prohibitively expensive to purchase and deploy. Integrating robotic drilling systems into current infrastructure and drilling operations can be difficult and time-consuming. Adoption may be slowed down by compatibility problems and the requirement for customization.
It frequently takes specialized knowledge and training to operate and maintain robotic drilling systems. It may be difficult for businesses to hire and keep qualified staff to manage these systems. Strict safety and environmental standards apply to the drilling sector. It can be difficult and possibly expensive to deploy robotic drilling equipment while adhering to these rules.
More Insights, Lesser Cost (-50% off)
Insights on import/export production,
pricing analysis, and more – Only @ Fact.MR
Country-wise Insights
This section offers a glimpse into the revenue produced from important markets. The United States and China have emerged as notable leaders in the primary market. These statistical findings highlight important geographical prospects within the countries analyzed in the report, according to the analysis done by Fact.MR.
What is Drawing Robotic Drilling Equipment Manufacturers to the United States?
"Rising Shale Gas Drilling and Heavy Investments in Advanced Drilling Equipment"
Over the predicted period (2023 to 2033), the market in North America is predicted to advance at a CAGR of 8%.
Developed countries in North America are anticipated to hold a sizable value share of the robotic drilling market. The rise in shale gas drilling activity in the region is attributed to this. The need for robotic drilling equipment in the United States is also being fueled by an increase in exploration activity in the Gulf of Mexico.
Additionally, as a result of rising oil prices and falling drilling costs, developed countries like the United States have seen a considerable increase in the number of offshore rigs and oil output. Due to the subsequent increase in demand for offshore drilling, the market is expanding at a significant rate.
Rising investments in the industry are anticipated to boost demand for robotic drilling. 2020 saw a considerable increase in offshore production, reaching 641 million oil barrels.
Approximately 2,287 oil and gas leases totaling more than 12 million OCS (outer Continental Shelf) acres were managed by the BOEM (Bureau of Ocean Energy Management) as of May 2021.
The future of the market in North America is predicted to be bright thanks to the expansion of shale exploration activities and increased attention to lowering drilling activity costs, decreasing time, and lowering risk.
What Makes China a Lucrative Market for Robotic Drilling Equipment Manufacturers?
"Increasing Use of Robotic Drilling Methods for Exploration of Renewable Energy Resources"
The robotic drilling market in China has grown significantly, propelled by infrastructure development, renewable energy initiatives, and the growth of the oil and gas sector. Demand for robotic drilling equipment is significantly fueled by China's oil and gas sector. Robotic drilling methods are being used more frequently as a result of the discovery and exploitation of renewable energy resources, such as shale gas and offshore oil deposits.
Opportunities for robotic drilling systems have been made possible by the expansion of offshore drilling operations, particularly in the South China Sea and Bohai Sea. The accuracy and safety of these devices make them ideal for offshore activities.
Category-wise Insights
This segment offers a comprehensive overview of the market, organizing it based on applications and installations. The subcategories that occupy a major share of the market include onshore and new-build installations, which are generating substantial potential for future opportunities.
What is Behind the Increasing Use of Robotic Drilling Machines in New-Build Installations?
"Investments in Robotic Drilling Machines for Enhanced Efficiency and Safety in New Builds"
Demand for robotic drilling equipment for newly built rigs is expected to experience a 9% CAGR from 2023 to 2033, according to projections in the report by Fact.MR.
Deployment of robotic drilling systems in recently built drilling rigs, platforms, or facilities is referred to as a "new build installation" in the robotic drilling industry. These installations are usually built into the design and construction of drilling equipment and infrastructure as part of the initial setup of drilling operations.
Investments in new buildings demonstrate a commitment to using robotic drilling technologies for the long term. Companies may interpret this as a strategic move to keep them competitive and position them for growth and success in the future.
Robotic drilling systems in new builds are expected to enhance drilling efficiency, precision, and safety. They can be tailored to the specific needs of the drilling project, reducing manual labor and improving operational outcomes. Integration of robotic systems in new builds can contribute to improved safety by reducing the exposure of human workers to hazardous drilling environments. Safety features and protocols can be incorporated into the design.
Why Has Robotic Drilling Found Extensive Use in Onshore Operations?
"Lower Operational Costs and Enhanced Convenience of Onshore Drilling Platforms"
While robotic drilling technology has versatile applications in both onshore and offshore drilling rigs, it is onshore drilling platforms that are assuming a leading role in driving market growth. Onshore rigs are garnering increased attention in the oil and gas industry owing to their lower operational costs and enhanced convenience, as opposed to the offshore drilling sector, which demands substantial capital and involves greater complexity. Consequently, the global market is anticipated to sustain its profitability in the foreseeable future, primarily driven by the upsurge in onshore activities within the oil and gas sector.
Robotic drilling is used in geotechnical analyses for infrastructure projects like bridge foundations, dams, and building foundations. These drilling applications evaluate the characteristics of the rock and soil, supplying vital information for the design and planning of buildings.
Mining automation refers to the use of various technologies and systems to automate mining processes and operations, reducing the need for human intervention and increasing efficiency, safety, and productivity in the mining industry. Robotic drilling technology is used in land-based drilling operations, which are referred to as onshore applications. These applications are common in many different industries, including mining, construction, geotechnical drilling, and oil and gas exploration.
Know thy Competitors
Competitive landscape highlights only certain players
Complete list available upon request
Competitive Landscape
Leading firms in the industry are those with a track record of offering drilling solutions and a strong global presence. They offer several robotic drilling systems and services.
Development of robotic drilling technology is being driven by tech companies and corporations. They focus on specific drilling applications, automation, and niche solutions. Providing comprehensive after-sales service, maintenance, and technical support is crucial. Companies with a strong service network and customer support capabilities have a competitive edge.
Drillform Technical Services Ltd. in the United Arab Emirates opened a new facility in August 2020. The major purpose of this facility was to serve its clients in the Middle East and North Africa region. The construction of this building allows Drillform to handle all of its sales of services, products, and systems.
Key Segments of Robotic Drilling Market Research
By Application :

By Installation :

By Component :

By End Use :

Oil & Gas
Construction
Mining

By Region :

North America
Latin America
Europe
Asia Pacific
Middle East & Africa
- FAQs -
The global robotic drilling market stands at a value of US$ 485 billion in 2023.
Worldwide demand for robotic drilling is predicted to rise at a CAGR of 8% from 2023 to 2033.
The market for robotic drilling solutions is set to reach US$ 985 billion by the end of 2033.
Use of robotic drilling equipment in the oil and gas sector is projected to rise at 8.5% CAGR through 2033.
The United States is projected to emerge as a lucrative market for robotic drilling equipment manufacturers.
Demand for robotic drilling equipment in North America is forecasted to increase at a CAGR of 8% through 2033.
During a robot drilling operation, an industrial robot is equipped with a drilling tool, forming a type of automated machining process.