Sanitary Valves Market
Sanitary Valves Market Analysis By Product Type (Control Valves, Single Seat Valves, Double Seat Valves, Butterfly Valves), By End Use (Processed Food Industry, Beverage Industry, Dairy Industry, Pharmaceutical Industry) and By Region – Global Market Insights 2023 to 2033
Analysis of Sanitary Valves Market Covering 30+ Countries Including Analysis of US, Canada, UK, Germany, France, Nordics, GCC countries, Japan, Korea and many more
Sanitary Valves Market Outlook (2023 to 2033)
The global sanitary valves market stands at a valuation of US$ 2.1 billion in 2023 and is projected to reach US$ 3 billion by 2033-end, expanding at a CAGR of 3.5% over the next ten years, according to this detailed industry analysis by Fact.MR.
Sanitary valves play a vital role in businesses where upholding the highest standards of cleanliness and preventing contamination is key, such as the food and beverage, pharmaceutical, biotechnology, and cosmetics sectors. These specialist parts are painstakingly created to adhere to the strict criteria and guidelines established by these sectors.
Stainless steel valves are known for their outstanding longevity, resistance to corrosion, and adaptability. Due to their capacity to survive difficult circumstances and keep their integrity over long periods, they find extensive use across numerous sectors.
Hydraulic valves are mechanical components used in hydraulic systems to regulate the pressure, flow, and direction of hydraulic fluid. These valves play a crucial role in regulating the movement and functioning of machinery and equipment that rely on hydraulic power transmission. One of the main factors contributing to the growth of the worldwide sanitary valves market is the increasing use of sanitary valves in the food and beverages and pharmaceutical industries.
Due to consumer's growing health consciousness, demand for wholesome foods and beverages is growing. Ready-to-eat food is becoming more popular. Demand for ready-to-eat food is also rising since there are more and more online food aggregators, which benefits both developed and developing countries.
Sanitary ball valves are a particular kind of valve made to adhere to the stringent sanitation and contamination control standards of sectors including food and beverages, pharmaceuticals, biotechnology, and cosmetics. These valves are crucial parts of processing machinery where upholding a sterile and clean environment is key to the safety and quality of the final product.
The sanitary pumps and valves market is a crucial and dynamic sector within various industries that demand strict adherence to hygiene and contamination control. This market revolves around specialized equipment designed to maintain the purity and safety of processes involving fluids, gases, and steam. Sanitary pumps and valves are employed across a wide range of applications, from food and beverage production to pharmaceuticals and cosmetics.
Unibloc Pump was purchased by US-based private equity investment firm May River Capital in January 2021 for an undisclosed sum. With this acquisition, Unibloc Pump speeds up its growth plans and better meets the needs of its clients. Positive displacement pumps and other advanced products are offered by United States-based Unibloc Pump for demanding hygienic flow control applications.
Report Attributes
Details
Sanitary Valves Market Size (2022)
US$ 1.9 Billion
Estimated Market Value (2023)
US$ 2.1 Billion
Forecasted Market Value (2033)
US$ 3 Billion
Global Market Growth Rate (2023 to 2033)
3.5% CAGR
China Market Growth Rate (2023 to 2033)
5.5% CAGR
United States Market Growth Rate (2023 to 2033)
4.5% CAGR
Control Valves Segment Growth Rate (2023 to 2033)
3.7% CAGR
Double Seat Sanitary Valves Segment Growth Rate (2023 to 2033)
4.1% CAGR
Key Companies Profiled

GEA Group AG
ITT Corporation
Krones AG
SPX Flow Inc.
Emerson Electric Company
Modentic Industrial Corp.
Haitima Corp.
Cashco Inc.
MISUMI Group Inc.
Don't Need a Global Report?
save 40%! on Country & Region specific reports
Which Factors are Increasing the Importance of Sanitary Valves?
"Integration of Sensors and Microprocessors into Valve Positioners for Precise Control"
Expansion of the global market is expected to be fueled by advancements in valve positioner technology. Based on control signal, valve positioners are used to modify the positions of actuators. The majority of valve positioners are pneumatic valves. Actuators are controlled by air pressure through these valves.
An electro-pneumatic valve utilizes electricity and air to regulate valves, whereas an electric valve uses electric signals. Valve positioners are employed in many applications and each has unique benefits and drawbacks. End users are choosing smart valve positioners as a result. This is also due to the fact that industries are readily accepting digital gadgets.
Advancements in sensor technology coupled with decreasing sensor costs have enabled valve positioners to effectively communicate information about valve stroke and thrust, actuator output pressure, temperature, valve plug wear, and overall valve performance. A smart positioner uses a microprocessor for precise control of valves and operation. Smart positioners can also record data for online diagnostics and monitor it. This can aid in the early diagnosis of any valve damage or wear. High stability and accuracy are also offered by smart positioners.
"Crucial Role of Pharmaceutical Valves in Contamination Prevention, Sterility, and Product Safety"
Pharmaceutical valves are specialized parts that are essential for preserving pharmaceutical operation's accuracy, purity, and safety. These valves are made to the highest standards of sanitation, accuracy, and dependability since they are used in the pharmaceutical business, where even the slightest contamination can have serious repercussions. Pharmaceutical valves are primarily used to prevent contamination of medicines and other items during the production, processing, and distribution phases. These valves make sure the handling of the materials does not introduce any impurities.
Product safety and quality are of utmost importance when it comes to pharmaceutical products. By regulating the flow of components, guaranteeing precise dosage, and limiting cross-contamination, valves assist in maintaining the integrity of the product. Biotech valves are specialized components that play a critical role in the biotechnology industry by facilitating the precise control and manipulation of fluids and gases during various bioprocessing stages.
Sterility is essential in many pharmaceutical applications, including injectables and parenteral medicines. Aseptic valves are manufactured to strict sterile processing specifications, avoiding any microbiological contamination during production and shipping.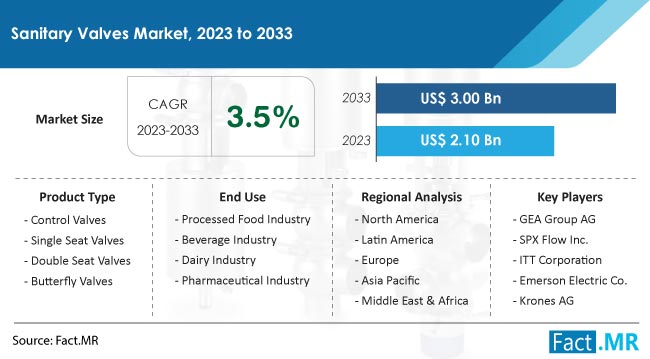 What Can Impede the Sales Growth of Sanitary Valves to Some Extent?
"Volatility in Raw Material Costs Major Headache for Manufacturers"
Pricing for valves must take into account the cost of raw materials, which also significantly affects supplier's profit margins. For valves, the direct material cost is more than half of the overall cost of the raw materials. Common raw materials used to make valves include copper, stainless steel, cast iron, aluminum, brass, and bronze.
In addition to being used to make valves, these raw materials are employed in other industrial safety valves. This suggests that the price of raw materials for valve makers may alter depending on changes in demand from other industries. Sanitary valves must be made from specialized materials that may inhibit the growth of pollutants and the creation of corrosion.
"Increased Production Cost Due to Stringent Regulations Governing Safety Valves"
Pharmaceutical and food processing industries, which rely heavily on sanitary valves, are subject to stringent regulatory requirements to guarantee the safety of their products and the welfare of their customers. The rigorous manufacturing procedures and materials necessary to meet these strict specifications increase production costs.
Sanitary valve maintenance and operation demand advanced technical expertise. To guarantee constant performance and adherence to hygiene requirements, routine maintenance, cleaning, and troubleshooting are essential. To properly handle these components, businesses need to spend on staff training or external services.
Integration issues can arise when adding additional sanitary valves to processing systems that are already in place. It is difficult and time-consuming to ensure smooth compatibility and minimal interference with ongoing operations, which slows down adoption.
More Insights, Lesser Cost (-50% off)
Insights on import/export production,
pricing analysis, and more – Only @ Fact.MR
Country-wise Insights
The United States and China are prominent markets with their sales increasing at 4.5% and 5.5% CAGRs, respectively. According to Fact.MR's assessment, these figures signify lucrative opportunities for sanitary valve manufacturers in these countries.
Why is China Poised to Offer Lucrative Opportunities for Manufacturers of Sanitary Valves?
"Market Benefitting from Focus on Maintaining Rigorous Safety Standards in Food Processing"
From 2023 to 2033, the Chinese market is anticipated to advance at a CAGR of 5.5%. Shifts in consumer preferences, urbanization trends, and the increase in disposable incomes have collectively propelled the consistent expansion of China's food and beverages industry. To maintain stringent hygiene and safety standards in the food processing sector, this growth has consequently increased the requirement for sanitary valves.
Due to rising healthcare costs, greater investments in research and development, and the need to meet the demands of an expanding population, the pharmaceutical and biotechnology industries in China have been growing rapidly. To guarantee sterile production and processing, sanitary valves are essential in these industries.
What is the Forecasted Demand for Sanitary Valves in the United States?
"Growing Emphasis on Manufacturing Eco-friendly Sanitary Valves"
The United States market is projected to expand at a CAGR of 4.5% from 2023 to 2033. Sanitary valves are used in the United States healthcare industry for tasks including producing medical equipment and preserving aseptic conditions in healthcare facilities. Due to the stringent regulatory standards in the United States, especially within the food, pharmaceutical, and healthcare sectors, adoption of sanitary equipment becomes necessary to meet compliance requirements.
Emphasis on technological innovation is growing in the country. Sanitary valve systems now operate more effectively and efficiently thanks to new designs, materials, and automation technologies. Environmental impact reduction and sustainability are both receiving attention. This encourages the creation of sanitary valve solutions that are more eco-friendly and energy-efficient.
Category-wise Insights
This section presents an overview of market revenue based on key categories. Control valves and the processed food industry have emerged as the primary segment, with sales projected to rise at 3.7% CAGR through 2033.
What Factors are Driving the Widespread Adoption of Control Valves?
"Role of Control Valves in Enhancing Process Precision & Efficiency and Operational Safety"
Control valve sales are projected to advance at a CAGR of 3.7% through 2033. Control valves are crucial parts of many industrial processes because they offer a way to manage and regulate the flow of liquids, gases, or steam inside a system. These valves are essential for preserving process precision, efficiency, and safety. Control valves offer precise management of manufacturing processes across industries by varying the flow rate, pressure, temperature, or level of the fluid.
The operation of control valves is controlled by signals from external control systems, including sensors or programmable logic controllers (PLCs). These signals determine the position of the valve, subsequently regulating the pressure or flow rate of the fluid passing through the valve. By adaptively modifying the valve position in reaction to changing process conditions, the desired process parameters can be effectively upheld.
Control valves make sure that processes function as efficiently and waste-free as possible. These valves enable dynamic adjustments and offer exact control over process variables, enhancing the quality of the final product. Accurate control improves operational safety by preventing overpressure or other risky scenarios. By integrating control valves with automation systems, remote monitoring, and adjustment are made possible.
How Can Manufacturers of Sanitary Valves Capitalize on Lucrative Prospects in the Processed Food Industry?
"Extensive Adoption of Sanitary Valves in Food Sector to Preserve Product Integrity"
The processed food business maintains stringent standards of sanitation and product quality. Sanitary valves are designed to these standards because customer safety and product integrity are of utmost significance in the food industry. Sanitary valves are carefully made with smooth, crevice-free surfaces to avoid the buildup of germs, debris, and other impurities.
To preserve the flavor, texture, and nutritional value of processed food, careful handling is necessary. Sanitary valves provide precise control of the ingredient flow, preserving the final product's quality and uniformity. Maintaining a hygienic processing environment is essential in sectors like dairy, drinks, sauces, and canned goods. Sanitary valves contribute to achieving this goal by preventing the entry of external contaminants during the production process.
Know thy Competitors
Competitive landscape highlights only certain players
Complete list available upon request
Competitive Landscape
As more companies enter the sanitary valves market due to increased demand for the valves, there is more competition in the global market. The companies are also using both organic and inorganic growth strategies to expand their market presence. To provide clients in the industrial valves market with superior products and services, major businesses adopt product launches, collaborations, business expansion, and acquisition as their primary developmental methods.
In July 2022, Valworx unveiled their new line of air-operated sanitary butterfly valves made entirely of stainless steel. These USDA, FDA, and 3-A compliant stainless-steel sanitary butterfly valves with Tri-Clamp ends for hygienic connections. The company claims that these butterfly valves are appropriate for the pharmaceutical, food, beverage, personal care, and animal care industries.
Key Segments of Sanitary Valves Industry Research
By Product Type :

Control Valves
Single-Seat Valves
Double-Seat Valves
Butterfly Valves

By End Use :

Processed Food Industry
Beverage Industry
Dairy Industry
Pharmaceutical Industry

By Region :

North America
Latin America
Europe
Asia Pacific
Middle East & Africa
- FAQs -
The global sanitary valves market is valued at US$ 2.1 billion in 2023.
Worldwide demand for sanitary valves is set to increase at a CAGR of 3.5% from 2023 to 2033.
Global sales of sanitary valves are set to reach US$ 3 billion by 2033.
The China market is forecasted to advance at a CAGR of 5.5% from 2023 to 2033.
Demand for control valves is expected to increase at a CAGR of 3.7% from 2023 to 2033.
Sales of double-seat sanitary valves are projected to rise at 4.1% CAGR through 2033.