Saw Blades Market
Saw Blades Market Analysis By Product Type (Circular Saw Blades, Band Saw Blades, Chain Saw Blades, Hand Saw Blades), By Material (High Speed Steel, Carbon Steel, Carbide-tipped, Diamond-tipped), By Application (Wood Cutting, Metal Cutting, Stone Cutting) & By Region - Global Market Insights 2023 to 2033
Analysis of Saw Blades Market Covering 30+ Countries Including Analysis of US, Canada, UK, Germany, France, Nordics, GCC countries, Japan, Korea and many more
Saw Blades Market Outlook (2023 to 2033)
The global saw blades market is estimated at US$ 15.33 billion in 2023, according to this latest study by Fact.MR. Expanding at a CAGR of 5%, worldwide sales of saw blades are projected to reach US$ 24.97 billion by 2033.
Saw blades are special cutting tools that are particularly designed for use with various types of saws such as circular saws, band saws, jigsaws, reciprocating saws, and others. They are manufactured from different materials including high speed steel, carbon steel, carbide-tipped, and diamond-tipped, and are characterized by their toothed edges, which are responsible for cutting through different materials such as wood, metal, plastic, and more. The rising DIY trend is primarily driving the growth of the saw blades market.
Key Market Trends
Growing use of high-performance blades such as carbide saw blades and diamond saw blades due to their enhanced durability and cutting efficiency.
Increasing demand for tailor-made saw blades to meet specific cutting needs and applications such as wood cutting, stone cutting, and metal cutting.
Introduction of advanced circular saw blade designs such as thin-kerf blades and laser-cut features for precision.
Integration of IoT (Internet of Things) and sensors in table saw blades for safety, real-time monitoring, and optimized performance.
Circular saw blades, band saw blades, chain saw blades, hand saw blades jigsaw blades, reciprocating saw blades, miter saw blades, etc., are various types of saw blades available in the market. Among all, circular saw blades are widely demanded due to their ability to cut various materials including metals, plastics, wood, and more. This versatility allows them to be used in a wide range of applications, from woodworking and construction to metal fabrication and DIY projects.
Technological advancements are driving the development of circular saw blades, resulting in improved precision, extended lifespan, and high-cutting efficiency. This progression is significantly contributing to their rising favourability. Saw blade manufacturers are also channelling investments into the creation of advanced circular saw blades to solidify their position in the global market.
Modern circular saw blades often come with safety features such as anti-kickback designs, laser guides, and blade guards. These features are appealing to users who prioritize safety during their cutting tasks.
Best Cordless Circular Saw Blades 2023
Makita XSH06PT Cordless Circular Saw
DEWALT DCS391B Circular Saw
SKIL Cordless Circular Saw
RYOBI One P505 Cordless Circular Saw
BLACK+DECKER Cordless Circular Saw
Report Attributes
Details

Saw Blades Market Size (2023E)

US$ 15.33 Billion

Forecasted Market Value (2033F)

US$ 24.97 Billion

Global Market Growth Rate (2023 to 2033)

5% CAGR

United States Market Value (2033F)

US$ 4.7 Billion

China Market Growth Rate (2023 to 2033)

4.6% CAGR

Key Companies Profiled

AKE Knebel GmbH & Co. KG
DoAll Company
Freud America Inc.
Kinkelder B.V.
Ledermann GmbH & Co. KG
Leuco Tool Corporation
The M K Morse Company
Pilana Knives A.S.
Simonds International L.L.C. (BGR Saws Inc.)
Stanley Black & Decker Inc.
Don't Need a Global Report?
save 40%! on Country & Region specific reports
Why is There Steady Increase in the Sales of Saw Blades?
"Use of Modern Saw Blades & Machinery Modifying Look of Infrastructural Projects"
Rapid developments in industries, particularly construction, manufacturing, and woodworking, are significantly increasing sales of saw blades. The construction industry is a key driver for economic growth in both developed and developing economies. As urbanization is rising swiftly and cities are turning into smart cities, the need for new infrastructure, commercial spaces, residential complexes, and public facilities is increasing. These projects involve cutting and shaping a wide array of materials, including wood, concrete, metal, and masonry.
Saw blades, with their ability to make precise cuts through these materials, are becoming indispensable tools in constructing foundations, structures, and fabricating components. Manufacturing processes across industries such as automotive, aerospace, and metal fabrication need the precise shaping and cutting of raw materials into specific sizes and forms. Plunge saw blades are utilized to efficiently cut various metals, plastics, composites, and other materials used in the production of components and parts. These components are also vital in the assembling of vehicles, machinery, appliances, and more.
Woodworking is an ancient craft, which is evolving into a diverse and dynamic market. From crafting fine furniture to creating intricate wood designs in architecture, saw blades are essential for cutting, shaping, and joining wood pieces. The woodworking industry also includes cabinetry, flooring, and carpentry, all of which require saw blades for precise and efficient material manipulation.
Beyond new construction, renovation and remodelling projects are also increasing. Homeowners and businesses are seeking to update and upgrade their spaces to meet modern standards and aesthetic preferences. Saw blades play a critical role in these projects by allowing for precise cuts when replacing old materials and integrating new ones. Thus, rapid infrastructural developments in both developed and developing countries are boosting saw blade sales.
"Saw Blades Aiding Home Decoration Projects and Creativity"
Rising interest in do-it-yourself (DIY) projects and home improvement activities is fueling demand for cutting tools, particularly saw blades. This trend reflects a fundamental shift in consumer behaviour due to the growing interest in decorating homes according to their ideas.
DIY projects empower individuals to take control of their living spaces and express their creativity. With access to online tutorials, guides, and inspiration, people are more confident in taking on various woodworking, crafting, and renovation tasks. This newfound sense of empowerment is driving the demand for cutting tools such as saw blades, as DIY enthusiasts seek to transform their ideas into tangible, functional creations.
"Integration of IoT & Smart Sensors Enhancing Safety & Productivity of Saw Blades"
Continuous technological advancements in blade materials, design, and manufacturing processes are ushering in a new era of efficiency, durability, and performance in the field of saw blades.
High-performance materials such as carbide, cermet, and diamond coatings are emerging as game-changers. These materials offer exceptional hardness, wear resistance, and heat dissipation properties, enabling saw blades to maintain their sharpness and structural integrity even during demanding cutting tasks. As a result, advanced blade materials such as high speed steel saw blades, bimetal saw blades, and diamond saw blades have a long lifespan, reducing the frequency of replacements and enhancing cost-effectiveness for users.
Advanced manufacturing processes such as laser cutting, EDM (electrical discharge machining), and robotic automation is also elevating the precision and consistency of saw blade production. Computer-aided design (CAD) software and simulation tools are revolutionizing the design and testing phases of saw blade development.
Integration of smart technologies and the Internet of Things (IoT) into saw blade systems is enabling real-time monitoring and performance optimization. Sensors embedded in the blade can provide data on factors such as temperature, vibration, and wear, allowing users to make informed decisions about blade maintenance and replacement. This proactive approach enhances safety, minimizes downtime, and maximizes productivity.
What is Hindering the Demand Growth for Saw Blades?
"Laser & Waterjet Cutting Technologies Preferred Over Traditional Saw Blades"
Advancements in alternative cutting technologies such as laser cutting and waterjet cutting are presenting competition to traditional saw blades. These technologies offer unique advantages in certain applications and industries, potentially diverting demand away from traditional saw blades.
Laser cutting and waterjet cutting technologies excel in providing exceptional precision and intricate detailing. Laser cutting employs focused laser beams to vaporize or melt materials with pinpoint accuracy, while waterjet cutting utilizes high-pressure streams of water mixed with abrasive particles. These methods allow for intricate and complex cuts that may be challenging or time-consuming with traditional saw blades.
More Insights, Lesser Cost (-50% off)
Insights on import/export production,
pricing analysis, and more – Only @ Fact.MR
Which Key Tactics are Start-ups Using to Gain Ground in This Competitive Market?
"Meeting Modern Needs and Focusing on Particular Niches Key to Success"
New companies entering the saw blades trade are employing certain strategies to carve out a competitive edge and achieve success in this dynamic industry. Newcomers are actively embracing and incorporating the latest technologies in blade materials, design, and manufacturing processes. By offering innovative and high-performance saw blades, they are capturing the attention of customers seeking cutting-edge solutions to enhance their efficiency and performance.
Identifying and catering to niche markets or specific applications can be a successful strategy for new entrants. Developing specialized saw blades optimized for certain industries or unique cutting tasks allows them to differentiate their offerings and target a specific customer base with distinct needs.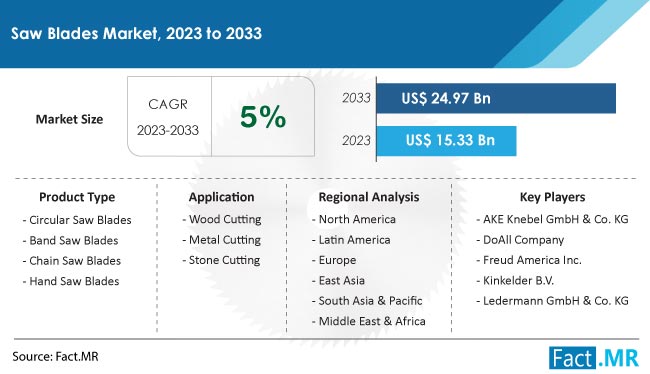 Country-wise Analysis
Why is the United States a Key Markey for Saw Blade Producers?
"Rapidly Increasing Construction & Woodworking Projects in the Country"
According to this industry analysis by Fact.MR, a market research and competitive intelligence provider, sales of saw blades in the United States are estimated to reach US$ 4.7 billion by 2033.
Construction and woodworking industries are significantly contributing to the high demand for saw blades. Additionally, the rise in DIY (Do-It-Yourself) culture and home renovation projects is boosting sales of saw blades in the country.
The country's rising commitment to sustainable practices is also influencing sales of eco-friendly and energy-efficient saw blades. This trend is increasing the consumption of saw blades produced from recycled materials.
What is Stimulating the Demand for Saw Blades in Germany?
"Continuous Innovations Increasing Popularity of German Cutting Technologies"
Germany is well-known for innovation, reflecting the country's robust engineering and manufacturing heritage. The country's strong industrial base, encompassing sectors such as automotive, aerospace, and precision engineering is increasing the adoption of saw blades. Demand for high-quality cutting tools, including saw blades, remains integral in maintaining Germany's position as a leader in precision manufacturing.
German manufacturers are pioneering advancements in blade materials and coatings, resulting in longer tool lifespans and enhanced cutting performance. This commitment to innovation is solidifying Germany's reputation for producing premium, reliable saw blades that cater to the needs of both domestic and international industries.
How is the Saw Blades Market Evolving in China?
"China's Advantage as Global Manufacturing Hub Increasing Adoption of Saw Blades"
Demand for saw blades in China is projected to reach a market value of US$ 5.6 billion by 2033.
China's rapid industrialization and urbanization are boosting sales of saw blades. The construction and manufacturing sectors, fuelled by urban development and infrastructure projects are major contributors to the increasing demand for saw blades.
The country's production of diverse products, from electronics to furniture is increasing the need for a wide array of cutting tools, propelling the demand for saw blades. The affordability and availability of these tools are further facilitating their widespread adoption.
Know thy Competitors
Competitive landscape highlights only certain players
Complete list available upon request
Category-wise Analysis
Which Sector Employs Saw Blades on a Large Scale?
"Wood Cutting Sector Leading Global Use of Saw Blades"
Wood cutting stands out as one of the primary and prevailing applications of saw blades, and its prominence is projected to persist in the saw blades sector globally over the next 10 years. The growing trend of wooden furniture and construction essentials is driving the adoption of saw blades.
Technological advancements in saw blades such as the creation of durable and sensor-embedded saw blades for cutting various types of wood are also contributing to their rising sales in the wood cutting industry. Thus, demand for saw blades is anticipated to continue to be primarily driven by the wood-cutting application sector over the forecast period.
Competitive Landscape
Top saw blade brands are highly investing in research and development activities to enhance the durability and efficiency of saw blades. They are consistently focusing on novel materials, refined manufacturing methodologies, and inventive designs to meet the ever-changing demands of their clientele.
In September 2022, The M. K. Morse Company introduced its fourth-generation Metal Devil circular saw blades, establishing a groundbreaking benchmark in cutting efficacy. The Metal Devil series presents a versatile selection of saw blades designed to flawlessly cut through metals such as titanium, stainless steel, and aluminium/non-ferrous materials, offering unparalleled blade longevity, swift and cool cutting, and exceptional surface refinement.
Key Segments of Saw Blades Industry Research
By Product Type :

Circular Saw Blades
Band Saw Blades
Chain Saw Blades
Hand Saw Blades
Others

By Material :

High Speed Steel
Carbon Steel
Carbide-tipped
Diamond-tipped

By Application :

Wood Cutting
Metal Cutting
Stone Cutting

By Region :

North America
Latin America
Europe
East Asia
South Asia & Oceania
MEA
- FAQs -
The global saw blades market is estimated at US$ 15.33 billion in 2023.
The market for saw blades is projected to reach US$ 24.97 billion by 2033.
Worldwide demand for saw blades is set to rise at a CAGR of 5% from 2023 to 2033.
Sales of saw blades in the United States are forecasted to reach US$ 4.7 billion by 2033.
The market in China is estimated to reach US$ 5.6 billion by the end of 2033.