Silicon Dioxide Market
Silicon Dioxide Market Analysis by Form (Amorphous, Quartz, Crystalline, Tridymite, Cristobalite), By Application (Adhesives & Sealants, Food Adhesives, Composites, Coatings, Greases, Printing & Packaging), By End-use Industry (Electrical, Food & Beverages, Chemicals, Pharmaceuticals) By Region – Global Market Insights 2023 to 2033
Analysis of Silicon Dioxide Market Covering 30+ Countries Including Analysis of US, Canada, UK, Germany, France, Nordics, GCC countries, Japan, Korea and many more
Silicon Dioxide Market Growth Outlook (2023 to 2033)
The global silicon dioxide market is valued at US$ 11.8 billion in 2023 and is forecasted to reach US$ 22.5 billion by the end of 2033, increasing at a CAGR of 6.6% over the next ten years.
High purity Silica, commonly referred to as silicon dioxide (SiO2), is one of the world's subtlest but most pervasive substances. It serves as a primary filler in numerous goods, including coating powder, optical fibers, semiconductor molding compounds, building materials, solar panels, and high-performance ceramics.
Mining for silicon dioxide is quite prevalent because there is so much of it on the planet Earth. It is a mineral that comes in a variety of shapes and textures. While some varieties of it are translucent, others are grey. In its unformed cluster of crystals in its natural condition, silicon dioxide has no discernible shape. Moreover, it has no smell and is a superior electrical conductor. Also, it keeps the circuitry and writing on electrical gadgets dry, which improves their performance and lengthens their lifespan.
Government regulations that are very strict on the use of silicon dioxide can be a significant constraint. Also, the cost of the raw materials utilized to produce silicon dioxide is relatively expensive. There are many silicon dioxide substitutes available, which has an impact on the product's demand. In addition, demand may shift as a result of adjustments made in the electronics and construction sectors.
A key American player in the international silicon dioxide market is Gelest Inc. It has made significant investments in R&D to become a leader in the sector. By enabling it to produce and promote items that are superior to what the competition is now able to provide, this has enabled it to establish a lasting competitive edge.
Due to the abundance of silica in its natural form, low-grade silicon dioxide or silica sand often known as industrial silica is seeing tremendous demand, especially in the building and construction sector. Many materials used in building manufacture are made from silica sand. When used with cement for making a concrete foundation, sand provides weight and strength. In a multi-step process, colloidal silica dioxide is most frequently created by partly neutralizing an alkali-silicate solution to create silica nuclei.
232,208 structures were built in 2020 as opposed to 222,678 buildings in 2019, marking an improvement in building construction of 4.10%, according to the Federal Statistics Office (Germany).
Report Attributes

Details

Silicon Dioxide Market Size 2022

US$ 11.08 Billion

Estimated Market Value (2023)

US$ 11.8 Billion

Projected Market Value (2033)

US$ 22.5 Billion

Global Market Growth Rate (2023 to 2033)

6.6% CAGR

Europe Market Growth Rate (2023 to 2023)

5% CAGR

Key Companies Profiled

Evonik Industries AG
Gelest Inc.
Merck KGaA
Metallic Minerals
Tosoh Silica Corporation
Cabot Corporation
American Elements
Wacker Chemie AG
Topken Materials
Don't Need a Global Report?
save 40%! on Country & Region specific reports
What are the Various Benefits of the Versatile Nature of Silicon Dioxide?
"Absence of Gluten Makes it Employable in Food & Beverage Sector"
The abundance of silicon dioxide is one of the key elements influencing the industry. It is adaptable and may be utilized in a range of tools and structures. Due to its many uses, silicon dioxide is now packaged in dry food products. Due to its capacity to absorb additional moisture and so protect components from clinging to one another, silicon dioxide is frequently employed as an anti-caking chemical in the food industry.
Because it lessens clumping, its principal use is in the manufacturing of salts, chili flakes, and other spices. Gluten is not present in silicon dioxide. Because of this, it is active in the production of many different dishes. Interestingly, proteins and yeast are removed from alcoholic beverages using silicon dioxide.
"Anti-caking Properties Make it Significant in Pharmaceutical Industry"
As silicon dioxide is both readily available and practical, it also acts as a significant driving factor. Silicon dioxide is used in a wide range of industries. Silica is commonly used in health supplements due to its similar properties because it prevents ingredient clump without interacting with other active ingredients. It is additionally useful as an anti-foaming agent to remove bacteria and protein from wine. Several health supplements also include the substance. The likelihood of an unintended negative interaction is decreased because these oils, pills, or powders do not adhere to one another.
The manufacturing of capsules and tablets is a big difficulty for the pharmaceutical sector, but fumed silica helps to improve qualities that make the process simpler. While producing tablets, fumed silica is employed in a variety of ways, including as anticaking compounds, adsorbent materials, disintegrants, and glidants to enable the silicon dioxide powder to flow easily during tablet processing. These substances seem to be non-bioactive. Its safety is broadly acknowledged by the FDA.
Long-term business prospects for market participants will result from the usage of silica slurry in implantable medical device polishing.
"Rapidly Rising Demand from Several Sectors"
The requirement for next-generation power semiconductor devices, particularly those produced with silicon carbide, is being fueled by the rise in electric vehicles. As a result, silicon carbide chip manufacturers such as ON Semiconductor (ON) and Wolfspeed are seeing increased interest (WOLF).
Compared to conventional silicon-based semiconductors, silicon carbide semiconductors typically function at substantially greater voltages, temperatures, and frequencies. They are therefore a superior option for applications such as solar energy conversion, 5G wireless, aerospace, and electric cars.
Silicon Technological Development Co., Ltd. Chifeng Shengsen - The company sells fumed silica, which is primarily utilized for rubber soles, opaque, thin rubber goods, and tire-related applications.
Is Silicon Dioxide Harmful if One is Exposed for a Long Period?
"Respiration Problems in Lungs Due to Excessive Inhalation of Crystalline Silica"
Breathing issues may result from prolonged exposure to silicon dioxide or from working with it. They result from lungs that have crystallized. Those who breathe in silicon dioxide crystals can develop crystallized lungs, in which the tiny sand particles get stuck in different parts of the lungs.
Because of this, glass manufacturers and mining industries are exploring alternatives. The businesses in the market for silicon dioxide are up against a significant obstacle. Several companies are investing in R&D activities. They need to figure out how to produce cheaper, safer forms of silicon dioxide.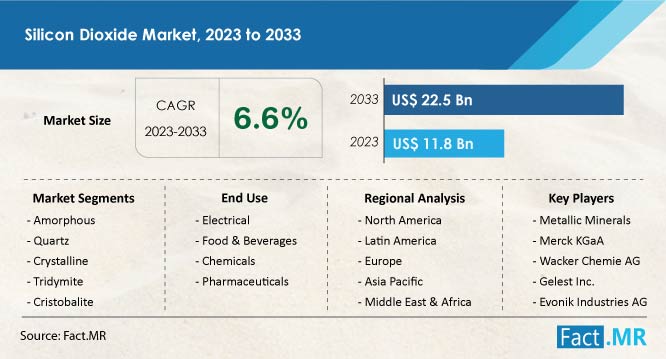 Country-wise Analysis
Which Type of Silica is Used in the Construction Sector in India and China?
"Nano Silica Vital Material Used in Concrete Materials"
Building and construction operations have increased significantly throughout developing countries, including China and India, as a result of rapid urbanization. The governments of these countries have started initiatives like "Housing for All," which involves building homes with contemporary amenities for residents of both urban and rural locations.
It is projected that demand for concrete would increase significantly throughout these countries. The demand for silicon dioxide nanoparticles is anticipated to increase from construction industries during the forecast period, which can be attributed to the increase in demand and production of concrete.
China's construction industry is expanding swiftly. Given that China and India dominate the silicon dioxide market for end-user industries including building and construction, electronics, and glass manufacturers.
China intends to invest US$1.43 trillion over five years, until 2025, in significant development projects. The National Development and Reform Commission (NDRC) estimates that the Shanghai plan will require an investment of US$ 38.7 billion over the following three years. Guangzhou, on the other hand, agreed to pay US$ 8.09 billion for 16 new infrastructure projects.
India is anticipated to invest about US$ 1.3 trillion in housing during the following seven years, with the construction of 60 million new dwellings. The percentage of affordable home availability is anticipated to rise by over 70% by 2024.
Why is Silica Gel Widely Used in the Packaging Industry in the United States?
"High Absorbing Properties of Silica Leads to High Usage in Packaged Goods"
Due to widespread utilization in a variety of industries and applications, such as pharmaceutical, packaging, electronic, and personal care items, the United States is anticipated to have a sizable market. Due to its capacity to absorb moisture and regulate moisture levels, silica gel is expected to continue to be in high demand in the U.S. silicon dioxide market.
Demand for silicon dioxide that is devoid of hazardous chemicals and can be disposed of securely has increased as a result of the trend toward natural and eco-friendly silicon dioxide products. This will probably continue to fuel the market's expansion in the United States. Silica gel will likely be used more frequently for moisture management in packaging as a result of the growth of e-commerce and the rising demand for packaged goods, which will further fuel market expansion.
The U.S. Census Bureau reports that in February 2020, 1,366,697 resident and non-residential structures were built countrywide, up from 1,288,951 buildings in 2019. This is an increase in building development of 6.03%.
More Insights, Lesser Cost (-50% off)
Insights on import/export production,
pricing analysis, and more – Only @ Fact.MR
Category-wise Analysis
Which Form of Silicon Dioxide is Most Widely Used?
"Wide Range of Variations in Quartz as Gemstones"
The solid, crystal mineral called quartz is made of silica (silicon dioxide). The atoms are united in a constant outline of SiO4 silicon-oxygen tetrahedra, providing the substance its overall chemical formula of SiO2. Each oxygen is shared by two tetrahedra. Quartz is the second most prevalent mineral in the planet's continental crust, right after feldspar. Such factors are expected to drive the growth of the silicon dioxide industry.
Crystal silica of the highest purity is utilized to make fused silica (quartz sand). Quartz comes in a wide range of variations, some of which are categorized as gemstones. Variations of quartz are among the most popular minerals for jewelry and hardstone carvings since antiquity, especially in Eurasia.
Why There is High Demand for Silica from the Electrical Industry?
"Silicon Carbide - Gold Dust for Chipmakers"
The electrical and electronics industry has a high demand for semiconductors. Meanwhile, the market for digital appliances is expanding tremendously, and due to customer demands, the industries of computers, electrical, and communications are always undergoing technological advancements.
In the world of power electronics, silicon is essential. Engineers utilize it to create gates, circuits, and switches. microchips, semiconductors, ICs, displays with liquid crystals, diodes, and many other products are among the numerous uses for purified silicon.
Competitive Landscape
A few of the main strategies employed by the predicted viewers for this industry include authorities, organizations, industrial agencies, suppliers and traders, consultation with chemical specialists, key players in the silicon dioxide market, Investors, and trade professionals.
To preserve their market dominance and broaden their global presence, the companies in the silicon dioxide market are adopting a variety of methods, including invention, building capacity, supply/distribution partnerships, and acquisitions and mergers.
To keep up with the rising demand, market participants are also continually boosting their R&D activities and manufacturing capacity to upsurge the sales of silicon dioxide. Players in the industry consider reduced operational expenses while retaining high-quality silicon dioxide as a critical aspect.
Oct. 2021: The source of Metallica Mineral's Cape Flattery silica sand scheme in Far North Queensland, Australia, has upgraded to 53.5 million tonnes with an in-situ silicon dioxide grade of 99.19 percent. Industrial mineral experts at Ausrocks projected a 40% increase in the reserve based on assay findings from the drilling campaign in August.
In the Gernsheim location of the German multinational science and technology company Merck, a new production line for effect pigments based on silica went into operation in September 2021. With about 750 people working there, it is the prime pigment manufacturing facility in the entire globe.
Know thy Competitors
Competitive landscape highlights only certain players
Complete list available upon request
Key Segments of Silicon Dioxide Industry Research
By Type :

Amorphous
Quartz
Crystalline
Tridymite
Cristobalite

By Application :

Adhesives & Sealants
Food Adhesives
Composites
Coatings
Greases
Printing & Packaging

By End-use Industry :

Electrical
Food & Beverages
Chemicals
Pharmaceuticals

By Region :

North America
Latin America
Europe
Asia Pacific & China
Middle East & Africa
- FAQs -
The global silicon dioxide market is valued at US$ 11.8 billion in 2023.
Global demand for silicon dioxide is projected to rise at a CAGR of 6.6% from 2023 to 2033.
The market for silicon dioxide is anticipated to reach US$ 22.5 billion by 2033.
Asia Pacific accounts for 49% share of the global market in 2023.
Evonik Industries AG, CEAT Tires, Merck KGaA, and Metallic Minerals are leading suppliers of silicon dioxide.