Silicon Carbide (Carborundum) Market
Silicon Carbide (Carborundum) Market by Type (Black SiC, Green SiC, Others (Coated, Metallurgical Briquettes, Micro Grit)), By End-use Industry (Electronics & Semiconductors, Steel & Energy, Aerospace & Aviation, Automotive, Others (Medical & Healthcare, Military & Defense, IT & Telecommunication)) By Region – Global Market Insights 2023 to 2033
Analysis of Silicon Carbide (Carborundum) Market covering 30+ Countries Including Analysis of US, Canada, UK, Germany, France, Nordics, GCC countries, Japan, Korea and many more
Silicon Carbide (Carborundum) Market Outlook (2023 to 2033)
The global silicon carbide (carborundum) market is valued at US$ 4.3 billion in 2023 and is forecasted to reach US$ 19 billion by the end of 2033, surging ahead at a CAGR of 16 % over the next ten years.
Silicon carbide, often known as carborundum, is a special combination made up of silicon and carbon. It occurs as the uncommon mineral moissanite and is one of the toughest materials on the market. Silicon carbide (SiC) is a stable and chemically inert compound that typically appears as a bluish-black, iridescent crystalline solid. However, during industrial manufacture, trace levels of iron or other impurities may be present. SiC is highly resistant to chemical reactions and possesses high thermal conductivity, high-temperature strength, and low thermal expansion.
During the projection period, the market is expected to race ahead as a result of the product's increased use in the production of refractory substances for the steel sector. Due to its endurance to high temperatures, silicon carbide is utilized as a raw material for refractory. The lining of kilns, furnaces, and reactors in numerous sectors, including cast iron, steel, aluminum, and metal, frequently uses refractory compounds.
The market for refractory materials is anticipated to be driven by the expansion in production in the aforementioned ferrous and non-ferrous industries. Global demand for Electric Vehicles (EV) is rising as a result of the quick uptake of zero-emission technologies, and the electronics industry is expanding quickly as a result of rising consumer electronics product demand.
The newly constructed USA Bay City plant's increased manufacturing capacity, estimated to be over 100,000 silicon carbide sheets annually, was announced by SK Siltron in May 2022.
Report Attributes

Details

Silicon Carbide Market Size (2022)

US$ 3.7 Billion

Estimated Market Value (2023)

US$ 4.3 Billion

Projected Market Value (2033)

US$ 19 Billion

Global Market Growth Rate (2023 to 2033)

16% CAGR

Asia Pacific Market Share (2022)

60% CAGR

Key Companies Profiled

Saint Gobain Ceramics Materials GmbH
Pacific Rundum
Norstel AB
Grindwell Norton Ltd
Gaddis Engineered Materials
Imerys
Tokai Carbon Co., Ltd.
Morgan Advanced Materials
Navarro SIC
Know thy Competitors
Competitive landscape highlights only certain players
Complete list available upon request
What are the Several Benefits of the Adaptability of Silicon Carbides?
"Exceptional Qualities of Carborundum for Use in Consumer Electronics"
Growth of the carborundum market is anticipated to be boosted by the electronics industry's rapid expansion as a result of rising consumer electronics product demand. Consumer electronics sales are increasing due to rising IT and home appliance innovation, an increase in online sales, the premiumization trend seen in various electronics products, and the rapid economic development in emerging cities.
The main engine driving the expansion of the carborundum market is the expanding electrical and electronics sector. As a result of its exceptional qualities, including chemical inertness, thermal shock resistance, abrasion resistance, and sinter ability, its use in a wide range of electronics applications has expanded. Additionally, rising smart device demand and quick IoT implementation are anticipated to support the market's revenue expansion.
"SiC-based Components in Electric Vehicles and Zero-Emission Technology"
Carborundum compound is used in many different automotive applications, including brake pads, abrasives, diesel particulate filters, bearings and worn parts, and more. A booming vehicle industry in developing countries is driving product demand. Furthermore, throughout the forecast period, the growth of silicon carbide is anticipated to pick up speed due to increased demand for electric vehicles as a result of decreased carbon emissions. Meanwhile, increasing applications in steel, foundry, aerospace & military, and other industries, are anticipated to propel the expansion of the worldwide carborundum market.
The automotive industry is another key driver of the silicon carbide market. SiC-based components are being increasingly adopted in electric and hybrid vehicles due to their high-power density, which allows for smaller, lighter, and more efficient power electronics systems. In addition, SiC-based components are being used in electric vehicle charging stations and inductive charging systems.
Demand for silicon carbide is anticipated to rise due to the quick adoption of zero-emission technology worldwide.
According to the International Energy Agency's (IEA) Global EV Outlook, 2021, there were almost 3 million electric vehicle sales worldwide in 2020 and a 41% rise in electric vehicle registrations. The United Nations (UN) decided to restrict the rise in global temperature to 1.5°C above pre-industrial periods in the Paris Agreement, and the rapid adoption of EVs over fuel-based cars may play a significant part in attaining this goal.
More Insights, Lesser Cost (-50% off)
Insights on import/export production,
pricing analysis, and more – Only @ Fact.MR
What are the Major Challenges Faced in the Production of Silicon Carbides?
"High Production Costs and Difficulties in Doping & Material Flaws in Substrates"
Silicon carbide is not a mineral that occurs naturally, it must be produced in a furnace. The materials are more costly than silicon and commercially produced under high temperatures. The decreasing number of fabrication facilities is one of the elements that lead to the elevated price of device fabrication for foundries. Doping in SiC manufacturing is challenging because of its chemical inertness and low diffusion coefficient. Current production techniques create different kinds of material flaws in SiC substrates.
"Presence of Gallium Nitride as Substitute"
Increasing demand for silicon carbide as a third-generation semiconductor component may be countered by the availability of substitutes such as gallium nitride, which possess similar properties such as the ability to withstand high voltage and high frequency, comparable bandwidth, and breakdown field.
Due to their superior material characteristics, such as a high essential electric field resulting in a minimum of 10 times greater breakdown voltage or 100 times reduced on-resistance than Si, wide bandgap semiconductors such as SiC & GaN power semiconductors have attracted a lot of attention in power applications.
Compared to SiC, gallium nitride (GaN) has a higher electron mobility, making it more appropriate for high-frequency applications. These elements are anticipated to limit the market's ability to increase its revenue.
GeneSiC Semiconductor Inc. introduced the 750V G3R SiC MOSFET on June 4, 2021, promising outstanding performance, quick switching times, and higher power density.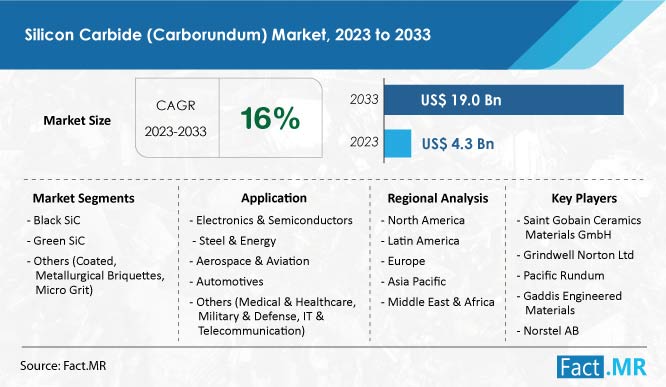 Country-wise Analysis
What are the Main Applications of Silicon Carbides in China?
"Increasing SiC Consumption in Production of Semiconductors and Refractories"
The need for improved and upgraded technology across numerous industries, including electronics, automotive, and defense, has increased throughout Asia, but especially in China, India, and Japan. Government initiatives and the region's dominance in the semiconductor industry suggest that the demand for carborundum will keep growing. With a volumetric share of 60%, Asia Pacific became the leading regional market in 2022.
China is a major user of semiconductors and is making an effort to enhance semiconductor production.
The Made in China 2029 strategy, an initiative by the Chinese government to increase the production of higher-value goods, highlighted semiconductors as a significant industry. Beijing, the capital of China, highlighted that China intends to produce 70% of the semiconductors it requires by the year 2029.
The market for silicon carbide is anticipated to grow in countries such as China and India since its consumption as a deoxidizing agent in the steel industry and as a key raw material in the production of refractories. Since power inverters are essential for efficient energy management, silicon carbide power modules, including inverters and MOSFETs, are becoming more and more necessary in electric vehicles. MOSFET use can lower energy losses and enhance the efficiency of electric cars.
The Indian government has taken several measures to boost domestic production of electronic components, such as the Production Linked Incentive Scheme (PLI), the Scheme for Promotion of Manufacturing of Electronic Components and Semiconductors (SPECS), and the Modified Electronics Manufacturing Clusters Scheme (EMC 2.0). In addition, on February 25, 2021, Silicon Power Corporation launched the first-ever silicon carbide fabrication facility of its kind in Gujarat, India, which is a significant step towards increasing the domestic production of electronic components
What is the Impact of the Presence of Major Vendors in the United States?
"Rapid Growth in Semiconductor Industry, Backed by Major Equipment Vendors and Government Analysis"
The market for silicon carbide in the United States includes various industries such as automotive, electronics, and energy, among others. It is a growing market due to the increasing demand for high-performance materials that offer superior properties such as high hardness, wear resistance, and thermal conductivity. The use of silicon carbide is also gaining popularity due to its ability to withstand high temperatures and harsh environments, making it suitable for a wide range of applications.
Due to the presence of major capital equipment vendors for semiconductors, who are essential components of the global supply chain, the market is anticipated to grow quickly in terms of revenue CAGR throughout the forecast period. A recent executive order signed by the United States government includes a thorough analysis of numerous risks connected to the semiconductor supply chain.
Some of the key players in the carborundum market in the United States include Cree Inc., Dow Chemical Co., Saint-Gobain Ceramics Materials, and AGSCO Corporation, among others. The market is expected to witness significant growth in the coming years, driven by factors such as increasing investment in renewable energy, rising adoption of electric vehicles, and growing demand for consumer electronics.
Know thy Competitors
Competitive landscape highlights only certain players
Complete list available upon request
Category-wise Analysis
Which Type of Carborundum is Used in the Manufacturing of Steel?
"Black Carborundum Dominates Global Market with Growing Support for Electric Arc Furnaces"
In 2022, the black SiC held a revenue share of more than 54%, dominating the global market. Various types of this product category are offered, including coated SiC, metallurgical SiC Briquettes, and micro-grit. Particularly in the techniques used to manufacture iron and steel using electric arc furnaces, the product's grain form is very well-liked. During the projection period, the expansion is likely to be aided by the growing support for the use of electric arc furnaces to encourage the reduction of the consumption of natural raw materials.
Black silicon carbide is a type of abrasive material made from silicon carbide, a compound of silicon and carbon. It is a hard and brittle material with a high melting point, and it is commonly consumed in applications that require high abrasion resistance, such as grinding, polishing, and cutting. Whereas, green Silicon Carbide's crystalline form is extremely robust. It is a high-purity silicon carbide due to its sharp-edged properties. Green SiC is perfect for abrasive applications that call for the removal of hard material.
Black silicon carbide is produced by heating silica sand and petroleum coke in an electric furnace to high temperatures. It has a black color due to the presence of iron and carbon impurities, which also give it its high hardness and toughness. Black silicon carbide is commonly used in the manufacture of grinding wheels, sandpaper, abrasive blasting media, and other carborundum products. It is also used in refractory SiC, carbide ceramics, and electronic components, among other applications.
Why is Carborundum in High Demand in the Electronics Industry?
"Growing Importance of Carborundum in Electronic Chips"Top of Form
In terms of revenue in 2022, the electrical and electronics segment led the market with a share of around 26%. It is anticipated that a significant factor in the growth will continue to be the product's growing importance in the creation of effective electronic chips. The product's outstanding qualities, such as its chemical stability, higher bandgap, high-frequency functioning, and resistivity at high temperatures, are likely to help it gain traction in the electrical and electronic industries.
A silicon and carbon-based semiconductor, carborundum. To create incredibly hard ceramics that are used in applications requiring long-term endurance, carborundum grains can be molded together. Carborundum is frequently used in the production of semiconductors due to its properties, including its capacity to operate at high temperatures and high voltages.
Competitive Landscape
Collaboration and strategic alliances are influencing the silicon carbide market. To be a leader in the industry, major players in the silicon carbide market are concentrating on forming alliances and working together to reduce costs and increase efficiency. They are also expanding their price strategies and extending their growth into new markets.
For instance :
In June 2020, Vitesco Technologies, a German company that deals with electric cars, and ROHM Semiconductor, a Japanese company that fabricates and develops semiconductor products, integrated circuits (ICs), and other electronic components, collaborated. Through this partnership, Vitesco Technologies increases the energy efficiency of electric vehicles by using silicon carbide parts from the ROHM Semiconductor.
UnitedSiC, a U.S. manufacturer of silicon carbide power semiconductors, was bought by Qorvo, a U.S. semiconductor business, in November 2021. With this agreement, Qorvo will have a bigger presence in markets that are rapidly expanding, such as circuit protection, electric vehicles (EVs), renewable energy, industrial power, and data center power.
Key Segments of Silicon Dioxide Industry Research
By Type :

Black SiC
Green SiC
Others (Coated, Metallurgical Briquettes, Micro Grit)

By End-use Industry :

Electronics & Semiconductors
Steel & Energy
Aerospace & Aviation
Automotive
Others (Medical & Healthcare, Military & Defense, IT & Telecommunication)

By Region :

North America
Latin America
Europe
Asia Pacific & China
Middle East & Africa
- FAQs -
The global silicon carbide market is valued at US$ 4.3 billion in 2023.
Global demand for silicon carbide is projected to rise at a CAGR of 16% from 2023 to 2033.
The market for carborundum is anticipated to reach US$ 19 billion by 2033.
Asia Pacific accounted for 60% share of the global market in 2022.
Gaddis Engineered Materials, Pacific Rundum, and Norstel AB are leading suppliers of silicon carbide.