Medical Grade Silicone Market Outlook (2020-2030)
The global Medical Grade Silicone Market will exhibit 6% CAGR during the forecast period of 2020 to 2030. Biocompatibility of medical grade silicone is making it highly sought-after for use in prosthetics and orthopedic components. Even as the COVID-19 outbreak causes significant disruptions, the market will gain impetus from increasing demand for masks, personal protection kits, face shields, and basic medical devices deemed necessary to restrict the spread of the virus.
Fact MR's report on the medical grade silicone market reveals that demand for silicone gel will continue rising through 2030. Regionally, North America will remain a dominant region for medical grade silicone, while demand in Asia Pacific is expected to pick up pace over the next decade.
Don't Need a Global Report?
Save 40% on Country & Region specific reports
Medical Grade Silicone Market Overview
Medical grade silicone is extensively used in various applications such as tubes, dental retainers, implants for long & short term use, respiratory masks, non-stick containers, menstrual cups, syringe pistons, seal & gasket, gel sheets for scar therapy, and others.
Biocompatibility and hydrophobicity properties of medial grade silicone make them the highly preferred choice for use in critical medical components such as defibrillators, heart pumps, and surgical reconstructive components. The rising incidence of cardiovascular diseases (CVDs) will continue fuelling the demand for these medical components.
According to the World Health Organization (WHO), CVDs are number 1 cause of deaths globally. Individuals with heart ailment or at risk of CVD demonstrates raised glucose, lipids, blood pressure, as well as obesity. Their treatment often requires the aforementioned medical components, which is expected to fuel demand for medical grade silicone market in the near future.
In addition to this, the demand for prosthetics and orthopedics devices is increasing rapidly which is directly impacting market growth in a positive way. Features such as light weight and appearance make silicone the perfect choice for production of prosthetics and orthopedics devices. On the back of these factors, global medical grade silicone market is projected to exhibit growth at a CAGR of around 6% over the forecast period 2020-2030.
However, fluctuations in raw material prices and stringent regulations are anticipated to act as growth restraints for global medical grade silicone market over the next decade.
Rising Demand for Medical Implants to Boost Market Growth
Medical implants find applications in different segments of healthcare sector. They play a crucial role in delivering medication, monitoring body functions, and providing support to organs and tissues.
Most commonly used medical grade silicone implants include dental, orthopedic, breast implants, optical and cardiovascular. Need for biocompatibility is the key factor responsible for fuelling the demand of medical grade silicones in the manufacturing of implants.
Rise in chronic ailments such as osteoarthritis, cardiovascular diseases, neuropathic diseases, and congenital disorders is driving the demand for medical implants in the recent past. According to the WHO, 9.6% men and 18.0% women aged 60 years and over have symptomatic osteoarthritis. This incidence is expected to rise over the forecast period, driving the global medical grade silicone market.
More Insights, Lesser Cost (-50% off)
Insights on import/export production,
pricing analysis, and more – Only @ Fact.MR
Surging Demand for Disposable Devices to Fuel Market Growth
Demand for disposable devices is on the rise. With this, the demand for liquid silicone rubber (LSR) is also increasing which is one of the swiftly growing segments of medical grades silicone. This trend is expected to continue over the forecast period, driving the global medical grade silicone marker further.
LSR exhibits several properties such as biocompatibility, clearness, chemical & bacterial resistance, and resistance to high temperatures which are attracting healthcare device providers towards it. These features are very critical when it comes to manufacturing of medical equipment parts that involve high accuracy.
Some of the medical equipment and components that are manufactured using LSR are sealing membranes, electric connectors, seals, infant care products such as bottle nipples among others.
Apart from this, LSR has fast curing abilities that act as another key driver for market growth.
Regional Outlook of Medical Grade Silicone Market
North America is expected to emerge as a lucrative market over the forecast period. Rapid growth of healthcare industry in countries such as the U.S. and Canada is expected to impact medical grade silicone market in a positive way.
According to Centers for Medicare & Medicaid Services (CMS), national health expenditure in the U.S. grew to US$3.8 Trillion in 2018 and is projected to grow at an annual rate of 5.4% in the next decade to reach around US$ 6.3 Trillion. Surging healthcare expenditure is expected to bode well for the North America market.
The regional growth of the market is also attributable to the rising usage of medical devices and consequent increase in production of medical devices components.
Asia Pacific is projected to witness significant growth over the forecast period of 2020-2030. According to a study conducted by the Organization for Economic Co-operation and Development (OECD), on average the Asia Pacific economies experienced annual growth in real health expenditure per capita of 6% over the 2006-10 and 2011-15 periods. Surge in healthcare expenditure in the region is anticipated to boost market growth of medical grade silicone market.
A recent study conducted by Healthcare Federation of India, NATHEALTH states that Indian medical devices market is expected to grow at a rapid rate of 15% in the next decade, fueled by government plans to achieve universal health insurance cover, initiatives like Make in India, and expansion by private healthcare firms. Expansion of the medical devices sector has helped in creating a conducive environment for the growth of the Asa Pacific
Apart from this, participation of private companies in the manufacture of medical devices and components in countries such as India, China, Singapore and Australia is anticipated to have a positive impact on the market. Some of the private firms involved in medical devices manufacturing in the region are Johnson & Johnson Medical India, Karl Storz Endoscopy India Private Limited and Medtronic India Private Limited among others.
Europe is expected to register sustainable growth during the next decade. Led by countries such as Germany and the UK, the region is predicted to emerge as a lucrative market for implants. Government initiatives to improve healthcare infrastructure and extensive usage of medical grade silicone in surgeries is expected to boost market growth in the region.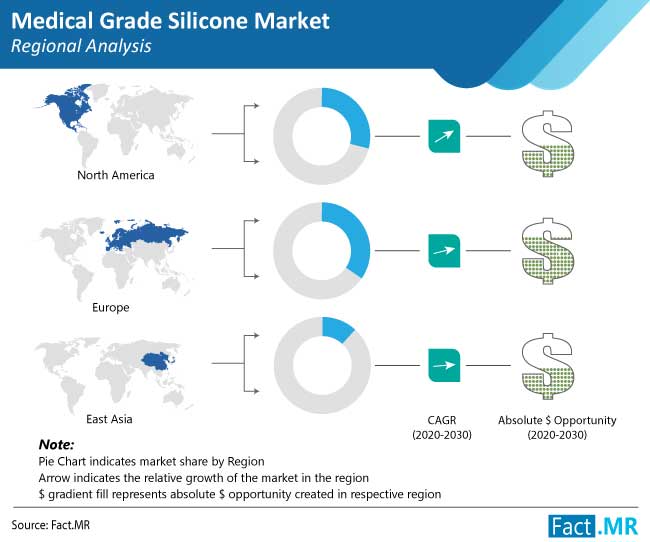 Medical Grade Silicone Market Insights by Product Form
Medical grade silicone market is segmented on the basis of product form into gels, medical adhesives, medical coatings, liquid silicone rubbers, and others.
Among these segments, silicone gel is expected to witness significant growth over the forecast period and emerge as the most lucrative product.
This growth is attributable to wide array of application of silicone gels in healthcare production, starting from prosthetics to implants among others.
Know thy Competitors
Competitive landscape highlights only certain players
Complete list available upon request
Medical Grade Silicone Market Insights by Application
Medical grade silicone market is segmented on the basis of applications into prosthetics, orthopaedic components, medical tapes, and other medical devices.
Out of these segments, prosthetics and orthopaedic are expected to emerge as most lucrative categories in terms of applications over the forecast period. These are also predicted to witness fastest growth among all the segments.
This growth is attributable to increasing cases of osteoporosis. The National Library of Medicines estimate that over 200 million people worldwide have osteoporosis and the prevalence of osteoporosis is expected to escalate with the increasingly elderly population.
Medical Grade Silicone Market: Competitive Insights
Presence of numerous manufacturers makes the global medical grade silicone market highly competitive. Companies are investing in research and development to come up with innovative product offerings to stay ahead in the market.
For instance, Medtronic has invested more than US$ 2 Bn in research and development in the past year. They have launched a center completely dedicated to research and development activities in the Indian subcontinent recently, Medtronic Engineering and Innovation Centre, Hyderabad (MEIC) which is a state of the art, IT-enabled, captive engineering R&D center in India.
Their latest product offering, Medtronic Intellis implant pairs with a Samsung tablet that runs the app that communicates with and helps control the device.
Other than this, market players are focusing on launching better quality products to gain competitive advantage. For instance, Dow Corning Corporation launched the strongest silicone soft skin adhesive called Dow Corning MG 7-1010 Soft Skin Adhesive. This product was specifically designed for wearable medical devices.
This silicone-based strong adhesive is expected to be suitable to sensible skin types. This new product launch has helped the company to expand their product portfolio.
The Analyst's Quote
"Several unique properties of medical grade silicone make them a preferred choice for use in different applications such as prefilled syringes, prosthetics, surgical implants, catheters, medical tapes, APIs, DDS, and others. Market has huge potential and opportunity for product innovations and technological advancements owing to these properties."
COVID 19 Impact on Medical Grade Silicone Market
COVID 19 pandemic has induced a surge in demand for medical supplies and devices globally. Rising cases worldwide have resulted in increased requirement of medical components and supplies such as masks, personal protection kits, face shields and basic medical devices to monitor and restrict the spread of the virus.
This has led to increased demand for medical grade silicone as it is used in personal protection kits and other medical devices necessary for treatment and diagnosis. Owing to this, the global medical grade silicone market has continued witnessing steady demand during lockdown period despite transport restrictions which made supply of raw materials and availability of labor a huge challenge.
Medical Grade Silicone Market – Segmentation
Fact.MR's research study assesses the global medical grade silicone market in terms of raw material, form, application and region. This report presents extensive market dynamics and trends associated with different segments of the market and their influence on the growth prospects of the global medical grade silicone market.
Product Form
Gels
Medical Adhesives
Medical Coatings
Liquid Silicone Rubbers
Others
Application
Prosthetics
Orthopedic Components
Medical Tapes
Other Medical Devices
Region
North America
Latin America
Europe
Asia Pacific
Middle East & Africa