Smartphone LiDAR Market
Smartphone LiDAR Market Size, Share, Trends, Growth & Forecast Analysis, By Technology (Android, iOS), By Region (Asia Pacific, North America, Latin America, Europe) - Global Market Insights 2022 to 2030
Analysis of Smartphone LiDAR Market Covering 30+ Countries Including Analysis of US, Canada, UK, Germany, France, Nordics, GCC countries, Japan, Korea and many more
Smartphone LiDAR Market Outlook (2022-2030)
The global smartphone LiDAR market has reached a valuation of US$ 1.63 billion in 2022 and is expected to race ahead at a CAGR of 17.8% to reach US$ 6.05 billion by the end of 2030. Owing to the high penetration of advanced smartphones, sales of smartphone LiDAR are is expected to grow 3.7X over the next eight years.
In the current phase of technological transformation, smartphones are being integrated with new technologies such as 5G mobile network technology with edge computing. This will create new opportunities in digital elevation modeling. The future of creating a Metaverse world, which is trending from smartphone developments to 5G, and Edge Computing with AI, will altogether improve the quality of the cameras in phones.
Moreover, the evolution of technologies in mobile phones has generated a trend to incorporate sensors. LiDAR sensors have changed the mobile landscape. LiDAR allows information to be collected in 360 degrees in 3D effect. LiDAR technology scans multiple reflections from the camera's sensors to produce a three-dimensional form of objects. These types of sensors were already incorporated into Android models for showing photographic modes such as portrait and night photography. Unlike traditional sensors, LiDAR sensors produce higher resolution and more accuracy.
Currently, smartphones with LiDAR sensors are primarily used to take better pictures by incorporating depth scanning techniques. However, this technology has a wide range of other applications and this will help open up new doors of opportunities. Increasing advertisements by manufacturers of LiDAR scanners for iOS devices and time-of-flight depth cameras (ToF cameras) for Android will propel the demand for smartphone LiDAR.
With the increase in the use of smartphone LiDAR for a diverse range of activities, it is anticipated that smartphone LiDAR demand will rise rapidly in the long run.
| Report Attributes | Details |
| --- | --- |
| Market Size (2021A) | US$ 642.6 Million |
| Estimated Market Value (2022E) | US$ 1.63 Billion |
| Forecasted Market Value (2030F) | US$ 6.05 Billion |
| Global Market Growth Rate (2022-2030) | 17.8% CAGR |
Know thy Competitors
Competitive landscape highlights only certain players
Complete list available upon request
LiDAR on a Smartphone – New Way to Capture 3D Data
Currently, the LiDAR system is not used in any Android phone. With Apple's inclusion of a LiDAR scanner in the iPhone 12 Pro, this technology is expected to rise over the coming years. Recognizing a person's face and creating a 3D model of the scene is one of the primary uses of LiDAR in smartphone cameras. LiDAR sensors are mainly used for taking better photos.
With the proliferation of detection sensors in smartphones, 3D scanning has become a transformative force in the real estate industry. Apple's inclusion of LiDAR sensors in its products has been a significant step in this growth. LiDAR is a pulsed laser that operates at nanosecond speeds and produces 3D models more accurately than a simple camera.
LiDAR and ToF Sensors Will Change the Path of Smartphones
The market for 3D sensors reached US$ 2.7 billion in 2021. Apple's use of technology in smartphones is the cause of this rapid growth of 3D sensors.
Smartphones' ToF sensors are different from other 3D-depth scanning technologies due to their small size. The ToF technology used in smartphones is comparatively less expensive and more compact. The addition of LiDAR sensors resulted in the evolution of mobile phones.
Besides its use in scientific and engineering fields, LiDAR has a wide range of applications in the evaluation of food quality, healthcare, and many more. LiDAR is integrated with technology to improve the quality of people's health. LIDAR is a technology that Apple intends to use to expand the augmented reality capabilities of its smartphones. However, the technology will also open the door to numerous other technological advancements that are generally of interest to healthcare providers.
For a range of patient-facing scenarios, including assessments of fall risk in the elderly, physical rehabilitation after surgery, and crib safety for babies, LIDAR has considerable potential to supplement current remote patient monitoring solutions.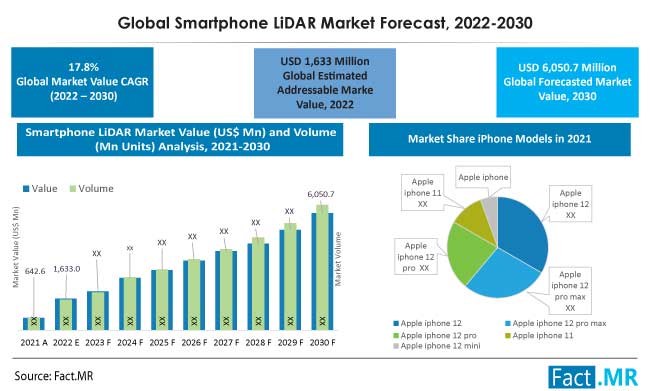 Could LiDAR Become a Necessity for Phones in the Future?
There are no LiDAR-capable Android phones available right now. A few Android devices have had LiDAR, but its use was abandoned due to the expensive price of LiDAR in smartphones and the lack of interest from users.
Smartphone manufacturers push into augmented reality and the importance of LiDAR will certainly increase. Apple has developed a challenging space for Android phones by tuning with LiDAR sensors and boosting the performance of AR apps. For functions such as tracking sleep and detecting when washing hands, Apple's smartwatch employs artificial intelligence and information from its sensors.
The Metaverse idea sparked a new understanding of 3D sensing in the market in 2022. Metaverse necessitates the use of 3D sensing technologies such as virtualized worlds and digitization, as well as virtual world interaction techniques such as eye and lip tracking.
Further, augmented reality is where LiDAR technology is most commonly deployed. Many businesses envision technologies that may combine real and virtual objects; for instance, augmented reality glasses that Facebook, Snapchat, Microsoft, and perhaps other companies such as Apple are developing. Thus, LiDAR technology is expected to dominate the smartphone market over the years ahead.
High Cost Coupled with Lack of Awareness Can Hinder Market Growth
Market expansion is thought to be limited by the high cost and lack of educated consumers. Lowering the expenses of implementing and planning for customer awareness and education programs, and determining the breadth of customer education is crucial. The cost of LiDAR systems has increased by both a lack of public understanding and the utilization of expensive system components, including high-resolution 3D cameras, laser scanners, and navigation systems.
For instance, iPhone procures LiDAR sensors for its models from Sony and LGIT, which cost approximately US$ 9 / unit. Further, when it is installed on the mobile, the iPhone adds the cost of the technology integrated on mobile to around US$ 80-100. Also, some third-party vendors sell iPhone's LiDAR for US$ 70 in the aftermarket.
Why Big Android Smartphone Manufacturers Such as Samsung Abandoned LiDAR Sensors in New Phones
Apple launched the LiDAR smartphone on a wide scale. Samsung followed suit by releasing 3D sensing in its Galaxy S10 5G, S20+, and ISOCELL Vizion 33D models in late 2019. This rare-facing LiDAR is used for camera focus and virtual reality applications. Later, due to high costs and low customer usage, Samsung scaled back its use of 3D sensing technology.
Rear-facing LIDAR was present in the Galaxy S10 5G S20 Ultra; however, it was removed for the S21 series. It is anticipated to be reintroduced anytime soon due to high investments in research and development in cost reduction, and this could also change the overall AR apps and games market.
Future uses of 3D sensing in the mobile industry could include augmented reality (AR) and the Metaverse, which will require technological advancements to enable human interaction with the virtualized world.
Which Country Accounts High Demand for Smartphone LiDAR?
China's market share in the smartphone industry drastically increased in the last decade. China has significantly increased its focus on R&D in manufacturing and developing high-technology products such as smartphones.
China accounted for 48.4% of mobile phones exported in the world in 2021. In the case of iPhone manufacturing, China holds nearly three-fourths of the total iPhone manufacturing capacity. Owing to this, China is driving the growth of the smartphone LiDAR market, as the iPhone is the main smartphone that comes with LiDAR at present.
China's market is estimated to expand at a high-value CAGR of 21.4% through 2030. This showcases the opportunity for smartphone LiDAR manufacturers to enter the Chinese markets with low-cost LiDAR offerings.
What is the Market Scenario of the India and Southeast Asia Smartphone LiDAR Markets?
In 2021, Asia Pacific countries accounted for 81.9% of total smartphone exports. The region exported an US$ 217.6 billion worth of mobile handsets. The Indian and South East Asian smartphone market is currently growing at a rapid pace and emerging as a smartphone manufacturing hub.
Due to the geopolitical tensions between the U.S. and the leadership of China and Chinese COVID-19 lockdowns, Apple started manufacturing iPhone 14s in India, transferring some production there for the first time. After China, India is the second-largest market for smartphones, and Apple has been assembling phones here since 2017. Also, Vietnam's manufacturing operations primarily concentrated on Android phone manufacturing.
Owing to these factors, India and South Asian countries such as Thailand and Indonesia have significant potential for smartphone LiDAR sales over the assessment period.
Which Smartphone LiDAR Type Holds a Dominant Market Share?
Smartphone LiDAR is categorized into two segments - smartphone LiDAR for Android and iOS. Currently, only iPhones come with LiDAR technology, and LiDAR for Android smartphones is in the development phase as this technology costs a lot and increases the overall price of the smartphone. Samsung and other smartphone manufacturers such as BBK Electronics, Huawei, etc., are investing heavily in LiDAR technology.
Further, Apple has launched a series of disruptive PC and smartphone products in history. It is expected that Apple will launch AR glasses in 2023, boosting the XR industry. Apple has already implemented the XR ecosystem, gradual promotion of AR experience, and consumer services cell phones.
Apple has accumulated most of its core technology patents via independent research and acquisition, which is a crucial assurance for Apple to enter the XR market.
In January 2020, Apple acquired 59 patents for augmented reality and 3D technologies for reconstruction. iPhone has over 330 important XR patents that have been filed thus far.
Similar developments in the Android space will drive the demand for smartphone LiDAR, which is expected to grow 3.7X by the end of 2030.
Don't Need a Global Report?
save 40%! on Country & Region specific reports
Competitive Landscape
iPhone procures LiDAR sensors for its models from prominent market players such as Sony and LGIT.
E-Con system, a leading camera company, launched a combination of Time-of-Flight (ToF) cameras with ToF depth sensors for object identification and depth measurement.
For next-generation devices to perceive and comprehend the world in three dimensions, depth sensing is a crucial feature. With Samsung's ISOCELL's pixel technology and high resolution, the sensor can precisely distinguish objects from the background.
Fact.MR has provided detailed information about the price points of key manufacturers in the smartphone LiDAR market positioned across regions, sales growth, production capacity, and speculative technological expansion in the recently published report.
- FAQs -
The global value of the smartphone LiDAR market is estimated at US$ 1.63 billion in 2022.
East Asia leads the global market for smartphone LiDAR accounting for more than three-fourths market share in 2022.
Demand for smartphone LiDAR is set to skyrocket at 17.8% CAGR through 2030.
Worldwide demand for smartphone LiDAR is anticipated to reach US$ 6.05 billion by 2030-end.