Texture Modifier Market
Texture Modifier Market Analysis By Product Type (Plant-/Animal-based (Starches, Guar Gum, Pectin, Gelatin, Alginates, Methylcellulose, Xanthan Gum, Lecithin), Synthetic (Ammonium Phosphates, Sodium Phosphates, Aluminum Phosphates, Calcium Phosphates, Phosphoric Acids, Sodium Polyphosphates)), By Form (Powder, Granular), By Application (Confectionary Products, Bakery Products, Dairy & Dairy Alternatives Products, Snacks, Canned Foods, Dry Food & Beverages, Meat & Meat Alternatives, Spreads & Dressings, Nutritional Supplements), & By Region – Global Market Insights 2023 to 2033
Analysis of Texture Modifier Market Covering 30+ Countries Including Analysis of US, Canada, UK, Germany, France, Nordics, GCC countries, Japan, Korea and many more
Texture Modifier Market Outlook (2023 to 2033)
The global texture modifier market is valued at US$ 1.04 billion in 2023 and is forecasted to reach US$ 1.88 billion by the end of 2033, expanding at a CAGR of 6.1% from 2023 to 2033.
Texture modifiers are commonly used to enhance the sensory experience of food products, improve their stability and shelf life, and create the desired textures. Texturizing chemicals are also used to provide creamy texture, transparency, dimension, density, and other qualities to improve food appearance.
A majority of food and beverage firms use food texturizing agents such as food binders and emulsifier agents due to their ability to limit the growth of microorganisms, increase shelf life, and most importantly, give food items a distinctive mouthfeel. Rapid expansion of various food cultures in the food and beverage business is being reflected by better palatability and taste enhancement of food items. The worldwide food and beverage industry is expanding and the increasing use of texture modifiers is expected to grow in the future.
Rheology modifiers are chemicals that change a material's rheological characteristics. They are included in formulations to boost viscosity and influence desired features and traits of the final product.
DuPont de Nemours, Inc. (US) introduced ACULYN Siltouch rheology modifiers in February 2019. The product provides viscosity and rapid thickening. It is highly adaptable and reasonably priced for applications in personal care products.
Report Attributes
Details

Texture Modifier Market Size (2022)

US$ 984.5 Million

Estimated Market Value (2023)

US$ 1.04 Billion

Forecasted Market Value (2033)

US$ 1.88 Billion

Global Market Growth Rate (2023 to 2033)

6.1% CAGR

Japan Market Value (2033)

117.07 Million

Japan Market Growth Rate (2023 to 2033)

6.8% CAGR

United Kingdom Market Value (2033)

134.07 Million

United Kingdom Market Growth Rate (2023 to 2033)

6.7% CAGR

Key Companies Profiled

Vertellus
Ajinomoto Co., Inc.
Innophos
Fujian Funingpu Gelatin Co., Ltd
Rama Gum Industries (India) Ltd
PT. Sinergi Multi Lestarindo
ADM (Archer-Daniels-Midland Company)
Danisco Planit
Cargill, Inc.
What's Influencing the Demand for Texture Modifiers Derived from Natural Sources?
"Growing Demand for Enhancing Texture & Flavor of Various Products"
There is growing demand for clean-label products and natural ingredients in the food, personal care, and pharmaceutical industries. Consumers are seeking texture modifiers derived from natural sources and are increasingly concerned about the presence of artificial or synthetic additives. This trend has led to the development and utilization of texture modifiers extracted from plant-based sources such as gums, starches, and proteins.
Consumers are increasingly seeking unique and novel textural experiences in their food and personal care products. This trend has prompted manufacturers to develop innovative flavor modifiers that can create new and exciting sensations. For example, texturizers that provide unique mouthfeel such as popping sensations, foaming textures, or chewy particles are being used in various products.
"Embracing Sustainable and Environment-friendly Solutions for Enhancing Sensory Attributes of Products"
Sustainability is a growing concern across industries and the market is no exception. There is an increasing emphasis on developing sustainable and environmentally friendly texture modifiers with minimal impact on the environment. This includes exploring biodegradable, renewable, and waste-utilizing ingredients as alternatives to conventional texture modifiers.
Texture has become a crucial element in product development as it significantly influences consumer perception and experience. Manufacturers are investing in research and development to understand and enhance the sensory attributes of their products through texture modifiers. This includes optimizing the texture for specific consumer segments such as elderly or dysphagia patients who require modified textures for easier swallowing.
Don't Need a Global Report?
save 40%! on Country & Region specific reports
What's Restraining the Growth of the Texture Modifier Market?
"Stringent Regulations and Safety Concerns Related to Use of Additives"
The market is subject to strict regulations regarding the use of additives in different industries. Compliance with regulations related to safety, labeling, and permissible usage levels can pose challenges for manufacturers, limiting the availability of certain texture modifiers.
Issues such as allergies, intolerances, or perceived adverse effects on health can influence consumer perception and demand. Manufacturers need to address these concerns through thorough safety assessments, clear labeling, and transparent communication to maintain consumer trust.
"Limited Source Availability and Fluctuating Prices of Texture Modifiers"
Certain natural texture modifiers may have limited availability due to factors such as seasonal variations, geographical restrictions, or supply chain challenges. This can result in fluctuations in prices and limited access to specific ingredients. Companies in the texture modifier market may need to explore alternative sources or develop sustainable cultivation practices to ensure a stable supply of natural texture modifiers.
High costs associated with research, development, sourcing, and production of texture modifiers can pose challenges for key producers of texture modifiers, particularly for small and medium-sized enterprises.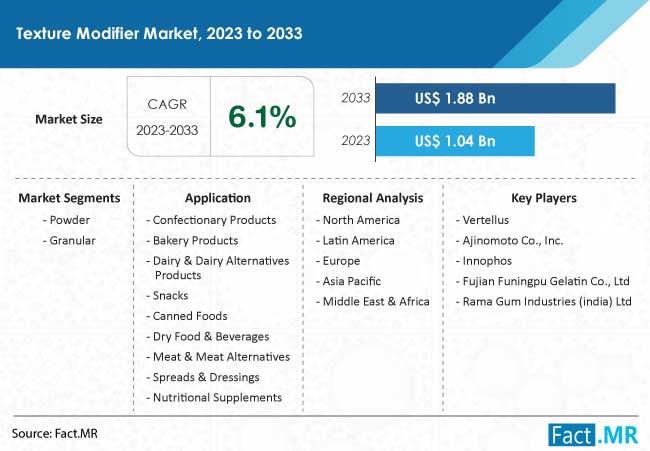 Country-wise Insights
What's Fueling the Sales of Texture Modifiers in the United States?
"Innovations in Food Plating and Increasing Demand for Texture Modifiers from Diverse Industries"
Sales of texture modifiers in the United States are forecasted to reach a valuation of US$ 436.21 million by 2033, rising positively at a CAGR of 6.4% from 2023 to 2023.
The United States market is expected to experience significant growth, primarily driven by the rising demand from diverse industries such as processed food, nutraceutical, and consumer goods.
Primary texturing agents used in foods served in restaurants not only provide texture but also offer several benefits in food processing such as enhancing the appeal and palatability of food with the use of color modifiers. The global food texture market is further driven by the increasing demand for processed foods across various industries, including bakery, confectionery, convenience foods, and dairy.
Which Factor is Driving the Market for Texture Modifiers in China?
"Changing Lifestyles and Rising Urbanization Driving Demand for Texture Modifiers"
The Chinese market is expected to reach a value worth US$ 489.08 million by 2033, experiencing a CAGR of 6.9% over the forecast period.
Rising urbanization and changing lifestyles in countries such as China have boosted the demand for ready-to-eat and quick meals. Shifting consumer preferences toward different food textures are driving the market for food products with enhanced textures.
Demand for texture modifiers in China is driven by the necessity for food manufacturers to create distinctive taste modifiers in their goods to satisfy customer tastes and preferences.
More Insights, Lesser Cost (-50% off)
Insights on import/export production,
pricing analysis, and more – Only @ Fact.MR
Category-wise Insights
How are Plant-/Animal-based Products Influencing the Texture Modifier Market?
"Rising Importance of Gelatin Derived from Plants and Animals in Production of Texture Modifiers"
Application of plant-/animal-based products in the market is expected to grow at a CAGR of 7% over the forecasted period.
Texture modifiers play a crucial role in enhancing the texture and mouthfeel of various food and product formulations. These modifiers can be derived from either plants or animals, offering a range of options for achieving desired texture properties.
One example of a texture modifier that can be derived from both plants and animals is gelatin. Gelatin is a protein obtained from the collagen found in animal bones, skin, and connective tissues. It is commonly used in food and other products to add texture such as thickening or gelling properties.
On the plant-based side, there are several options available as well. One popular plant-based texture modifier is agar-agar, which is derived from seaweed. Agar-agar is often used as a vegetarian or vegan alternative to gelatin as it can provide similar gelling properties.
Other plant-based texture modifiers include pectin, which is derived from fruits and used as a thickening agent, and xanthan gum, which is produced by fermenting sugars with specific bacteria and is commonly used as a stabilizer and thickening agent in food products.
From Which Source are Powdered Texture Modifiers Derived?
"Powdered Texture Modifiers Derived from Plants and Animals"
Sales of powdered texture modifiers are expected to increase at a CAGR of 6.9% from 2022 to 2033.
When it comes to texture modifiers in powder form, there are several options available that can be derived from both plants and animals. Modified starches are derived from various plant sources such as corn, potato, and tapioca. They are processed to enhance their thickening and stabilizing properties and are available in powder form. Modified starches are commonly used in soups, sauces, and baked goods.
Cellulose, derived from plant fibers, can also be processed into a fine powder form. It is often used as a bulking agent to improve the texture and mouthfeel of food products. Collagen peptides, derived from animal sources like bones and skin, can also be processed into a fine powder. They are often used as a protein supplement and provide texture-enhancing properties to certain food and beverages.
Competitive Landscape
The market for texture modifiers is highly competitive with few big and small businesses controlling the majority of market revenue. Major players are using a variety of tactics, engaging in mergers and acquisitions, strategic agreements, and contracts, as well as creating and launching more efficient products.
Market participants who supply cutting-edge and specialized food texturizers are progressively expanding their market shares. For this industry to continue growing, an application-specific strategy and product mix are essential.
In 2020, DuPont de Nemours, Inc. introduced Danisco Planit, an innovative line of plant-based texturizers. These texturizers are derived from non-GMO soy, beans, and other plant-based materials and are intended to offer the same function and texture as conventional animal-based ingredients.
Know thy Competitors
Competitive landscape highlights only certain players
Complete list available upon request
Key Segments of Texture Modifier Industry Research
By Product Type :

Plant-/Animal-based

Starches
Guar Gum
Pectin
Gelatin
Alginates
Methylcellulose
Xanthan Gum
Lecithin

Synthetic

Ammonium Phosphates
Sodium Phosphates
Aluminum Phosphates
Calcium Phosphates
Phosphoric Acids
Sodium Polyphosphates

By Form :

By Application :

Confectionery Products
Bakery Products
Dairy & Dairy Alternative Products
Snacks
Canned Foods
Dry Food & Beverages
Meat & Meat Alternatives
Spreads & Dressings
Nutritional Supplements

By Region :

North America
Latin America
Europe
Asia Pacific
Middle East & Africa
- FAQs -
The global texture modifier market is valued at US$ 1.04 billion in 2023.
Worldwide demand for texture modifiers is set to increase at a CAGR of 6.1% from 2023 to 2033.
Sales of texture modifiers are set to reach a market value of US$ 1.88 billion by 2033.
The market in Japan is forecasted to expand at a CAGR of 6.8% through 2033.
The German market is predicted to reach US$ 243.59 million by the end of 2033.