Titanium Ore Market
Titanium Ore Market Analysis By Type (Rutile, Ilmenite, Leucoxene), By Application (Metal, Pigments, Coatings & Linings, Welding Electrodes), By End-use Industry (Aerospace, Healthcare, Automotive) & By Region - Global Market Insights 2023 to 2033
Analysis of Titanium Ore Market Covering 30+ Countries Including Analysis of US, Canada, UK, Germany, France, Nordics, GCC countries, Japan, Korea and many more
Titanium Ore Market Outlook (2023 to 2033)
The global titanium ore market is valued at US$ 7.51 billion in 2023 and is projected to reach US$ 14.77 billion by 2033. Worldwide demand for titanium ore is forecasted to increase at a CAGR of 7% during the next 10 years.
Titanium ore is a naturally occurring mineral deposit that contains titanium dioxide (TiO2) and other valuable minerals. Titanium is a lightweight, strong, and corrosion-resistant metal with various industrial applications, making it a highly sought-after material.
Titanium's exceptional strength-to-weight ratio and corrosion resistance make it ideal for aerospace and defense applications. It is used in aircraft components, spacecraft, missiles, and military equipment, contributing to the rising demand for titanium ore. Titanium is biocompatible, it is not harmful to living tissues and is widely used in medical implants such as joint replacements, dental implants, and surgical instruments. Demand for titanium in the healthcare sector is likely to grow swiftly over the forecast period due to ongoing several advancements in medical technologies and the increasing global population, which is prone to several chronic disorders.
Rutile, ilmenite, and leucoxene are some of the types of titanium ore. Demand for ilmenite titanium ore is high primarily because of its significance in the production of titanium dioxide (TiO2). Titanium dioxide is one of the most widely used white pigments in various industrial and consumer products due to its exceptional opacity, brightness, and UV resistance.
Ilmenite is a major source of titanium dioxide. Through a chemical process called the sulfate process or the chloride process, ilmenite is transformed into titanium dioxide pigment, which is then used in paints, coatings, plastics, paper, inks, and a wide range of other products. The paint and coatings industry accounts for a significant portion of titanium dioxide consumption.
As economies grow and urbanization expands, there is a high demand for construction materials and infrastructure development. Titanium dioxide is used in paints and coatings for buildings, bridges, roads, and other infrastructure, driving the demand for ilmenite as a raw material.
Report Attributes
Details

Titanium Ore Market Size (2023E)

US$ 7.51 Billion

Forecasted Market Value (2033F)

US$ 14.77 Billion

Global Market Growth Rate (2023 to 2033)

7% CAGR

Leading Regional Market

North America

Emerging Regional Market

Asia Pacific

Key Companies Profiled

Hatch Ltd
Iluka Resource Limited
Tronox Holdings plc
Toho Titanium Co., Ltd
Rio Tinto
Kenmare Resources plc
Yucheng Jinhe Industrial Co. Ltd
Mishra Dhatu Nigam Limited
The Chemours Company
Don't Need a Global Report?
save 40%! on Country & Region specific reports
Which Market Trends are Stimulating the Demand for Titanium Ore?
"Titanium's Weight Reduction Revolution Fueling Efficiency of Automobiles"
Automakers have been increasingly focusing on reducing the weight of vehicles to improve fuel efficiency and lower emissions. Titanium's high strength-to-weight ratio makes it an attractive material for lightweight applications in automotive components. Titanium's excellent mechanical properties such as high strength and corrosion resistance, make it suitable for critical automotive parts that require superior performance and long-lasting durability.
Stricter emission regulations have been driving the automotive industry to seek innovative ways to improve engine efficiency. Titanium can be used in exhaust systems and other engine components to help reduce weight and enhance thermal properties, contributing to enhanced overall performance and emission control. Titanium is more prevalent in high-performance sports cars and luxury vehicles. These segments are willing to adopt advanced materials to improve performance and cater to a niche market of enthusiasts willing to pay a premium for cutting-edge technologies.
Advancements in manufacturing technologies such as additive manufacturing (3D printing) have made it easier to incorporate titanium into automotive components. This is expanding the potential applications of titanium in the automotive sector. Titanium dioxide nanomaterials are widely used in automotive paints and coatings. Titanium dioxide nanoparticles are used in the coatings of shipping vessels. All such factors are boosting demand for titanium ores.
"Biocompatible Titanium-Perfect Match for Bones & Tissues"
Titanium is highly biocompatible, which means that it may blend in nicely with bone and tissue without triggering negative reactions or rejection. This quality makes it an ideal material for pacemakers, dental implants, and other medical equipment including joint replacements.
Increasing global aging population is primarily boosting the demand for medical treatments and surgeries that often require titanium-based implants. Older people who are more prone to several chronic disorders may require joint replacements or other medical devices that use titanium to maintain their quality of life. Titanium implants have demonstrated long-term positive patient outcomes, leading to high confidence among healthcare professionals in using titanium-based devices, thereby driving the titanium industry's size.
Rapidly developing healthcare infrastructure across several regions is boosting the accessibility and affordability of medical treatments that involve titanium-based devices, uplifting the titanium ore market size. The use of titanium in the healthcare industry is not limited to implants alone. It is also used in surgical instruments, medical equipment, and diagnostic devices. As new applications are discovered and developed, demand for titanium ore is expected to rise rapidly during the projected period.
What Can Hurt the Sales Growth of Titanium Ore to Some Extent?
"High Operational Cost and Availability of Substitute Materials"
The titanium market has historically experienced price fluctuations due to changes in supply and demand dynamics, geopolitical factors, and global economic conditions. Such volatility deters potential investors and makes long-term planning challenging for industry players.
Titanium ore extraction and processing is complex and expensive. High production costs limit the profitability of operations, hindering the growth of the titanium ore market, especially in regions with stringent environmental regulations. The highest-quality titanium ores are relatively scarce, which constrains the overall supply of titanium metal. As demand is growing, securing a stable supply of high-grade ores is becoming a challenge.
While titanium is widely regarded for its exceptional properties, including high strength-to-weight ratio, corrosion resistance, and biocompatibility, it is not the only material choice for various applications in industries such as aerospace, automotive, and healthcare. Several alternative materials such as stainless steel, aluminium, and carbon composites exist that can serve as substitutes for titanium, presenting a competitive challenge to the titanium market in specific use cases.
Besides, finding new titanium ore mines and expanding existing titanium ore mining operations involve significant lead times and investments. Thus, all the above-mentioned aspects are hampering sales of titanium ore.
More Insights, Lesser Cost (-50% off)
Insights on import/export production,
pricing analysis, and more – Only @ Fact.MR
Why is the Titanium Ore Industry Set to Be a Lucrative Space for Start-ups?
"Unleashing Modern Technology in Titanium Mining Aiding New Companies in Earning More"
Entering the titanium ore industry as a newcomer can be a rewarding venture, considering the increasing demand for titanium and its diverse applications. To capitalize on opportunities and maximize earnings, newcomers are employing several strategies:
Niche Market Focus: New market players should continually explore and develop new materials and composites to meet evolving demands and optimize performance in various applications. They should identify specific niches where demand is high and competition is relatively low. Targeting industries or applications with unique requirements for titanium ore such as aerospace, healthcare, or advanced manufacturing aid newcomers in grabbing potential opportunities in the market.
Partnerships and Alliances: New entrants should collaborate with established players in the titanium industry or related sectors to gain access to resources, expertise, and distribution channels. Partnerships help newcomers to fast-track market entry and expand their reach.
Investments in Technology: New entrants are embracing modern technologies such as advanced mining and processing techniques to improve efficiency, reduce costs, and enhance the quality of titanium ore products.
Quality and Certification: Newcomers are focusing on maintaining high-quality standards and obtaining relevant certifications for their titanium ore products. Quality assurance and compliance with industry standards instill confidence in potential buyers.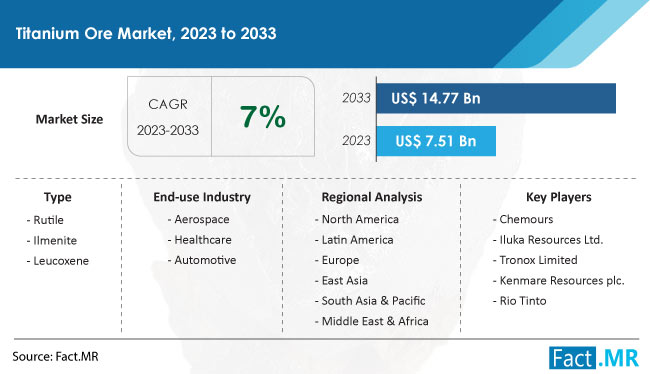 Country-wise Analysis
What are the Lucrative Opportunities Present for Titanium Ore Suppliers in the United States?
"Titanium Powering United States Aerospace & Defense Sectors"
As per this new report by Fact.MR, a market research and competitive intelligence provider, the United States is one of the largest consumers of titanium ore due to its thriving aerospace, defense, and industrial sectors. Demand for titanium oxide ore is growing rapidly in the country. The unique properties of titanium, including its high strength, low density, and excellent corrosion resistance, have made it an indispensable material in various critical applications.
In the aerospace industry, titanium's remarkable strength-to-weight ratio has proved instrumental in the production of aircraft components. From structural elements to engine parts and landing gear, titanium's use is contributing to lighter and more fuel-efficient aircraft, reducing operational costs and environmental impacts.
Similarly, the defense sector in the United States heavily relies on titanium for its military applications. Titanium's strength, durability, and ability to withstand harsh environments make it an ideal choice for manufacturing military aircraft, naval vessels, and armoured vehicles.
Why are We Seeing Rising Use of Titanium Ore in Germany?
"Rising Demand for Titanium-based Paints & Coatings for Architectural Marvels in Shielding and Embellishing German Structures"
Germany's strong presence in the automotive and aerospace industries is driving a consistent demand for titanium ore, particularly for lightweight components and advanced materials. German companies have been at the forefront of research and development in titanium-related technologies, enhancing efficiency and expanding potential applications.
Presently, titanium plates, rods, and sheets are gaining popularity in the construction industry owing to their remarkable strength and durability. These robust titanium materials are extensively utilized in building construction, enhancing the overall structural integrity.
Within the architectural domain, decorative and protective coatings such as paints and coatings play a crucial role. Notably, Germany stands as a prominent hub for Europe's paints and coatings market. Consequently, the burgeoning construction sector in the country is escalating the demand for titanium-based alloys and pigments, further fueling the adoption of these innovative materials.
What is Contributing to the Growth of Japanese Titanium Ore Market?
"Titanium Ore Production Facilitating Japan's Quest for Self-sufficiency"
Japan's industrial sector is exploring new applications of titanium, especially in electronics, medical devices, and renewable energy technologies, driving incremental demand. In the electronics industry, titanium's exceptional properties such as its high durability and resistance to corrosion have made it a sought-after material for electronic components. Its use extends to smartphones, laptops, and other portable devices, where lightweight yet durable materials are crucial for enhancing performance and user experience.
Japan is also striving to reduce its reliance on titanium ore imports by developing domestic sources and refining technologies, aiming to enhance self-sufficiency. The country has been investing in research and development activities to develop domestic sources of titanium, including exploration of potential mining sites. Additionally, advancements in refining technologies are being pursued to optimize the extraction and processing of titanium from local reserves.
Know thy Competitors
Competitive landscape highlights only certain players
Complete list available upon request
Category-wise Analysis
Which Sectors Widely Utilize Titanium Ore Pigments?
"Application of Titanium Ore Pigments Rising in Construction and Automotive Painting"
Titanium dioxide (TiO2) holds a pivotal role in manufacturing pigments used for paints and coatings. As the construction and automotive sectors are developing rapidly, demand for paints and coatings is increasing, which is driving the need for titanium ore. Renowned for its exceptional opacity, brightness, and colour retention, titanium dioxide is becoming the preferred choice for producing high-quality pigments.
Worldwide urbanization and infrastructure development projects act as key catalysts in propelling the titanium ore industry's growth. The rising tide of construction activities and renovations, spanning residential buildings, commercial complexes, industrial facilities, bridges, etc., is driving the demand for titanium-based paints and coatings.
The consumer landscape is witnessing a rising inclination toward eco-friendly products, driving the demand for water-based and low-VOC (volatile organic compound) paints. Titanium dioxide-based pigments emerge as a fitting choice for such formulations, providing high opacity and brightness without contributing to harmful emissions.
Competitive Landscape
Top titanium ore producers are expanding their product portfolios to offer a wide range of titanium-based products, including not only raw ore but also processed titanium materials, alloys, and finished products such as titanium plates, rods, and sheets. This diversification allows them to cater to different industries and customer needs, capturing a broader market share.
Forming strategic alliances with other industry players or research institutions is leading to valuable collaborations, sharing of expertise, and joint ventures that facilitate growth and innovation, benefitting market players' pockets.
With the opening of its newest sand mine in Florida in August 2022, Chemours was able to expand the production of titanium oxide. Ilmenite is anticipated to be obtained by Chemours from the mine to be utilized in their chloride-based TiO2 manufacturing process. The expected mining life of the site is eight years.
Key Segments of Titanium Ore Industry Research
By Type :

Rutile
Ilmenite
Leucoxene

By Application :

Metal
Pigments
Coatings & Linings
Welding Electrodes

By End-use Industry :

Aerospace
Healthcare
Automotive

By Region :

North America
Latin America
Europe
East Asia
South Asia & Oceania
MEA
- FAQs -
The global titanium ore market valuation stands at US$ 7.51 billion in 2023.
The market for titanium ore is projected to reach US$ 14.77 billion by 2033.
Demand for titanium ore is predicted to expand at a CAGR of 7% from 2023 to 2033.
Some of the leading manufacturers of titanium ore are Iluka Resource Limited, Tronox Holdings plc, Toho Titanium Co., Ltd, and Rio Tinto.
The United States holds a leading position in the global market for titanium ore due to its extensive use in the aerospace and defense sectors.