Titanium Dioxide Nanoparticles Market
Demand for Titanium Dioxide Nanoparticles in Cosmetics to Surge the Sales of Titanium Dioxide Nanoparticles during 2021-2031
FACT4837MR
Sep-2021

List of Tables : 98

List of Figures : 143

170 Pages
Market Outlook for Titanium Dioxide Nanoparticles
As per Fact.MR's industry analysis, the titanium dioxide nanoparticles market is anticipated to reach a valuation of US$ 28 Bn by 2031, expanding at a CAGR of 6% over the next ten years.
Increasing demand for titanium dioxide nanoparticles is attributed to the rise of multilayer ceramic capacitors (MLCCs), which are being extensively used in electronic devices such as televisions, mobile phones, and others.
Apart from electrical and electronics applications, titanium dioxide nanoparticles come into play in improving the whitening and brightening properties of personal care products. Moreover, titanium dioxide nanoparticles are used in manufacturing SCR (selective catalyst reduction) catalysts.
Avail customized purchase options for your needs
Consumption Analysis of Titanium Dioxide Nanoparticles from 2016 to 2020 Vs Demand Outlook for 2021 to 2031
As per Fact.MR – a market research and competitive intelligence provider, the global titanium dioxide nanoparticles market was valued at US$ 17 Bn in 2020, and is expected to expand at a CAGR of 6% across the forecast period of 2021 to 2031.
The global nanoparticle titanium dioxide industry is a niche market and demand for these materials is expected to gain strong momentum over the coming years. Demand will especially arise from industries such as plastics, paints and pigments, printing inks, catalysts, paper, cosmetics, and glass. Demand for nanoparticle titanium dioxide is estimated to be more from Asia Pacific.
Surge in the use of cosmetics is one of the drivers of the global market. Growing use of plastic for the manufacturing of toys and various other objects will help drive demand for nanoparticle titanium dioxide. The trend of lightweight vehicles is also expected to benefit the market as demand for polycarbonate is expected to increase in place of glass or metal.
Titanium dioxide is extensively used to coat polycarbonate, and thus, will drive market growth over coming years. A surge in construction activities across countries will also bolster the demand for titanium dioxide. Growth in construction activities will drive the demand for paints and coatings, and this in turn will benefit the market for nanoparticle titanium dioxide.
How is Increased Use of Ultrafine Particles of Titanium Dioxide in Cosmetics and Construction Industries Driving Market Growth?
Ultrafine titanium dioxide, also called nanoscale titanium dioxide, has a particle size of less than 100 nm. Ultrafine nanomaterial titanium dioxide has properties such as excellent transparency, better dispersibility, and more effective ultraviolet (UV) scattering and absorbing properties.
UV radiations released by the sun are in two wavelengths: UVA and UVB. These UV radiations are harmful to the skin and cause sunburn, cancer, and other problems. Ultrafine titanium dioxide is used in various applications in the cosmetics industry, such as in creams, loose and pressed powders, eyeshadows, blush, and sunscreens.
The ultrafine nanoparticles of titanium dioxide provide a flawless effect, better protection against harmful sun rays, and brightness. Hence, production of nanoparticle titanium dioxide has increased significantly across the world.
Application of titanium dioxide nanoparticles in the construction industry is also rapidly increasing. Construction materials are combined with titanium photocatalyst to improve self-cleaning, antibacterial action, air purification, and pollution resistance. Nanoparticles of titanium dioxide are primarily used in the construction industry across the U.S., Germany, China, and Spain.
As such, global titanium dioxide nanoparticle demand is set to rise further over the coming years.
An Adaptive Approach to Modern-day Research Needs
What are the Latest Trends Related to Titanium Dioxide Nanoparticles?
Demand for titanium dioxide nanomaterials in cosmetics has increased over the past few years. Titanium dioxide is a fine white powder that occurs naturally. It is also UV-resistant, and is used widely in sunscreens and pigments that are likely to be exposed to light.
Titanium dioxide is used in a wide variety of personal care products, including colour cosmetics such as eye shadow and blush, and loose and pressed powders. Use of titanium dioxide nanomaterials in sunscreens has become one of the latest trends in the cosmetics industry.
Use of titanium dioxide nanomaterials in surface coatings has also gained traction in the coating industry. Titanium dioxide has emerged as the most important white pigment used in the coatings industry. It is widely used because it efficiently scatters visible light, thereby imparting whiteness, brightness and opacity when incorporated into a coating.
Hence, demand for titanium dioxide nanomaterials in the paints and coatings industry is expected to rise further over the analysis period. This will, in turn, increase demand for nanoparticle titanium dioxide from pigment manufacturers as well.
Demand for titanium dioxide nanomaterials in plastics manufacturing is also one of the latest rapidly rising trends in the market. It is widely used because it efficiently scatters visible and absorbs UV light, thereby imparting whiteness, brightness, and opacity when incorporated into a plastic.
Demand for nanoparticle titanium dioxide as additive in engine oil has also increased. Mixing titanium dioxide nanoparticles in engine oil significantly reduces the friction and wear rate and hence improves the lubricating properties of engine oil. Application of titanium dioxide nanoparticles in electrical & electronics has also been increasing over the past years
Recently, titanium oxide was introduced as an alternative support material for heterogeneous catalyst due to the effect of its high surface area stabilizing the catalysts in its mesoporous structure. Titanium dioxide nanoparticle supported metal catalysts have attracted interest due to their high activity for various reduction and oxidation reactions at low pressures and temperatures.
Furthermore, titanium dioxide was found to be a good metal oxide catalyst support due to the strong metal support interaction, chemical stability, and acid-base property.
The aforementioned properties make heterogeneous titanium dioxide supported catalysts show a high potential in photocatalyst-related applications, electrodes for wet solar cells, synthesis of fine chemicals, and others.
Owing to these factors, use of titanium dioxide nanoparticles for catalysts will rise over the next ten years.
Applications of titanium dioxide nanomaterials for paper and ink manufacturing is also a trend that is being rapidly adapted in the industry. Titanium dioxide pigment, also called "titanium white", is an essential element in many manufacturing processes with minerals of significant economic importance: ilmenite, rutile, and anatase.
Approximately 95% of titanium is consumed in the form of titanium dioxide (TiO2), a white pigment which is used for coating paper, and manufacturing printing ink.
Which Region Leads the Titanium Dioxide Nanoparticles Industry?
Asia Pacific accounted for the largest share in the market in 2020, followed by Europe and North America. Increasing investments in infrastructure development projects, growing urbanization, improving standard of living, and thriving automotive sector, as well as high economic growth, are key factors for the region's overall growth.
Strengthening economy of countries such as China and India attract new investments from global manufacturers. Asia Pacific is also the largest markets for paints and coating, driven by increasing population and rapid urbanization in China and India.
The market in the Asia Pacific region is dominated by China, followed by India. Also, presence of major producers of anatase titanium dioxide nanoparticle in China further presents growth opportunities for the market in the country.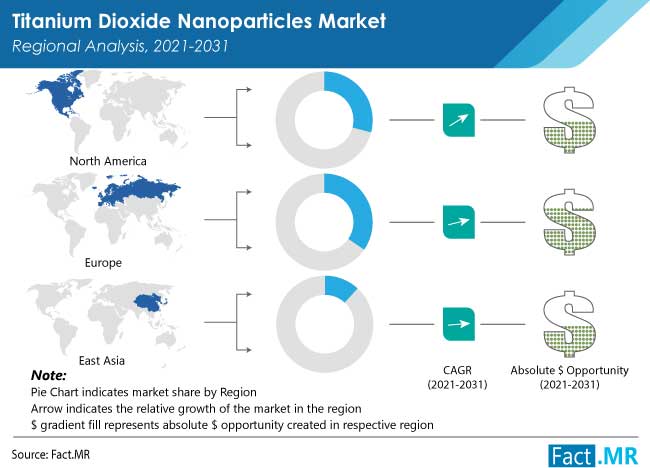 Country-wise Analysis
How is Growing Demand for Cosmetics Nudging the U.S. Nano Titanium Dioxide Market?
The U.S. is global leader in terms of number of titanium dioxide nanostructures produced. The U.S. provides 53% of all titanium dioxide nanoparticle products in the market.
Demand for cosmetics in the country is also increasing at a rapid pace. Revenue from the cosmetic industry is expected to reach more than US$ 17 Bn by 2021. This will, in turn, propel demand for titanium dioxide nanoparticles in the country.
Interested to Procure The Data
Category-wise Analysis
Why Do Anatase Titanium Dioxide Nanoparticles Dominate the Market Based on Crystal Structure?
Anatase titanium dioxide nanoparticles are extracted in yellow and colourless forms. They have a distinct property of reacting under light. On the other hand, rutile is highly preferred owing to significant properties such as higher birefringence, and greater dispersion and refractive index. Sales of anatase titanium dioxide nanoparticles dominate the market owing to their high reflective properties.
Rutile form is also used in manufacturing of paints, plastics and paper. This form accounts for more than quarter of the global demand. Demand for rutile titanium dioxide nanoparticles is expected to rise further over the coming years, creating lucrative opportunities for top rutile titanium dioxide nanoparticle producers.
Demand for titanium nanoparticles is gaining momentum due to the rise in demand for electronics and electrical equipment. Anatase titanium crystal structure is particularly widely used in MLCC manufacturing, which is further utilized in semiconductor applications.
Combination of rutile & anatase titanium dioxide nanoparticles is also used as photocatalysts, further nudging market growth.
Competitive Landscape
The market is fairly fragmented in nature. Evonik, Ishihara Sangyo Kaisha, and Showa Denko are among the tier-1 players. Collectively, they are anticipated to account for more than 50% of the global market share.
Top manufacturers of titanium dioxide nanoparticles are observed to be involved in material research, manufacturing technological automation, and productivity enhancement. Prominent manufacturers have also showcased their organic & aggressive growth strategies.
Some of the key developments are:
In November 2018, Showa Denko K completed its expansion of the capacity to produce titanium oxide nanoparticles to cater to rapidly increasing demand for varieties of capacitors, especially MLCCs.
Titanium Dioxide Nanoparticles Industry Report Scope
Report Attribute

Details

Market size value in 2020

USD 17 Billion

Market forecast value in 2031

USD 28 Billion

Growth Rate

CAGR of 6% from 2021 to 2031

Forecast Period

2021-2031

Historical Data Available for

2016-2020

Market Analysis

US$ Mn for Value & '000 Units for Volume

Key Regions Covered

North America
Europe
Asia Pacific
Central & South America
Middle East & Africa

Key Countries Covered

USA
Canada
Germany
France
the UK
Russia
Italy
China
Japan
South Korea
India
Australia
Middle East
Latin America

Key Market Segments Covered

Type
Crystal
Structure
Application
Region

Key Companies Profiled

The Chemours Company
Tronox Holding PLC
Lomon Billions Group
Venator Materials PLC
Kronos Worldwide Inc
INEOS
CINKARNA Celje d.d.
Evonik Industries AG
TAYCA CORPORATION
ILUKA RESOURCES
ISHIHARA SANGYO KAISHA

Pricing

Available upon Request
Key Segments Covered in Titanium Dioxide Nanoparticles Industry Research
By Type

Coated and Metal Doped Titanium Dioxide Nanoparticles
Nonmetal Doped Titanium Dioxide Nanoparticles

By Crystal Structure

Rutile Titanium Dioxide Nanoparticles
Anatase Titanium Dioxide Nanoparticles
Combination of Rutile & Anatase Titanium Dioxide Nanoparticles

By Application

Titanium Dioxide Nanoparticles for Personal Care Products
Titanium Dioxide Nanoparticles for Catalyst
Titanium Dioxide Nanoparticles for Paints & Coatings
Titanium Dioxide Nanoparticles for Electrical & Electronics