Vitrified Tiles Market
Vitrified Tiles Market Analysis by Type (Double Charged, Full Body, Soluble Salt, Glazed Body), By Application (Wall Tiles, Floor Tiles), By End Use (Residential, Commercial, Public Infrastructure), By Surface (Glossy, Matte, Anti-skid) & By Region – Global Market Insights 2023 to 2033
Analysis of Vitrified Tiles Market Covering 30+ Countries Including Analysis of US, Canada, UK, Germany, France, Nordics, GCC countries, Japan, Korea and many more
Vitrified Tiles Market Outlook (2023 to 2033)
The valuation of the global vitrified tiles market stands at US$ 7.7 billion in 2023 and is forecasted to increase to US$ 10 billion by 2033, expanding at a CAGR of 2.5% over the next ten years.
Vitrified tiles are made from a combination of clay and silica. This fused substance is heated to high temperatures, giving it its distinct texture. It has the appearance of a glass layer and is non-porous. Furthermore, unlike ceramic tiles, these tiles do not require further glazing. They are often used for both exterior and interior use because of their high weather resistance. Because of their low water absorption capacity, these are also frost-resistant.
Long-lasting, sturdy, and environmentally friendly materials that meet green building regulations are used to produce vitrified tiles. These tiles are consequently gaining popularity in floor and wall applications. These products are widely available in a variety of colors, sizes, and textures, which has increased customers' interest in high-end flooring applications
The tiles manufacturing sector is witnessing a growing adoption of digital inkjet printing technologies for tile decorating. Moreover, significant advancements in print head design and ink composition are expected to enhance the market penetration of this technology in the vitrified tiles industry during the forecast period.
The global vitrified tiles market is growing due to rising urbanization and industrialization in developing countries, an increase in home remodeling spending, and innovations. Floors made of vitrified tiles can be used instead of marble or granite. Because they are weather and stain resistant, they can be utilized as outdoor floors.
Increased demand for residential and non-residential projects drives demand for vitrified tiles, which are used in building floors and walls. Vitrified tiles are an increasingly common flooring alternative to marble and granite.
Report Attributes
Details

Vitrified Tiles Market Size (2022)

US$ 7.5 Billion

Estimated Market Value (2023)

US$ 7.7 Billion

Forecasted Market Value (2033)

US$ 10 Billion

Global Market Growth Rate (2023 to 2033)

2.5% CAGR

Residential Segment Growth Rate (2023 to 2033)

3% CAGR

China Market Growth Rate (2023 to 2033)

5% CAGR

Key Companies Profiled

Ricchetti Group
Atlas Concorde S.P.A.
Cerámica Saloni
Florim Ceramiche S.p.A.
Porcelanosa Group
ABK Group
Kajaria Ceramics Limited
Lamosa Group
Mohawk Industries, Inc.
What are the Factors Driving the Sales of Vitrified Tiles?
"Manufacturers' Increasing Focus on Eco-friendly Tile Production"
Environmental consciousness is influencing consumers' choices, and sustainable vitrified tiles are becoming more prevalent. Manufacturers are using recycled materials and adopting eco-friendly production processes to reduce their carbon footprint and appeal to environmentally conscious buyers.
Thin and lightweight vitrified tiles offer advantages such as easier handling, reduced shipping costs, and better compatibility with wall installations. This trend is especially relevant in the context of architectural and interior design projects.
Health and safety considerations are leading to increased demand for anti-bacterial and anti-slip vitrified tiles. These tiles are ideal for areas where hygiene is a priority, such as hospitals, kitchens, and public spaces.
"Growing Preference for Aesthetic & Premium Floorings"
Advancements in tile manufacturing technology, particularly digital printing techniques, have transformed the industry. These innovations have led to more intricate and realistic designs, further enhancing the appeal of vitrified tiles.
Consumers are increasingly seeking premium and aesthetically appealing flooring options to enhance the overall ambiance of their homes and commercial spaces. Vitrified tiles provide a cost-effective alternative to achieve the aesthetic of natural materials.
Rising disposable income among consumers has led to an increased willingness to invest in home improvement and interior design. As a result, demand for high-quality and visually striking flooring materials like vitrified tiles has witnessed a boost.
Don't Need a Global Report?
save 40%! on Country & Region specific reports
What are the Major Challenges Faced by Vitrified Tile Manufacturers?
"Competition from Alternative Flooring Materials and Price Sensitivity in Emerging Markets"
Vitrified tiles face competition from alternative flooring materials such as natural stone, ceramic tiles, hardwood, laminate, and luxury vinyl. Each of these materials offers unique characteristics and appeals to different consumer segments, leading to a fragmented market.
Price sensitivity among consumers, especially in emerging markets, can limit the adoption of vitrified tiles. While they offer long-term benefits, the initial cost of vitrified tiles may deter some price-conscious buyers from choosing them over more affordable alternatives.
Economic fluctuations and downturns can impact the construction and real estate industries, directly affecting the demand for vitrified tiles. During periods of economic uncertainty, consumers and businesses delay or reduce investments in interior design and renovation projects.
"High Replacement Cost and Environmental Concerns Associated with Vitrified Tiles"
The cost of replacing existing flooring can be a significant deterrent for some consumers. Installation expenses, particularly for large projects, can add up, and the relatively low replacement rate of tiles can reduce repeat purchases.
While the vitrified tile industry has made strides in adopting sustainable practices, there are still concerns regarding the environmental impact of tile manufacturing processes. Eco-conscious consumers opt for more environmentally friendly flooring options, such as recycled materials or natural flooring.
Flooring preferences can vary significantly based on regional and cultural factors. Some regions can have traditional flooring preferences that are deeply ingrained in the local culture, making it challenging for vitrified tiles to gain widespread acceptance.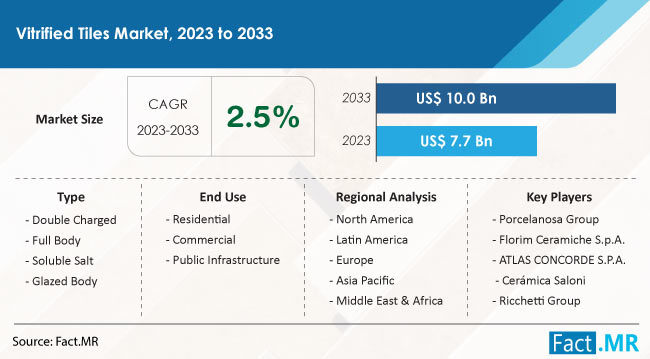 Country-wise Analysis
What Makes China a Lucrative Market for Vitrified Tile Producers?
"Expansion of Construction Sector Driven by Rapid Urbanization"
China's construction industry has been expanding rapidly, fueled by extensive infrastructure development, residential projects, and commercial ventures. Vitrified tiles are preferred for their durability, aesthetic appeal, and ease of maintenance, making them a popular choice for flooring and wall cladding in various construction projects.
Growing urbanization has led to a surge in demand for housing and commercial spaces, driving the need for quality flooring solutions like vitrified tiles. Growth of the real estate market has further boosted the demand for these tiles, especially in modern high-rise buildings and housing complexes.
China's large domestic vitrified tiles market is driven by its vast population and rising middle class. Increasing disposable incomes and changing consumer preferences have resulted in higher demand for premium and aesthetically appealing flooring materials.
Why is There an Increase in the Use of Vitrified Tiles in the United States?
"Growing Demand for Durable and Low-Maintenance Flooring Solutions"
In the United States, demand for durable and long-lasting flooring solutions is growing, especially in the residential and commercial sectors. Vitrified tiles, known for their resistance to wear, stains, and moisture, have been favored by consumers seeking reliable and low-maintenance flooring options.
Vitrified tiles are well-suited for various indoor and outdoor applications, such as floors, walls, countertops, and facades. Their versatility has contributed to their popularity in both residential and commercial settings. They are available in a wide range of designs, patterns, and finishes, including options that mimic the look of natural stones such as marble and granite. Consumers in the United States appreciate the aesthetic appeal and visual versatility offered by these tiles.
The United States market tends to follow modern design trends, which often emphasize clean and contemporary aesthetics. Vitrified tiles align well with these design preferences, making them a sought-after choice for interior designers and homeowners.
More Insights, Lesser Cost (-50% off)
Insights on import/export production,
pricing analysis, and more – Only @ Fact.MR
Category-wise Insights
What's Contributing to the Growing Popularity of Glazed Body Vitrified Tiles?
"Glazed Vitrified Tiles' Enhanced Durability and Resistance to Fading"
Glazed body vitrified tiles, also known as full-body vitrified tiles or through-body vitrified tiles, are a type of ceramic tile known for their exceptional durability and versatile designs. These tiles are manufactured using a process that ensures the entire body of the tile is composed of a homogenous mixture of clay and other materials, making them highly dense and impervious to water absorption.
Flooring, walls, countertops, and even exteriors use glazed vitrified tiles. Their versatility and durability make them suitable for various applications in residential, commercial, and institutional projects.
The glazing process also contributes to the tiles' ability to resist fading caused by exposure to sunlight or harsh weather conditions, making them a reliable choice for outdoor installations. Some glazed body vitrified tiles are manufactured using eco-friendly practices, as they contain recycled materials, making them a sustainable flooring option.
Which Sector Uses Vitrified Tiles Most Extensively?
"Hypoallergenic Nature of Vitrified Tiles Driving Their Use in Residential Sector"
Vitrified tiles have gained significant popularity in the residential sector and were widely used as a preferred flooring option in modern homes. The residential segment represents a substantial portion of the vitrified tiles market, and several other factors contribute to their widespread adoption in residential properties.
With increasing demand for stylish and low-maintenance flooring options in modern homes, ceiling tiles have become a preferred choice for many homeowners. Their combination of durability, aesthetic appeal, and ease of maintenance makes them well-suited for residential spaces, contributing to their prominence in the residential sector's flooring market.
Availability of a wide range of designs, patterns, colors, and textures, including options that replicate the appearance of natural materials such as marble, granite, and wood, drives a preference for vitrified tiles. This versatility allows homeowners to choose tiles that complement their interior design preferences and enhance the overall aesthetics of their living spaces.
They have a non-porous surface, which makes them easy to clean and maintain. Regular sweeping and mopping are usually sufficient to keep them looking new and fresh. The smooth, non-absorbent surface of vitrified tiles makes them hypoallergenic, reducing the accumulation of dust, allergens, and bacteria. This feature is especially beneficial for households with family members who have allergies or respiratory issues.
Competitive Landscape
To win consumers' attention, market participants are constantly introducing products with reduced environmental effects, improved durability, and beauty. To remain competitive, major players in the business are working on obtaining optimal operational costs, improving product quality, boosting manufacturing output, and acquiring small players.
Players in the industry prioritize substantial R&D activities and investments in flooring goods to maintain their competitiveness. Leading companies are enhancing their market position and product lines with the current design of vitrified tiles.
Vitero Tiles, for example, launched Soir, a new glazed vitrified tile line, in August 2020. This new collection, which is available in seven different colors, is inspired by the beauty of Italian and French marble. With the introduction of Soir, Vitero intends to broaden its product line.
Know thy Competitors
Competitive landscape highlights only certain players
Complete list available upon request
Key Segments of Vitrified Tiles Industry Research
By Type :

Double Charged
Full Body
Soluble Salt
Glazed Body

By Application :

By End Use :

Residential
Commercial
Public Infrastructure

By Surface :

By Region :

North America
Latin America
Europe
Asia Pacific
Middle East & Africa
- FAQs -
The global vitrified tiles market stands at US$ 7.7 billion in 2023.
Sales of vitrified tiles are predicted to rise at a CAGR of 2.5% from 2023 to 2033.
Demand for vitrified tiles is anticipated to reach a market value of US$ 10 billion by 2033.
Asia Pacific is set to hold a leading share of the global market.
Demand for vitrified tiles in the residential segment is predicted to rise at 3% CAGR through 2033.
Sales of vitrified tiles in China are forecasted to advance at a CAGR of 5% through 2033.