Whipping Cream Market Outlook (2023 to 2033)
The global market for whipping cream is estimated to be valued at US$ 8.1 billion in 2023 and reach a valuation of US$ 14.6 billion by the end of 2033, expanding at a CAGR of 6% from 2023 to 2033.
Cream is a dairy product composed of milk and a specified amount of saturated fat. It can add flavor to various dishes ranging from bitter to sweet and salty to spicy. Cream is a versatile ingredient used in many food items such as cream bases, stews, puddings, soups, cakes, ice creams, and sauces.
Whipping cream is a light edible cream that plays a significant role in the preparation of baked food items. It is produced by incorporating air into the cream with an electric whisk or hand mixer until it forms a foam with an even distribution of fat. Both non-dairy and dairy varieties of cream are widely available, along with a range of flavors such as orange, strawberry, pineapple, chocolate, coffee, and vanilla.
Whipping cream enhances the appearance and texture of beverages, waffles, tarts, cakes, pies, and pastries when used as a filling or topping. It is pasteurized to eliminate any potentially harmful enzymes or microorganisms and often fortified with various sweeteners and additives to extend its shelf life and improve its flavor.
Growth of the food and beverages industry worldwide is a major contributor to the positive outlook for the whipping cream market. Additionally, growing consumption of whipping cream in items such as puddings, milkshakes, hot chocolate, sundaes, ice creams, and cupcakes, particularly among millennials, is providing lucrative opportunities for market players.
Rising number of premium confectionery and bakery stores that offer personalized pastries and cakes is driving the demand for whipping cream. Furthermore, whipped cream is widely used as a decorative element in various gourmet dishes, signature confectioneries, and themed desserts.
Innovations in product lines, such as the introduction of vegan, organic, and sugar-free whipping creams in flavors like mango, cinnamon, and rose, are positively impacting the sales of whipping cream. Additionally, consumer's increasing purchasing power and ease of obtaining products through online channels are expected to drive the demand for whipping cream.
Report Attributes

Details

Whipping Cream Market Size in 2023

US$ 8.1 Billion

Expected Market Value (2033)

US$ 14.6 Billion

Anticipated Market Growth Rate (2023 to 2033)

6% CAGR

Canada Market Growth Rate (2023 to 2033)

5.9% CAGR

Germany Market Growth Rate (2023 to 2033)

3.2% CAGR

Key Companies Profiled

Conagra Brands
Fonterra Co-operative Group Ltd.
Nestle SA
The Kraft Heinz Company
Westland Co-operative Dairy Co., Ltd.
Arla Foods AMBA
The Tatua Co-operative Dairy Company Limited
Land O'Lakes
Don't Need a Global Report?
Save 40% on Country & Region specific reports
What are the Factors Driving the Market for Whipping Cream?
"Market Benefitting from Increasing Consumption of Confectionaries"
Worldwide growth of the food and beverages market is driving the demand for whipping cream. The increasing consumption of puddings, milkshakes, hot chocolate, sundaes, ice cream, and cupcakes among millennials is creating new opportunities. The rise of premium bakery and confectionery stores offering customized pastries and cakes is also boosting the demand for whipped cream, as it is a popular decorative ingredient for various desserts.
"Increasing Health Awareness among Consumers Driving Product Demand"
Growing health consciousness among consumers is fueling the demand for low-fat whipping cream. The wide availability of flavor-infused whipping creams like Kahlúa, chocolate, orange, coffee, cinnamon, vanilla, and rose as well as sugar-free and vegan options is expected to contribute to the demand for whipping cream.
Easy access to whipping cream through online retail channels and consumers' increasing spending power for premium products will also drive this demand. The demand for whipping cream is expected to be influenced significantly by social media through food-related posts and videos, as well as the growing number of food bloggers highlighting its use as a decorative ingredient.
"Rising Standard of Living Increasing Consumer's Spending Capacity on Premium Products"
Demand for whipping cream is being fueled by the growing number of fast food and casual dining establishments. With an increase in disposable income and lifestyle standards, consumers are spending more on healthier and flavored food options, as well as premium products like whipping cream.
In addition, there is a growing trend towards the use of biodegradable and bioplastic materials for whipping cream packaging due to a heightened focus on environmentally friendly and sustainable packaging solutions.
What are the Hurdles Faced by Whipping Cream Producers?
"Health Concerns Associated with High Sugar Content in Whipping Cream"
Fact.MR, a market research and competitive intelligence provider, has highlighted the potential challenges that may limit the adoption of whipping cream. The high sugar content in whipping cream can lead to health issues. Additionally, the high cost of whipping cream may restrict its adoption among low-and-middle-income consumers.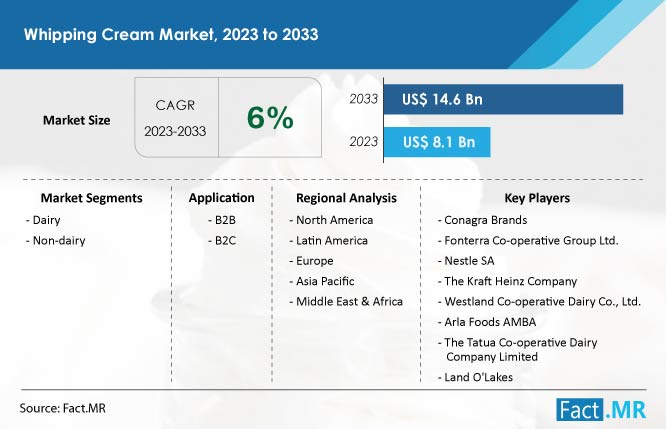 Which Region Provides Lucrative Scope for Whipping Cream Manufacturers?
"High Demand for Whipping Cream in Europe"
Europe is expected to account for a significant portion of the global market for whipping cream from 2023 to 2033, owing to the rising demand in countries such as France, Belgium, Netherlands, Germany, and the United Kingdom. The growing use of whipping cream foam in pancakes and coffee is also expected to boost its demand in the region.
More Insights, Lesser Cost (-50% off)
Insights on import/export production,
pricing analysis, and more – Only @ Fact.MR
Country-wise Insights
Why is Japan a Lucrative Market for Whipping Cream Producers?
"Increasing Adoption of Whipping Cream by Food Service Providers"
The demand for whipping cream in Japan is anticipated to progress at a CAGR of 2.6% from 2023 to 2033.
In Japan, food services are adopting whipping cream at a significant rate. Rising awareness of its health benefits, such as the presence of vitamins A, D, E, and K and choline for improved bone health, is driving the demand for whipping cream in the country. Capital-intensive livestock-rearing technologies are expected to make the production of milk products, including whipping cream, more profitable in Japan.
How is Demand for Whipping Cream Shaping Up in the United States?
"Large Number of Dairy Farms Driving Increased Milk Production"
Sales of whipping cream in the United States reached US$ 2 billion in 2022. The high concentration of dairy farms in the United States leads to significant milk production. This milk is processed into cream and eventually whipped cream due to its high-fat content.
Meanwhile, demand for whipping cream in Canada is projected to expand at a CAGR of 5.9% from 2023 to 2033.
Why Should Whipping Cream Manufacturers Invest in Germany?
"Rising Utilization of Whipping Cream in Coffee & Pancakes"
Rising utilization of the whipped form of cream in coffee and pancakes is fueling the demand for whipping cream in Germany. The sales of whipping cream in Germany are estimated to advance at a CAGR of 3.2% through 2033.
Category-wise Insights
Which Type of Whipping Cream is Gaining Popularity Globally?
"Growing Demand for Non-dairy Whipping Cream amidst Dominance of Dairy-based Variants"
The global market for whipping cream is segmented into dairy and non-dairy based on product type. Dairy products are expected to remain popular among commercial chefs, bakers, and retail consumers due to their widespread use and lower cost compared to non-dairy options.
Dairy whipping cream is available in a range of fat contents to appeal to health-conscious consumers. Meanwhile, the demand for non-dairy cream is expected to increase in developed countries like the United States, France, Canada, and Germany.
In Which Market Segment is Whipping Cream Widely Used?
"Wide Application of Whipping Cream in B2B Segment"
The global whipping cream industry is divided into B2B and B2C based on its application. The B2B segment is expected to account for 55% of the global market for whipping cream in 2023 and grow steadily due to the rapid growth of the market for baked goods.
Consumers are seeking more natural and healthy options, such as whole-grain, preservative-free, and low-fat whipping cream. This trend is fueling the growth of the B2B segment as consumers are willing to pay a premium for high-quality, healthy food products.
Which Distributing Channel Accounts for Higher Sales of Whipping Cream?
"Growth of e-Commerce Platforms Pushing Sales of Whipped Cream"
The global market for whipping cream is segmented into different distribution channels, including warehouse clubs, department stores, variety stores, convenience stores, online retail, specialist retailers, supermarkets, and hypermarkets.
Supermarkets and hypermarkets are expected to hold a significant share of the total revenue due to their ease of accessibility and convenience for consumers. Additionally, the increasing preference for fresh whipping cream without any preservatives is contributing to the growth of the supermarkets and hypermarkets segment.
Meanwhile, the online retail segment of the whipping cream market is projected to expand at a CAGR of 8.6% from 2023 to 2033. The growth of e-commerce platforms, such as Amazon, is driven by the rising number of internet and smartphone users globally. Additionally, the wide availability of various products at discounted prices is expected to drive the demand for whipping cream.
Key Market Players
Key manufacturers of whipping cream are investing in enhancing their supply chain management to deliver high-quality products to end-users and comply with regulations set by governing bodies for quality control and environmental impact.
leading suppliers in the market include Conagra Brands, Fonterra Co-operative Group Ltd., Nestle SA, The Kraft Heinz Company, Westland Co-operative Dairy Co., Ltd., Arla Foods AMBA, The Tatua Co-operative Dairy Company Limited, and Land O'Lakes.
Segmentation of Whipping Cream Industry Research
By Product :

By Application :

By Distribution Channel :

Warehouse Clubs
Variety Stores
Department Stores
Online Retail
Convenience Stores
Supermarkets and Hypermarkets
Specialist Retailers
Others

By Region :

North America
Europe
Asia-Pacific
Latin America
Middle East & Africa