White Cement Market
White Cement Market Analysis By Type (Type I Cement, Type III Cement, Other Product Types), Product (White Portland Cement, White Masonry Cement, Others), By Application (Architectural, Flooring, Tile Grouting), End User (Residential, Commercial, Infrastructure, Industrial & Institutional) & By Region – Global Market Insights 2023 to 2033
Analysis of White Cement Market Covering 30+ Countries Including Analysis of US, Canada, UK, Germany, France, Nordics, GCC countries, Japan, Korea and many more
White Cement Market Outlook (2023 to 2033)
The global white cement market is valued at US$ 6.8 billion in 2023 and is projected to expand at a CAGR of 6.5% to reach US$ 13 billion by 2033-end, according to the latest market study by skilled analysts at Fact.MR. White cement is a refined version of regular portland cement. It is created by removing magnesium and iron from the production process, giving it a recognizable white tint. It contains several components such as gypsum, kaolin, and limestone.
For aesthetic purposes, white cement finds common applications in architectural concrete, wall putty, grouts, ceramic tile adhesives, mosaic tiles, terrazzo, exterior facades, swimming pools, decorative designs, precast structural components, and concrete restorations. It provides a better polish and texture, increases reflection, and boosts visual attractiveness. Additionally, white cement allows for a wide range of color possibilities, a better visible inspection of concrete flaws, and a reduction in the urban heat island effect.
Trends in White Cement Market
Rising Demand for Aesthetics in Construction: The market for white cement was being driven by the growing emphasis on aesthetics in construction projects, notably in residential and commercial buildings. White cement is preferred because it may produce aesthetically pleasing finishes.
Sustainable and Eco-friendly White Cement: With growing environmental sustainability concerns, the development of eco-friendly formulations for low-carbon cement has resulted in reduced carbon emissions and energy consumption.
Innovations in White Cement Products: To develop new white cement products with improved qualities, such as increased durability, whiteness, and workability, manufacturers are investing heavily in research and development.
Use in Infrastructure Projects: Beyond conventional buildings, white cement is used in infrastructure projects like bridges and tunnels because of its visual appeal and durability.
Digitalization and Technology Adoption: White cement producers are using digital technologies for supply chain management, process optimization, and quality control, similar to many other industries.
Portland cement is a type of hydraulic cement that is widely used in construction as a binding agent for various materials, particularly concrete and mortar. White cement is used extensively in road construction to enhance visibility and traffic safety. For instance, white concrete is used to help in the identification of middle boundaries, which helps vehicles move in a safer direction and reduces street accidents.
White cement can be used for flooring applications to create elegant and visually appealing surfaces.
Flooring applications are projected to account for 15% market share in 2023.
Advantages of White Cement in Flooring Applications
Aesthetic Appeal: White cement offers a clear, bright canvas for flooring that opens up a variety of design options. Its neutral hue goes well with a variety of interior design aesthetics.
Versatility: White cement offers freedom in design by allowing for the creation of unique colors and patterns when combined with pigments, dyes, or stains.
Durability: Because of their toughness and resistance to damage, white cement floors are appropriate for both residential and commercial settings with high foot traffic.
Smooth Finish: It is possible to polish white cement to a smooth, glossy finish, producing an opulent, reflective surface that improves the sense of space and light.
Stain Resistance: White cement floors are useful in several contexts because they are stain- and dirt-resistant when finished properly.
Report Attributes
Details
White Cement Market Size (2022A)
US$ 6.4 Billion
Estimated Market Value (2023E)
US$ 6.8 Billion
Forecasted Market Value (2033F)
US$ 13 Billion
Global Market Growth Rate (2023 to 2033)
6.5% CAGR
Type III Cement Market Share (2023)
25%
Commercial Segment Growth Rate (2023 to 2033)
5.4% CAGR
India Market Growth Rate (2023 to 2033)
12% CAGR
Asia Pacific Market Share (2023)
40%
Flooring Application Market Share (2023)
15%
Key Companies Profiled

Saudi White Cement Company
HOLCIM
J.K. Cement Ltd.
Cementir Holding N.V.
Royal White Cement
Aditya Birla (Grasim Industries Limited)
CIMSA
Don't Need a Global Report?
save 40%! on Country & Region specific reports
What's Contributing to Increasing Popularity of White Cement?
"Rising Demand for Decorative and Premium-quality Interiors and Exteriors"
The market is exhibiting significant growth due to the increasing demand for decorative and top-quality applications. Consumers are increasingly favoring aesthetically pleasing interiors and exteriors for homes and businesses. White cement is a preferred choice for achieving this aesthetic appeal due to its color and consistent quality. It is extensively employed in the production of decorative tiles, designer flooring, terrazzo, and mosaics. Furthermore, its compatibility with color pigments expands its versatility in decorative applications, offering customers a wide range of color options.
Market growth is being influenced by upscale real estate development, including the construction of luxury hotels and commercial spaces, to attain a premium appearance and impeccable finish. Additionally, the growing emphasis on interior and outdoor aesthetics, coupled with rising living standards, is expected to drive the demand for decorative and high-end applications even further.
"Increasing Acceptance of Environment-friendly Construction Methods"
Increased focus on sustainable construction practices due to growing environmental concerns is driving up demand for sustainable materials like white cement. It helps decrease the heat island effect in metropolitan areas because of its high reflectivity, which reflects more sunlight and absorbs less heat than darker materials. This can assist buildings in saving energy because less cooling is required.
The ability to spot fractures in white cement structures makes it easier to fix potential structural issues before they become serious, speeding up response time and extending building longevity. Because of its lower iron content, white cement is also more resistant to sulfate attack, which improves structural toughness and lowers maintenance costs.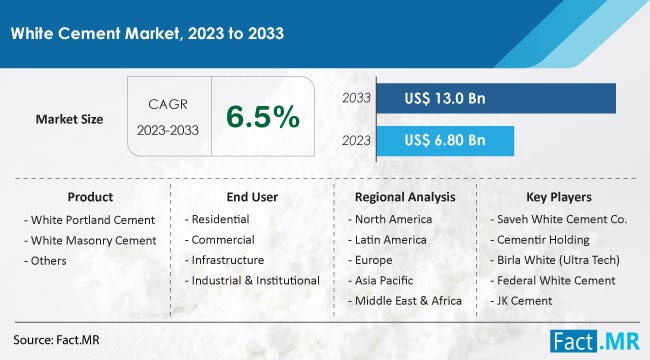 What are the Hindrances to the Sales Growth for White Cement?
"High Cost of Production and Competitive Pricing Pressure"
In comparison to conventional gray cement, white cement manufacturing often requires purer raw materials and specialized methods, which raises the cost of production. Its usage in some construction projects may be constrained by this cost problem. White cement production requires high-purity raw resources, such as limestone and kaolin, which may be scarce in some areas, posing a supply problem.
Increased cost of white cement can be a problem in areas where pricing is sensitive, since contractors and builders choose to use cheaper substitutes like gray cement or additives to attain the desired appearance. Due to the energy-intensive nature of the process, strict environmental restrictions have an impact on the manufacture of white cement. Manufacturers can experience difficulties with compliance and increasing costs in managing emissions and waste.
"Competition from Alternative Materials and High Logistics & Transportation Costs"
The market is competitive, with multiple players vying for market share. This competition can lead to pricing pressures and reduced profit margins for manufacturers. Economic downturns or fluctuations in construction activity can affect the demand for white cement if decorative and aesthetic projects are deferred during challenging economic times.
In some regions, there may be a lack of awareness or a perception that white cement is a luxury product, limiting its adoption in a wider range of construction projects. Availability of alternative materials, such as white concrete additives and pigments, can provide cost-effective options for achieving similar aesthetics without using pure white cement. White cement needs to be transported over longer distances to reach certain construction sites, which can add to the overall cost.
More Insights, Lesser Cost (-50% off)
Insights on import/export production,
pricing analysis, and more – Only @ Fact.MR
Country-wise Insights
This section offers an overview of revenue generated from primary markets. Leading the way are India and the United States, recognized as primary market frontrunners. The market is projected to be driven by the expanding construction sector in the Asia Pacific region as well as the replacement of grey cement due to white cement's superior properties. These statistical findings, as evaluated by Fact.MR, emphasize substantial regional opportunities encompassing the countries scrutinized in the report.
What Makes India a Profitable Market for White Cement Producers?
"Growing Demand for Homes Driven by Enhanced Living Standards"
Due to an increase in residential and commercial construction activity as well as an increase in government initiatives like "Housing for All" by 2020 and the construction of hospitals, railway stations, and airports, the market in India is predicted to expand at a CAGR of 12% from 2023 to 2033.
Demand for homes in India is rising as a result of factors like the expansion of the middle class, rising income levels, and improved living standards. Additionally, expanding infrastructure projects are driving the construction of highways, flyovers, and train stations. These elements are promoting the expansion of the building industry and, consequently, the need for white cement.
Owing to investments in new infrastructure and an increase in demand for residential and non-residential structures, the APAC region is anticipated to exhibit considerable revenue growth over the course of the projection period. Additionally, the improved thermal insulation properties of white cement compared to other options are responsible for the growth in demand for white cement.
White cement, known for its strong light-reflecting properties that enhance aesthetics and energy conservation for both interior and exterior applications, is in high demand in Asia Pacific. Additionally, its cost-effective use as wall putty for surface smoothing before painting is driving market growth.
What Attributes Make the United States a Key Market for White Cement Producers?
"Emphasis on Sustainable Construction and Wide Use of White Cement in Decorative Concrete"
The United States market is a niche segment within the broader cement industry, primarily catering to architectural, decorative, and specialty construction applications. White cement is favored for its aesthetic qualities, making it a popular choice for projects where appearance matters.
White cement is commonly used in architectural and decorative concrete applications, such as countertops, sculptures, and precast elements, to achieve a clean and bright appearance. Demand for white cement is driven by residential and commercial construction projects where aesthetics play a crucial role in design.
Infrastructure projects like bridges and tunnels are using white cement extensively, especially where visual appeal and durability are essential. There is a growing emphasis on sustainability in the construction industry, and white cement manufacturers are working to develop more eco-friendly production processes and products. While the United States white cement market is relatively small compared to gray cement, it remains competitive with several key players vying for market share.
Category-wise Insights
This section provides a summary of market revenue categorized by key sectors, with notable segments comprising type III cement and the commercial sector. Fact.MR forecasts that these segments hold substantial promise for future opportunities in the years ahead.
Why are Sales of Type III White Cement Rising Substantially?
"Rapid Strength Enhancement Feature of Type III White Cement for Aesthetic Construction"
Type III cement is projected to capture 25% market share in 2023. High-early-strength white cement, also known as Type III white cement, is designed to develop high early strength quickly after being combined with water and utilized in construction applications.
Type III white cement has a bright white tint and, like other varieties of white cement, it is mostly utilized for decorative and aesthetic purposes. The rapid setting and early strength enhancement characteristics of Type III white cement set it apart.
Key Features and Uses of Type III White Cement
Rapid Setting: Compared to other types of white cement, Type III sets up more quickly. It is suitable for applications where rapid strength development is necessary.
Enhanced Early Strength: Enhanced early compressive strength is attained by this cement quickly after placement, often within a few days. It is especially helpful when speedy construction progress is required.
Aesthetic Applications: Type III white cement can provide aesthetically pleasing finishes in architectural and ornamental concrete. It is used extensively in countertops, sculptures, and precast building blocks.
Color Consistency: For projects where color uniformity is essential, it keeps a constant bright white hue, making it the best choice.
Versatility: Type III white cement finds multiple applications, including overlays, stucco, and various decorative treatments.
High-Quality Surface Finishes: Due to its tiny particle size and uniform color, it is frequently utilized for applications that demand high-quality surface finishes.
Why Does White Cement Find Widespread Use in the Commercial Sector?
"White Cement Use in Commercial Sector Driven by Rising Demand for Architectural Excellence"
Use of white cement in the commercial sector is projected to rise at a CAGR of 5.4% throughout the forecast period (2023 to 2033).
The white cement market is heavily influenced by commercial development, especially when it comes to decorative and aesthetically pleasing uses. Because it can produce aesthetically pleasing and elegant finishes, which are frequently requested in high-end and prestigious projects, white cement is preferred in commercial buildings.
Architectural Design: Architectural components including facades, columns, and ornate moldings are typically made with white cement in commercial buildings. White cement enables architects and designers to create complex and stunning creations.
Interior Spaces: White cement is used for interior applications in commercial buildings, such as wall finishes, floors, countertops, and ornamental elements. Its pristine and cheery appearance improves the interior design of rooms.
Hotels and Resorts: To create a posh and welcoming atmosphere, luxury hotels and resorts frequently use white cement in both their construction and interior design.
Shopping Centers and Malls: White cement flooring and wall cladding are used in commercial buildings like malls and shopping complexes to provide a fresh, contemporary feel.
Office Buildings: White cement is used in office buildings for a variety of ornamental and architectural objectives, helping create a work atmosphere that is both professional and aesthetically pleasant.
Know thy Competitors
Competitive landscape highlights only certain players
Complete list available upon request
Competitive Landscape
The competitive landscape of the white cement market is dynamic, with players constantly seeking opportunities for growth, technological advancements, and sustainable practices to maintain and expand their market share. Market dynamics can vary by region, with different companies having stronger positions in specific geographic areas.
A partnership between Cemex and Coolbrook to use technology to electrify the cement manufacturing process was announced in May 2022. Fossil fuels were replaced by this recently adopted technology in the process.
Imsa Imento announced in March 2019 the purchase of Bunol, a business with cutting-edge technology, making Imsa Imento a global leader in the manufacture of cement.
Key Segments of White Cement Industry Research
By Type :

Type I Cement
Type III Cement

By Product :

White Portland Cement
White Masonry Cement
Others

By Application :

Architectural
Flooring
Tile Grouting

By End User :

Residential
Commercial
Infrastructure
Industrial & Institutional

By Region :

North America
Latin America
Europe
Asia Pacific
Middle East & Africa
- FAQs -
The global white cement market stands at US$ 6.8 billion in 2023.
Worldwide demand for white cement is predicted to rise at a CAGR of 6.5% from 2023 to 2033.
Worldwide sales of white cement are set to reach US$ 13 billion by 2033.
China is poised to hold a leading position in the global market through 2033.
The market in India is forecasted to expand at a CAGR of 12% through 2033.
With a white cement production capacity of 680 KT, Ultratech Cement Limited dominates the Indian market.