Low Carbon Cement Market
Low Carbon Cement Market Analysis, By Cement Type (Portland Cement, High Alumina Cement, Quick Settling Cement), By Product Type (Fly-ash-based, Slag-based, others), By Reduction Potential (Less Than 50%, 50-70%, Above 70% Reduction), By End Use - Global Insights 2022 to 2032
Analysis of Low Carbon Cement market covering 30 + countries including analysis of US, Canada, UK, Germany, France, Nordics, GCC countries, Japan, Korea and many more
Low Carbon Cement Market Outlook (2022-2032)
A newly-published industry analysis on the low carbon cement market shows that the global market experienced year-on-year (YoY) growth of 5.2% in 2021 to reach US$ 1.5 billion. The market is expected to touch US$ 5 billion by 2032 with worldwide demand for low carbon cement set to increase at 11.2% CAGR over the decade.
Green energy stocks will continue to climb as more and more emphasis is paid to discovering alternatives to fossil fuels that are environment-friendly. However, demand for renewable energy technologies increased especially in 2020, while the consumption of all other fuels decreased, notwithstanding the pandemic situation.
Report Attributes

Details

Low Carbon Cement Market Size (2021A)

US$ 1.5 Billion

Estimated Market Size (2022E)

US$ 1.7 Billion

Forecasted Market Value (2032F)

US$ 5 Billion

Global Market Growth Rate (2022-2032)

11.2% CAGR

North America Market Share (2021)

~19.3% CAGR

North America Market Growth Rate (2022-2032)

10.2% CAGR

U.S. Market Growth Rate (2022-2032)

10.5% CAGR

Market Share of Top 4 Companies

~78.8%

Key Companies Profiled

CarbiCrete
Carbon Cure
Cemex
CeraTech
Ecocem Ireland Lt
Heidelberg Cement
Holcim
Kiran Global Chems Ltd
Navrattan Green Cement Industries Pvt. Ltd
U.S. Concrete, Inc.
Know thy Competitors
Competitive landscape highlights only certain players
Complete list available upon request
Demand Analysis of Low Carbon Cement (2017-2021) Vs. Market Forecast Outlook (2022-2032)
As per the latest market study by Fact.MR, a market research and competitive intelligence provider, the market value for low carbon cement increase at a CAGR of 4.8% during the last four years.
The environmental impact of concrete, despite its high carbon footprint as a construction material, can be reduced in numerous ways. The concrete industry has developed technologies that can significantly lower emissions while still ensuring that products fulfil the same performance standards as conventional concrete. Today, cement and concrete producers have access to a wide range of cutting-edge and mainstream options.
The development of newer cement formulations using sustainable materials that are capable of improving the decarbonisation potential of the overall construction industry (as a whole) has driven the overall market forward in the past.
Short Term (2022 Q2 to 2025): Rising demand from sustainability focussed consumers for residential properties to drive demand for green cement.
Medium Term (2025-2028): European region is poised to witness high demand due to the growing number of buildings being constructed using low carbon cement and rising awareness about the benefits of using green concrete over conventional cement.
Long Term (2028-2032): Price stabilization to remain the focus of manufacturers in the long run; manufacturing using fly-ash and slag to further improve the price-to-performance ratio. Besides, an increase in the use of low carbon cement in commercial buildings to become the norm in the latter part of the forecast period.
Demand for low carbon cement, which finds usage in residential, commercial and industrial construction, is set to create an absolute dollar opportunity of US$ 3.4 billion by 2032.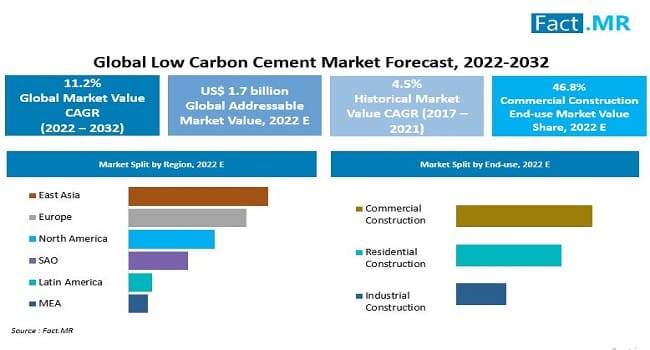 Why is Demand for Low Carbon Cement Surging?
"Cement Industry Continues to Remain Third-highest Contributor to Greenhouse Gas Emissions"
Worldwide, cement production is the second-largest source of CO2 emissions and the third-largest consumer of industrial energy. Cement and concrete are in high demand due to the growing global population and urbanisation patterns, as well as the need for infrastructure development, which puts further pressure on the industry to reduce its carbon footprint as quickly as possible.
If countries follow through on their commitments to reduce carbon emissions and improve energy efficiency, the cement industry's global direct CO2 emissions will rise by only 4% by 2050, resulting in a 12% increase in cement production. However, if we are to meet our global climate targets, we will need to take more aggressive action.
"Emission-related Norms to be Tightened by Regional Governments to Improve Decarbonizing Potential of Existing Cement Formulations"
As the effects of climate change become clearer, scientists and governments alike have argued for more rigorous greenhouse gas (GHG) emission targets. The goalpost has been adjusted from keeping temperature rise below 2.0 degrees Celsius to 1.5 degrees Celsius, with more countries pledging to go net-zero by 2050. The COVID-19 pandemic put further strain on the industry, reducing demand and raising questions about how long it would take for the industry to recover.
Uncertainty surrounds what will happen in the climate discussion by 2050, but the cement sector faces particular difficulties in meeting these targets due to the unavoidable chemical process known as calcination.
Years may go by before innovative methods for decarbonizing cement can be scaled up like they are in other industries. Despite this, findings imply that the industry has the potential to lower its 2017 emissions by more than 75% by the year 2050.
More Insights, Lesser Cost (-50% off)
Insights on import/export production,
pricing analysis, and more – Only @ Fact.MR
Country-Wise Analysis
Why are Low Carbon Cement Suppliers Lining Up in China?
China has historically remained one of the vital destinations when it comes to the construction industry, starting from rapid infrastructure development and the construction boom in the early 2000s. Since individuals cannot own land in China, owing to the rapid shift of the rural population towards urban areas, the working population kept on rising.
Moreover, as manufacturers started setting up bases in Chinese cities, real estate developers quickly jumped into the market, driving Chinese construction from 2000 onwards. It rose to such an extent to match the ever-increasing working class's property demand that at one point it accounted for nearly 30% of China's GDP.
All of this gave a huge demand boost to native cement manufacturers who have been into producing cement for meeting domestic demand first. This led China to become the leading cement manufacturing base as of 2021, with annual production above 2,500 million tons per year, with nearly 6 out of the top 10 cement producers based out of China.
Moreover, these players have been involved in improving the sustainability aspect associated with their overall operation in the cement industry, taking note of the government's push towards green energy and sustainability. They have been involved in R&D for developing newer greener alternatives to existing cement formulations, and, in turn, try and attract newer consumers for their low carbon cement in the long run.
Owing to this, demand for green cement or low carbon cement - both of these terms being used interchangeably - is on the rise and expected to increase at a CAGR of 9.3% from 2022 to 2032 in the Chinese market.
Will the U.S. Be a Prominent Market for Low Carbon Cement?
Although the U.S behind in terms of overall demand for cement in the past half-decade as compared to developing countries, it is largely undertaking renovation projects for repairing its ailing infrastructure. Recently a 1 trillion dollar investment for repairing its ailing infrastructure was announced by the U.S. government, which has opened newer revenue-generating opportunities for green cement manufacturers.
Besides, the presence of agencies such as the United States Environment Protection Agency (EPA) for regulating environmental and sustainability-related matters further points toward low carbon cement adoption as the country moves towards adopting sustainable solutions.
Besides, U.S. manufacturers have already been investing in the development of newer alternatives to cement, and due to this, the U.S. low carbon cement market is predicted to surge at a CAGR of 10.5% and create an absolute $ opportunity worth US$ 535.2 million by 2032-end.
Category-Wise Analysis
Which Low Carbon Cement End Use Will Remain the most attractive?
When compared to conventional cement, the manufacture and use of green cement have a very low carbon impact. For example, it reuses trash from manufacturing and minimises greenhouse gas emissions. It's durable, resistant to cracking, and long-lasting. The most common problem with concrete is the corrosion of steel bars. The low chloride permeability of green cement makes it rust-resistant.
When the production process is addressed and green concrete is used, CO2 emissions can be reduced by 30%. It's also crucial to note that the amount of freshwater needed to make ready-mix concrete with green cement is reduced by nearly half. Demand for this environment-friendly product is increasing, and it is helping the cement industry deal with a wide range of environmental concerns.
Out of the end usages considered in the market study, commercial construction has remained a vital generator for the demand for low carbon cement, accounting for nearly 36% of the total market as of 2021. Moreover, companies are partnering with cement manufacturers to come up with innovative solutions that can further be used for a longer time.
Demand for low carbon cement will be driven by the rising commercial construction industry, which is poised to create an absolute $ opportunity worth US$ 1.6 billion by 2032, expanding rapidly at a 13% CAGR.
Which Low Carbon Cement Type Has Emerged as the Market Favourite?
Out of all the cement types considered in the scope of the study, Portland cement has remained the market favourite with a majority of companies using it as a base cement before adding innovation to develop their versions of low carbon cement.
Moreover, companies have started to partner with end users and commercial as well as residential real estate developers for the long-term supply of their cement. This is well depicted by Hoicim, which has supplied its version of low carbon cement under the ecoplanet brand name to several construction companies who are focussing on improving their sustainability ratings in the mid-term period.
Besides, Portland cement has remained the go-to cement based for green cement manufacturers owing to easier availability across geographies at rather competitive prices as compared to other cement types.
Owing to this, demand for Portland cement is anticipated to increase at a higher CAGR of 12.8% to reach US$ 2.8 billion by 2032. This is followed by high alumina cement, which is expected to progress at a CAGR of 10.3% to reach US$ 1.3 billion.
Competition Landscape
Capitol Aggregates, CarbiCrete, Carbon Cure, Cemex, CeraTech, Ecocem Ireland Ltd., Heidelberg Cement, Holcim (ECOPlanet), Kiran Global Chems Ltd., Navrattan Green Cement Industries Pvt. Ltd., and U.S. Concrete Inc. are leading manufacturers of low carbon cement.
Producing cement and concrete on their own is not an option. The cement industry must work together to increase the chances of success. To fulfil 2030 ambitions matched with a 1.5-degree target, this paper analyses the numerous participants in the cement ecosystem and their unique sustainability issues and needs.
As a result, we're able to show cement and concrete makers how to create a long-term business strategy based on sustainability. There are many ways to satisfy sustainability goals, introduce new technology, and explore green avenues of growth for both, a company's top and bottom lines.
Fact.MR has provided comprehensive information on the various business models used by low carbon cement market participants, as well as a detailed sales analysis of low carbon cement, top low carbon cement manufacturers, and top low carbon cement suppliers, including SWOT analysis and sales generated by the target low carbon cement products of top manufacturers.
Segmentation of Low Carbon Cement Industry Research
By Cement Type :

Portland Cement
High Alumina Cement
Quick Settling Cement
Others

By Product Type (Technology) :

Fly-ash-based
Slag-based
Others

By Reduction Potential :

Less than 50% reduction
50-70% reduction
Above 70% reduction

By End Use :

Residential Construction
Commercial Construction
Industrial Construction

By Region :

North America
Latin America
Europe
East Asia
South-East Asia & Oceania
Middle East & Africa
- FAQs -
Currently, the global low carbon cement market is pegged at US$ 1.7 billion.
Low carbon cement consumption is anticipated to surge at a CAGR of 11.2% over the decade.
The low carbon cement market size grew at a CAGR of 4.5% from 2017 to 2021.
Soarnol (Mitsubishi Chemical Corporation), Kuraray, Chang Chun Group, NSB Polymers, SK Functional Polymers, and Reliance Industries Limited are major manufacturers of low carbon cement.
Research & innovation and development of newer use cases of low carbon cement have been the go-to strategy to ensure regular sales in this highly competitive market.
East Asia is estimated to hold 24.7% of the global low carbon cement market share by 2032.