Carbapenem-based Antibiotics Market to Exhibit 7% CAGR, with Sales of Tebipenem and Sulopenem Projected to Soar
Carbapenem-based Antibiotics Market
Published : 20 Dec 2019 Industry: Healthcare
Incidence of bacterial infections with multidrug resistance is increasing rapidly, generating the need for novel, broad-spectrum carbapenem-based antibiotics for the treatment of various bacterial infections. Broad-spectrum carbapenem-based antibiotics such as tebipenem (Spero Therapeutics Inc.) and sulopenem (Iterum Therapeutics Inc.) are at late stage clinical development with expected launch of both in 2020 - 2021. Multidrug resistance to currently marketed carbapenem-based antibiotics is largely prevalent in the world. Also, expiry of patent for ertapenem is expected to offer new avenues for market growth in regulated as well as non-regulated carbapenem-based antibiotics market where its adoption & availability are comparatively limited. On the back of these factors, the global carbapenem-based antibiotics market is estimated to reach a valuation of US$1.8 Bn by 2029.
Key Takeaways of Carbapenem-based Antibiotics Market Study
Larger patient pools and launch of novel products for the treatment of bacterial infections are expected to shape the carbapenem-based antibiotics market landscape.
Increasing prevalence of bacterial infections caused by longer stay in hospitals as well as immunocompromising chronic diseases that make patients prone to bacterial infections is expected to boost carbapenem-based antibiotics market growth.
Currently, the carbapenem-based antibiotics market is dominated by ertapenem. However, tebipenem is expected to gain traction during the forecast period in terms of revenue.
In terms of indication, pneumonia is expected to garner highest market share as compared to other bacterial infections owing to a large patient pool.
" Recently, FDA granted Qualified Infectious Disease Product (QIDP) to sulopenem as well as tebipenem for new indications, which is further expected to broaden the growth prospect of the carbapenem-based antibiotics market," says the Fact.MR Analyst.
Strategic Expansion by Dominant Players Benefiting Market
The carbapenem-based antibiotics market is dominated by top three players including Merck Co. & Inc., Pfizer Inc., and Sumitomo Dainippon Pharma Co., Ltd. These leading players in the carbapenem-based antibiotics market contribute around 80% to 90% revenue share. Clinical stage companies such as Spero Therapeutic Inc. and Iterum Therapeutics Inc. with the launch of their novel carbapenem-based antibiotics are expected to acquire significant market space. In October 2017, Spero Therapeutics, Inc. and Meiji Seika Pharma Co., Ltd. announced an exclusive licensed partnership for its carbapenem-based antibiotic named SPR994 (tebipenem). In a similar development, Sumitomo Dainippon Pharma in June 2017, announced a partnership with Zuellig Pharma for sales of carbapenem-based antibiotic meropenem in five countries of Southeast Asia (Vietnam, Thailand, Singapore, Philippines, Malaysia) and Hong Kong.
Looking for more information?
The research study on carbapenem-based antibiotics market by Fact.MR incorporates an unbiased assessment of key demand-driving factors and trends which have shaped the landscape of carbapenem-based antibiotics over 2014 - 2018 and includes a detailed assessment of key parameters that are anticipated to exert influence over 2019 - 2029. Market statistics have been presented on the basis of product type (Meropenem, imipenem, ertapenem, tebipenem, doripenem, panipenem, etc.), indication (intra-abdominal infections, urinary tract infections, pneumonia, bacterial meningitis, skin and skin structure infections, acute pelvic infections, prophylaxis of surgical site infection, respiratory tract infections, others), sales channel (hospital pharmacies, retail pharmacies, online pharmacies) across seven major regions.
Fact.MR's Domain Knowledge in Healthcare
Our healthcare consulting team guides organizations at each step of their business strategy by helping you understand how the latest influencers account for operational and strategic transformation in the healthcare sector. Our expertise in recognizing the challenges and trends impacting the global healthcare industry provides indispensable insights and support - encasing a strategic perspective that helps you identify critical issues and devise appropriate solutions.
- Request for
More Information

-
Carbapenem-based Antibiotics Market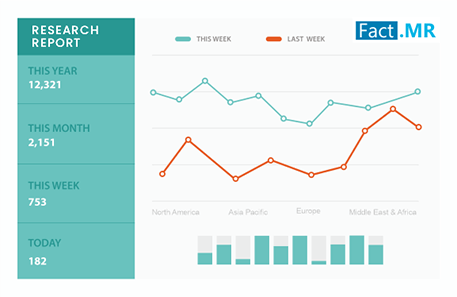 Carbapenem-based Antibiotics Treatment Market Analysis By Online and Offline Sales Carbapenem-based Antibiotics drugs During 2019 to 2029