Baru Nuts Market
Baru Nuts Market Analysis By Product (Whole Baru Nuts, Raw Baru Nuts, Roasted Baru Nuts, Flavored Baru Nuts, Processed Baru Nuts, Baru Butter, Baru Oil, Baru Flour, Baru Sweets), By End Use (Food Processing, Snacks, Nutraceuticals, Confectionary, Personal Care & Cosmetics, Others) and By Region – Global Market Insights 2022 to 2032
Analysis of Baru Nuts market covering 30 + countries including analysis of US, Canada, UK, Germany, France, Nordics, GCC countries, Japan, Korea and many more
Baru Nuts Market Outlook (2022-2032)
The global baru nuts market is valued at US$ 5.1 million in 2022 and is estimated to reach a valuation of US$ 47 million by 2032-end. Such a high jump in market valuation is because worldwide Demand for baru nuts across the world is likely to skyrocket at an astronomical CAGR of 24.8% through 2032.
Brazil is the largest exporter of baru nuts in the world; it leads by a long way and accounts for more than 50% cultivation of these nuts. The country exports around 25% and 22% of the baru nuts it produces to Europe and the United States, respectively.
The market for baru nuts continues to serve as a niche industry that awaits the dawn of prominence, especially with the growing count of consumers who are making a shift to eating healthy food products. In addition, there is an ongoing trend of wellness and health across the globe that is likely to bolster the demand for healthy food products, including fox nuts, baru nuts, and others.
There is a very limited count of food processing companies and consumers who are aware of baru nuts. However, the popularity of this superfood is growing faster than its market-available counterparts, which is predicted to turn the table around over the coming years and lead to high market growth.
The rising popularity of these nuts is owing to the fact that they are healthier in the peanut form and contain more nutrients per calorie as compared to several other nuts that are available in the market.
Cerrado is a vast tropical Brazilian ecoregion in the Savanna where the production of baru nuts is limited to. The crop is harvested only once a year, which increases its prominence a whole lot more. Growing consumer focus on wellness and health and the rising focus of many food processing companies to leverage rich-in-nutrition ingredients are anticipated to enhance the growth dynamics of the baru nuts market in the years ahead.
Baru nuts are used at a significant rate in the food processing industry, which is growing at a fast pace and is further predicted to contribute to the demand growth for these nuts across the world. Moreover, the lucrativeness of these products is likely to grow with their rising use in the cosmetics and personal care industry over the coming years. The growing use of baru oil to help revitalize the hair and the skin is predicted to bolster its application in the health & wellness industry.
Several cosmetic companies procure baru oil for the purpose of experimentation due to its organic and herbal aspect, which attracts the pool of consumers who are label-conscious.
Report Attributes

Details

Baru Nuts Market Size (2022)

US$ 5.1 Million

Estimated Market Value (2032)

US$ 47 Million

Growth Rate of Global Market (2022-2032)

24.8% CAGR

Projected Market Share of Brazil (Production 2032)

60%

Key Companies Profiled

Brukas, Inc.
Baru Baron
Brazil Barn Group
Atina Ativis Naturais Ltda.
BIOBRAZIL BOTANICALS
Know thy Competitors
Competitive landscape highlights only certain players
Complete list available upon request
What is Lending Impetus to the Growth of the Baru Nuts Market?
"More Consumers Demanding Superfoods"
Roasted baru nuts come with a high nutritional profile that enables the superfood to continue with its increased adoption in different industries. The increasing popularity of these nuts is evident with their rising adoption by manufacturers serving in the food and beverage industry and thus tapping into noteworthy demand for these nutritionally dense ingredients.
As a matter of fact, these superfood ingredients are not limited to food products. They are increasingly used in the aisles of personal care & cosmetics owing to growing consumer awareness about the consumption of healthy food items in recent years.
These rising trends in recent years are likely to stimulate the demand growth for nutrition-rich ingredients and nuts, for instance, baru nuts in confectionary, nutraceuticals, and savory snacks across the rapidly growing industry of food processing.
"Several Health Benefits of Baru Nuts Likely to Unlock Opportunities for Companies"
At present, there is a noteworthy increase in the demand for healthy nuts across the globe. On a routine basis, billions of people are consuming low-cal nuts. Further, increased traction for baru nuts is estimated to generate the supply of industrial products, i. e. baru nuts.
As the fiber content and nutritional profile of baru nuts overshadow the nutritional and dietary value of other nuts, there is a rising awareness related to this powerhouse of health. This factor is likely to solidify the projection about the importance of baru nuts as an important element of the human diet in recent years. Thus, these points are predicted to ensure significant and diverse impacts of these nuts beyond nutrition in the years ahead.
A lot of researchers are involved in R&D activities that are related to baru nuts and indicate that a diet based on baru nuts can increase the metabolism rate among consumers. In addition, these nuts are also helpful to reduce the level of cholesterol and burn fat. Thus, this lucrativeness of the superfood is envisaged to increase in the coming years.
The research findings also indicate the importance of the consumption of baru nuts to reduce cholesterol, waist size, and some other unhealthy fats in the human body. Moreover, these nuts are also helpful to increase healthy fat which is further anticipated to stimulate novel demand opportunities for baru nuts.
The nutritional source and composition of baru nuts are estimated to suffice the requirements of highly restrictive diets, for instance, paleo diet and keto diet. Moreover, it can also find its place as a noticeable ingredient in diets that are gluten-free.
"Increasing Efforts to Maintain Environmental & Ecological Balance through Baru Nut Production"
At present, the market of baru nuts is at its nascent stage and it is estimated to experience turmoil of various optimistic changes with respect to the increasing concentration of industry players on the development of market avenues strategically.
Marker frontrunners, especially the companies who are operating in Brazil and are the sole producers of these nuts likely to create awareness among the local population about their value. These initiatives are expected to prevent the cutting down of these species of plants, for instance, baru trees.
These actions aim to ensure that collectors do not cut a lot of fruits from baru trees to help nature to grow these trees at an increased rate. These efforts are helping to maintain environmental and ecological balance. Thus, rising efforts from regional collectors and industry players are likely to hold the future of baru nuts production.
What is Limiting the Sales Opportunities for Baru Nut Producers?
"Lack of Awareness and Limited Production to Restrict Penetration of Baru Nuts"
Baru nuts are produced only in Cerrado which is a vast tropical ecoregion in the savanna of Brazil. The crop is harvested only in a period of one year which is arresting the eminence and thus the adoption of the nutritional nuts.
Increasing consumer concentration towards wellness and health trend and growing concentration of the companies serving in the food processing industry to leverage rich-in nutritional ingredients are estimated to change the growth dynamics of baru nuts.
The present market size of baru nuts is very small but the future is anticipated to hold high-stakes of opportunities due to the growing penetration of these in developed nations. The flow of trade is restricted to some nations so far with the majority of these nuts (~60.1%) exported from Brazil. To increase the potential of the market, players in Brazil are exporting products to many countries that are likely to hold a high potential for consumption.
For example, out of its production of baru nuts, Brazil exports 25.2% to Europe and 22.1% to the United States. The pace of trade is likely to remain complex due to the operation of industry players in multiple regions that includes Brazil which collects raw baru nuts and exports the same with flavored and processed versions from overseas facilities.
Further, Brazil, for example, imports ~2.1% of baru nuts that are flavored baru from Canada. The market of baru nuts is likely to emerge as the victor in the rising race of import and export. But, owing to increased product awareness among the global masses, is serving as a leap in growth that is expected in the coming years.
"Logistics Challenges to Restrict Market Growth Opportunities"
Logistics have been serving as one of the pivotal challenges to limit growth impetuses for baru nuts. Cerrado, which is the prominent producer of baru nuts, is a geographically big area, even three times the size of Texas. So, it becomes problematic for merchants to collect nuts from the families who are actively involved in the baru nuts collection tasks.
In addition, transportation become one of the key issues restricting the growth of baru nuts due to the bigger size of Cerrado.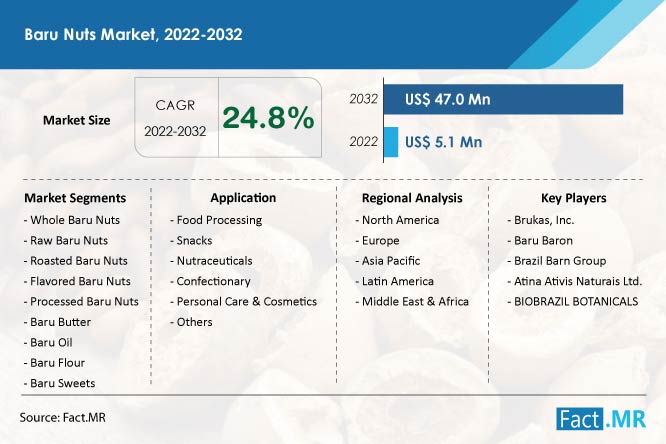 Which Region is Likely to Provide Attractive Business Opportunities?
"Growing Popularity of Baru Nuts across Industries in North America"
North America is anticipated to hold a dominating position in the global market of baru nuts in the years ahead. The growth in the regional market is owing to the growing popularity of baru nuts in the food and beverages industry. People in North America region are making a shift to eat healthy food in line with rising wellness and health trend.
Baru nuts are also gaining popularity in Europe in recent years with increasing awareness among the regional population related to the benefits of these nuts. This factor is predicted to stimulate the application of these nuts extensively across the region.
More Insights, Lesser Cost (-50% off)
Insights on import/export production,
pricing analysis, and more – Only @ Fact.MR
Country-wise Insights
Why is Brazil So Prominent in the Baru Nuts Market?
"Brazil Being Key Producer of Baru Nuts Dominates Global Market"
Brazil is the key producer of baru nuts and holds a noticeable share of the global market. Even, the country exports a significant amount of these nuts to other regions that include North America and Europe.
Owing to elevated levels of calcium, protein, fiber, and vitamin E, baru nuts are likely to continue as an anomaly across its native Brazil. In addition, the potential of these drugs to develop various food products and rapid growth in the Western customer pool is likely to contribute to growth opportunities in the market.
Importers from the U.S. and Europe are likely to concentrate on high-protein legume nuts to capitalize on the increasing trend of superfoods, which is further projected to widen the canvas of baru nuts in Brazil.
While baru nuts are estimated to remain unknown outside native Brazil, some finished packaged food products that include Natuaris Muniz's bread spread Barutella and different cooking oils. These products are likely to garner traction among consumers.
Category-wise Insights
Which Type of Baru Nuts is Hugely Popular in the World?
"Rising Use of Processed Baru Nuts as Snack"
Based on product, the baru nuts market is classified into whole baru nuts, baru sweets, raw baru nuts, baru flour, roasted baru nuts, baru oil, flavored baru nuts, baru butter, and processed baru nuts.
Among these industry segments, processed baru nuts are anticipated to hold a noticeable share of the global market. Basically, it is a process of frying, roasting, or baking baru nuts with different seasonings and spices. There is a rapid increase in the use of these processed baru nuts as a snack owing to their protein-rich content. These nuts are also used effectively for weight loss with reduced fat absorption.
Where are Baru Nuts Most Widely Used?
"Personal Care & Cosmetics and Food Processing Sectors Prominent Users of Baru"
Based on end use, the baru nuts market is divided into food processing, nutraceuticals, snacks, personal care & cosmetics, confectionary, and others. Among these industry segments, personal care & cosmetics and food processing are projected to drive demand opportunities for baru nuts.
In various personal care and cosmetic products, baru nuts are used as noteworthy ingredients. These products are found in lotions, lip balms, hair oils, conditioners, shampoos, and soaps – just to mention a few. The rising use of these nuts is attributed to their ability to provide fatty acids (almond oil) and minerals (calcium) that are helpful to keep skin elastic and healthy.
In recent years, there is a noteworthy increase in the demand for healthy food and snacks in developed as well as developing regions. Some common use of nuts includes flavored food dishes, like soups and rice cakes. Thus, the growing use of these nuts in the food processing industry is further likely to bolster sales for baru nuts in the coming years.
Competitive Landscape
Prominent producers of baru nuts are indulging in fierce competition. These players are taking efforts for novel product launching to strengthen their revenue cycle. They are investing in different R&D efforts to discover novel insights and formulations.
Mergers & acquisitions, portfolio expansion, collaborations, and partnerships are some noticeable strategies that are incorporated by key market players. Some of the key players in the market include Brukas, Inc., Baru Baron, Brazil Barn Group, Atina Ativis Naturais Ltda., and BIOBRAZIL BOTANICALS.
Segmentation of Baru Nuts Industry Research
By Product Type :

Whole Baru Nuts
Raw Baru Nuts
Roasted Baru Nuts
Flavored Baru Nuts
Processed Baru Nuts
Baru Butter
Baru Oil
Baru Flour
Baru Sweets

By End Use :

Food Processing
Snacks
Nutraceuticals
Confectionary
Personal Care & Cosmetics
Others

By Region :

North America
Europe
Asia Pacific
Latin America
Middle East & Africa
- FAQs -
The size of the global baru nuts market is US$ 5.1 million in 2022.
Cerrado is a vast tropical Brazilian ecoregion in the savanna that leads the production of baru nuts.
The market for baru nuts is likely to reach a valuation of US$ 47 million by 2032.
Sales of baru nuts are predicted to surge at a CAGR of 24.8% through 2032.
Brukas, Inc., Baru Baron, Brazil Barn Group, Atina Ativis Naturais Ltda., and BIOBRAZIL BOTANICALS are key market players.
Brazil, with 60.1% market share, is the most prominent producer of baru nuts.