Straddle Carriers Market
Straddle Carriers Market By Loading Capacity (Less Than 40 T, 40 T, 50 T), By Stacking of Container (1-over-1, 1-over-2, 1-over-3), By Drive Type (Hydraulic, Electric, Hybrid Drive), By Lift Type, By Operation Type, By Application & Region - Global Insights 2023 to 2033
Analysis of Straddle Carriers Market Covering 30+ Countries Including Analysis of US, Canada, UK, Germany, France, Nordics, GCC countries, Japan, Korea and many more
Straddle Carriers Market Outlook (2023-2033)
The global straddle carriers market is valued at US$ 800 million in 2023 and is likely to hit US$ 1.4 billion by 2033, advancing at a CAGR of 5.7% from 2023 to 2033 (forecast period). Sales of straddle carriers are projected to reach 19 thousand units by 2033.
A straddle carrier, commonly known as a straddle truck, is a vehicle that transports its load underneath, as opposed to conventional carriers, which transport their load on top. The driver's cabin is located on the top, and all-around glass is glazed to provide the driver with a 360-degree view. It contains stairways for the driver to enter and exit the cabin. Straddle carriers have eight independent steerable wheels. Straddle carriers are used to transport large, long, oversized loads and container vessels.
Straddle carriers are mostly used to transfer goods at terminals and container vessels horizontally from one location to another within a terminal. Straddle carriers assist in the transportation of container vessels to the train as well as the loading and unloading of goods from the train. There are three types of straddle carrier variants: manual, automatic, and semi-automatic, each with a different loading capacity.
The expansion of international trade, mainly via sea routes, has created profitable opportunities for port-handling equipment like straddle carriers.
As per the International Chamber of Shipping (ICS), sea-borne trade accounts for roughly 90% of all international imports and exports.
Nevertheless, initial high investments in port handling equipment, along with significant labor, are anticipated to have an impact on the trading scenario.
Many countries are implementing private-public partnerships to assist trade progress, in which management and operational tasks are transferred to private enterprises while assets and land are delegated to the government. This trend is projected to alleviate the significant initial investment stress that comes with port terminal development.
This aspect, with an increased emphasis on production enhancement, has greatly driven the growth of the intermodal container leasing sector, supporting the sales growth of straddle carriers.
Over the last several years, technological advancements have resulted in major improvements in the shipping industry. Advances in straddle carriers have led to a higher success rate for container ships in terms of cargo handling. Furthermore, manufacturers' shift toward gearless variations that do not require shipboard cranes has resulted in increased demand for efficient shipping containers such as straddle carriers.
Moreover, increased demand for faster cargo unloading and loading has accelerated the use of extremely effective and superior capacity containers such as straddle carriers, hence driving the growth of the straddle carriers industry.
Report Attributes

Details

Straddle Carriers Size (2023)

US$ 800 Million

Projected Market Value (2033)

US$ 1.4 Billion

Global Market Growth Rate (2023-2033)

5.7% CAGR

Asia Pacific Market Growth Rate (2023-2033)

4%

Electric Straddle Carriers Segment Growth Rate (2023-2033)

3.5% CAGR

Key Companies Profiled

Kalmar Inc
Cimolai Technology Spa
Konecrane Oyj
Mobicon Systems Pty Ltd
ASCOM S.p.A
Kress Corporation
Cargotec Oyj
Combilift
Liebherr International AG
Cometto S.p.A
NRS AS
Know thy Competitors
Competitive landscape highlights only certain players
Complete list available upon request
Which Factors are Driving the Demand for Straddle Carriers?
"Increasing Deployment of Automated Terminals"
Automation is rapidly expanding as one of the most prevalent trends throughout industrial applications, including shipping. Automated terminals have gained significant appeal with a rising emphasis on high productivity and efficiency.
Furthermore, automated solutions have infiltrated the container terminal space in an effort to address the issues that larger ships encounter in terms of efficient containerization.
Waiting and turnaround times for ships are lowered with automated terminals, boosting their adoption in major ports worldwide. This aspect is likely to create growth opportunities for straddle carriers in the coming years.
"Advent of AI Straddle Carriers"
Manufacturers of straddle carriers, heavily driven by the automation concept, are concentrating on investing in research and development to create modern variations fitted with artificial intelligence. With the Internet of Things (IoT) spreading across all industries, manufacturers have capitalized on its potential to produce artificial intelligence straddle carriers.
For example, a Chinese company specializing in straddle carrier production, ZPMC, has developed an AI straddle carrier. This has led to a decrease in terminal employees that can be used for other activities and a more than 50% increase in horizontal transit efficiency at port terminals. Furthermore, the company says that the accuracy ratio of the autonomous AI straddle carrier is about 100%, allowing for increased efficiency and productivity.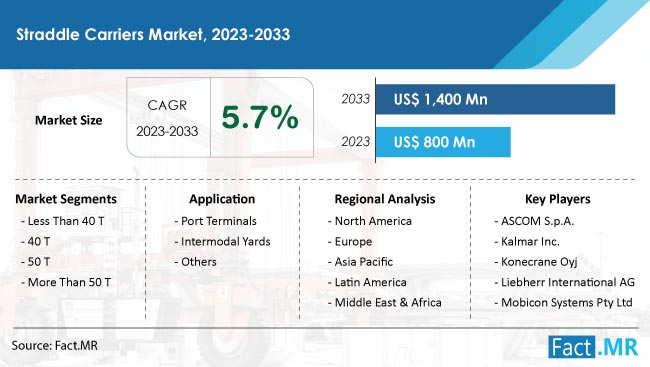 Country-wise Insights
Which Countries are Driving Asia Pacific Market Growth?
Demand for straddle carriers in Asia Pacific is projected to expand at a CAGR of 4% during the forecast period. Due to the existence of a large population in emerging nations in Asia Pacific, the export and import business is growing rapidly, which is driving the demand for container handling equipment like straddle carriers.
Japan and South Korea are supporting market growth in Asia Pacific. Busan Port in South Korea is among the major port terminals that handle around 19 million TEU (twenty equipment units) each year. As a result, the demand for straddle carriers in South Korea is growing.
Other factors driving the Asia Pacific market growth include significant infrastructure spending by regional governments to modernize port facilities, rising per capita income, and growing import and export activity for comfort and leisure commodities.
Why is the United States at the Forefront of the North American Market?
The United States is a market leader in North America. The United States, the world's second-largest importer, has a huge trade deficit. Despite the fact that it has the capability to produce almost all of its imports, the United States often pays significantly less when purchasing from other countries. As a result, ports have expanded across the country.
Moreover, since the country has well-developed EV infrastructure facilities and the government encourages the development of electric vehicles, the demand for electric straddle carriers is expected to grow faster.
Furthermore, cargo volume increased by 4% at four of Canada's busiest ports: Halifax, Montreal, Prince Rupert, and Vancouver. In addition, Canada's ports are building new terminals and modernizing old ones to accommodate the expected continual rise in cargo volume. Due to the government's emphasis on increasing cargo capacity at ports and the development of new technologies, the Canadian market for straddle carriers is predicted to expand rapidly throughout the forecast period.
What Makes Germany the Largest Contributor to the European Market?
Germany is the largest contributor to the European market. In addition to its busy seaports, Germany has several important inland ports that serve as entrance points to inland waterways. Germany's principal ports are Hamburg, Wilhelmshaven, and Bremerhaven, which serve as hubs for all forms of cargo and transshipment, as well as gateway ports.
The port of Duisburg, often known as Duisport, is a major inland port in Germany and is widely recognized as the world's most important inland port. Hence, the demand for straddle carriers is increasing due to the presence of important ports in Germany.
Furthermore, the United Kingdom is investing heavily in port development initiatives to promote itself as a major marine trade hub in the European region. The construction of Scotland's most important port facility, which will cost 350 million euros, has begun. The project could lead to a 7.3-hectare increase in the port's berthage area. This factor may enhance the country's demand for straddle carriers.
Category-wise Insights
Why is Demand for Electric Straddle Carriers the Highest?
Demand for electric straddle carriers is estimated to progress at a CAGR of 3.5% over the next ten years.
Eco-efficiency has become critical in cargo and material handling. As ports and terminals worldwide strive for greater energy efficiency and lower emissions, electrification is the current industry trend. The electrification of port equipment has been shown to reduce pollution significantly. With countries working on lowering emissions, the use of electric straddle carriers is projected to rise in the coming years.
Moreover, electric straddle carriers are anticipated to witness significant usage as environmental health rules become more stringent. Manufacturers of straddle carriers are developing electric variations of straddle carriers that offer enhanced operational efficiency and cost savings while adhering to NOx and CO2 standards.
Demand for hybrid straddle carriers is also projected to grow throughout the projection period due to their maintenance-free regenerative energy system and a significant reduction in fuel usage.
Competitive Landscape
The global market for straddle carriers is highly fragmented. Key players in the straddle carriers market are heavily spending on R&D to meet customer demands. Furthermore, to increase worldwide presence, market players ensure that their products are available in all regions around the world.
Kalmar, a Cargotec company, has agreed to supply three Kalmar diesel-electric straddle carriers to worldwide logistics and freight operator Tropical Shipping. The order was placed in Cargotec's 2022 Q3 order intake, and all units are expected to be delivered in Q3 2023. Tropical Shipping, a member of the Saltchuk family of enterprises, is a market leader in high-quality, on-time transportation solutions. The company operates state-of-the-art facilities in chosen seaside ports from Canada to South Florida and the US Virgin Islands to meet customers' freight-shipping requirements to and from the Caribbean and the Bahamas.
Key Segments of Straddle Carriers Industry Research
By Loading Capacity:

Less Than 40 T
40 T
50 T
More Than 50 T

By Stacking of Container:

Mini Straddle Carriers
1-over-1
1-over-2
1-over-3

By Drive Type:

Hydraulic Drive
Electric Drive
Hybrid Drive

By Lift Type:

By Operation Type:

Manual
Semi-Automatic
Automatic

By Application:

Port Terminals
Intermodal Yards
Others

By Region:

North America
Latin America
Europe
APAC
MEA
- FAQs -
The global straddle carriers market is valued at US$ 800 million in 2023.
The global straddle carriers market is expected to reach US$ 1.4 billion by 2033.
The worldwide demand for straddle carriers is projected to increase at a CAGR of 5.7% from 2023 to 2033.
The Asia Pacific market is predicted to develop at a CAGR of 4% during the forecast period.
The demand for electric straddle carriers is estimated to progress at a CAGR of 3.5% during the forecast period.
Kalmar Inc., Cimolai Technology Spa, Konecrane Oyj., Mobicon Systems Pty Ltd, ASCOM S.p.A, Kress Corporation, Cargotec Oyj, Combilift, Liebherr International AG, Cometto S.p.A, and NRS AS are leading manufacturers of straddle carriers.