Straddle Carrier Market
Straddle Carrier Market Forecast, Trend Analysis & Competition Tracking - Global Market insights 2018 to 2028
FACT1585MR
Feb-2022

List of Tables : 226

List of Figures : 171

170 Pages
About the Report
"Straddle Carrier Market Forecast, Trend Analysis and Competition Tracking – Global Review 2018-2028" is a comprehensive compilation of various data and key insights that key stakeholders can use and apply in their routine business setting.
The extensive research study on straddle carrier market is a detailed report covering 17 chapters along with tables and figures representing key metrics of the market.
The report on straddle carrier market includes data estimations in terms of US$ Mn along with volume projections (in terms of units) for a period of 10 years, form 2018 till 2028.
The forecast highlights are illuminated in the report for the reader's perusal, which reflect actionable intelligence supporting in planning and executing future moves.
Also, the report provides a real-time coverage on several industry-specific and macroeconomic aspects that emboss a significant influence on the adoption of straddle carriers and overall market's growth.
This report can provide key participants market with an ocean of actionable intelligence including but not limited to country wise analysis, segmental snapshot, competitive analysis and detailed impact analysis.
Avail customized purchase options for your needs
Definition
Straddle carriers are also referred to as straddle trucks that are used as freight handling equipment.
The equipment functions by carrying the freight load underneath it by using a straddling process.
This cargo handling system has the ability to unload and load without use of forklifts or cranes, making straddle carriers a beneficial freight carrying equipment.
There are various types of straddle carrier variants, namely, manual, automatic and semi-automatic that have varying loading capacities.
Key Findings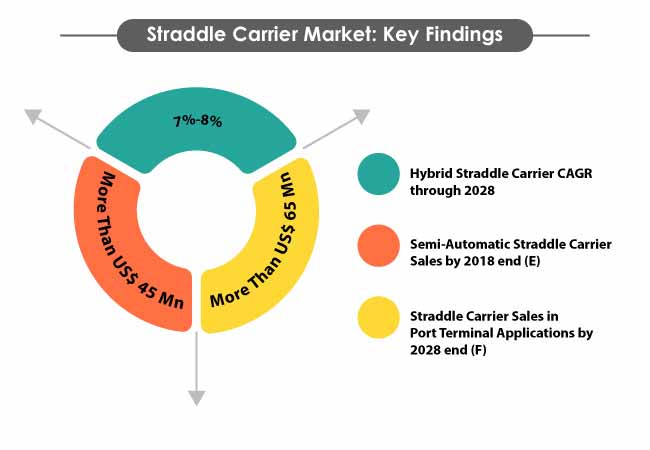 Increasing Adoption of Automated Terminals to Fuel Straddle Carrier Demand
Automation has not left any industry untouched and is spreading at a significant pace as one of the most prominent trends across industrial applications, including shipping.
Automated terminals have been gaining substantial traction with growing focus toward high productivity and efficient operation.
Moreover, automated solutions have penetrated the container terminal space in a bid to solve the challenges faced by larger ships apropos of effective containerization.
With automated terminals, waiting and turnaround times for ships is reduced, which is driving their adoption across major ports worldwide.
This factor is likely to present potential pathways of growth for straddle carriers in the coming years.
An Adaptive Approach to Modern-day Research Needs
Rising Private-Public Partnerships in Ports to Stimulate Growth  
Growth in international trade, particularly using sea routes, has presented lucrative opportunities for port handling equipment such as straddle carriers.
However, high initial investments in port handling equipment coupled with heavy manpower is likely to impact the trading scenario.
In a bid to facilitate trade progress, various countries are adopting private-public partnerships wherein management and operational responsibilities are delegated to private companies with assets and land delegated to the government.
This trend is expected to relieve the high initial investment tension associated with terminal development at ports.
This factor in combination with increasing focus toward enhancement of production has significantly pushed the growth of intermodal container leasing sector, consequently stimulating growth of straddle carrier market.
Development of Unmanned Straddle Carriers in the Offing – New Trend Fostering Adoption
Largely influenced by the automation concept, manufacturers of straddle carriers are focusing on investing in research and development to introduced modern variants that are equipped with Artificial Intelligence.
With Internet of Things (IoT) proliferating in every sector, manufacturers have leveraged its potential to develop Artificial Intelligence unmanned straddle carriers.
For instance, Chinese company, ZPMC, involved in the straddle carrier manufacturing has come up with an AI straddle carrier.
This has resulted in reduction of terminal staff that can be used to carry out other tasks, along with horizontal transportation efficiency enhancement of port terminals by more than 50 percent.
In addition, the company claims that the accuracy quotient of autonomous AI straddle carrier is almost 100 percent, facilitating higher productivity and efficiency.
Interested to Procure The Data
Strong Demand for Highly Efficient Shipping Containers
Shipping industry has witnessed significant improvements on the back of technological advances since the past few years.
Enhancements in straddle carriers have translated into a higher success quotient for container ships in terms of cargo handling.
Moreover, manufacturers shifting focus toward gearless variants without use of shipboard cranes has resulted in increasing demand for effective shipping containers such as straddle carriers.
In addition, growing demand for speed-up unloading and loading of cargo has provided an impetus to the adoption of highly efficient and superior capacity containers such as straddle carriers in turn supporting the growth of the straddle carrier market.
Overcapacity and Low Freight Rates to Confine Growth
Increasing dependence of industries such as manufacturing, mining and energy on the shipping industry on the back of rising requirement of raw material supply and end products has resulted in growth of bulk trading.
Bulk commodity trading, accounting for a significant percentage in overall sea-borne trade, is expected to present potential growth prospects for use of straddle carriers.
Large fleet size coupled with relatively slow global trade has translated into overcapacity conditions with falling freight rates.
For instance, in 2016, BDI fell to 290 owing to slow economic growth in China. Moreover, low freight rates and overcapacity have resulted in increase in bulk trade.
This factor is likely to emboss an adverse impact on the shipping container business, in turn negatively impacting the growth of the straddle carrier market.
Competitive Landscape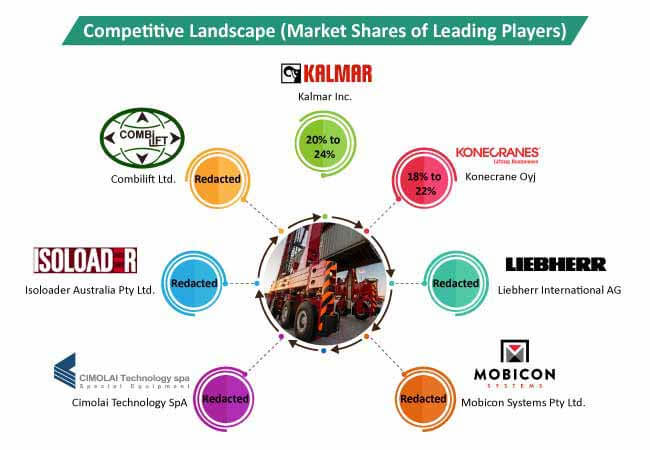 The straddle carrier market illuminates an in-depth competitive landscape section covering several facets of major players involved in the manufacturing and distribution of straddle carriers.
Various competitive intelligence aspects such as SWOT analysis, market shares, product portfolio analysis, innovations and strategies, to name a few, have been covered in the competitive landscape section of the report.
In addition, key developments of major companies in the straddle carrier market have also been included.
For instance, TPT (Transnet Port Terminals) has unveiled a new diesel-electric straddle carrier that features high productivity and performance along with reduced operating and maintenance costs.
The report on straddle carrier market also profiled other players such as
Kalmar Inc.
Konecrane Oyj.
Liebherr International AG
Mobicon Systems Pty Ltd.
Market Segmentation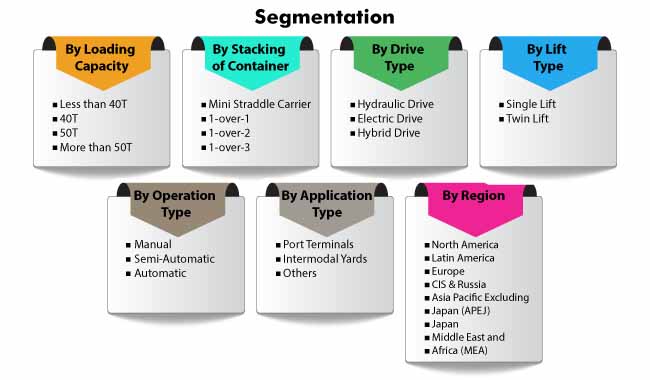 The straddle carrier market includes historical data, current market scenario as well as forecasts on every market segment.
Analysis on straddle carrier market covers a detailed scrutiny on straddle carrier loading capacity as well as stacking of containers on straddle carrier.
It also includes an in-depth analysis on lift type, drive type, operation type, application type and region.
The loading capacities include insights on the use of straddle carrier with less than 40T, 40T, 50T and more than 50T. Stacking of containers includes analysis on mini straddle carrier, 1-over-1, 1-over-2 and 1-over-3 straddle carriers.
Insights on single and twin lift is included in the lift type segment of the straddle carrier market. Straddle carrier's drive type includes analysis on hydraulic, electric and hybrid drives.
With respect to operation type, the report reflects detailed acumen on manual, semi-automatic and automatic straddle carriers.
The application scope of straddle carriers includes analysis on their demand in port terminals, intermodal yards and others.
The regional analysis on straddle carrier market includes insights on various regions along with country level analysis.
The regional analysis is carried across key regions of North America, Latin America, Europe, Japan, CIS & Russia, Asia Pacific excluding Japan (APEJ) and Middle East and Africa (MEA).
The country level analysis includes scrutiny of straddle carrier demand and sales across the United States, Canada, Germany, Spain, Italy, Brazil, Mexico, Argentina, United Kingdom, Greater China, India, South Korea, ASEAN countries, GCC countries and Iran, to name a few.