Home Diagnostics Market Outlook (2020-2030)
Home diagnostics is a burgeoning market, fast gaining popularity in a world battling the COVID-19 pandemic. With advanced technology arming this sector, home diagnostic kits enable users to check and monitor their health conditions in the comfort of their homes.
This includes testing blood samples, glucose levels, and cholesterol, besides others. Marketed as more confidential, cost-effective, and less time-consuming, home diagnostic kits now come with cutting-edge technology such as Artificial Intelligence (AI) and Internet of Things (IoT).
In its latest report on the global home diagnostics market, ESOMAR-certified market research and consulting firm Fact.MR analyses key factors that will fuel adoption over this decade.
The study tracks demand in over 20+ countries, along with a detailed chapter on the impact of the ongoing COVID-19 pandemic on this sector. Fact.MR has studied the industry in detail, providing exhaustive analysis on market drivers, barriers, competitive scenario, and business potential over the coming years.
Report Attributes

Details

Forecast Period

2020-2030

Historical Data Available for

2015-2019

Growth Rate

CAGR of 5% from 2020 to 2030

Key Segments Covered

Application

Key Companies Profiled

Bionime Corporation
Roche Holding AG
Abbott Laboratories
ACON Laboratories Inc.
BTNX Inc.
Becton Dickinson & Company
Bionime Corporation.

Report Coverage

Market Forecast
Competitive Landscape
Country-wise and Category-wise Insights
Key Trends
Key Challenges

Customization & Pricing

Available upon Request
Know thy Competitors
Competitive landscape highlights only certain players
Complete list available upon request
Historical Outlook
The home diagnostics market saw a jump in sales when Warner-Lambert introduced new pregnancy kits in the year 1977. Home diagnostics has been an incredible change in the overall diagnostics space, making the procedure simple enough to be carried out at home. Major consumers of home diagnostics kit are residents across developed countries in North America and Europe.
The report predicts that the market will progress at a CAGR of around 5% over the period of 2020 to 2030. Economic cost is also another factor that has helped the adoption of these kits gain a lot of traction in recent years.
The United States of America accounted for the maximum market share of home diagnostics in North America, contributing around 40% share of market revenue, and is expected to maintain its lead throughout the forecast period. In Europe, the United Kingdom and France, as well as Germany, are among the leading regions with high penetration of home diagnostics.
Future Outlook
Increasing public interest in healthcare, especially in urban cities, has given rise to lucrative opportunities for businesses in this space. The home diagnostics industry is flooded with competitors, but those that are constantly evolving with high-end technology in their products to eradicate any issues will gain ground. Demand is constantly growing on the back of a population that is prone to diseases such as obesity and diabetes.
The International Diabetes Foundation states that, in the year 2019, around 436 million people were found living with underlying diabetic conditions, between the ages of 20-79. The number is supposed to rise to 700 million by 2045.
The use of new, innovative technologies such as IoT and AI are likely to succeed in this sector. Developing regions such as Latin America and the Asia Pacific can be a potential target market shortly, provided these products are marketed successfully and economically across these regions.
How Has Coronavirus Boosted the Potential of Home Diagnostics?
A boom in health consciousness began with the rapidly rising popularity of social media, and has culminated in paranoia amidst the COVID-19 pandemic. There is an evident shift towards preventative healthcare rather than treatment of diseases and disorders. As such, since home diagnostics helps the global population keep track of their well-being, demand for such kits is on the rise.
Healthcare is now the topmost priority across regions. In a report published by the World Health Organization (WHO), in December 2020, titled Global Spending on Health: Weathering the Storm, it has been revealed that, global spending on health has increased drastically between 2000 and 2018, and has touched US$ 8.3 Tn, which amounts to 10% of global gross domestic product (GDP).
The U.S. and other developed countries have led in terms of adoption of home diagnostics as compared to developing countries. But now with the pandemic shutting down clinics on a large scale, even the population in developing countries has started adopting home diagnostics kits such as pregnancy kits, HIV test kits, and diabetes testing, among others. However, penetration has been slow in developing economies and requires location-specific strategies that can target the right audience in these countries.
How is Modern Lifestyle Complementing Demand Growth?
Diseases such as diabetes have become more prevalent due to modern, fast-paced lifestyles. In an analysis by Scientific Report, global deaths due to diabetes surged from 0.61 million in 1990 to 1.37 million in 2017, with a 125.5% rise. This rapidly growing number is one of the main drivers surging the adoption of home diagnostics kit, allowing more individuals to monitor their blood sugar levels at home.
Increasing health conditions influenced by modern lifestyle has prompted companies to create technologically-advanced equipment that can effectively identify various health problems. Since this is a space that requires fine-tuning of existing products to attain better efficiency, competitors would do well with in-depth knowledge of the issues being faced by regular consumers.
More Insights, Lesser Cost (-50% off)
Insights on import/export production,
pricing analysis, and more – Only @ Fact.MR
How Can International Health Organizations Play a Part?
Health consciousness has been augmented by the research work of international health organizations such as WHO, which compel governments to raise awareness regarding healthcare as well as increase the budget for the same.
The World Health Organization has cited the example of home diagnostics kits, pointing out that these kits can uphold the quality of healthcare in remote corners of the world where access to basic medical care is extremely difficult. Increase in demand for quick test results, several government initiatives and research funding, health awareness campaigns, and higher budgets for healthcare have aided market growth.
What are the Key Challenges Being Faced?
In this industry, precision, reliability, and customer trust is of high importance. Even though health organizations have lauded the use of home diagnostics for the betterment of healthcare, companies still have to adhere to stringent rules and regulations laid down by the regulatory body governing this sector.
Damage to reputation is especially difficult to salvage in case of issues, as companies are looking to portray themselves as brands providing sustainable, trustworthy healthcare.
The FDA regulates all products that are released in the home diagnostics market; all products must be made in compliance with regulations of Section 510(k) of the Food, Drug and Cosmetic Act, and get Premarket Approval Application (PMA) approval to enter the U.S. market.
Additionally, the European Union has also imposed certain conditions that must be adhered to by manufacturers - Medical Devices Regulation 2017/745/EU and In Vitro Diagnostic Medical Devices Regulation 2017/746/EU.
Such stringent regulations lead to an increase in the cost of production, which is a major cause for the unpopularity of home diagnostics, especially in developing countries. Developing economies can turn out to be high potential markets, with such large populations.
But constrained healthcare budgets of these regions are hindering adoption of home diagnostics. Scaling the charts in these economies can prove to be a difficult task without the help of a highly-specialized marketing strategy
Country-wise Analysis of Home Diagnostics Market
While North America is a dominant region in this space, there is potential in other regions as well. Major players are emerging from Japan and European countries such as Germany.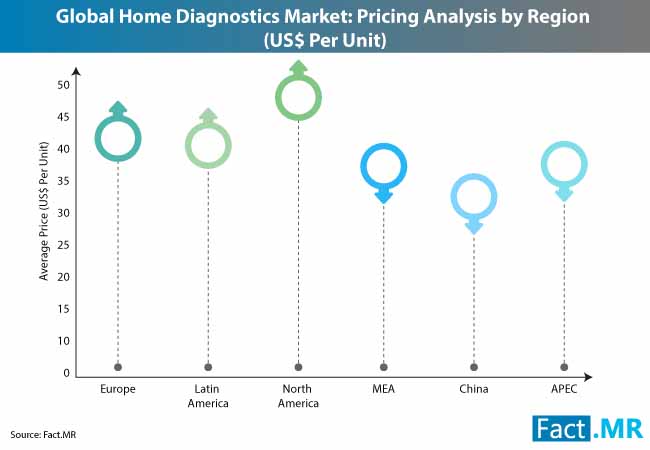 For deeper knowledge surrounding the growth prospects of regional markets for home diagnostics, ask an expert analyst
Why Does the U.S. Have a Leading Market Share?
The United States of America is the leading market with a multitude of home diagnostic kit manufacturers vying for the attention of consumers. High prevalence of diseases such as obesity, from teenagers to senior citizens, has created a demand for quick test kits that can be used at home.
Checking for preliminary diseases plays an important part in the healthcare provided to Americans. According to the report of Health, United States, 2018, by the National Healthcare Statistics, Cardiovascular disease is the most prevalent health condition in the U.S., while cancer is the second-highest cause of deaths in the country.
According to the U.S. National Cancer Institute, in January 2019, there were 16.9 Mn cancer survivors in the U.S., and the number is forecast to reach 22.2 Mn by 2030. In 2017, diabetes was the seventh-leading cause of deaths in the United States. In 2015–2016, 28.2% of adults aged 65 and over, 21.9% of adults aged 45–64, and 5.6% of adults aged 20–44 were suffering from total diabetes.
Furthermore, the Centers for Disease Control and Prevention has revealed that, obesity in the U.S. is an expensive and deadly disease, which comes with its own set of accompanying diseases such as high cholesterol and heart problems. From 1999–2000 through 2017–2018, the prevalence of obesity increased from 30.5% to 42.4%, and that of severe obesity increased from 4.7% to 9.2%.
Conditions that are related to obesity include cardiovascular diseases, strokes, type 2 diabetes, and a few types of cancer that are the leading causes of preventable, premature death. The estimated annual medical cost of obesity in the United States was US$ 147 billion, according to Healthline; the medical cost for people with obesity amounted to US$ 1,429 more than those with normal weight.
As such, the U.S. has become a hub of the home diagnostics market. Disease prevention, in some cases, can help avoid expensive healthcare, and home diagnostics kits serve as a cost-effective medium for this cause.
Why is there High Potential in Canada?
Demand for home diagnostics in Canada is projected to increase rapidly over the coming years. In 2013, diagnostics and monitoring devices under the home healthcare market accounted for the largest market, capturing over 30% of the total Canada home medical devices market.
This is because using a home diagnostic kit in Canada is comparatively cheaper and faster than relying on the country's healthcare. According to a report by Statistics Canada, the biggest concern of the Canadian healthcare system is the wait time.
43% of healthcare beneficiaries have complained of the waiting list situation, 14% about the accessibility of the prevalent healthcare system, and 13% about the shortage of doctors and other primary healthcare professionals in the system. Additionally, cancer is the leading cause of deaths in Canada. As of 2016, Canadians faced a probability of 24% dying because of a certain type of cancer.
The most common forms of cancer that afflicted Canadians in the year 2019 were lung and bronchus, breast, and colorectal. In 2019, 519 out of every 100,000 Canadians were diagnosed with new cases of cancer, more prevalent in females as compared to males.
Immediately followed by cancer are cardiovascular health conditions, which is the second-highest cause of death in the country at 19.2%. Diabetes takes up 2.6%, while cerebrovascular diseases and chronic lower respiratory diseases are at 5.1% and 4.6%, respectively according to Statistics Canada.
In April 2015, Genome Canada, a funding source for genomics and proteomics, declared its plan for a US$ 16 million investment from April 2015 to March 2017. Hence, it can be concluded that Canada is a high potential market in terms of home diagnostics. People need access to cheap diagnostic tests that can help them in the detection of chronic underlying conditions.
How is the U.K. Home Diagnostics Market Evolving?
Attributable to the rising population of senior citizens, the U.K. accounts for a sizeable share in the global home diagnostics market. According to U.K.'s Office for National Statistics (ONS), the number of people aged 65 years and over is projected to increase by 8.2 million in the next 50 years.
Increasing healthcare expenditure in the country is also augmenting demand for home diagnostic kits. Expanding geriatric population and prevalence of chronic diseases have resulted in rising demand for home healthcare services in the U.K.
To substantiate this statement, the Office of National Statistics stated that, in 2018, government-financed healthcare expenditure increased by 2.0%, and accounted for the largest contribution to growth in total healthcare expenditure. On the other hand, non-government healthcare financing increased by 7.6% due to a rise in out-of-pocket spending by the people.
Furthermore, studies by South Asian Health Foundation show that type 2 diabetes is up to six times more prevalent in people of South Asian descent in the U.K. (of Indian, Pakistani and Bangladeshi descent), because of higher intake of carbohydrate, saturated fatty acids, n-6 polyunsaturated fatty acids (PUFA), and trans-fatty acids, and lower intake of n-3 PUFA and fibre, as compared with other groups. Other reasons include physical inactivity, especially among women.
All these reasons make it a lucrative market for diabetic home diagnostics kits. Diabetic conditions are a consequence of the fast paced unhealthy lifestyles led by most people.
According to Diabetes UK, "without" the right campaigns and initiatives, the number of people with underlying diabetic conditions could grow to five million people by the year 2025. Hence, the U.K. is considered to be a good investment region for players involved in the manufacturing of home diagnostic kits.
Will India be a Good Market for Investment?
India is a lucrative market and is forecast to showcase notable growth over the coming years. The market in India has been growing in terms of revenue generation due to the presence of supportive government initiatives.
Even though the present GDP number is in decline, India can recover owing to the large population of youth in the country. Additionally, all government initiatives have been working to lead to an increase in investments by key players and governments in this market and are likely to un-tap several growth opportunities in the coming years.
For instance, on September 23, 2018, the Government of India started the Pradhan Mantri Jan Arogya Yojana (PMJAY), to give health insurance worth US$ 7,124.54 to more than 100 Mn families every year. Individual awareness regarding physical wellbeing and easy accessibility of home testing devices in urban and semi-urban areas of the country are some of the important factors contributing to market growth.
According to The Hindu, India's population has been rising at a much higher rate than China, which is the world's most populous country, with poorer regions contributing the most to that growth. Surging plurality of chronic ailments such as hypertension, diabetes, and cardiovascular diseases is one of the main factors stimulating demand in India.
Owing to this, the market in India is expected to grow at a significant rate over the coming years. However, on the flip side is inaccuracy of test results, affordability, and accessibility of these devices in rural areas, which is hampering development of the industry.
How Will the Market Play Out in China?
China is a growing market for home diagnostics. According to the Centre for Economics and Business Research, China's economy is about to overtake that of the U.S., faster than previously thought, by the year 2028. China has seen rapid growth in the home diagnostics market.
This is because of the rising demand of clinical chemistry, immunoassay, haematology, coagulation and microbiology. Another catalyst for potential opportunities in China is the use of instruments which are manufactured in-house. As rising economy is directly linked with the healthcare system of a country, such an estimation is pointing towards growth of the market in the next few years.
Besides, rising initiatives by the Government in China to strengthen the healthcare sector is another factor stimulating demand for home diagnostic kits. For instance, in 2016, to handle crowded hospitals in a better way, the government realized that health technology is a strategic area of development for the country.
To achieve this, it initiated the 13th Five-Year Plan (2016-2020) and its Healthy China 2030 strategy. In April 2018, the State Council also passed guidelines to support Internet-based healthcare that encourages medical institutions to promote Internet-based technologies.
Category-wise Insights
What Makes Glucose & Infection Testing Kits Most Sought-after?
In terms of growth, demand for glucose test kits and infection test kits is on the rise. It can be forecasted that, home diagnostics kits for infections are more likely to witness more demand, as the world is now more wary of infectious diseases.
As a response to the pandemic, several manufacturers of home diagnostic tests have developed test kits that use high-end technology to detect underlying conditions. The World Health Organization has stated that, these are not to be used as substitutions for actual tests, but can be helpful in detecting various conditions or symptoms.
In the year 2019 alone, the value of home test kits pertaining to infectious diseases was US$ 16.4 billion. Impetus for market growth is also due to the availability of customized medical help, which is now accessible to the masses because of the use of molecular diagnostics, genomics, and proteomics technologies. Home diagnostics kits help detect the presence of such foreign antigens or organisms in the body that are possible causes of contagious diseases / infections.
Why is Demand for Cassettes High?
Among the form types of cassettes, strips, midstream, test panels, dip cards, and others, cassettes hold the largest share in the global home diagnostics market at around 30%, owing to their easy use, simple operation, and low cost. These factors play a huge role in their popularity among the masses, and the trend is expected to continue over the coming years too.
Why is Urine Testing the Most Dominant?
Testing for various conditions and monitoring of health is done mostly by sampling urine, blood, saliva, besides others. Urine sampling is the most prevalent with a share of revenue close to 40%. Due to it being synonym for detecting pregnancy, ovulation, or drugs, demand for urine sample testing is the highest at present, and its dominance is projected to continue in future too.
Don't Need a Global Report?
Save 40% on Country & Region specific reports
Competitive Landscape
A major driver for the demand for home diagnostics happens to be the need for accessible diagnostics. This is possible through preventative measures of healthcare instead of splurging on exorbitant medical expenses. Companies with the largest geographical reach are indulging in collaborative measures to increase their sales, including merging of several businesses in order to feature more versatile medical products, which can help them expand to more complex applications.
Strategic, profitable partnerships are allowing competitors to centralize their presence in the market. Acquisitions and partnerships allow companies to be more versatile in the application of advanced technology. . Companies dealing in home diagnostics are entering into various deals to expand their technological horizons.
For instance, Quidel Corporation recently acquired the assets of Alere Triage®, including its cardiovascular & toxicology business and B-type Naturietic Peptide (BNP) assay business.
GE Healthcare and leading player Roche Holding AG collaborated to include in-vivo and in-vitro data-driven diagnostics in their domain. This now enables even critically-ill patients to avail the required services from the comfort of their home.
Tier-1 companies have established themselves and account for a majority of the market share. Tier-2 companies occupy the second position amongst key players, and are followed by newly emerging companies that are steadily growing. Leading players are curating products that can provide more innovative solutions that provide precision, reliability, and performance.
Key players that are dominating the home diagnostics market include:
Abbott Laboratories
ACON Laboratories Inc.
BTNX Inc.
ARKRAY Inc.
Assure Tech (Hangzhou) co. Ltd.
Becton Dickinson & Company
Bionime Corporation
Roche Holding AG
Quidel Corporation
True Diagnostics Inc.
Runhe Biomedical Technology (Shantou) Co., Ltd.
SA Scientific
Sekisui Diagnostics LLC
Shanghai Kehua Bio-engineering Co., Ltd.
Siemens Healthineers
TaiDoc Technology Corporation
Thermo Fisher Scientific, Inc.
Zoetis, Inc.
Home Diagnostics Market Segmentation by Category
Test Type

Glucose Monitoring Devices
Pregnancy Test
HIV Test Kits
Ovulation Predictor Test Kits
Cholesterol Detection Test Kits
Drug of Abuse Test Kits
Others

Form

Cassettes
Strips
Midstream
Digital Monitoring
Instruments
Test
Dip Cards

Regional Market and Country-wise Segmentation

North America
USA
Latin America
Europe
France
Asia Pacific
Middle East
Africa
China

Distribution Channel

Retail Pharmacies
Drug Stores
Hypermarkets / Supermarkets
Online Pharmacies