Sepsis Diagnostics Market
Sepsis Diagnostics Market Analysis By Product (Blood Culture Media, Instruments, Assays & Reagents), By Method (Conventional, Automated), By Pathogen (Gram-Negative, Gram-Positive), By Technology & By Region - Global Market Insights 2022-2032
Analysis of Sepsis Diagnostics market covering 30 + countries including analysis of US, Canada, UK, Germany, France, Nordics, GCC countries, Japan, Korea and many more
Sepsis Diagnostics Market Outlook (2022-2032)
The global sepsis diagnostics market size was valued at US$ 690 Million in 2021 and is projected to grow from US$ 755 Million in 2022 to US$ 1,630 Million by 2032, exhibiting a CAGR of 8% during the forecast period.
Key regulatory bodies, most notably the US Food and Drug Administration, are actively facilitating the approval of prominent sepsis diagnostics and treatment options, resulting in a flurry of product releases in the recent past. Microbiology, molecular biology, and immunoassay-based sepsis diagnostics have significant growth potential.
Report Attributes

Details

Anticipated Base Year Value (2021)

US$ 690 Million

Expected Market Value (2022)

US$ 755 Million

Projected Forecast Value (2032)

US$ 1,630 Million

Global Growth Rate (2022-2032)

8% CAGR

Growth Rate of the U.S (2022-2032)

7.8% CAGR

Expected Market Value of China (2032)

US$ 750 Million

Key Sepsis Diagnostics Service Providers

BioMerieux SA
Becton Dickinson and Company (BD)
Thermo Fisher Scientific Inc.
Abbott Laboratories Inc.
Roche Holdings AG
Know thy Competitors
Competitive landscape highlights only certain players
Complete list available upon request
Sepsis Diagnostics Market Revenue Analysis 2015-2021 vs. Future Outlook 2022-2032
Throughout the historical period (2015-2021), demand for sepsis diagnostics increased significantly, at a CAGR of 8.6%, owing to a wave of regulatory approvals of essential diagnostic solutions based on immunoassays, molecular diagnostics, and microbiology. As hospitalization rates increased, so did the prevalence of sepsis infections, which opened up new opportunities for market competitors and increasing demand for quick sepsis test kits.
The COVID-19 pandemic also boosted growth potential, with leading healthcare solution suppliers developing enhanced sepsis diagnostic technologies. As the burden of infections increased, respiratory complications frequently resulted in sepsis of the lungs, which created significant opportunities because immediate treatment was required.
Future prospects are expected to appear equally bright, with short-term projections expecting a valuation of over US$ 1.1 Billion in 2026. In the long-run, the global sepsis diagnostics market is expected to expand more than 2x until 2032.
Prominent Sepsis Diagnostics Industry Growth Drivers
Rising Multinational Sepsis Prevalence Serving as a Growth Accelerator
While the global impact of sepsis is difficult to measure, current estimates released in 2017 advocate for roughly 50 million active cases and 11 million fatalities annually, accounting for one-fifth of the total global mortality rate. Children accounted for about half of all worldwide sepsis cases, with an estimated 20 million infections and approximately 3 million global fatalities in children under the age of five.
There are significant geographical variations in sepsis incidence and mortality; roughly 85% of sepsis cases and sepsis-related fatalities occur in poor and middle-income countries worldwide. As a result, multiple attempts are being made to eliminate this difference, with governments actively striving to promote sepsis eradication initiatives that aim to strengthen current institutional frameworks in order to allow for more acceptances of modern sepsis diagnostic technologies.
Implementing infection prevention and control best practices, such as good hygiene practices, ensuring access to vaccination programmes, improved sanitation and water quality and availability, and other infection prevention and control best practices in both community and healthcare settings, are critical steps in reducing the occurrence of sepsis. To maximize the probability of survival, early identification and timely and proper clinical therapy of sepsis, such as optimum antibiotic usage and fluid resuscitation, are critical.
The Rising Prevalence of Hospital-Acquired Infections Boosts Growth Prospects
According to the Centers for Disease Control and Prevention, hospital acquired infections (HAIs) cause an estimated 1.7 million infections and nearly 100,000 deaths each year, with urinary tract infections accounting for 32% of all infections, surgical site infections accounting for 22%, pneumonia accounting for 15%, and blood infections accounting for 14%. All of the aforementioned illnesses are characterized by sepsis.
Furthermore, the World Health Organization estimates that HAIs affect hundreds of millions of individuals, resulting in major mortality and financial costs for health-care systems. At any one moment, 7 of every 100 hospitalized patients in rich nations and 10 in underdeveloped countries will contract at least one hospital acquired infection. In high-income nations, roughly 30% of ICU patients are infected with at least one HAI. At any one moment, the prevalence of HAI ranges between 3.5 and 12%.
Infection rates in impoverished nations are 3-20 times greater than in high-income countries, putting newborns at danger. Healthcare-associated infections account for 4% to 56% of all newborn deaths in underdeveloped countries, and 75% in South East Asia and Sub-Saharan Africa. According to these tendencies, the market for sepsis detection technologies and software will only grow.
More Insights, Lesser Cost (-50% off)
Insights on import/export production,
pricing analysis, and more – Only @ Fact.MR
Key Challenges Prevalent in the Global Sepsis Diagnostics Market
Expensive Diagnostic Tests may Impede Growth Prospects
A molecular diagnostic test may cost between USD 300 and USD 3,000, which is significantly more expensive than blood culture tests, which can cost as low as USD 28–35, according to the National Institutes of Health.
Although companies focused on creating computer - aided diagnostic instruments for recognizing sepsis based on sophisticated technologies such as sepsis molecular diagnostics, public hospitals and scholarly research laboratories cannot afford such systems due to funding constraints. It is also becoming a key impediment to the expansion of the market for sepsis diagnosis equipment.
Country-wise Analysis
Why is the United States expected to be a Profitable Market for Sepsis Diagnostics?
Prevalence of Sepsis in US widening Growth Opportunities
According to the Centers for Condition Control and Prevention, at least 1.7 million individuals in America get sepsis each year, resulting in almost 270,000 deaths, with the disease killing one in every three patients who die in hospitals. According to National Center for Biotechnology Information estimates, septic patients pose a hugely disproportionate burden in terms of hospital usage.
In US hospitals, the average duration of stay for sepsis patients is around 75% longer than for most other illnesses. By 2019, sepsis, severe sepsis, and septic shock were responsible for more than half of all mortality rates, costing almost US$ 80,000 per person. Furthermore, the incidence of sepsis tripled between 1979 and 2000, rising from 83 cases per 100,000 to 240 cases per 100,000.
Because of the high occurrence rates, many vendors of sepsis diagnostic solutions have sprung up. A spate of regulatory approvals has also aided in broadening the market's reach. For example, in 2017, the US Food and Drug Administration approved the extended use of the Vidas Brahms PCT Assay to determine how antibiotic therapy should be provided in pneumonia-induced sepsis patents. According to Fact.MR, a CAGR of 7.8% is expected for the sepsis diagnostics market in the U.S
How are Innovative Diagnostic Procedures Fueling Augmenting Germany's Growth Prospects?
Real-time NGS-based Approaches are projected to considerably add to Demand
Real-time next-generation sequencing (NGS)-based approaches are predicted to considerably contribute to the need for sepsis infection diagnosis in Germany. A study published in the Journal of Medical Diagnostics by a team of Fraunhofer IGB experts contends that existing PCR or culture-based assays are insufficient for giving specific and vital information.
According to their results, a system that uses NGS of microbial cell-free DNA to identify blood infections within 28 hours will be very efficient in ushering in appropriate sepsis diagnosis and preventing its start. However, research is being conducted in order to produce significantly speedier testing in order to hasten treatment. To circumvent this constraint, the researchers developed a diagnostic method based on 3rd generation nanopore sequencing of microbial DNA.
When it comes to detecting sepsis-inducing microorganisms, whether bacterial, viral, or fungal sepsis diagnosis, this nanopore sequencing produced favorable results. Following further modifications, the new technique yielded a 3.5 times increase in sequencing throughput, allowing pathogen detection minutes after sequencing. Other comparable breakthroughs are projected to occur at higher frequencies, broadening development opportunities. A CAGR of 7% is projected for the market in Germany.
Will High ICU Mortality Rates Increase Adoption of Sepsis Diagnostics in India?
In Hospitals around the Country, there Is an Alarmingly High Rate of ICU Mortality Increasing Uptake
Given the disturbingly high incidence of ICU fatalities in hospitals across the country, the Indian market is expected to grow significantly through 2022 and beyond. Fact.MR expects the Indian market to expand at a 6.6% CAGR. According to recent studies, more than a third of sepsis patients in India die in the critical care unit.
According to a 2017 research done by iGenetic Diagnostics, death rates in ICUs, hospitals, and after 28 days were 56%, 63%, and 63%, respectively. Higher estimates are given to patients with severe sepsis or septic shock, with fatality rates ranging from 40-60%, with the elderly having the greatest mortality rates. The death rate for newborns and paediatric patients with sepsis was found to be 9-36%.
The increased mortality toll in India is due to widespread unpreparedness for sepsis situations. The likelihood of dying as a result of the disease is directly proportional to the speed with which it is diagnosed and treated. If left untreated for too long, the condition can lead to a number of grave consequences. As a result, doctors and healthcare settings are striving to include sophisticated sepsis diagnostic technologies, with companies like SRL Diagnostics at the forefront.
Country-wise Forecast CAGRs in the Sepsis Diagnostics Market
| Country wise Analysis | Growth Rate |
| --- | --- |
| U.S | 7.8% |
| Germany | 7% |
| China | 7.7% |
| Japan | 6.5% |
| India | 6.6% |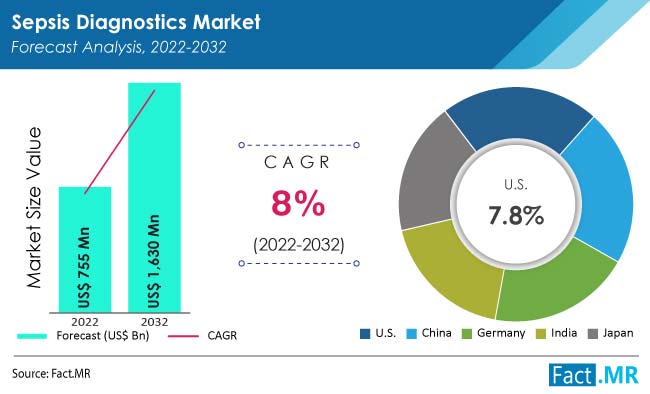 Category-wise Insights
Why are Assays and Reagents flying off the Shelves?
High Levels of Precision and Accuracy to be Top Growth Driver in the Coming Years
According to Fact.MR, demand for assays and reagents is predicted to increase significantly by product, owing mostly to high precision and accuracy rates. According to Fact.MR, the category is expected to generate more than US$ 300 Million in sales by the end of 2032. To solidify their dominance, prominent players are hurrying to create more advanced kits.
Bruker Corporation, for example, provides their MBT STAR® -Carba IVD Assay Kit, which employs a mass spectrometry technique for resistance identification to combat the growth of multidrug-resistant bacteria. It employs matrix-assisted laser desorption/ionization (MALDI) time-of-flight mass spectrometry to aid in the prevention of sepsis.
How do Microbiological Diagnostic Tests Fare?
Technological Developments in testing to upscale the Market Growth
Microbiological sepsis testing demand is predicted to skyrocket in the future due to advancements in testing technologies. It aids in the identification of microorganisms for the diagnosis of sepsis as well as quantitative detection using culture media assays.
Simultaneously, molecular diagnostics is gaining market momentum. Accurate results and a quick turnaround time are two factors driving the expansion of sepsis molecular diagnostics.
Don't Need a Global Report?
save 40%! on Country & Region specific reports
Competitive Landscape
The global market for sepsis diagnostics is highly fragmented. The prominent companies rely on a variety of development tactics, such as broadening product portfolios, strategic mergers and acquisitions, expanding production capabilities, investing in R&D projects, and merging technical improvements into current equipment.
Becton Dickinson and Company (BD) announced the BACTECTM Platelet Quality Control Media in 2019, earning US FDA certification to identify tainted platelet units in microbiology laboratories, blood banks, and transfusion programmes. Through a culture-based technique, the technology enables doctors to identify possibly tainted platelet donations and help lower the risk of sepsis.
Similarly, in 2018, Thermo Fisher Scientific released the B.R.A.H.M.S PCT direct point-of-care assay blood test, which enables for the rapid identification of bacterial infection and sepsis. The test is intended to provide procalcitonin (PCT) measurement to acute care settings in order to assist quick management and exact findings for therapeutic solutions.
T2 Biosystems Inc. has got clearance for its T2SARS-CoV-2TM Panel, a molecular diagnostic test that identifies SARS-P1 CoV-2's variant, which was recently verified in the United States. This panel has a clinical sensitivity of 95% and a specificity rate of 100%, and it produces findings in less than two hours when performed on a fully automated T2Dx® device. As the COVID-19 virus causes sepsis and mortality, these panels remain therapeutically important.
Key Segments Covered in the Sepsis Diagnostics Industry Report
By Product :

Blood Culture Media
Instruments
SAssays & Reagents

By Method :

By Pathogen :

Gram-Negative Bacterial
Gram-Positive Bacterial
Fungal
Other Pathogens-based

By Technology :

Microbiology-based
Molecular
Immunoassays-based
Other Technology-based

By Region :

North America
Latin America
Europe
APEJ
Japan
Middle East & Africa
- FAQs -
By 2032, the market for sepsis diagnostics is likely to be valued at US$ 1,630 Million.
From 2022-2032, sepsis diagnostics demand is likely to surge at an 8% CAGR.
The assays and reagents category is expected to generate more than US$ 300 Million in sales by the end of 2032.
According to Fact.MR, the U.S sepsis diagnostics industry is slated to expand at a 7.8% value CAGR.
Japan is expected to document a CAGR worth 6.5% in the sepsis diagnostics market.
China is expected to register a 7.7% CAGR with regard to the sepsis diagnostics industry.
By 2022, Fact.MR expected demand for sepsis diagnostics to reach US$ 755 Million.
From 2015-2021, the sepsis diagnostics market grew at an 8.6% value CAGR.
As of 2021, Fact.MR estimated the sepsis diagnostics market to have reached US$ 690 Million.