Sepsis Diagnostics Market
Sepsis Diagnostics Market By Product Type (Blood Culture Media, Instrument), By Method (Conventional, Automated), By Pathogen (Gram-negative Bacterial, Gram-positive Bacterial, Fungal), By Technology (Microbiology, Molecular Diagnostics, Flow Cytometry) & Region - Forecast to 2021-2031
FACT391MR
Apr-2021

List of Tables : 128

List of Figures : 102

170 Pages
About the Report
The global sepsis diagnostics market is projected to expand at a CAGR of around 8% from 2021 to 2031. The market is mainly driven by surging demand for assays & reagents across geographies.
Sepsis diagnostics has acquired increased attention over the years, given the alarmingly increasing rates of sepsis episodes amongst patients of all age groups across hospital settings. The market is witnessing a slew of new diagnostic approaches, mostly based on automated detection technologies, given the high demand for precision and time-based diagnostic solutions.
Key regulatory authorities, most notably the US Food & Drug Administration, are playing an active role in fast-tracking approvals of prominent sepsis diagnostics and treatment solutions, with a slew of product launches being made possible in the recent past. Significant growth opportunities exist for microbiology, molecular biology, and immunoassay-based sepsis diagnostics.
In its revised study, consulting firm Fact.MR offers insights about key factors driving demand for sepsis diagnostic solutions. The report tracks the global sales of sepsis diagnostic solutions in 20+ high-growth markets, along with analyzing the impact COVID-19 has had on the healthcare market in general, and demand for sepsis diagnostics in particular. This edition (2021-2031) brings readers up-to-date with key market developments, providing analysis on how manufacturers and other stakeholders are reacting to change. The study also expands on the previous competitive landscape section, and readers will get to know the key strategies of established players as well as new entrants.
Historical Outlook Vs Future Projections
Demand for sepsis diagnostics experienced major upswing across the historical period (2016-2020), experiencing high growth amid a slew of regulatory approvals of key diagnostic solutions based on immunoassays, molecular diagnostics, and microbiology. As hospitalization rates surged, incidence of sepsis infections also grew, providing a wide expansion ground for market players and growing demand for rapid sepsis test kits.
The COVID-19 pandemic also served to heighten expansion prospects, with prominent healthcare solution providers designing advanced sepsis diagnostic devices. As the burden of infections continued to rise, respiratory complications often resulted in sepsis of the lungs, which generated substantial opportunities as urgent treatment was required.
Future prospects are expected to appear equally bright, with short-term projections expecting a valuation of over US$ 700 million until 2026. In the long-run, the global sepsis diagnostics market is expected to register a robust CAGR of around 8% until 2031.
How is Increasing Global Sepsis Burden Acting as a Growth Catalyst?
According to the World Health Organization, while the global burden of sepsis is difficult to ascertain, recent estimates published in 2017 advocate that there were nearly 50 million active cases and 11 million deaths worldwide, amounting to a fifth of the total global fatality rate. Nearly 50% of all global sepsis cases occurred among children, with an estimated 20 million cases and nearly 3 million global deaths in children under five years of age.
Significant regional disparities in sepsis incidence and mortality exist - approximately 85% of sepsis cases and sepsis-related deaths across the world occur in low and middle-income countries. Hence, numerous efforts are being undertaken to reduce this disparity, with governments actively attempting to support sepsis eradication programs that aim at strengthening existing institutional frameworks so as to enable enhanced uptake of advanced sepsis diagnostic solutions.
Implementing preventive measures against infections, such as good hygiene practices, ensuring access to vaccination programs, improved sanitation and water quality and availability, and other infection prevention and control best practices, both, in the community and healthcare settings, are key steps in reducing the occurrence of sepsis. Early diagnosis and timely and appropriate clinical management of sepsis, such as optimal antimicrobial use and fluid resuscitation, are crucial to increase the likelihood of survival.
Will Increasing Incidence of Hospital Acquired Infections Heighten Growth Prospects?
The Center for Disease Control and Prevention estimates that hospital acquired infections (HAIs) account for an estimated 1.7 million infections and nearly 100,000 deaths annually - 32% of which are urinary tract infections, 22% are surgical site infections, 15% are pneumonia, and 14% are blood infections. All these aforementioned infections largely assume the form of sepsis.
Furthermore, the World Health Organization estimates that hundreds of millions of patients are affected by HAIs, leading to significant mortality and financial losses for health systems. Of every 100 hospitalized patients at any given time, 7 in developed and 10 in developing countries will acquire at least one hospital acquired infection. In high-income countries, approximately 30% of patients in ICUs are affected by at least one HAI. At any time, HAI prevalence rate varies between 3.5% and 12%.
Newborns are also at higher risk, with infection rates in developing countries 3-20 times higher than in high-income countries. Among hospital-born babies in developing countries, healthcare-associated infections are responsible for 4% to 56% of all causes of death in the neonatal period, and 75% in South East Asia and Sub-Saharan Africa. Going by these trends, the scope for sepsis detection technology and software is only expected to widen.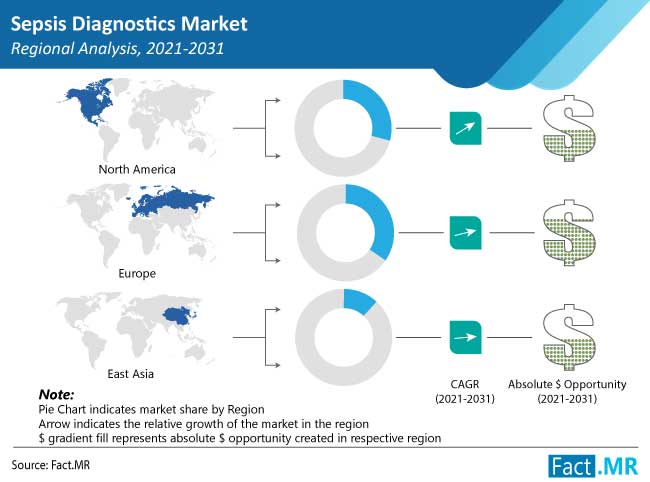 Avail customized purchase options for your needs
Country-wise Analysis
Why is the U.S. Expected to be a Lucrative Market for Sepsis Diagnostics?
According to the Center for Disease Control and Prevention, each year, at least 1.7 million adults in America develop sepsis, causing almost 270,000 fatalities, with 1 in 3 patients who die in hospitals succumbing to the disease. As per estimates published by the National Center for Biotechnology Information, septic patients represent a disproportionately high burden in terms of hospital utilization.
The average length of stay for sepsis patients in US hospitals is approximately 75% greater than most other conditions. By 2019, sepsis, severe sepsis and septic shock were associated with over 50% of all mortality rates, cumulatively costing almost US$ 80,000 per head. Moreover, sepsis incidence increased threefold between 1979 and 2000, from 83 cases per 100,000 annually to 240 per 100,000.
Such high prevalence rates have attracted numerous sepsis diagnostic solutions providers. A slew of regulatory approvals have also helped widen scope of the market. For instance, in 2017, the US FDA cleared the expanded use of Vidas Brahms PCT Assay to assess how antibiotic treatment should be administered in pneumonia-induced sepsis patents. Also, in 2018, the US FDA approved T2 Biosystems' T2 Bacteria Panel for sepsis diagnosis, designed for direct detection of bacterial species in human whole blood specimens.
How Will Demand for Sepsis Diagnostic Products Shape Up in the U.K.?
The U.K. is expected to present substantial expansion prospects for the sepsis diagnostics industry. A study published in The Lancet in 2018 establishes that since 2015, the National Health Service has made concerted efforts to reduce fatalities due to sepsis, by increasing clinical recognition and recording. Majority of sepsis instances are attributed to E.coli infections (40%).
The study established that significant progress was observed with regard to screening procedures for sepsis, with eligible patients in the emergency departments and other acute trust areas in England rising from 52% in 2015 to 87% in 2017. Also, the 2017 Action Plan, also known as the Cross System Sepsis Program, brings together work on sepsis to improve prevention, early diagnosis, and prompt treatment.
Additionally, the Surviving Sepsis Campaign (SSC) is providing tremendous boost to the market in the U.K. SSC is a collaboration between several groups across the world with the aim of reducing sepsis mortality. Hence, prominent players such as Siemens have a robust presence in the domestic market. Presently, it offers the ADVIA 2120i hematology system mounted Neutrophil NETs for detecting sepsis presence in the human bloodstream. It also offers the epoc® comprehensive blood testing analysis system.
How are Advanced Diagnostic Techniques Fueling Prospects in Germany?
Implementation of real-time next-generation sequencing (NGS)-based techniques is expected to contribute significantly to demand for sepsis infection diagnostics in Germany. A study published in the Journal of Medical Diagnostics by a team of researchers from Fraunhofer IGB advocates that, current PCR or culture-based tests are inadequate for providing specific and critically important information.
As per its findings, a system that utilizes NGS of microbial cell-free DNA to detect blood pathogens within 28 hours would be highly effective in ushering in proper sepsis diagnosis and prevent its onset. However, research is ongoing so as to develop much faster tests to expedite treatment. To overcome this limitation, investigators established a diagnostic workflow based on 3rd generation nanopore sequencing of microbial DNA.
This nanopore sequencing yielded positive results when it came to detecting sepsis-inducing pathogens, whether bacterial, viral, or fungal sepsis diagnosis. Post additional refinements, the new approach achieved a 3.5 fold increase in sequencing throughput, allowing pathogen identification with minutes after sequencing them. Other such breakthroughs are expected to happen in increased frequencies, thus expanding growth prospects.
Will High ICU Mortality Rates Bolster Uptake of Sepsis Diagnostics across India?
The Indian market is slated to accrue significant gains through 2021 and beyond, given the alarmingly surging rates of ICU deaths across hospitals across the country. Recent studies have revealed that over a third of sepsis patients in India die in the intensive care unit.
A study conducted by iGenetic Diagnostics in 2017 estimated that, mortality rates for ICUs, in hospitals, and post 28 days to be 56%, 63%, and 63%, respectively. Higher estimates are allocated for patients with severe sepsis or septic shock, placing the mortality rate at 40-60%, with the elderly having the highest mortality rates. Newborns and pediatric patients with sepsis were noted to have a 9-36% mortality rate.
This heightened death toll in India is the resultant of widespread unpreparedness for sepsis cases. The chance of death stemming from the disease is directly related to the speed of diagnosis and resultant treatment. If left too long, the disease can cause several fatal complications. Hence, clinicians and healthcare settings are looking towards incorporating advanced sepsis diagnostic solutions, with players such as SRL Diagnostics emerging at the forefront.
Category-wise Insights
Why are Assays & Reagents Selling like Hot Cakes?
By product, demand for assays & reagents is expected to register considerable incline, majorly attributed to high precision and accuracy rates. As per Fact.MR's estimates, the segment is likely to surpass US$ 300 million in revenue by 2031-end. Prominent players are scrambling to introduce highly sophisticated kits to cement their presence.
For instance, Bruker Corporation offers its MBT STAR® -Carba IVD Assay Kit, which deploys a mass spectrometry system for resistance detection to counteract the rise of multidrug-resistant bacteria. It deploys the matrix-assisted laser desorption/ionization (MALDI) time-of-flight mass spectrometry to help prevent sepsis onset.
How are Automated Solutions Transforming the Sepsis Diagnostics Landscape?
As technological advancements acquire momentum, sepsis diagnostics is undergoing major transformation, with clinicians relying more on automated sepsis detection solutions. BioMerieux is a pioneer in this regard, offering the BACT/ALERT® 3D Microbial Detection Systems, a highly innovative septicemia diagnosis. It deploys a unique colorimetry technology that reduces false negatives due to delayed bottle entry.
Likewise, Molzym GmBh & Co. KG and Fraunhofer IZI-IBB have initiated a joint research and development project to develop a new analytical platform titled AutoSepT, for fast pathogen identification directly from specimens in less than 5 hours. It will identify the most frequent sepsis inducing pathogens, by detecting rare and non-cultivable pathogens based on broad range 16S sequencing.
Why are Clinicians Eyeing Gram-positive Bacterial Sepsis Testing?
Gram-positive bacterial sepsis is likely to account for maximum revenue share, projected to reach close to US$ 300 million. Although bacteria causes sepsis on a large scale, increase in sepsis is due to gram-positive sepsis. Various studies carried on sepsis are showing that gram-positive bacteria accounts for maximum septic shocks and severe sepsis cases.
Moreover, high mortality rates due to gram-positive infection compared to gram-negative infection is inclining demand for its testing across prominent healthcare settings. Gram-positive bacterial sepsis testing is expected to remain especially popular within the urinary tract infection (UTI) domain, attributed to its high prevalence rate.
How are Microbiological Diagnostic Tests Holding Sway?
By testing technology, demand for microbiological sepsis testing is expected to surge significantly in the future. It helps in identifying microorganisms for sepsis diagnosis and quantitative detection through culture media tests.
At the same time, molecular diagnostics is also gaining traction in the market. Factors contributing to the growth of sepsis molecular diagnostics are accurate results and low turnaround time.
An Adaptive Approach to Modern-day Research Needs
Competitive Landscape
These aforementioned players rely on a multitude of expansion strategies, including widening product portfolios, strategic mergers & acquisitions, expansion of productive capacities, investing in R&D initiatives, and incorporating technological advancements in existing equipment.
In 2019, Becton Dickinson and Company (BD) unveiled the BACTECTM Platelet Quality Control Media, receiving US FDA clearance which permits microbiology laboratories, blood banks and transfusion services to identify contaminated platelet units. The solution allows clinicians to identify potentially contaminated platelet donations through a culture-based methodology and help reduce the risk of sepsis.
Likewise, in 2018, Thermo Fisher Scientific introduced the B.R.A.H.M.S PCT direct point-of-care assay blood test which allows fast bacterial infection and sepsis diagnosis. The assay is designed to make procalcitonin (PCT) measurement available to acute care settings to support timely handling and precise results for clinical solutions.
Recently, in February 2021, T2 Biosystems Inc. received approval for its T2SARS-CoV-2TM Panel- a molecular diagnostic test which detects SARS-CoV-2's P1 variant, whose presence was recently confirmed in the United States. This panel demonstrated clinical sensitivity of 95% and a specificity rate of 100% and provides results in under two hours, running on a fully-automated T2Dx® instrument. These panels remain clinically relevant as the COVID-19 virus induces sepsis, and death.
Report Scope
Attribute

Details

Forecast Period

2021-2031

Historical Data Available for

2016-2020

Market Analysis

US$ Mn for Value & '000 Units for Volume

Key Regions Covered

North America
Latin America
Europe
APEJ
Japan
Middle East & Africa

Key Countries Covered

US
Canada
Brazil
Mexico
Germany
UK
France
Italy
Spain
Japan
China
India
ASEAN
Australia & New Zealand
GCC
South Africa
Israel

Key Market Segments Covered

Product
Method
Pathogen
Technology
Region

Key Companies Profiled

BioMerieux SA
Becton Dickinson and Company (BD)
Thermo Fisher Scientific Inc.
Abbott Laboratories Inc.
Roche Holdings AG
T2 Biosystems Inc.
Danaher Corporation (Beckman Coulter Inc.)
Luminex Corporation
Qiagen NV
Siemens Healthineers
Quidel Corporation
Abionic SA
OpGen Inc.
Curetis NV
CytoSorbents Corporation
Fujirebo Europe NV
Nanomix Inc.
Miacom Diagnostics

Customization & Pricing

Available upon Request
Interested to Procure The Data
Market Segmentation by Category
Product

Blood Culture Media
Instruments
Assays & Reagents

Method

Conventional Sepsis Diagnostics
Automated Sepsis Diagnostics

Pathogen

Gram-negative Bacterial Sepsis
Gram-positive Bacterial Sepsis
Fungal Sepsis
Other Pathogens

Technology

Microbiology
Molecular Diagnostics
Immunoassays
Other Technologies

Region

North America
Latin America
Europe
APEJ
Japan
Middle East & Africa
Sepsis Diagnostics Market- Scope of Report
A recent study by Fact.MR on the sepsis diagnostics market offers a 10-year forecast for 2021 to 2031. The study analyzes crucial trends that are currently determining the growth of the market. This report explicates on vital dynamics, such as the drivers, restraints, and opportunities for key market players along with key stakeholders as well as emerging players associated with offering sepsis diagnostics equipment.
The study also provides the dynamics that are responsible for influencing the future status of the sepsis diagnostics market over the forecast period. A detailed assessment of value chain analysis, business execution, and supply chain analysis across regional markets has been covered in the report.
A list of prominent companies operating in the sepsis diagnostics market, along with their product portfolios, enhances the reliability of this comprehensive research study.
Report Summary
The study offers comprehensive analysis on diverse features, including production capacities, demand, product developments, revenue generation, and sales of sepsis diagnostics equipment across the globe.
A comprehensive estimate on the market has been provided through an optimistic as well as a conservative scenario, taking into account the sales of sepsis diagnostics equipment during the forecast period. Price point comparison by region with global average price is also considered in the study.
Key Questions Answered in Report
Which are the most lucrative markets for sepsis diagnostics?
Which factors will impact the growth of the sepsis diagnostics market?
How will changing trends impact the strategies of market players?
How can market players capture the low-hanging opportunities across regions?
Which companies are leading the sepsis diagnostics industry?
What are the winning strategies of stakeholders in the market?
Analysis on Market Size Evaluation
The market has been analyzed for each market segment in terms of volume ('000 Units) and value (US$ Mn).
Market estimates at global and regional levels for sepsis diagnostics are available in terms of "US$ Mn" for value and in "'000 Units" for volume. A Y-o-Y growth contrast on prominent market segments, along with market attractiveness evaluation, has been incorporated in the report. Furthermore, absolute dollar opportunity analysis of all the segments adds prominence to the report. Absolute dollar opportunity plays a crucial role in assessing the level of opportunity that a manufacturer/distributor can look to achieve, along with identifying potential resources, considering the sales and distribution perspective in the global sepsis diagnostics market.
Inspected Assessment on Regional Segments
Key sections have been elaborated in the report, which have helped deliver projections on regional markets. These chapters include regional macros (political, economic, and business environment outlook), which are expected to have a momentous influence on the growth of the sepsis diagnostics market during the forecast period.
Country-specific valuation on demand for sepsis diagnostics has been offered for each regional market, along with market scope estimates and forecasts, price index, and impact analysis of the dynamics of prominence in regions and countries. For all regional markets, Y-o-Y growth estimates have also been incorporated in the report.
Detailed breakup in terms of value & volume for emerging countries has also been included in the report.
In-depth Analysis on Competitive Landscape
The report sheds light on leading manufacturers of sepsis diagnostics equipment, along with their detailed profiles. Essential and up-to-date data related to market performers who are principally engaged in the production of sepsis diagnostics equipment has been brought with the help of a detailed dashboard view. Market share analysis and comparison of prominent players provided in the report permits report readers to take preemptive steps in advancing their businesses.
Company profiles have been included in the report, which include essentials such as product portfolios and key strategies, along with all-inclusive SWOT analysis on each player. Company presence is mapped and presented through a matrix for all the prominent players, thus providing readers with actionable insights, which helps in thoughtfully presenting the market status, and predicting the competition level in the sepsis diagnostics market.
Research Methodology
In Fact.MR's study, a unique research methodology is utilized to conduct extensive research on the growth of the sepsis Diagnostics market, and reach conclusions on the future growth parameters of the market. This research methodology is a combination of primary and secondary research, which helps analysts ensure the accuracy and reliability of the drawn conclusions.
Secondary resources referred to by analysts during the preparation of the market study include statistics from governmental organizations, trade journals, white papers, and internal and external proprietary databases. Analysts have interviewed senior managers, product portfolio managers, CEOs, VPs, marketing/product managers, and market intelligence managers, all of whom have contributed to the development of the research report as a primary resource.
Need an Exclusive Report for your Unique Requirement?
- Our Clients -

- Evaluate How Fact.MR's Report Can Help. -
Is the market research conducted by Fact.MR?
Yes, the report has been compiled by expert analysts of Fact.MR, through a combination of primary and secondary research. To know more about how the research was conducted, you can speak to a research analyst.
What research methodology is followed by Fact.MR?
Fact.MR follows a methodology that encompasses the demand-side assessment of the market, and triangulates the same through a supply-side analysis. This methodology is based on the use of standard market structure, methods, and definitions.
What are the sources of secondary research?
Fact.MR conducts extensive secondary research through proprietary databases, paid databases, and information available in the public domain. We refer to industry associations, company press releases, annual reports, investor presentations, and research papers. More information about desk research is available upon request.
Who are the respondents for primary research?
Fact.MR speaks to stakeholders across the spectrum, including C-level executives, distributors, product manufacturers, and industry experts. For a full list of primary respondents, please reach out to us.
Is a sample of this report available for evaluation?
Yes, you can request a sample, and it will be sent to you through an email.