Sepsis is emerging as one of the leading causes of mortality around the globe. However, early detection can improve the outcomes, hence the demand for sepsis diagnostics is also rising. Major companies in the market are also focusing on introducing technically advanced tools and techniques to provide sepsis diagnosis at an early stage. Companies are also entering into mergers and acquisitions to carry research and development activity and expand globally. New products are also being launched, while some products have already received the U.S. Food and Drugs Administration (FDA) clearance to be used for diagnosis purpose.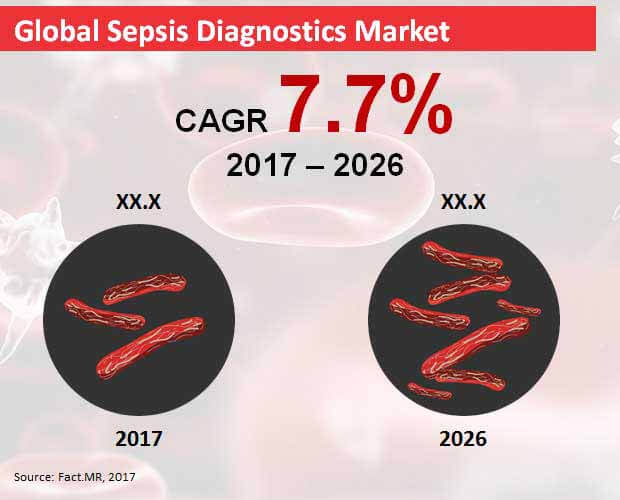 According to the new research by Fact.MR, the global market for sepsis diagnostics is likely to grow at a faster phase between 2017 and 2026. The global market for sepsis diagnostics is also projected to bring in US$ 707.3 million revenue by 2026 end.
Market Taxonomy
| | | | |
| --- | --- | --- | --- |
| Product Type | Method | Pathogen | Technology |
| Blood Culture Media | Conventional Diagnostics | Gram-negative Bacterial Sepsis | Microbiology |
| Instrument | Automated Diagnostics | Gram-positive Bacterial Sepsis | Molecular Diagnostics |
| Assays & Reagents | | Fungal Sepsis | Immunoassays |
| | | Other Pathogens | Other Technology |
(Additional information, including cross-sectional data and country-wise analysis & forecast is available in the report)
For more insights, request sample of this report.
Assays & Reagents to Emerge as the Top-Selling Product
Among various products in sepsis diagnostics market, assays & reagents are likely to emerge as the top-selling products. Assays & reagents are projected to surpass US$ 300 million revenue by end of the forecast period. Reagents and assays kits are showing lucrative growth due to the introduction of technically advanced tests by key players. Moreover, assays and reagents facilitate early diagnosis of sepsis.
Conventional Diagnostics to be the Most-Preferred diagnostic Method
Compared to the automated diagnostics, conventional diagnostics is likely to emerge as the most-preferred sepsis diagnosis method. Towards 2026 end, conventional diagnostics is projected to generate more than US$ 400 million revenue. Conventional methods for diagnosis of sepsis is still the most-preferred one due to the low cost and it also leads to the timely changes to appropriate therapy.
Gram-positive Bacterial Sepsis to Hold the Largest Share on Basis of Pathogens Causing Septicemia
Gram-positive bacterial sepsis segment is likely to account for the maximum share in terms of revenue in the global market for sepsis diagnostics. Gram-positive bacterial sepsis are projected to reach close to US$ 300 million revenue by 2026 end. Although bacteria causes sepsis on a large scale, the increase in sepsis is due to the gram-positive sepsis. Various studies carried on sepsis are showing that gram-positive bacteria accounts for maximum septic shock and severe sepsis cases. Moreover, the mortality rate due to gram-positive infection is high as compared to the gram-negative infection. Hence, therapeutic protocols are being undertaken to manage both gram-positive and gram-negative sepsis.
Microbiology Technology to Witness Attractive Growth between 2017 and 2026
Compared to the various technologies, microbiology is likely to show attractive growth between 2017 and 2026. Microbiology technology is projected to reach nearly US$ 300 million revenue by 2026 end. It helps in identifying microorganisms for sepsis diagnosis and quantitative detection through culture media tests. Meanwhile, molecular diagnostics is also gaining traction in the market. Factors contributing to the growth of molecular diagnostics are accurate results and low turnaround time.
Competition Tracking
The report also profiles companies that are expected to remain active in the expansion of global sepsis diagnostics market through 2026, which include Abionic SA, Biomérieux SA, Siemens Healthineers, Thermo Fisher Scientific Inc., Quidel Corporation, Becton, Dickinson and Company, Luminex Corporation, Abbott Laboratories, Inc., Qiagen NV, T2 Biosystems, Inc., Roche Holdings AG (Roche Diagnostics Limited), and Danaher Corporation (Beckman Coulter, Inc.).
Request research methodology of this report.
Note: The insights mentioned here are of the respective analysts, and do not reflect the position of Fact.MR
Sepsis is a body's reaction to infection, it may develop from any type of infection. Increasing prevalence of sepsis is leading to an increasing need for early diagnosis. Hence, the demand for related diagnostic products is also anticipated to increase. In response to the increasing demand and need, the manufacturers of diagnostic products are also investing in the research and development of new products. This Fact.MR report analyzes the expansion of global sepsis diagnostics market till date, and provides key insights on the growth of the market during the forecast period, 2017-2026.
Scope
The scope of Fact.MR's report is to analyze the global sepsis diagnostics market for the forecast period 2017-2026 and provide readers an unbiased and accurate analysis. Medical device manufacturers, research institutes, and raw material suppliers in the global sepsis diagnostics market can benefit from the analysis offered in this report. This report offers a comprehensive analysis, which can be of interest to leading trade magazines and medical journals pertaining to sepsis diagnostics.
Summary
The report commences with a brief information of the global sepsis diagnostics market. This executive summary sets the tone for the rest of the report, providing users the scope of the report. The executive summary includes important facts and statistics on the global sepsis diagnostics market.
Overview
The next section offers an overview of the global sepsis diagnostics market. This comprises an introduction to the market, along with a standard definition of the product – sepsis diagnostics. In this section, market value and year-over-year growth is offered to the readers. Year-over-year growth provides readers with a broader view of growth patterns over the forecast period.
The report's succeeding section focuses on drivers, restraints and key trends from macroeconomic, demand, and supply perspectives. Impact analysis of weighted average model-based growth drivers is contained in the report for better provision of decision-making insights to clients.
In order to offer readers with up-to-date information about the latest advancements in the global sepsis diagnostics market, the report provides updates about market opportunities, which can benefit leading manufacturers of sepsis diagnostics. With continuous evolution of the healthcare sector, keeping a record of latest developments and trends is fundamental for sepsis diagnostics manufacturers to formulate key business strategies. Detailed insights about raw material sourcing, supply chain, regulatory approvals, pricing analysis, list of distributors, and cost structure are provided in this section.
Considering the broad scope of the global sepsis diagnostics market, the report by Fact.MR provides key insights and segmentation analysis and forecast. The global sepsis diagnostics market is segmented into product type, method, pathogen, technology, and region. The segment-wise analysis also provides detailed country-wise forecast by taking into account all the key parameters of the global sepsis diagnostics market.
The report's last section comprises of the global sepsis diagnostics market competitive landscape, to provide readers with the dashboard view of company analysis and market players. This competitive intelligence is based on the providers' categories across value chain, and their presence in the global sepsis diagnostics market.
Research Methodology
Fact.MR is committed to offer unbiased and independent market research solutions to its clients. Each market report of Fact.MR is compiled after months of exhaustive research. We bank on a mix of tried-and-tested and innovative research methodologies to offer the most comprehensive and accurate information. Our main sources of research include,
Primary research
Secondary research
Trade research
Focused interviews
Social media analysis
Fact.MR offers custom research services that help clients to get specific research solutions
We are committed towards customer satisfaction and quality service.
---
Our Clients

Sepsis Diagnostics Market Forecast, Trend Analysis & Competition Tracking - Global Market insights 2017 to 2026