CTC Diagnostics Market
CTC Diagnostics Market Analysis by Product (Devices & Systems, Kits & Reagents), by Technology (CTC Enrichment Methods, CTC Detection Methods, CTC Analysis), by Sample Type (Blood, Bone Marrow), by Application, by Region - Global Insights 2020 to 2030
Analysis of CTC Diagnostics market covering 30 + countries including analysis of US, Canada, UK, Germany, France, Nordics, GCC countries, Japan, Korea and many more
Market Outlook for CTC Diagnostics
Circulating tumor cells (CTCs) are today a hot pursuit in the area of cancer research, diagnostics, and treatment as their self-renewal capabilities are one of the primary causes of tumorigenesis. The use of CTC diagnostic tests is picking pace owing to their accuracy and reliability in identifying the risks of cancer as well as in monitoring various cancer treatments.
Furthermore, a mounting number of end users including hospitals, diagnostic centers, research and academic institutes, and oncology labs, are aiming to collaborate with manufacturers in the CTC diagnostics to ensure the availability of high-tech and next-generation cancer diagnostic tools and equipment for improved patient outcomes.
This is one of the most important factors that are providing an impetus to the impressive growth of the global circulating tumor cells market.
Don't Need a Global Report?
save 40%! on Country & Region specific reports
Why Demand for Diagnostic Kits and Reagents is Key?
The CTC diagnostics market is witnessing impressive growth with the rising demand for these diagnostic devices across various cancer research and diagnosis centers.
While the adoption of CTC diagnostic devices and systems is most common across end users, the demand for diagnostic kits and reagents is expected to pick pace in the coming years.
The convenience of using CTC testing kits and reagents along with their performance in such diagnostic procedures is one of the primary factors that are triggering the shift from diagnostic devices and systems. This trend in the CTC diagnostics market is expected to remain popular in the coming years.
Growing Adoption of CTC Enrichment Method
The ongoing research in the area of cancer diagnosis and treatment is driven by technology, and various tech-based methods are commonly used in the stages of CTC diagnostics - enrichment, detection, counting, and analysis.
CTC detection technologies are commonly implemented in CTC diagnostics. However, the patients' acceptance to invasive diagnostic methods is very limited as compared to that for non-invasive methods.
Furthermore, CTC enrichment is a primary step in the procedure for CTC detection, which mainly isolates CTCs from the sample - which is usually blood. Even though CTC detection is possible with CTC enrichment, the important indicators of cancer diagnosis such as purity, recovery rate, and limit of detection (LOD) are significantly low in such cases.
Thereby, a mounting number of end users are preferring the use of CTC enrichment method, which also saves the overall time and cost of CTC diagnostic tests.
Consequently, the adoption of CTC enrichment methods in the CTC diagnostics market is expected to account for over US$ 9.5 million in 2030, denoting an important trend in this landscape.
More Insights, Lesser Cost (-50% off)
Insights on import/export production,
pricing analysis, and more – Only @ Fact.MR
Circulating Tumor Cells Diagnostics Market by Application
CTC diagnostic tests and equipment are being widely used in a wide range of applications with an ultimate aim to achieve higher levels of accuracy and reliability in the detection of cancer cells. The primary applications of CTC diagnostics include cancer stem cell research, EMT biomarker development, and tumorigenesis research.
Among all these applications, the adoption of CTC diagnostics in cancer stem cells research is expected to remain significantly high. Cancer stem cells are considered by researchers among the most promising therapeutic targets in cancer treatments and have a great significance in clinical diagnosis of tumors.
As cancer stem cells are known to have a strong regeneration and self-renewal tendency, these are known to be the primary cause of tumorigenesis. Thereby, the applications of CTC diagnostics in the area of cancer stem cells research will play an integral role in the growth of the market.
CTC Diagnostics Market by Sample Type
The ongoing research in the area of cancer and its diagnostics have been driving the growth of the CTC diagnostics market, where metastatic cancer cells are the subject of research as these cells are signs of systemic cancer spread.
The demand for CTC diagnostic tests and instruments that are conducted by using blood samples is significantly higher than those that use bone marrow samples. One of the primary reasons behind this is the accuracy of detection of CTCs in blood samples.
Metastatic cancer cells include disseminated tumor cells (DTCs) along with CTCs. The prior are majorly found in bone marrow and the latter in blood cells. The accurate detection of CTCs is way simpler than detecting DTCs which requires bone marrow aspiration.
Furthermore, bone marrow aspiration is an invasive and painful procedure, and this is another factor that is boosting the use of blood samples in CTC diagnostic tests.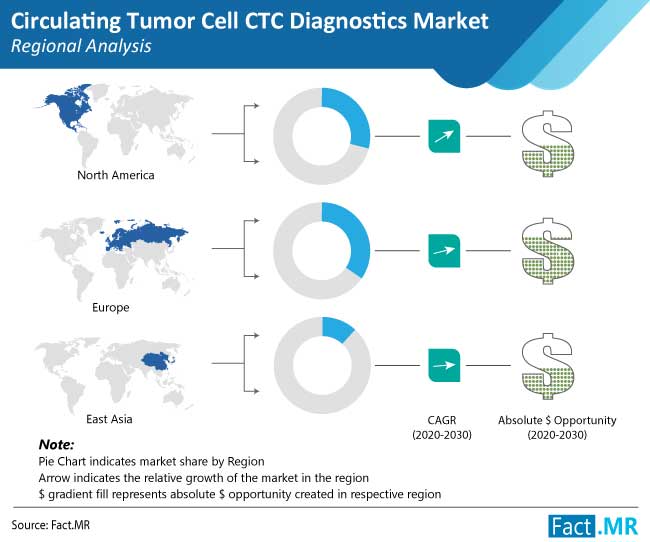 Regional Outlook
Based on the geographical factors, the CTC diagnostics market is broadly segmented into seven regions - North America, Latin America, Europe, Asia Pacific, and Middle East & Africa.
The North American market for CTC diagnostics accounts for nearly one-third revenue share of the global market, leading the pack in regional markets in this landscape.
The primary factors leading the growth of the North American market for CTC diagnostics is the alarming rise in cancer deaths in the region. According to The American Cancer Society, nearly 1.8 million new cases of cancer and more than half a million cancer deaths were reported in the United States in 2020.
Current cancer statistics about its incidence, survival, and mortality in the region is alarming, and this has been encouraging research in this area.
Furthermore, convergence of technology in the cancer research area has remained significantly high in the region, which further boosts the growth of the CTC diagnostics market in the region.
Apart from North America, Europe and China are also expected to showcase potential for growth for stakeholders in the market with the tech-driven advancements in the healthcare industries in these regions.
Know thy Competitors
Competitive landscape highlights only certain players
Complete list available upon request
What are the Key Strategies of Circulating Tumor Cells Market Players
Key players in the CTC diagnostics market include
Qiagen
Bio-Techne Corporation
Janssen Diagnostics LLC
Advanced cell Diagnostics Inc
ApoCell Inc
Celltraffix Inc.
Aviva Biosciences
Biocept Inc
Clearbridge Biomedics
Fluxion Biosciences
IVDiagnostics
Stemcell Technologies Inc
Stemcell Technologies Inc.
Sysmex Corporation. Leading
Leading market players are increasing their focus on research and development as innovation remains an integral part of their business strategy to gain an edge in this landscape.
In November 2019, the partnership was announced between Ikonisys Inc. - a cell-based diagnostics company headquartered in the United States - and Sheba Medical Center - one of the leading hospitals in the Middle Eastern region, based in metro Tel Aviv, Israel - for the development of CTC diagnostic tests that can target specific types of cancer.
Sheba has an ARC innovation hub which stands for accelerating and redesigning global healthcare through collaboration, and Ikonisys will play an integral role in its mission by developing innovative tests for diagnosing and monitoring treatments of cancer for disease recurrence.
In September 2020, IncellDx, Inc. - a leading global player in single-cell diagnostics founded in 2009 - announced that the United States Patent and Trademark Office (USPTO) has awarded the company with a patent for a number of its detection platforms that include CTC diagnostic instruments.
The company stated that it has been focusing not just on development but also on the commercialization of immuno-oncology assays, and aims to launch more diagnostic tools in the area to boost immune responsiveness against cancer.
The Analyst's Viewpoint
"Circulating tumor cells have been proven to be highly important surrogate markers for a mounting number of cancers. This is one of the critical factors that amplify the profitability of CTC diagnostic products, creating copious amounts of opportunities for stakeholders in this landscape.
Manufacturers will have to increase their focus on targeting specific types of cancer through high investments in research & development to win in the CTC diagnostics market.
Furthermore, advancements in technologies further adds to the opportunities for innovation, and this can help them to gain a competitive edge in the market in the coming years," opines a lead analyst at Fact.MR.
COVID-19 Impact
The unprecedented condition caused due to the rapid spread of novel coronavirus caught many countries as well as health organizations unprepared. Though the world has reached towards the start of 2021, the negative impacts of COVID-19 do not seem to ebb as the new mutated variant of the virus has been spreading rapidly.
In situations such as this, the operations of many endoscopy units have been severely restricted across many countries, limiting the activities of time-critical procedures and diagnostic tests, which mainly impacts the growth prospects of the CTC diagnostics market.
With a mounting number of patients with worrying symptoms waiting to undergo tests and diagnostics, manufacturers can find a way to transform the process of CTC diagnostic tests to meet the current needs.
The mindset of the healthcare system has begun to change in order to shed light on the avoidable cancer deaths. This opens a new window of opportunity for stakeholders in the CTC diagnostics market to offer innovative product offerings to suit the need of the hour.
About the Report
Fact.MR has a team of seasoned analysts who have authored a detailed study on how the CTC diagnostics market will grow and develop in the coming decade.
The study provides a comprehensive analysis about various factors such as drivers, challenges, restraints, trends, and potential opportunities for players in the CTC diagnostics market.
It consists of detailed information about the critical factors that will influence growth of the CTC diagnostics market during the forecast period of the study between 2020 and 2030.
The report offers unique insights and recommendations for manufacturers and other stakeholders in the CTC diagnostics to make data-driven insights in order to make remarkable profits in the coming years.
The conclusions in the report include actionable insights for market players to derive appropriate strategies for their global and regional business operations.
With well-analyzed and well-researched projections on the futuristic growth parameters and on price value, the Fact.MR report can help manufacturers, distributors, and all the other stakeholders in the CTC diagnostics market to make data-based decisions in the coming years.
CTC Diagnostics Market: Segmentation
The study offers a detailed estimation and outlook of the CTC diagnostics market based on the product, technology, application, sample type, and region.
By Product :

Devices & Systems
Kits & Reagents
Other Consumables

By Technology :

CTC Enrichment Methods
CTC Detection Methods
CTC Analysis

By Application :

Cancer Stem Cell Research
EMT Biomarkers Development
Tumorigenesis Research
Others

By Sample Type :

By Region :

North America
Latin America
Europe
East Asia
South Asia
Oceania
Middle East and Africa
- FAQs -
The North American market for CTC diagnostics accounts for nearly one-third revenue share of the global market.
The primary applications of CTC diagnostics include cancer stem cell research, EMT biomarker development, and tumorigenesis research.