Citrus Fiber Market Outlook (2022-2032)
The global citrus fiber market is valued at US$ 317 million in 2022 and is expected to reach US$ 550 million by the end of 2032. Demand opportunities in the market are likely to increase at a CAGR of 5.6% through 2032.
Amidst soaring competition, key market players such as Lemont, Florida Food Products Inc., Herbafoods Ingredients GmbH, CEAMSA, Fiberstar Inc., and CP Kelco held 41% share of the market in 2021.
Citrus fiber is gaining popularity in recent years owing to the rising requirement for natural functional ingredients for different applications, including cosmetics, medicines, and food & drinks. Citrus fiber is also identified as a neutral-tasting food additive that is used to enhance the shelf life of a lot of food products. Further, citrus fiber components are also used as a substitute for prohibited food additives; for example, carrageenan, hydrocolloids, phosphates, and others under FDA regulations.
This fiber has a healthy nutrition profile, including minerals, vitamin C, and various bioactive components such as polyphenols, and flavonoids. These nutrients are predicted to minimize stress levels, reduce the risk of cancers, prevent digestive ailments, improve skin tone, and finally improve heart health.
Citrus fiber is a byproduct that is acquired from the juice industry. It is widely used as a water-binding agent, stabilizer, gelling agent, emulsifier, and texturizer. It is also used to give stability and a creamy texture to dairy alternative goods such as plant-based yogurt and cheese. Operators in the bakery industry use it at a noticeable rate as a substitute for wheat and eggs. Pet snacks, semi-moist treats, canned or wet food, fresh chubs, biscuits, and molded bones are some other popular uses of citrus fiber.
In recent years, there has been a noticeable increase in the demand for natural ingredients from the cosmetics and personal care industry. This factor is further estimated to have a direct positive impact on the demand for citrus fiber. Moisture control and texturizing properties of these products are likely to contribute to their growing demand over the coming years.
Vitamin C has been widely used in recent years in the cosmetics and personal care industry, which is further estimated to contribute to the growth opportunities for citrus fiber suppliers.
In recent years, various countries from developed regions, such as the United States, are putting efforts to establish laws that have made it illegal to use select substances as food additives owing to their harmful nature. In addition, extensive scientific research and studies are elevating the position of citrus fiber as an addition to healthy food that can improve the texture and quality of the end product.
Report Attributes

Details

Market Size (2022)

US$ 317 Million

Estimated Market Value (2032)

US$ 550 Million

Growth Rate of Global Market (2022-2032)

5.6% CAGR

Expected CAGR of Asia Pacific

6.1%

Key Companies Profiled

CEAMSA
Fiberstar, Inc.
CP Kelco, Inc.
Herbafoods Ingredients GmbH
Florida Food Products, Inc.
Golden Health
Know thy Competitors
Competitive landscape highlights only certain players
Complete list available upon request
What's Lending Impetus to Global Citrus Fiber Market Expansion?
"Clean Label Trend Driving Uptake of Citrus Fiber in Processed Meat Industry"
Consumers around the world are gaining awareness related to the additives that are used in foods and meat. It has rendered the requirement for a clean label for the citrus fiber market.
Synthetic additives put some adverse effects on the human body. The manufacturers from the processed food industry are incorporating some natural alternatives that include citrus fibers, such as citrus oil.
The use of citrus fiber in processed meat is likely to serve as the natural alternative option to sodium tripolyphosphate and helps to minimize the negative effects that are experienced on product integrity. Thus, based on this replacement formula, a noticeable increase in the demand for citrus fiber is experienced in recent years.
"Growing Demand for Natural Ingredients Stimulating Growth Opportunities in Market"
Food and beverage manufacturers are using natural ingredients instead of synthetic ingredients. This change in the industry is attributed to growing wellness and health concerns among consumers around the world.
There are a few diseases such as cardiovascular disorders, allergies, diabetes, and cancer that are persuading people to adopt a healthier lifestyle that involves the use of organic, natural, and healthy ingredients. These factors are estimated to increase the adoption of citrus fiber in the years ahead.
Natural emulsifier extracts are incorporated by food manufacturers due to their large surface areas. These larger surface areas of emulsifiers enable them to pull oil and water easily.
Fibrous compositions have hydrophilic and lipophilic ends that further attract moisture and oil to the matrix which is further helpful to bind these products together. Thus, these factors ultimately lead to increased demand for natural ingredients and thus bolster sales opportunities in the citrus fiber market in the years to come.
There are a lot of super fruit derivatives that are available in the global market. These derivatives will reflect on plant-based and natural citrus fiber products in the food additives form. Stabilizers, emulsifiers, and antioxidants are some natural ingredients that are used significantly in the food and beverage industry.
Citrus fiber is an effective option that is available in the global market as a low-fat option. It is helpful to overcome the issues that are caused due to obesity.
"Increasing Requirement of Hydrocolloids in Food"
Hydrocolloids are heterogeneous groups that are from long-chain polymers. These are used at a significant rate in food products due to their functional properties as they can easily disperse in cold water.
Thus, these fibers are used as thickeners and texturizers in various food and beverages. In addition to this functionality, these hydrocolloids also find application as stabilizers, emulsifiers, and gelling agents in frozen desserts.
Hydrocolloids are used to increase product quality and the shelf life of food compositions. These are used at a concentration of around less than 1% which is helpful to change the mouthfeel and textural features of products.
There are a lot of forms of hydrocolloids, for instance, gellan gum, xanthan gum, guar gum, citrus fiber, and pectin that are available in the global market. These products are commonly employed in meat, sauce, frozen desserts, bakery, and dairy products owing to their multiple functions. So, based on the rising applications, hydrocolloids are estimated to experience demand opportunities in the coming years.
"Rising Demand for Nature-derived Beauty and Personal Care Products"
Key players in the global market are emphasizing maintaining strong concentration on ingredient innovation with an objective of wider application in personal care and cosmetic products to fulfill the rising consumer demand for beauty products that are naturally derived. Further, consumers are also becoming 'more mindful' related to the ingredients that are used in personal care products for more transparency.
There are a lot of personal care products that have pectin as an ingredient. It is derived from citrus fiber and thus propels the sales of citrus essential oil due to skin-nourishing properties. Thus, increasing demand for the products from personal care and cosmetic industry that come with natural ingredients has also been estimated to stimulate sales of citrus fiber.
What's Limiting the Sales Opportunities for Citrus Fiber Producers?
"Lack of Awareness about Benefits of Citrus Fiber among Consumers"
A lot of people from developing and under-developed countries are not aware related to the benefits of citrus fiber even today. This factor is anticipated to put adverse impacts on the adoption of citrus fiber and thus likely to restrict growth opportunities in the global market.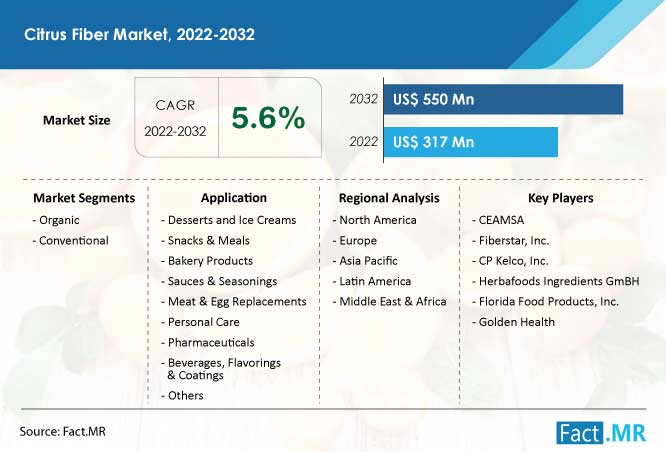 Which Regional Market is Likely to Provide Attractive Business Opportunities?
"European Market to Dominate with Increasing Industrial Consumption of Citrus Fiber"
The European region is likely to dominate the global market and holds around more than one-third share. This dominance is owing to increasing demand for convenient and packed food as well as favorable climatic conditions due to fast-moving lifestyles and rising disposable income.
North America is also estimated to serve as one of the most attractive regional markets and is likely to progress at a higher CAGR in comparison to other regional areas.
Asia Pacific region is predicted to expand at a significant CAGR of around 6.1% in the foreseeable years.
More Insights, Lesser Cost (-50% off)
Insights on import/export production,
pricing analysis, and more – Only @ Fact.MR
Country-wise Insights
High Demand for Clean-Label Products Impacting Sales of Citrus Fiber in Brazil
Brazil is projected to account for more than 41% of the share in the Latin America market owing to increased consumption of citrus fiber. The market in the country is booming with the rising use of products that are gluten-free and have natural ingredients. Further, due to the increasing popularity of citrus fiber in the country, the market is likely to surge at a significant rate there.
Rising consumer awareness among people from Brazil related to healthcare is projected to increase demand for clear ingredients products. Furthermore, the eating habits and enhanced lifestyles of Brazilian consumers are likely to increase demand for ready-to-eat and packed foods that will further bolster the incorporation of citrus fiber.
So, the growing consumption of citrus fiber in Brazil is likely to propel sales opportunities in the market.
Growing Health Concerns Leading to Consumption of Natural Food Products in the United States
The market in the U.S. is likely to exhibit noteworthy growth opportunities throughout the forecast period. Rising concerns related to the unhealthy food habits of people from the country making a shift to consuming natural and healthy food products around the region. In addition, the consumption of various synthetic flavored food products and surging cancer incidences are titling demand for citrus fiber in the country.
Consumers from the U.S. are more inclined to use personal care and cosmetics products. They are also gaining awareness related to the harmful effects of synthetic and chemical ingredients that are used for personal care and cosmetics. These factors are likely to drive sales opportunities for citrus fiber in the country.
Further, South Korea and Japan are estimated to hold 2.5% and 3.9% of the market share respectively.
Category-wise Insights
Rising Use of Citrus Fiber in Personal Care Product Formulations
Based on applications, the market of citrus fiber is segmented into desserts and ice creams, snacks and meals, bakery products, sauces and seasonings, meat & egg replacements, personal care, pharmaceuticals, beverages, flavorings, and coatings, and others.
Citrus fibers are used at a noticeable rate in beauty treatments and personal care products. The expected CAGR of this segment is likely to expand at 5.1% through 2032. This growth is owing to the rising awareness of the ingredients among consumers that are used in personal care products. Further, growing consumer demand for more transparency about the ingredients used in beauty products is also estimated to increase the use of citrus fiber as it has comparatively lesser adverse effects on human beings.
Prominent manufacturers are inclining to use pectin-based cosmetics in recent years. Demand for cosmetics and personal care products with natural ingredients is likely to propel the sales of citrus fibers.
Citrus fibers are used at a noteworthy rate in pet food and animal feed formulations which is further predicted to bolster sales opportunities in the respective market.
As an excipient material, citrus fiber is also used in a lot of drug formulations in the pharmaceutical industry.
Citrus fiber is also used at a noticeable rate in bakery items due to its capacity to hold high water. This feature is very crucial in the baking procedure. Further, citrus fiber can secure and absorb water that is generated by some other components because of its surface area and composition.
These features of citrus fiber help bakery goods maintain moisture for a longer duration.
Growing Use of Citrus Fiber with Water-Binding and Fat-Replacing Properties in Baking Industry
Gelling gums, water binders & fat replacers, and thickening gums are the division of citrus fiber based on function. There is a noticeable increase in the demand for water-binding and fat-replacing citrus fibers in the past few years. The fibers which come with high fat-binding capacity are generally beneficial for different stabilizing emulsions.
Water binding qualities of citrus fiber enable its application in the place of traditional thickening additives, stabilizers, and emulsifiers. This feature further allows manufacturers the creation of food products that come with clean-label certifications.
In addition, citrus fibers that are used to bind water effectively can help to reduce the syneresis in hydrogels along with making alterations in the texture and viscosity of food. Further, products that incorporate water-binding properties are generally used in the baking industry. Thus, based on the rising application of citrus fiber in the baking industry is expected to generate novel growth opportunities in the global market in the coming years.
Orange Fiber Used at Increased Rate as Dietary Supplement
Lemons and limes, grapefruit, tangerines/mandarians, and oranges are the types of citrus fiber based on their source. Among these segments, oranges are generally the preferred source of citrus fiber. It is likely to dominate in the global market with more than 56% share.
This market segment is estimated to expand at a CAGR of 5.2% in the foreseeable years. Orange fiber contains higher insoluble and soluble fiber and thus makes it a good source for the dietary supplements that are consumed by people around the world.
In addition to dietary fiber, various bioactive substances such as flavonoids, vitamin C, and polyphenols are also found in orange-derived fiber to provide some additional health-promoting effects.
Don't Need a Global Report?
Save 40% on Country & Region specific reports
Competitive Landscape
Key suppliers of citrus fiber are expanding their consumer base to gain a dominating position in the coming years. They are adopting many strategies for the generation of growth opportunities in the market. Some of these strategies include mergers, acquisitions, collaborations, expansion of company footprints, partnerships, novel product launches, and others.
Some of the initiatives taken by these players include:
Azelis, in July 2021, established a collaboration with CP Kelco to broaden its capabilities for distribution around the Netherlands for citrus fibers and some other natural food ingredients.
Fiberstar Inc., in 2019, launched a new website for citrus fiber Citi-Fi to showcase its products along with providing education to consumers around the world. The company is also taking initiatives to improve its digital experience.
Orange Fiber is a popular startup that has announced the launching of a novel fabric range made from pulp and citrus fiber with collaborations with Marinella brands and H&M.
CP Kelco is a leader that provides solutions in natural ingredients and has unveiled the launch of a novel innovation center for pilot plant scale-up and research applications.
CEAMSA, Fiberstar, Inc., CP Kelco, Inc., Herbafoods Ingredients GmbH, Florida Food Products, Inc., and Golden Health are prominent players in this industry.
Segmentation of Citrus Fiber Industry Research
By Nature:

By Grade:

Food-grade
Pharma-grade
Others

By Source:

Oranges
Tangerines/Mandarians
Grapefruit
Lemons and Limes

By Function:

Gelling Gums
Thickening Gums
Water Binders & Fat Replacers

By Application:

Desserts and Ice-creams
Snacks and Meals
Bakery Products
Sauces and Seasonings
Meat & Egg Replacements
Personal Care
Pharmaceuticals
Beverages, Flavorings, and Coatings
Others

By Distribution Channel:

Online Channel
Convenience Stores
Supermarkets and Hypermarkets
Department Stores
Specialty Stores
Pharmacies

By Region:

North America
Europe
Asia Pacific
Latin America
Middle East & Africa